Environment
Biggest Islands And Atolls In Kiribati
Kiribati is made up of multiple islands and atolls.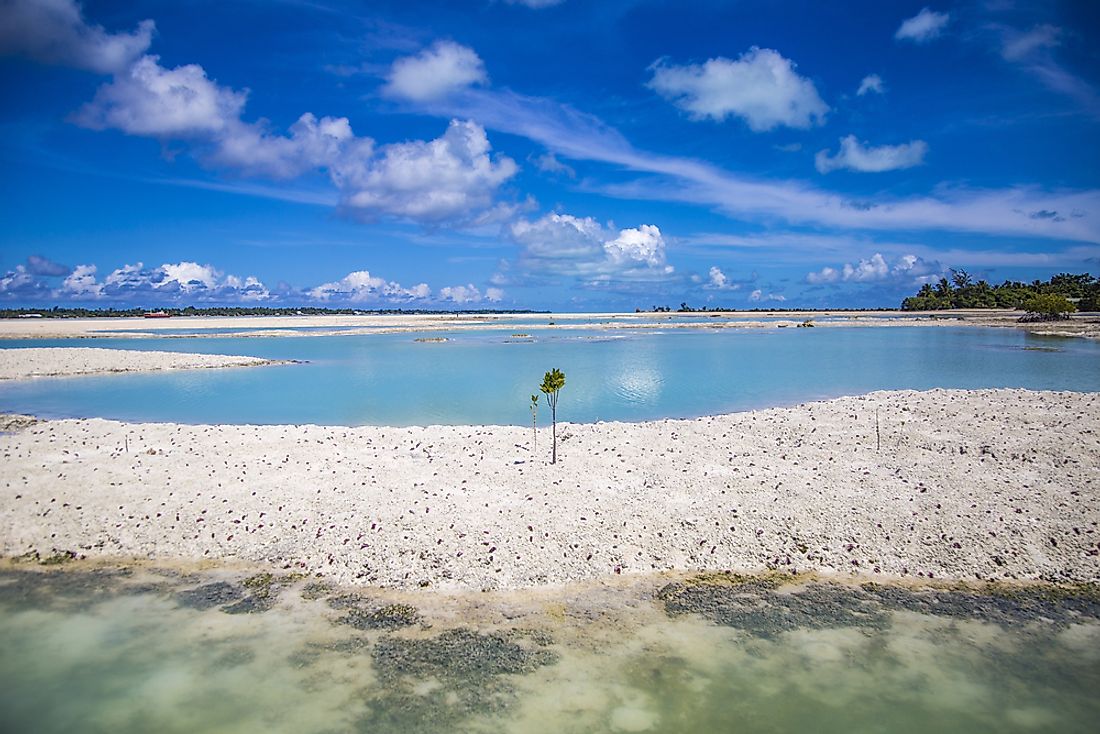 Kiribati is an island republic located in the central Pacific Ocean, approximately midway between Australia and Hawaii. It is comprised of 33 coral atolls and isles, many of which are uninhabited, stretching along the equator.
Major Islands of Kiribati
With an area of 384.4 square kilometers, Kiritimati is by far the largest island in the republic. The largest raised coral atoll in the world, Kiritimati comprises over 70% of the total land area of the republic. The island is also in the world's farthest forward time zone, UTC +14, and is one of the first inhabited places on Earth to ring in the New Year. The next largest island, Malden, is only 39.3 square kilometers. Tabiteuea, Tabuaeran, Tarawa, Nonouti, and Abemama are each less than 40 square kilometers, and Nikunau, Starbuck and Abaiang weigh in at just under 19 square kilometers. Malden and Starbuck are uninhabited.
Economic Importance
The first European settlement on Kiribati was established for the production of coconut oil, but later it was the islands' deposits of phosphatic guano that drew foreigners to the area. In the 1840s, guano became a valuable commodity as a source of saltpeter for gunpowder, as well as being a highly effective agricultural fertilizer. Guano was mined on many Kiribati islands for over one hundred years. When the supply was finally depleted in 1979, Kiribati's economy was severely affected.
The island of Tabuaeran has one of the closest landfalls to the Hawaiian Islands, and was possibly used as a stopover point by the Polynesians who first settled Hawaii. Due to its location, Tabuaeran has been an important port of call for Norwegian and Holland America Cruise Lines. Due to US regulations requiring foreign-flagged ships to call in a foreign port, ships based out of Honolulu frequently cruise to Tabuaeran.
Habitats and Biodiversity
The Phoenix Islands Protected Area is located in the center of Kiribati. With an area of 408,250 square kilometers, it is one of the largest protected areas on Earth. Additionally, in 2014, the Kiribati government established a 12-nautical-mile fishing exclusion zone around each of the southern Line Islands including Malden, Starbuck and Kiritimati.
Territorial Disputes
Micronesians were the first peoples to begin populating the islands. Gradually, the population intermixed with new arrivals from Samoa, Tonga and Fiji. In the Nineteenth Century, European whaling and merchant vessels began to arrive, and the area was declared a British protectorate.
During World War II, the capital island of Tarawa was occupied by the Japanese, and on November 20, 1943 it was the scene of a bloody battle. United States Marines landed on Tarawa, and suffered heavy losses from Japanese soldiers occupying entrenched positions on the atoll. The Marines eventually secured the island after 76 hours of intense fighting with a death toll of 6,000. Kiribati became an independent republic on July 12th, 1979.
Environmental Threats
England and the United States conducted nuclear tests on and around Kiribati in the late 1950s and early 1960s. Servicemen and islanders alike have claimed to have suffered from exposure to the radiation from these blasts, and undoubtedly they had a serious and prolonged effect on the natural environment.
On overcrowded islands such as Tarawa, marine resources are being strained from over-fishing and over-harvesting. Greenhouse gas emissions are increasing the acidity of ocean water, which could devastate Kiribati's pristine coral reef habitats. But global warming is by far the most serious environmental threat to Kiribati. A nation made up entirely of low-lying islands and partially-submerged atolls, Kiribati is particularly vulnerable to even the slightest rise in ocean levels. Some coastal villages have already been abandoned due to stronger storm surges and spring tides. If current trends continue, even Kiribati's largest islands will keep shrinking in size.
What is the Biggest Island in Kiribati?
With an area of 384.4 square kilometers, Kiritimati is by far the largest island in the republic. The largest raised coral atoll in the world, Kiritimati comprises over 70% of the total land area of the republic.
Biggest Islands And Atolls In Kiribati
| Rank | Largest Islands and Atolls of Kiribati | Land Area |
| --- | --- | --- |
| 1 | Kiritimati | 384.4 square kilometers |
| 2 | Malden | 39.3 square kilometers |
| 3 | Tabiteuea | 38.0 square kilometers |
| 4 | Tabuaeran (Fanning) | 33.7 square kilometers |
| 5 | Tarawa | 31.9 square kilometers |
| 6 | Nonouti | 29.2 square kilometers |
| 7 | Abemama | 27.8 square kilometers |
| 8 | Nikunau | 18.2 square kilometers |
| 9 | Starbuck (Volunteer) | 16.2 square kilometers |
| 10 | Abaiang | 16.0 square kilometers |
This page was last updated on January 26, 2018.
Citations
Your MLA Citation
Your APA Citation
Your Chicago Citation
Your Harvard Citation
Remember to italicize the title of this article in your Harvard citation.