Biggest Cities And Towns In Kiribati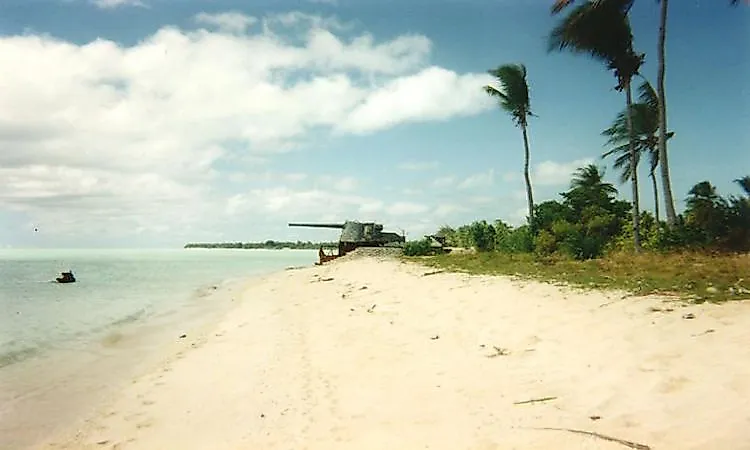 Kiribati
Kiribati is an island nation in the Pacific Ocean. This country is made up of 33 reef islands and atolls as well as one raised coral island. A large portion of its territory has been designated as the Phoenix Islands Protected Area, a protected marine area, and UNESCO World Heritage Site. The population of this country is relatively small, just over 100,000. Most of these people live on the Tarawa Atoll. This article takes a look at the most populated urban centers of Kiribati.
The Two Biggest Cities in Kiribati
Tarawa
Tarawa is an atoll, a ring-shaped coral island that surrounds a lagoon, and belongs to the Gilbert Islands. It is also the capital of Kiribati and the most populated city in the country, with approximately 40,311 residents. This is nearly half of the country's entire population. It is separated into North and South Tarawa.
This atoll covers an area of 193 square miles that enjoys a tropical climate from April through October. The rest of the year is rainy season and likely to experience cyclones. Banana, papaya, coconut, and breadfruit trees all grow here. In 2014, the government of Tarawa invested in road infrastructure, modernizing the main road from dirt to concrete.
Archaeological evidence suggests this area has been inhabited for thousands of years and carbon dating has placed the earliest settlements as far back as 200 BC. These earliest inhabitants are known as sea explorers and were able to cross the ocean in small boats. That tradition continues with the inhabitants today. The first Europeans arrived here in 1788 AD. At the beginning of the 19th century, American exploring expeditions arrived and mapped out the area.
Tarawa and the surrounding Gilbert Islands were made a British protectorate in 1892 and a colony from 1916 until 1976. During World War II, Tarawa was invaded and occupied by the Japanese. On November 20, 1943, American military forces landed here and were attacked by the Japanese in what is now named as the Battle of Tarawa. The US military took control after three days of fighting. The battle resulted in 6,000 deaths.
Betio Village
Betio Village is part of southern Tarawa and has a population of 12,509. It is located on a separate islet and is the main port city of Kiribati. Because of this port, Betio Village is an important economic center for the country.
In the 1980's, the government invested in a roadway to connect Betio Village to Bairiki. This construction changed the ocean current surrounding the islands and flooded Bikeman Island, which continues to be covered in water.
Like much of Kiribati, Betio Village played an important role during World War II. It was the site of a Japanese massacre that took place against New Zealand military members. Today, many pieces of military equipment, as well as bunkers, can still be found throughout the area.
Other cities and villages of Kiribati can be found in the chart below.
Environmental Threats In Kiribati
The islands and atolls of Kiribati are under constant environmental threats. Some of these are due to the growing population. Natural resources of these islands cannot sustain large populations, which is evidenced by the depleting sources of freshwater, decreasing numbers of fish off the coast, and insufficient agricultural production. The population here has been growing faster than any other place in the world (with the exception of Africa) over the last three decades.
These villages are also threatened by rising sea levels as a result of global climate change. In response to these threats, the national government has been considering alternatives for future homes. It has begun negotiations with Fiji in order to buy land for relocation. In the case of a refugee crisis caused by climate change, both New Zealand and Australia will likely play an important role in housing the residents of Kiribati.
Biggest Cities/Towns In Kiribati
| Rank | City/Town/Village | Population |
| --- | --- | --- |
| 1 | Tarawa , Gilbert Islands | 40,311 |
| 2 | Betio Village, Gilbert Islands | 12,509 |
| 3 | Bikenibeu Village, Gilbert Islands | 6,170 |
| 4 | Teaoraereke Village, Gilbert Islands | 3,939 |
| 5 | Bairiki Village, Gilbert Islands | 2,766 |
| 6 | Eita Village, Gilbert Islands | 2,299 |
| 7 | Bonriki Village, Gilbert Islands | 2,119 |
| 8 | Temaiku Village, Gilbert Islands | 2,011 |
| 9 | Tabwakea Village, Line Islands | 1,881 |
| 10 | Makin Village, Gilbert Islands | 1,834 |