Society
Biggest Cities In Somalia
Mogadishu along the coast of the Indian Ocean is the Somalian capital, and houses around one-fifth of its people.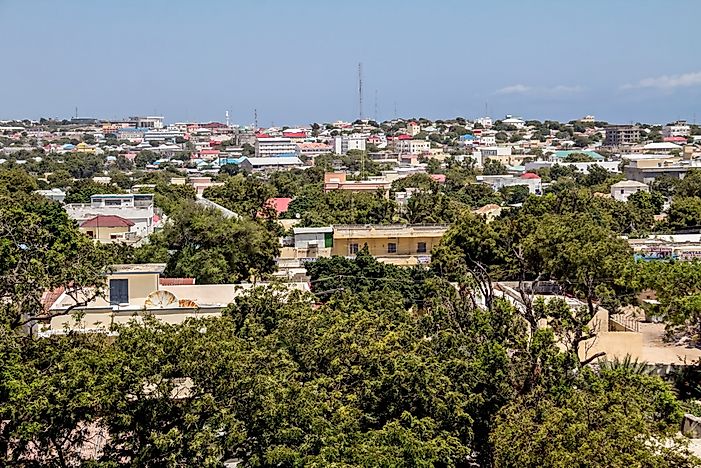 Mogadishu along the coast of the Indian Ocean is the Somalian capital, and houses around one-fifth of its people. Somali has a population of over 10 million, 60% of whom are estimated to live in the rural areas. The rest of the residents live in the country's cities and towns.
Biggest Cities In Somalia
Mogadishu
Mogadishu is home to 2,425,000 inhabitants, 85% of whom are Somali by ethnicity while the rest are Bantu, Arabs, and immigrants. Mogadishu started off as a trade center when it was established in the 10th century by the Arabs. Strategically located on the Indian Ocean's shoreline, Mogadishu became a chief port in the region and grew wealthy due to trade in ivory, gold, slaves among other commodities. The lucrative trade attracted invaders keen to capture the port such as the Portuguese in the 16th century. Mogadishu became the capital of Italian Somaliland in 1905 after the Italians purchased it from the Sultan of Zanzibar. Somali became an independent state in 1960, with the capital being Mogadishu.
Mogadishu, due to its white beaches and popularity as a tourist destination, gained the nickname white pearl. However, the civil war which broke out in 1990 has devastated the city and reduced its global popularity. Although the city has been rebuilding, it still lacks necessary amenities such as health, education, and housing facilities. The informal sector employs most of its inhabitants, 43% of whom are estimated living in conditions of extreme poverty. A positive trend in the last few years has been the return of refugees and migrants to the city, most of whom have skilled labor in various fields.
Beledweyne
Beledweyne is found around 340 to the north of Mogadishu. It is home to an estimated 1,947,000 residents. Beledweyne is found near the border with Ethiopia. It is the capital of the region of Hiran.
Baidoa
Baidoa is a city found in southern Somalia. It has a population of around 1.4 million. The city and its surrounding areas are known for their ancient artefacts and history. Baidoa is also home to a campus of the University of Southern Somalia.
Hargeisa
Hargeisa has a population of around 760,000 people. It is the capital city of Somaliland. Hargeisa is known for being a retail hub and center for industry. The city has a education system and is home to multiple universities.
Other Cities In Somali
The rest of Somali's cities and their respective populations are Beled Hawo (632,865), Garoowe (570,578), Galdogob (440,433), and Burao (288,211). Although devastated by the civil war, Somali's cities have been undergoing reconstruction to become economic, tourist, and cultural hubs in the country as well as in East Africa.
Biggest Cities In Somalia
| Rank | City | Population (Est.) |
| --- | --- | --- |
| 1 | Mogadishu | 2,425,000 |
| 2 | Beledweyne | 1,947,100 |
| 3 | Baidoa | 1,400,000 |
| 4 | Hargeisa | 760,000 |
| 5 | Beled Hawo | 632,865 |
| 6 | Garoowe | 570,578 |
| 7 | Galdogob | 440,433 |
| 8 | Burao | 288,211 |
| 9 | Garbahare | 234,000 |
| 10 | Borama | 215,616 |
| 11 | Adado | 198,054 |
| 12 | Burhakaba | 197,198 |
| 13 | Bosaso | 164,906 |
| 14 | Bardera | 150,000 |
| 15 | Galkayo | 137,667 |