Society
Biggest Cities In Senegal
Dakar on the Atlantic Coast is Senegal's capital and largest city, and the city lying the furthest west in the Old World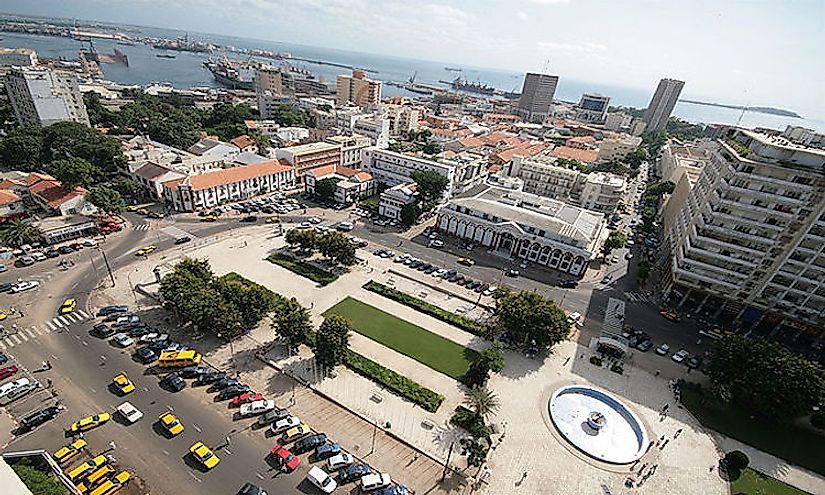 Senegal is the westernmost country in the mainland of the Old World and one of the West African Countries. It is bordered by Mauritania, Mali, Guinea, Gambia, and Guinea-Bissau. Senegal owes its name from Senegal River. The term Senegal means "Our Boat." It covers a total area of 197,000 square kilometers with population of about 13 million people of which 42% live in urban areas. Senegal has a total of 47 cities and seven other settlements. Dakar, which is Senegal's capital, is also the largest and the most populous city. Some of the biggest cities in Senegal include;
Biggest Cities In Senegal
Dakar
Dakar is the capital and the largest city in Senegal both in population and total land area. It is located in the westernmost city part of the Old World with its position being a strategic departure point for European trade Dakar has a population of 1,146,053 people while the Dakar Metropolitan area consists of a population of over 2.4 million people. Dakar was split from Goree as a separate French commune in 1887. It became the capital of Mali Federation between 1959 and 1960 before becoming Senegal's Capital city. Dakar is a major administrative and financial center. It is home to the national assembly, presidential palace, national and regional banks, and numerous international organizations. Dakar is one of the 67 communes and also one of the 34 departments of Senegal. The attractions in Dakar include Goree Island, Markets, IFAN Museum, and mosques.
Touba
Touba is located in part of Diourbel region and Mbacke District, central Senegal. It is the second largest city with a population of 529,176 people. Touba is considered a holy city of Mouridism and also the burial place of Sheikh Aamadu Bamba Mbakke, the founder of Mouridism. The city is said to be founded by Sheikh Aanadu in 1887 under a tree when he experienced a cosmic vision of light. In Islamic tradition, Touba is a name of a tree in paradise. Since the inauguration of the city in 1963, it has grown at a rapid pace. The city is dominated by Muslims with an annual pilgrimage called Grand Magai attracting millions of people. The Great Mosque of Touba is considered the largest in Africa. It lies on the burial site for Sheikh Aamadu.
Rufisque
Rufisque is located in the western Senegal in the Dakar region at the base of Cape-Vert Peninsula. It has a population of 490,694 people. Rufisque was an important port city in the 16th century but is now a suburb of Dakar. The growth of Dakar city with more superior port facilities led to the decline of Rufisque. It has since experienced a decline in industrial activities and has become one of the most neglected communes in Senegal. There is very little investment in public infrastructure with an insignificant number of tourists visiting the city. The only active industry in Rufisque is the cement work industry.
Challenges Facing Big Cities In Senegal
With the population growth and the high rate of urbanization, there are immense challenges facing the population living in the biggest cities of Senegal. Lack of adequate housing has led to the growth of slum dwellers and street families. Crime rates have also gone high across the cities due to lack of employment opportunities. Overcrowding and poor planning has also led to poor sanitation and spread of diseases such as HIV/AIDS and other contagious diseases. Some of the cities like Rufisque continue to experience slow rate of development with some of the important sectors such as transport and tourism neglected by the government
| | | |
| --- | --- | --- |
| Rank | Biggest Cities in Senegal | Population |
| 1 | Dakar | 1,146,053 (2.4 million metro) |
| 2 | Touba | 529,176 |
| 3 | Rufisque | 490,694 |
| 4 | Thiès | 320,000 |
| 5 | Ziguinchor | 248,265 |
| 6 | Kaolack | 233,708 |
| 7 | Saint-Louis | 176,000 |
| 8 | M'Bour | 170,699 |
| 9 | Diourbel | 100,445 |
| 10 | Louga | 77,784 |
About the Author
John Misachi is a seasoned writer with 5+ years of experience. His favorite topics include finance, history, geography, agriculture, legal, and sports. 
This page was last updated on April 25, 2017.
Citations
Your MLA Citation
Your APA Citation
Your Chicago Citation
Your Harvard Citation
Remember to italicize the title of this article in your Harvard citation.