What is the Largest City in Ireland?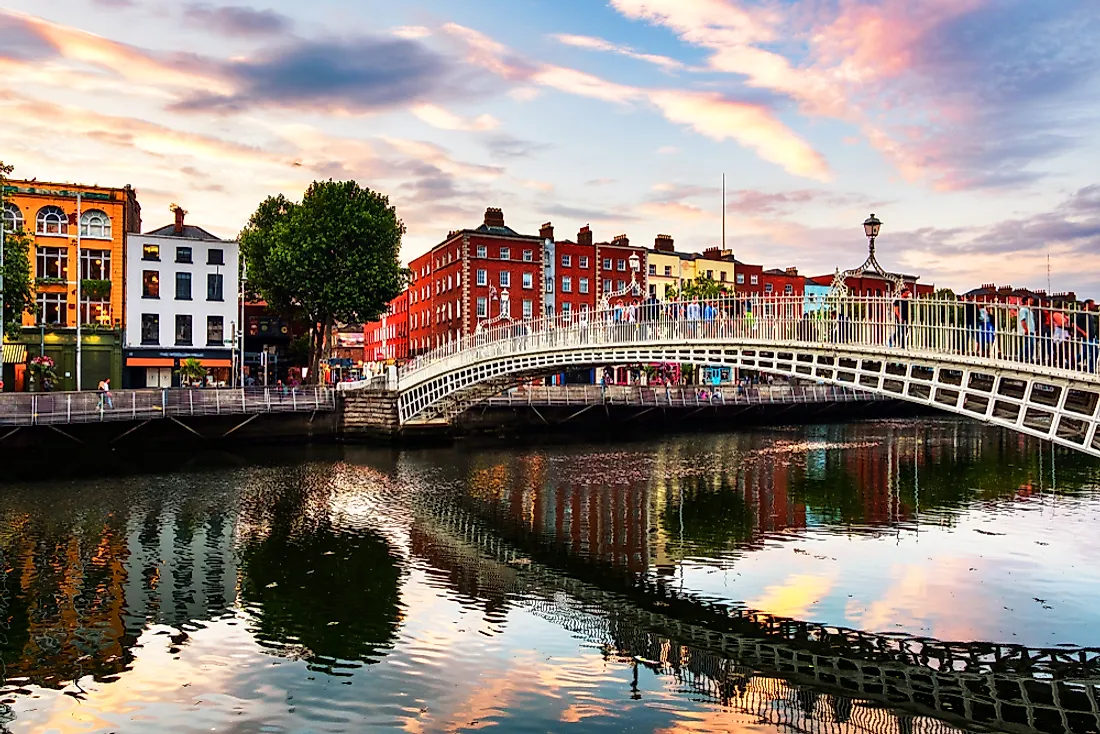 Ireland is an island nation in the North Atlantic Ocean, on one of the two major British Isles off of the coast of Western Europe. The island of Ireland is the twentieth-largest island in the world with an area of 32,595 square miles and reaching a maximum elevation of 3,415 feet above sea level. Dublin is the largest and the capital city of the Republic of Ireland with a metro population of approximately 1.9 million. It and other major Irish cities are discussed below, with all statistics coming from the Central Statistics Office of Ireland. 
Dublin - 1,173,179 
Dublin, the capital and largest city of Ireland, is located at the mouth of the River Liffey in Leinster Province in east-central Ireland. It was established as a Viking settlement and became a principal city after Norman invasion. It has rapidly grown over the years from the 17th Century and experiences a maritime climate with cool summers, mild winters without extreme temperatures. It covers a land area of approximately 44 square miles with a population of 1.1 million.
Cork - 208,669 
The city of Cork in Ireland is located in Cork County in Munster Province. It was founded in the 6th Century AD and is the second largest city in the country. It covers an area of 14.4 square miles and an estimated metro population of 208,669. During the Irish Civil War, the city was a center of anti-treaty forces and is often referred to as the real capital by the inhabitants of the city. It has a mild oceanic climate, with abundant rainfall, and no extreme temperatures.
Limerick - 94,192 
Limerick was founded in 812 AD, and is located in Limerick County in Munster Province. It is the third most populous city in the country with a population of 94,192. During the Williamite War in Ireland in the 17th Century, Catholics and Protestants fought against one another in the region, but the Treaty of Limerick brought an end to the hostilities in 1691. The city has a temperate oceanic climate mild and majorly cloudy. The town is also the inaugural National City of Culture with high cultural and artistic significance.
Galway - 79,934
Galway is located in the western part of Ireland in Galway County in the province of Connacht. It is situated 82 feet above sea level and covers an area of 20 square miles with a population 79,934. A fort was built by the king of the province in 1124, which was later captured during the Norman Invasion of Ireland, and the city has consistently grown over the centuries. The prevailing wind of the North Atlantic Current has an all-year-round mild, moist, and temperate climate.
Biggest Cities In Ireland
| Rank | Biggest Cities in Ireland | Metro Area Population |
| --- | --- | --- |
| 1 | Dublin | 1,173,179 |
| 2 | Cork | 208,669 |
| 3 | Limerick | 94,192 |
| 4 | Galway | 79,934 |
| 5 | Waterford | 53,504 |