Economics
Average Home Prices Across Canada
The most expensive place to buy a home in Canada is Toronto, Ontario.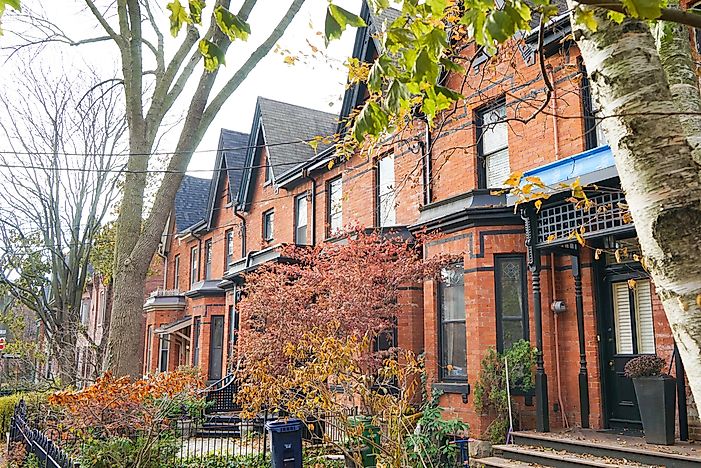 Historically, most people preferred moving to Canada because of the relatively cheaper housing options compared to other nations. However, those were times when the Canadian dollar was weak. Over recent times, the economy of Canada has been slowly growing and stabilizing leading to the strengthening of its currency. Consequently, people moving to Canada with what were traditionally stronger currencies will have less money after changing the money. Naturally, this means that their purchasing power is reduced. Contrary to other countries where house prices have been falling or remaining relatively stagnant, Canada's house rates have been steadily growing alongside its economy. As is the case in the world, properties close or in town centers have a higher value than those located in the countryside.

Average Home Prices Across Canada
2011 and 2012 saw some relatively low house prices across the entirety of Canada because of the strict mortgage regulations that were in place. However, since then, the prices of houses have been steadily increasing all across the major provinces such as British Columbia and Ontario. The same trend applies to Alberta despite a price fall in 2015. In 2017, the prices were even higher, and thus few house sales were recorded.
A lot of factors come into play when trying to determine the value of a property in Canada. Key among those factors is the weather and closeness to major markets. Most homeowners or prospective homeowners would not want to own a house in a region that is constantly hit by severe weather. By that logic, areas in the west coast of Canada such as Vancouver and British Columbia have some of the priciest houses in Canada. By contrast, areas experiencing severe weather such as Manitoba and Prince Edward Island have cheaper houses.
According to data from The Canadian Real Estate Association, house prices in Canada in 2017 were very high. The most expensive homes were found in British Columbia with average prices of $699,000. Ontario was in the second position with average prices of $517,000 while Alberta ($400,000), Quebec ($303,000), and Saskatchewan ($291,000) close the top five. Closing the top ten was New Brunswick with average prices of $174,000. Based on the top ten most expensive cities, Canada had an average housing price of an incredible $479,000.
Interestingly, in 2007, Alberta had higher house prices than the second city, Ontario. This change was brought about by an influx of house prices in Alberta at that time. To put the rising prices in Alberta into perspective, Alberta had never been higher than Ontario in this ranking. Another interesting thing is that Ontario had no change in average prices over twelve months while Prince Edward Island had the highest change of 10.4%. The biggest change on the opposite end was Saskatchewan with a change of -4.5%.
Average Home Prices in Canadian Cities
Citi-wise, Vancouver (British Columbia) had the highest average prices at $1,030,000. The second city was Toronto (Ontario) with average prices of $746,000. Alberta is also represented in the top five by Calgary ($458,000) while Quebec is represented by Montreal ($378,000). Ottawa (Ontario) is also in the top five. Fredericton is eighth with average prices of $187,000. Montreal had the biggest growth of 8.3% while Calgary had a dip of -2.3%.
Average Home Prices Across Canada
| Rank | City | Average House Price (Canadian Dollars) |
| --- | --- | --- |
| 1 | Toronto, Ontario | 921,000 |
| 2 | Vancouver, British Columbia | 878,242 |
| 3 | Victoria, British Columbia | 763,517 |
| 4 | Kitchener-Cambridge-Waterloo, Ontario | 583,144 |
| 5 | Calgary, Alberta | 570,084 |
| 6 | Hamilton, Ontario | 535,520 |
| 7 | Oshawa, Ontario | 480,700 |
| 8 | Saskatoon, Saskatchewan | 385,580 |
| 9 | Edmonton, Alberta | 378,247 |
| 10 | Ottawa, Ontario | 373,200 |
| 11 | Montreal, Quebec | 349,000 |
| 12 | London, Ontario | 344,815 |
| 13 | Kingston, Ontario | 327,507 |
| 14 | St. Catharines-Niagara, Ontario | 323,179 |
| 15 | Regina, Saskatchewan | 316,990 |
| 16 | Halifax, Nova Scotia | 306,944 |
| 17 | St. John's, Newfoundland | 306,279 |
| 18 | Winnipeg, Manitoba | 300,011 |
| 19 | Quebec, Quebec | 266,578 |
| 20 | Greater Sudbury, Ontario | 254,000 |
| 21 | Windsor, Ontario | 247,000 |
| 22 | Thunder Bay, Ontario | 237,500 |
| 23 | Saguenay, Quebec | 196,000 |
| 24 | Saint John, New Brunswick | 187,519 |
| 25 | Trois-Rivieres, Quebec | 169,500 |