Society
10 US States With The Highest Marriage Rates
Nevada has the highest rate of marriage in the US.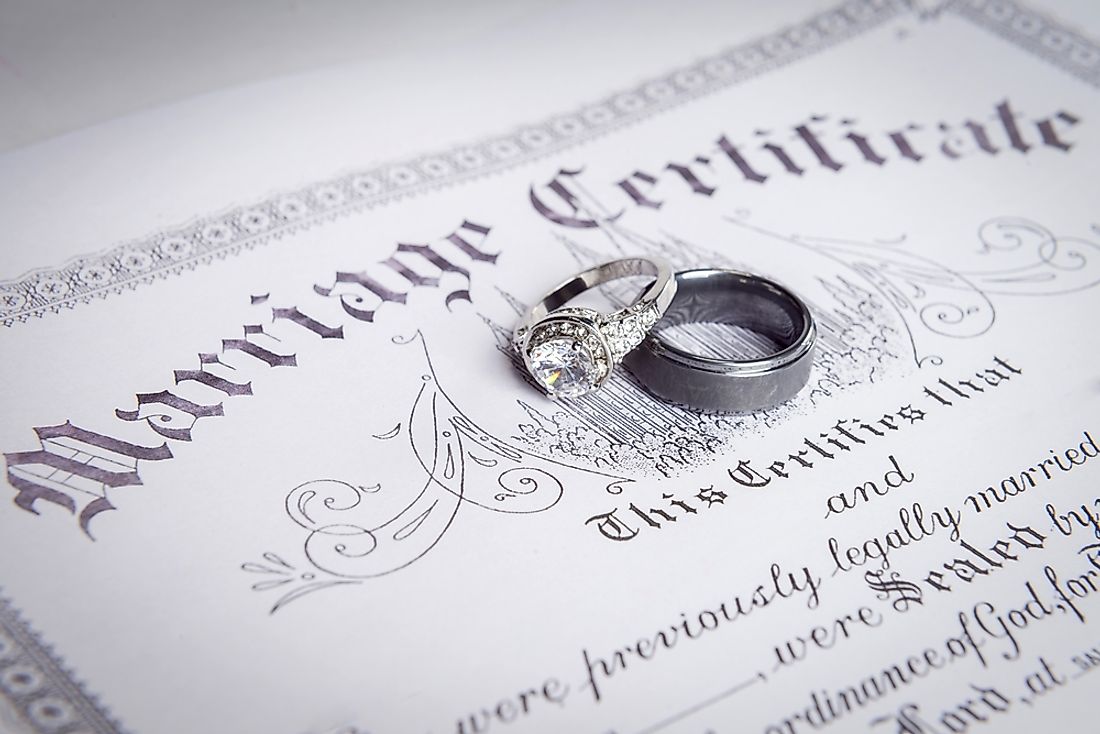 A marriage is a legally binding union between two people whereby the two individuals become spouses. After marriage, the spouses are granted various rights and privileges according to the laws of their particular area. People mainly marry for companionship, but other reasons may be involved such as to acquire citizenship. Marriages have been intertwined with man's history regardless of the time or culture. In many cultures in the past, marriages were usually for procreation as children ensured the continuation of the family's lineage. The elders in the society were often responsible with very little input from those who were getting married. Marriages have also been used as a tool for political gain primarily among royal families with one of the most famous examples being the Lý dynasty, who was overthrown as a result of an arranged marriage with the Tran Dynasty. The influence of religion can be felt in most wedding ceremonies around the world. In place of a religious celebration, some people choose to have civil ceremonies.

Marriage in the US
In the US, marriage is an institution enshrined in the constitution that any eligible person may enter. Marriage rates in the US currently stand at nearly 7 out of every 1,000 people which is a slight increase from 2009 when the lowest marriage rate since 1990 was recorded. The rate of marriage in the state of Nevada is four times greater than the national average at 28.4 while in Hawaii it is two times the national average at 15.6. The state of Illinois has the lowest marriages at only 5.4 out of every 1,000 people. Most American marriages, particularly first marriages, are ending up in divorce courts after an average of eight years according to McKinley Irvin. Marriage in the US is not only limited to American citizens as foreigners who can prove that they are eligible for marriage can also tie the knot. American citizens can also marry foreigners provided that they are eligible for marriage. Census data indicates that at least one spouse in nearly a fifth of all married households in American was born in a foreign country.
Factors Influence Marriage in the US
Marriages are a social institutions, and different factors in the society may influence marriages. Age is one of the critical factors affecting marriages. Women tend to get married at a younger age than men mainly as they prefer getting children in their youth. The US census bureau estimates that the average age at which women are getting married is 27 while the men tend to get married at 29. The average age at which Americans are getting married is increasing as during the 1960's women were getting married at 20. Wealth also significantly influences people's decision on marriage. Younger people prefer spending their time building a career to getting married and starting a family. Data from the Brookings Institution shows that women who marry later in life tend to earn at least $18,152 more than women who marry young, particularly those who marry before they are 20. Religion is also a factor that influences marriage with people who identify with a particular religion tending to marry earlier than those who do not. The prevailing attitude on marriage at the time also affects marriage. Communities in which high value is placed on getting married have more people getting married.
Factors Promoting High Rates of Marriage
Some states in the US have a disproportionately high percentage of marriage compared to the national average. The situation can be attributed to various factors such as location and regulation. When choosing a state to get married, the ease of getting through bureaucratic red tape is a major determining factor. Nevada has the most natural marriage regulations to navigate in the US. Wisconsin, which has an average of 5.6 marriages per every 1000 people, has a six-day waiting period before couples can get married unlike in Nevada where there is no waiting period. The location in which a couple wishes to get married is also an essential factor. States with more picturesque locations tend to attract more people looking to get married than other states. The main attractions in the state of Nevada are the Grand Canyon and the city of Nevada. Las Vegas is famous due to beautiful locations such as the Graceland Wedding Chapel and the Bellagio Chapel that continue to draw a high number of visitors. One of the main reasons that Hawaii has large number of marriages is the picturesque scenery. Hawaii is considered one of the world's most beautiful islands making it a premier destination for people to get married. Beaches are the most popular wedding choice in Hawaii due to the beauty of the sunsets. In Arkansas, the state with the third-highest rate of marriage in the US, the Thorncrown Chapel in Eureka Springs is the most popular wedding location. On average the chapel draws nearly 2,000 visitors.
Child Marriage in the US
Child marriages were once thought to be a preserve of poorer nations, but statistics have proven that it occurs in the US more frequently than people would like to believe. In some US states the law allows for people under the minimum age of consent to be married off in exceptional circumstances. The loophole in the law has created a situation where children, particularly girls, are exploited and coerced into marriages. Data from the New Jersey health department indicate that in New Jersey alone close to 3,500 children below the age of 18 were married. In total, more than 200,000 minors were married between 2000 and 2015. Boys made up 13% of the total indicating that they were also affected albeit not as much as the girls. In the majority of the cases, more than 85%, involved minors getting married to adults. A significant number of the girls who get married while still minors, were usually pregnant. Pressure from their families and communities was cited as the primary reason for the marriages. Child marriages have traumatized a large number of American children resulting in groups such as Unchained At Last being formed to oppose the practice.
10 US States With The Highest Marriage Rates
| Rank | US State | Marriages per thousand people |
| --- | --- | --- |
| 1 | Nevada | 28.4 |
| 2 | Hawaii | 15.6 |
| 3 | Arkansas | 9.9 |
| 4 | Utah | 9.0 |
| 5 | Tennessee | 8.6 |
| 6 | Vermont | 8.3 |
| 7 | Florida | 8.1 |
| 8 | District of Columbia | 8.1 |
| 9 | Idaho | 8.1 |
| 10 | Montana | 7.8 |
About the Author
Benjamin Elisha Sawe holds a Bachelor of Arts in Economics and Statistics and an MBA in Strategic Management. He is a frequent World Atlas contributor. 
This page was last updated on July 19, 2018.
Citations
Your MLA Citation
Your APA Citation
Your Chicago Citation
Your Harvard Citation
Remember to italicize the title of this article in your Harvard citation.