Borneo is located in Southeast Asia's Malay Archipelago and is the third-largest island in the world. The island is home to some of the planet's most diverse wildlife and a range of incredible landscapes. From verdant rainforests to rugged mountains, there is a lot to be discovered on this magnificent island. But do not just stick to the mainland, Borneo is only moments away from a series of smaller islets that will take your breath away.
Read on below to find out 10 reasons why you must absolutely visit Borneo and add this island to your bucket list today.
10. Food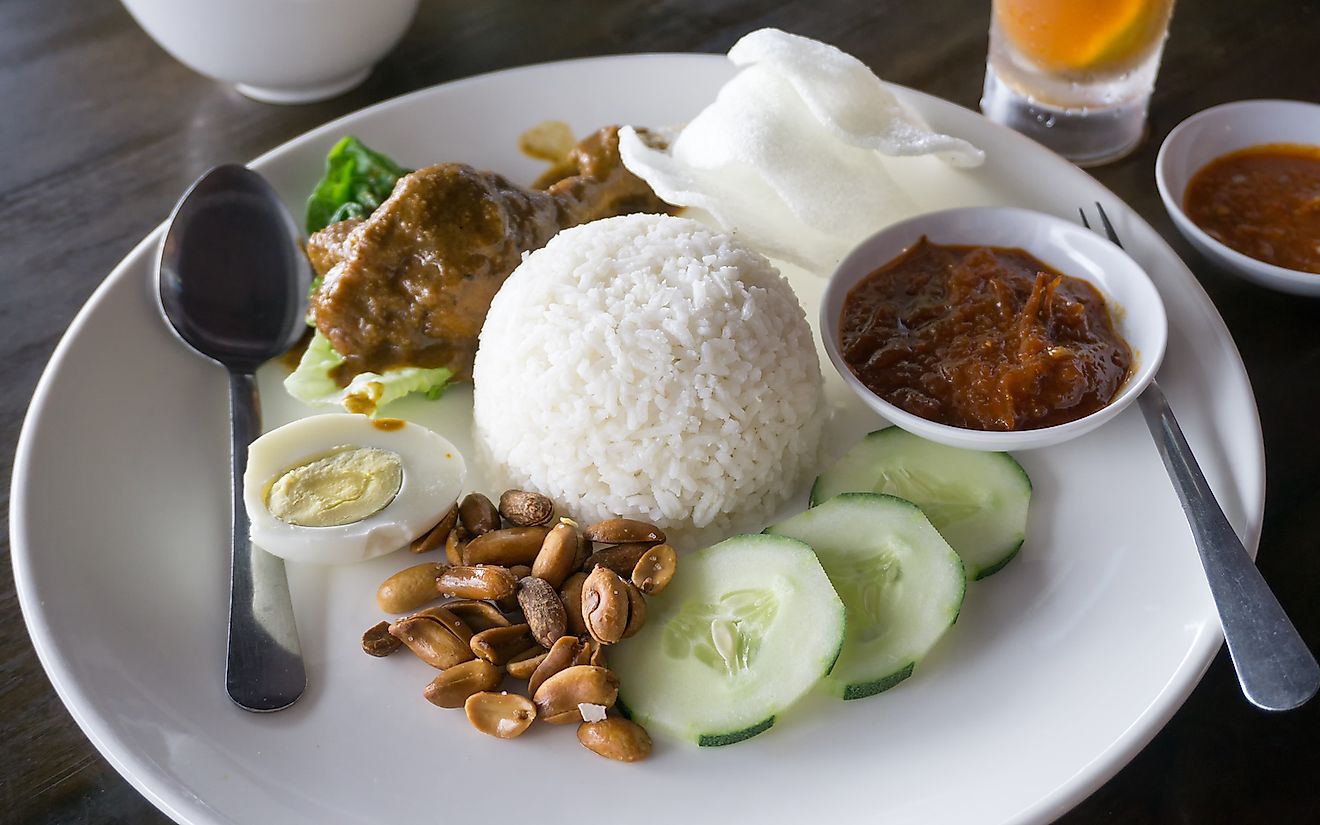 Borneo is home to some of the tastiest food in the world, so do not miss out on sampling some of its traditional dishes when you visit the island. Try nasi lemak, Borneo's unofficial national dish, it consists of white rice cooked in coconut milk with a side dish of salted fish or egg. Although it is commonly eaten for breakfast, you can eat it at any time of the day. Seafood is very popular in Borneo as its long coastlines and large rivers provide an abundance of fish including, lobster, shrimps, and mackerel. If you have a sweet tooth, try Pisang Goreng, a banana fritter that is served piping-hot from street stalls across the island.
9. Rainforests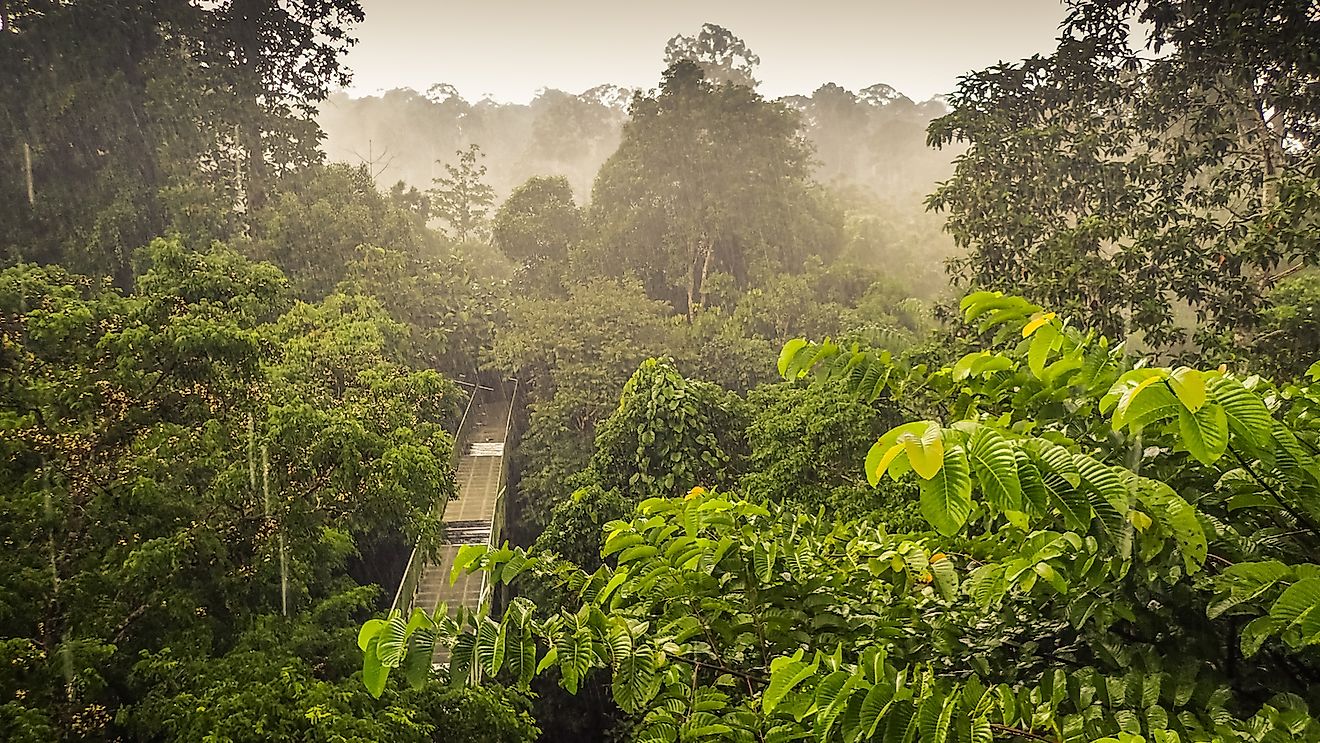 Borneo has the world's oldest rainforest, it is 130 million years old and is older than South America's Amazon Rainforest. The Danum Valley area is filled with thousands of species of flora and fauna. Look out for yellow and red muntjacs, mouse-deer and hornbills as you trek through the trees. Visitors to Danum can expand their knowledge of the rainforest at the ecological research facility and stay in eco-reserves deep in the jungle.
8. Wildlife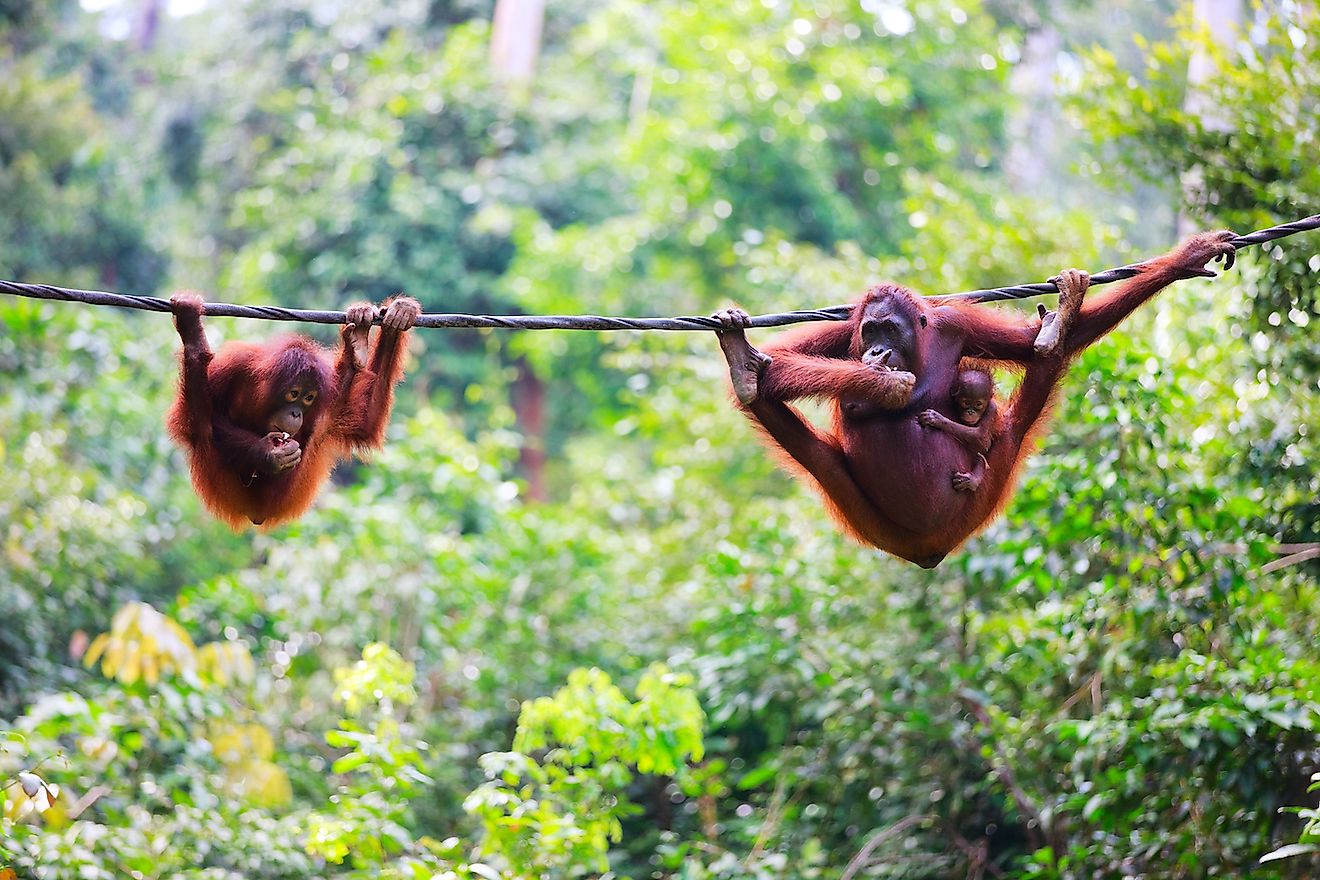 The forests of Borneo are full of wildlife. It is estimated that there are 222 species of mammals that inhabit the jungle, including 44 species that cannot be found anywhere else in the world. 420 types of birds make their nests in the treetops and foliage, and over 390 kinds of fish swim through the rivers - 19 of which are endemic to Borneo. If you embark on a trek through the jungle, you may encounter orangutans, proboscis monkeys and pygmy elephants.  
7. Gunung Mulu National Park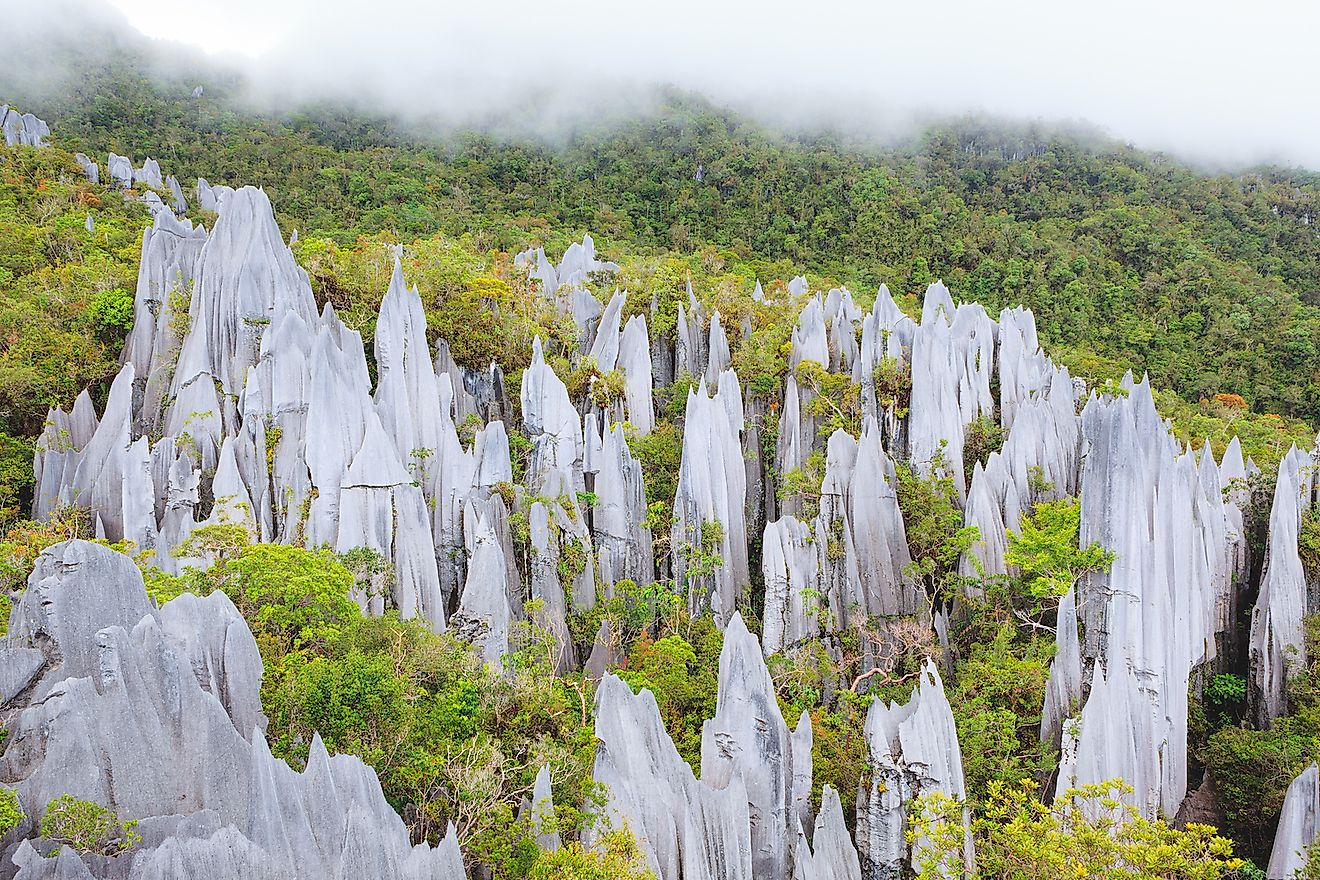 Gunung Mulu National Park, in the state of Sarawak, is renowned for its high biodiversity and striking limestone karsts. The park is named after the Gunung Mulu, a series of 7,795-foot-tall formations that soar above the rainforest. Underneath the pinnacles is the world's largest underground chamber, called the Sarawak Chamber. The cave is 2,000 feet long and 1,427 feet wide. In order to reach Sarawak, visitors must follow a river upstream from the cave's entrance - some swimming may be required. The park is also the location of Deer Cave, the world's largest cave passage and Clearwater Cave, the longest cave in Southeast Asia.
6. Snorkeling and diving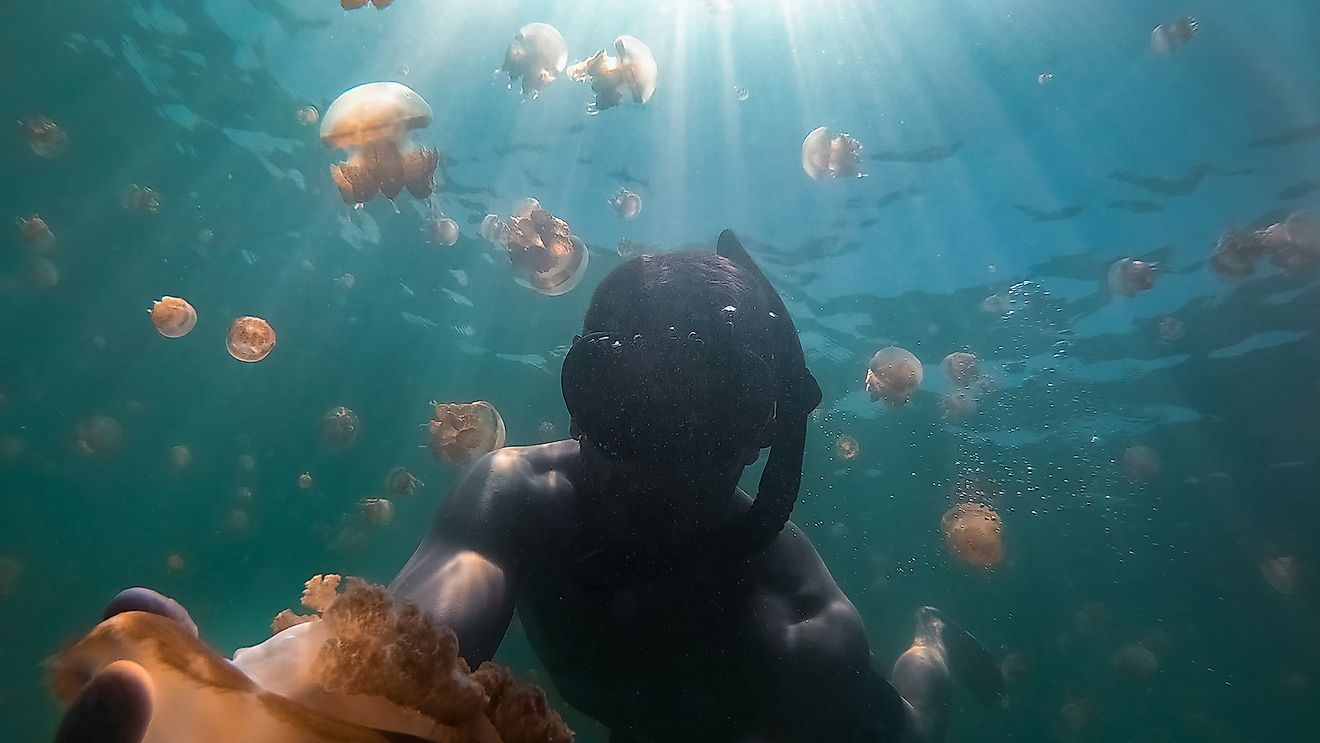 The small islands offshore Borneo are the perfect place to snorkel or dive. Explore the shores of Gaya Island; the impeccably clear waters are teeming with catfish, clownfish, and vibrant coral gardens. Diving enthusiasts should visit Sipadan, here you will be able to swim among manta rays and sharks. Head to Selingan Island, not only for its stunning diving spots but to get the chance to see the hundreds of turtles that lay their eggs on the beaches. If you are a novice to diving, there are courses available in Kota Kinabalu - there is no better place to learn how to dive than in Borneo!
5. Island hopping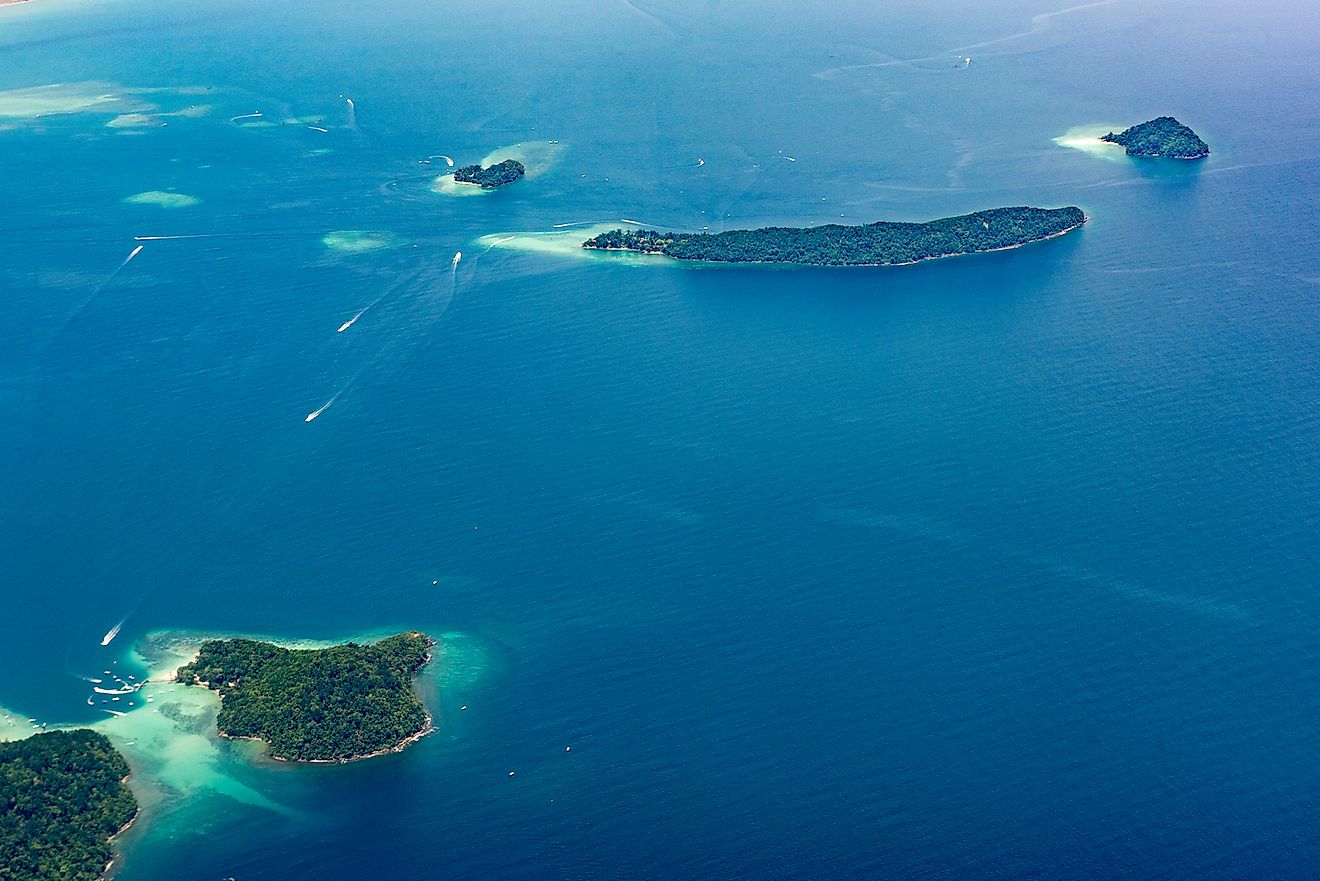 After you have finished exploring the mainland, head over to Borneo's stunning islands. Take a day trip from Kota Kinabalu to the Tunku Abdul Rahman Marine Park, a collection of five islands that range from developed to almost uninhabited. Mamutik is the smallest of the Marine Park's islands, it is the epitome of paradise with its pristine beaches and lush jungle. Spend your time lazing on the white sands or snorkel by rocky outcrops to discover exciting marine life. Although Manukan Island is the most visited, it should not be overlooked. The island boasts luxurious resorts, an array of beaches, and 21 acres of thick jungle.
4. Mount Kinabalu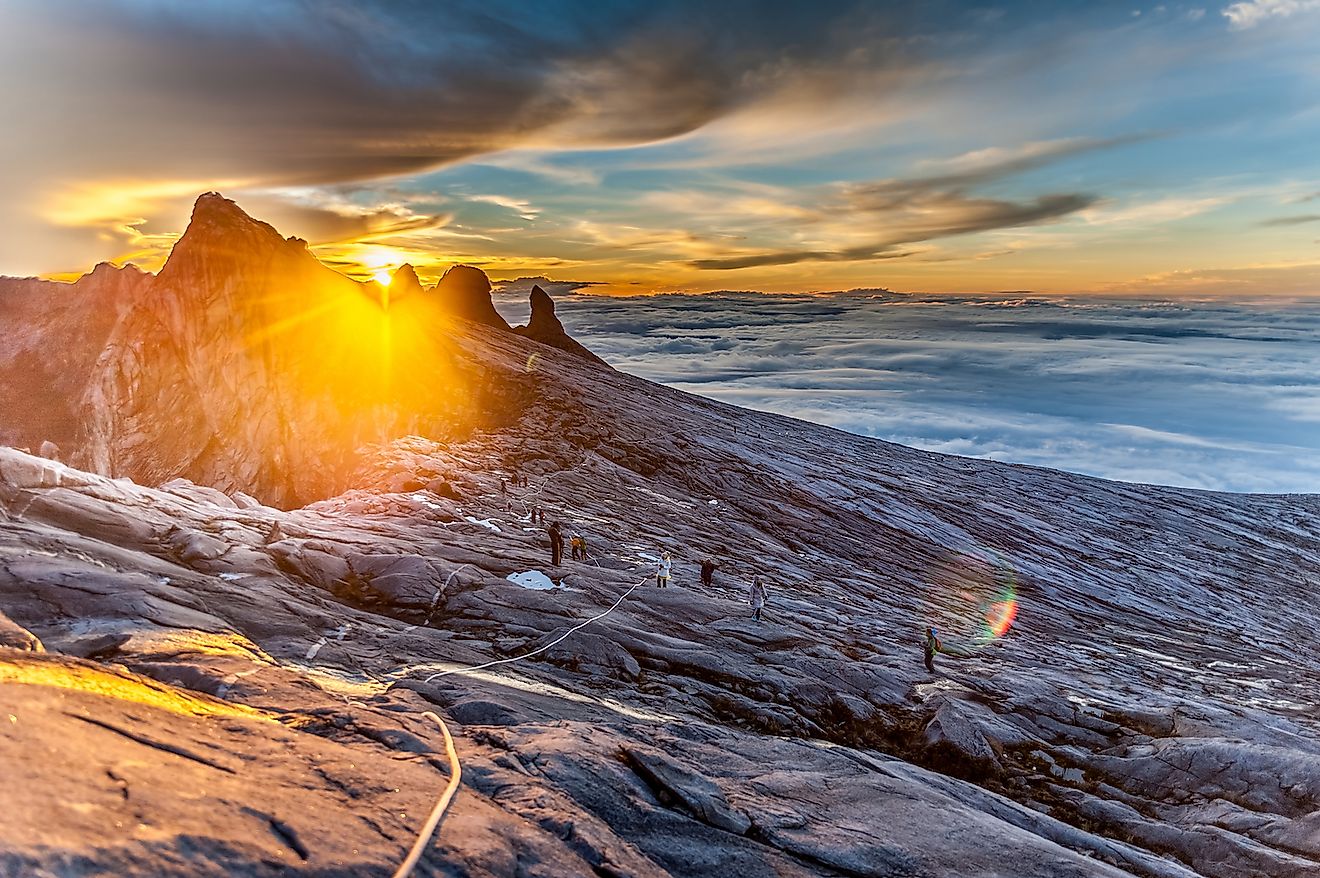 Mount Kinabalu is the highest peak in Borneo's Crocker Range and the highest mountain in Malaysia. Mountain climbing enthusiasts can expect to reach the peak in two to nine days, depending on the route taken. Full-day treks to half the height of the mountain are also available; determined novices will be able to complete this hike. Those who do not wish to scale Kinabalu will be spoilt for choice in the surrounding national park. Visit the Poring Hot Springs, Botanical Garden, or embark on a canopy walk through the jungle.
3. Conservation Centers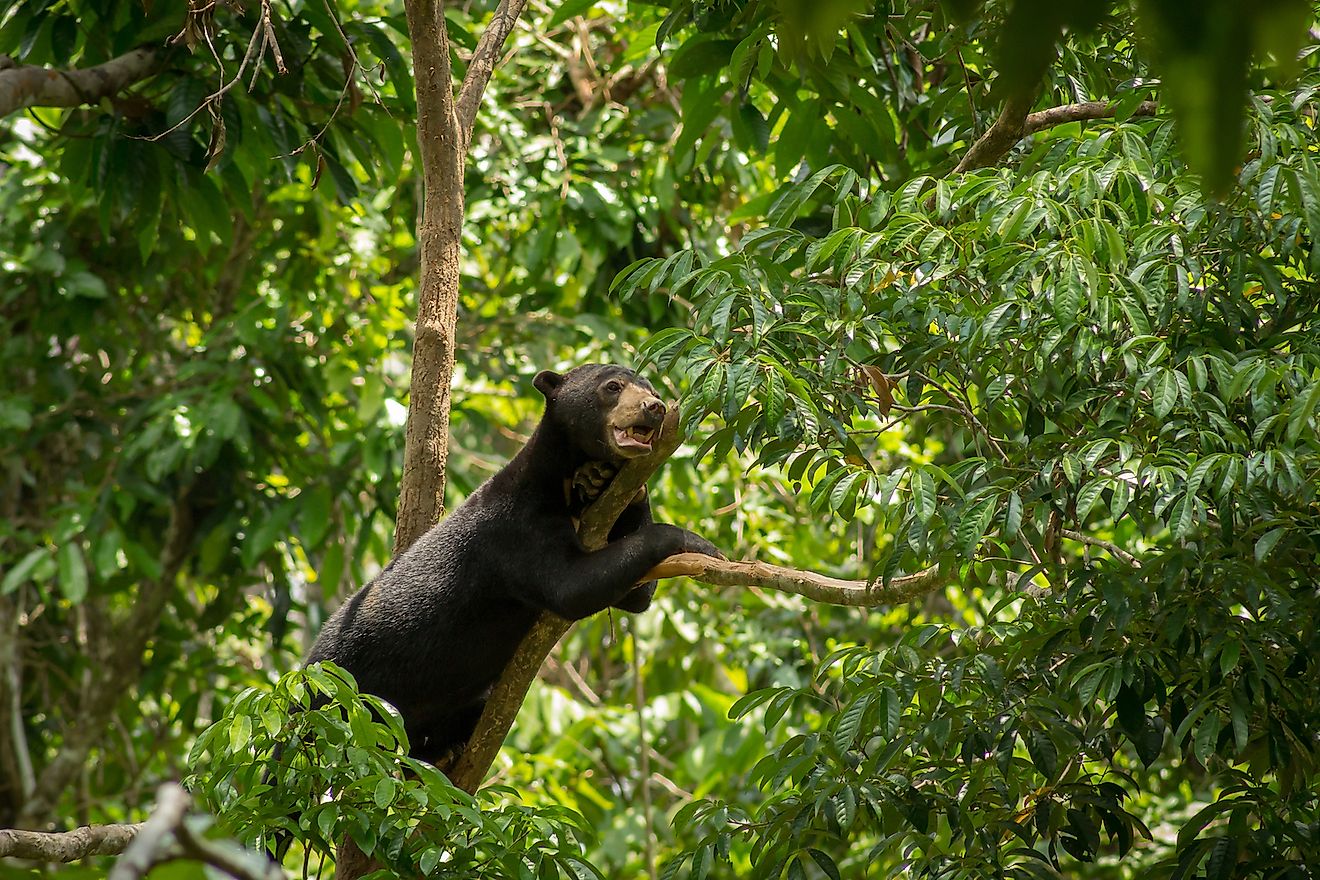 Deforestation is a huge threat to Borneo's wildlife. Palm oil plantations, illegal logging, and forest fires are just some of the events that have a devastating effect on the landscape. However, conservation centers across the island are dedicated to protecting and preserving the life of Borneo's creatures. You can help make a difference by volunteering at one of the centers such as the Samboja Lestari Orangutan Sanctuary and the Borneo Sun Bear Conservation Center. To volunteer in Borneo is an extraordinary experience you will never forget.
2. Kinabatangan River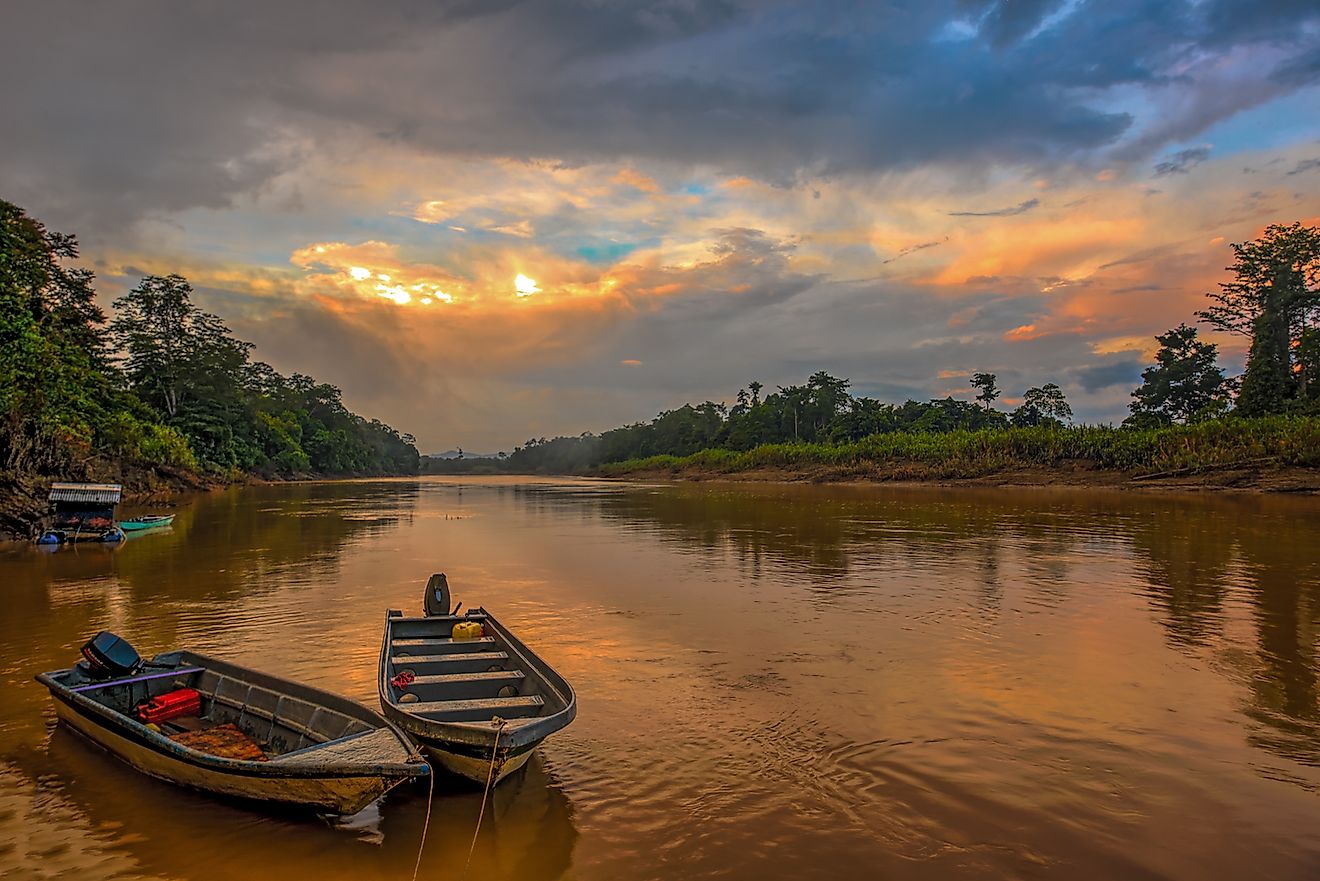 Enjoy a cruise along the Kinabatangan River to discover an array of wildlife that live along the banks. You will see lizards, macaques and the famous pygmy elephants. Birdwatchers will be thrilled by the number of species that burst from the trees. Kingfishers, indigo flycatchers and the bright green Hose's broadbill are just some of the feathered friends you will encounter. River tours are available that ensure you get the best experience of the Kinabatangan; there is never a dull moment when you sail along Malaysia's second-longest river.
1. Beaches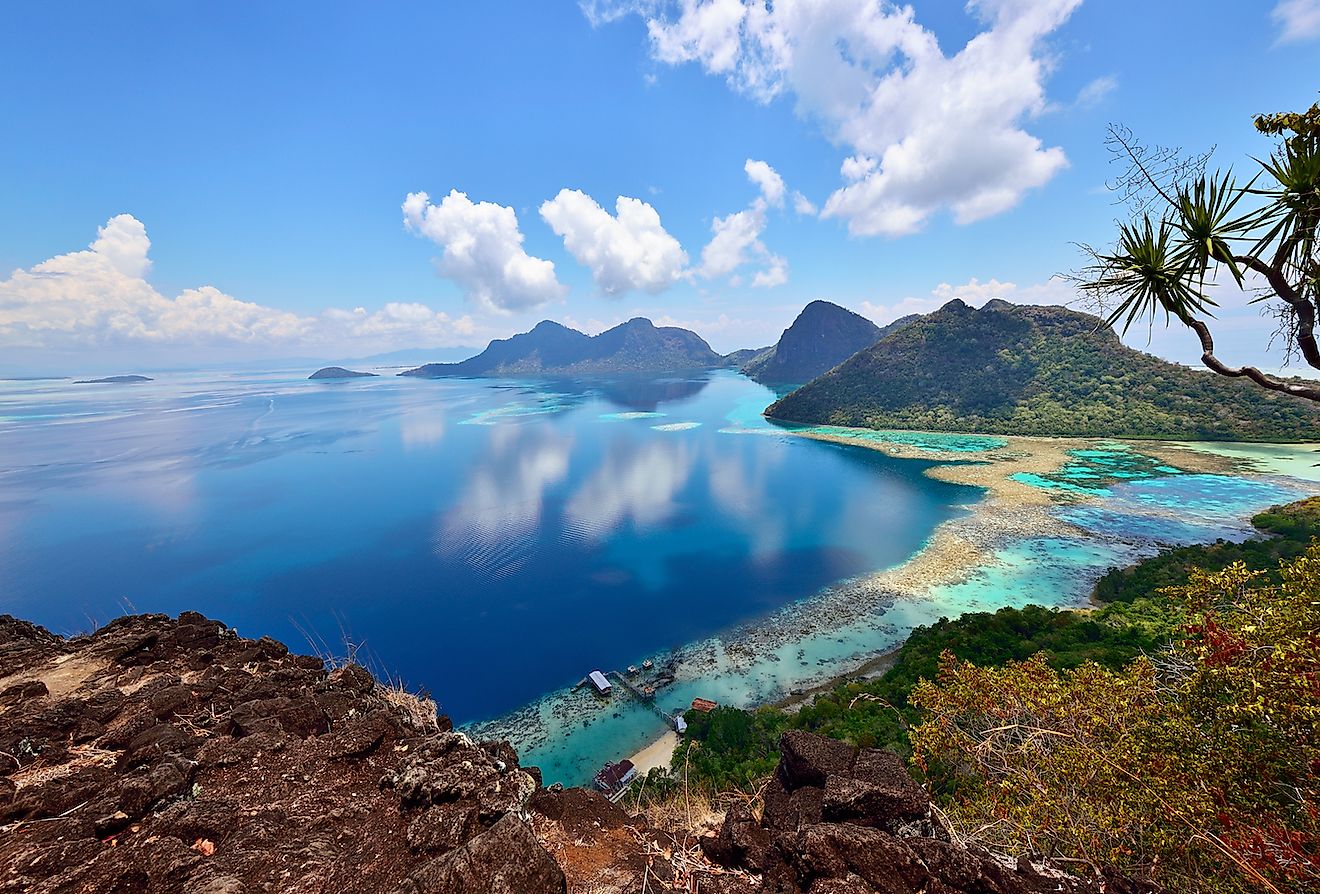 Borneo has some of the best beaches in Malaysia. No matter what you are looking for, whether it is snorkeling hotspots or somewhere to chill out, Borneo's beaches will cater to your needs. Head to Tanjung Aru for golden sands fringed by swaying palm tree; there are nearby barbequing facilities which make it a great place to spend the entire day. Enjoy a delicious grilled fish meal as you watch the sunset on this spectacular beach. Hawaii Beach, situated just 15 minutes from Miri, is the perfect getaway after an afternoon spent exploring the city. Lie back on the soft sands or swim in the crystal-clear sea.