10 Countries In The European Union With The Most Dogs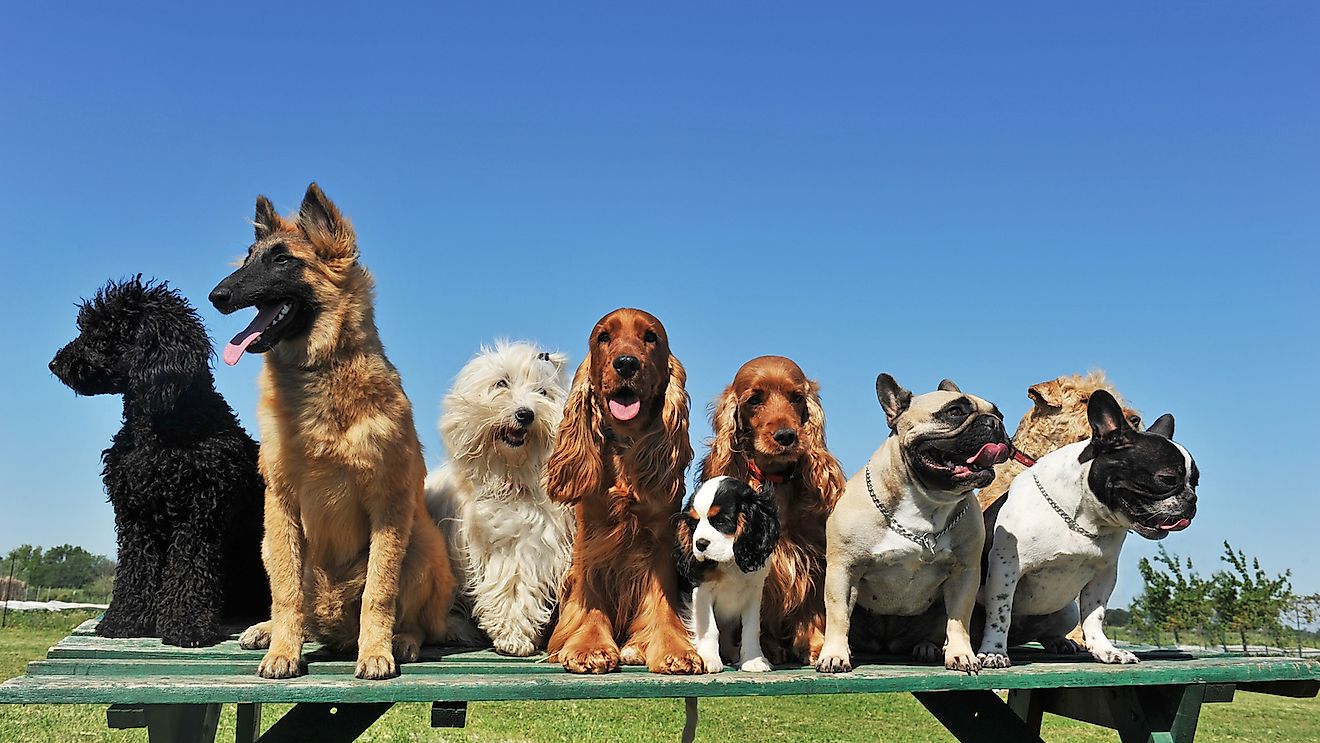 The population of dogs in Europe has grown steadily over the last decade. Today there are an estimated 65.5 million dogs and 75.3 million cats in the European Union. Companion animals, especially dogs, provide significant psychological and physiological benefits to their owners and assist in creating social bridges in the community. In addition to their social benefits, dogs also support the pet food industry and the breeding and trade of dogs, both of which are significant economic sectors. According to data on pet ownership from the European Pet Food Federation (FEDIAF), 24% of households in the European Union own dogs. Germany leads in dog ownership with a total of 9.2 million dogs, followed by the United Kingdom, which has 9 million dogs. Other countries with most dog ownership include Poland, Italy, France, Spain, Romania, the Czech Republic, and Portugal.
Germany
Germany has the highest dog population in the EU. Dogs are considered an essential part of daily life and are treated with respect as any other member of the family. Consequently, there are few strays compared to other countries. Dogs also have liability insurance, which is also mandatory. It covers damage done by the dog, such as a neighbor's garden, rental property, or any other property. Microchipping of dogs is also recommended, as it helps in the identification of a lost animal.
United Kingdom
About a quarter of the households in the UK have at least one dog. It is, therefore, not surprising that there are over 20 pieces of legislation that relate to dog ownership. In total, the country has 9 million dogs, the second-highest population in the EU. The Pet Food Manufacturers' Association has noticed an overall increase in dog ownership over the years that has been driven by ownership among families. The number of families with children owning a dog grew by 11% in 2017 to hit 2.3 million, representing a 230,000 increase in population. British pet owners are required by law to ensure their pet's welfare needs are met, including proper housing, a suitable diet and environment, and protection from suffering, pain, injury, and diseases. 
Poland 
Poland has an estimated 7.55 million dogs. There are strict regulations on the types of dogs that are not allowed into the country. Some of the banned breeds include the American Bulldog, American Pitbull Terrier, Moscow Guard dog, Akbash dogs, Rottweiler, Ca de Bou, Argentine Mastiff, Tosa Inu, Caucasian Shepherd dog, Perro de Presa Canario, and the Anatolian shepherd dog. Poland is described by most as a relatively dog-friendly country. However, for one to move to the country with a dog, they have to abide by specific pet import rules. For example, entering the country needs to have a microchip, an EU Health Certificate, a rabies vaccination certificate, an internal health certificate, and USDA endorsement on required documents.
Italy
Dogs are the most popular pets in Italy, with at least 55% of pet owners having at least one dog in their homes. The total dog population in the country is about 7 million. Despite loving companion dogs, Italy also has incidents of free-roaming dogs abandoned by owners who have lost interest. According to the public perceptions of Free-roaming companion animals such as cats and dogs in central Italy showed that residents were in favor of animal shelters to help tackle the problem and other measures that would ensure the animals' welfare. 
 France 
France has the fifth-highest dog population in the EU, with 6.95 million dogs. The country is one of the most dog-friendly nations on the continent and is also a popular destination for tourists traveling with their dogs. It is compulsory for dogs entering France from EU countries to have identification in the form of a microchip or a tattoo (made before 3 July 2011). 
Spain
Spain is known as a nation that profoundly treasures its companion animals. A study carried out by Amazon showed that 52% of Spaniards prefer their pets to humans. Eighty-six percent of Spaniards surveyed believed that pets improved their mental health, and about 62 percent of pet owners said they celebrated pet birthdays every year. It is no wonder Spain has one of the highest dog populations in Europe at 6.27 million. With more Spaniards living alone, pet numbers have risen by 40% in cities in the last five years. There are more pets in the country than children under the age of 15. Most cities are dog-friendly. The city of Gijon, for example, has 30 parks and a beach where one can go all year and let the dogs off the leash. There is, however, a growing concern over abandoned dogs across the country. In 2018 alone, 104,688 dogs were taken in by animal shelters.
Romania
Romania has a dog population of 4 million. The country has a large owned and unowned free-roaming dog population. The population is particularly high in rural areas. Adequate research has not yet been carried out to determine the number of un-owned dogs, but estimates vary from 500,000 to 3 million. The country has, in the past, tried culling the population, but the strategy has been ineffective. In September 2013, a dog control law was introduced, following the death of a young boy after a dog attack. The law required the registration and microchipping of all dogs on a national database and the sterilization of crossbreed dogs. The law also required that dogs on the street should be placed in a shelter for a maximum of 14 days before being put down. Culling and reports of inhumane treatment in shelters, consequently, sparked international protests. The government is currently working alongside NGOs to find a more humane solution to the dog population challenge.
Portugal   
Pets are held in high regard in Portugal and are no longer considered things but rather living beings with feelings and a right to legal protection. The country also has laws that ensure the welfare and health of companion animals. Pet owners have an easy time hanging out with their pets as they are allowed to enter restaurants and commercial places that are marked as pet-friendly. The mistreatment of dogs and other pets is also prohibited. The country currently has about 2.1 million dogs, and despite having laws protecting animals, the country is still struggling to manage challenges such as abandoned animals.
Czech
Czechs are known as dog-loving people. Results of a recent survey show that two in every five households in the country have dogs, and 40% of dog owners allow their pets into their beds. The study also found that mid-sized dogs are the most popular. Golden Retrievers and Labradors are particularly popular in families with children. People who like cuddling with pets prefer Yorkshire Terriers, the Maltese, and French Bulldogs, while young people prefer sporty breeds such as Border Collies. Currently, the country has 2 million dogs. Stray dogs are posing a significant challenge.
Netherlands
Animal companions are very popular in the Netherlands, and issues to do with animal welfare are given a high priority by the Dutch government. It is not uncommon to find puppies being carried around the city by bike baskets. Most restaurants and cafes are dog-friendly, and small pets are allowed on public transport. The country also has one of the lowest rates of euthanasia. The country currently has 1.52 million dogs.
Movement Of Pets Across The EU
The EU Pet Passport was introduced in 2004, and the document contains information about the animal's identity and health status, including vaccination and anti-parasite treatment. The document is recognized by all EU countries and allows a hustle-free travel experience with your favorite animal companion across the EU. To obtain one, you need to visit your veterinarian, who will check that your animal is microchipped and, when necessary, vaccinate it against diseases such as rabies.
10 Countries In The European Union With The Most Dogs
| Rank | Country | Number of dogs in thousands |
| --- | --- | --- |
| 1 | Germany | 9400 |
| 2 | United Kingdom | 9000 |
| 3 | Poland | 7600 |
| 4 | Italy | 7002 |
| 5 | France | 6950 |
| 6 | Spain | 6270 |
| 7 | Romania | 4000 |
| 8 | Portugal | 2100 |
| 9 | Czechia | 2000 |
| 10 | Netherlands | 1520 |