The Most Snake Infested Lakes In California
California connotes summer fun across a range of big-city social scenes and quiet/idyllic natural environments. Residents and tourists love to flock to the sandy beaches of the Pacific Coast, but they equally veer towards the many acclaimed national parks and scenic trails in the shadows of major mountain ranges. Along the way, there are plenty of organic and artificial lakes that can be great for a peak-heat dip, casting a bobber, whipping around on a boat, or simply enjoying its magnetism while keeping to the comfort of the surrounding shores. This paints an appealing picture, but it is also worth noting the abundance of local snake populations that may give some people reason to pause. 
According to the California Department of Fish and Wildlife, there are nearly 50 species of native snakes, plus there are a good number of invasive serpents that can be tricky to account for. These cold-blooded reptiles thrive on sun-soaked dryland, but they are also excellent swimmers, and can be commonly spotted in shallow bodies of water. So enjoy the lakes this summer, but keep an eye out for those little bopping heads when visiting these six entries. 
Lake Tahoe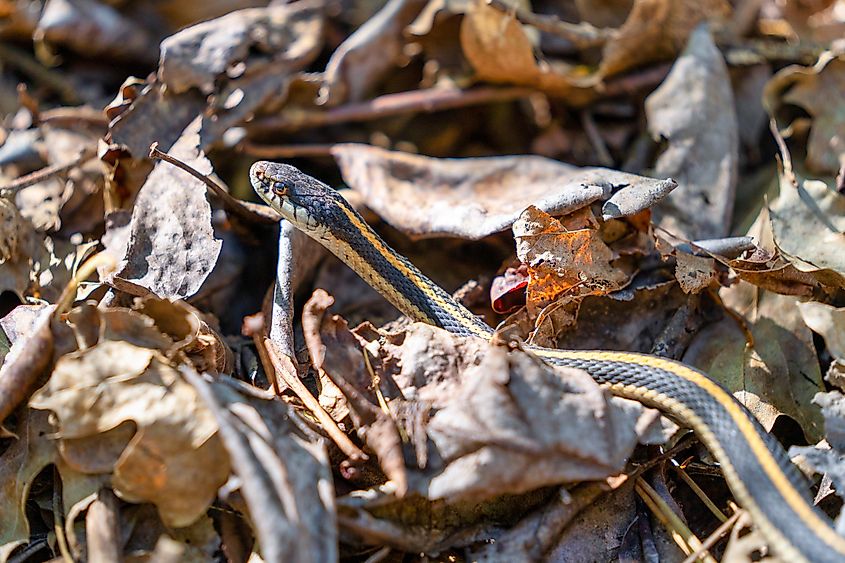 Lake Tahoe is one of the largest high-altitude lakes in the United States, and with a depth of 6,229-feet, it is the second-deepest in the nation (behind Oregon's Crater Lake). Along with its immensity, Lake Tahoe is revered for its crystal clear waters and stunning panorama views of the Sierra Nevada mountain range. While neighboring Nevada shares some of the action, the majority of its shoreline resides in Northeastern California. And while summer tourists bring a lot of energy to this 191-square-mile beauty, serpents are still able to find undisturbed sections for a dip. Rattlesnakes (Great Basin and Western Diamondback) are the noteworthy venomous species to be mindful of. However, they do not usually behave aggressively while in the water. The common water snake and garter snakes are two of the non-threatening slitherers that visitors can expect to find in and around the lake. 
Machado Lake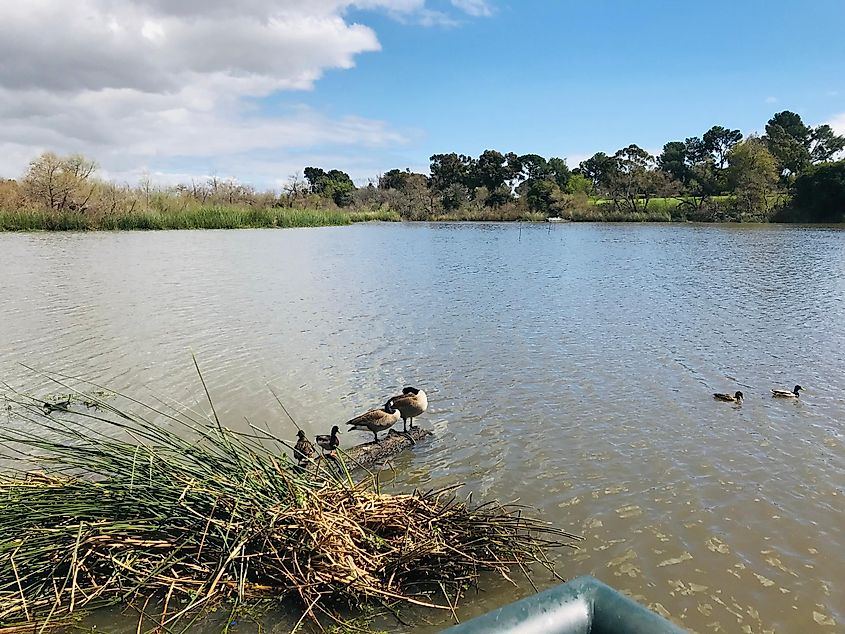 Machado Lake is a 31-acre urban pond, originally designed for flood control and irrigation for the greater Los Angeles region. This little man-made construction sits in Ken Malloy Harbor Regional Park, in South Los Angeles' Harbor City neighborhood, right next to Los Angeles Harbor College. Recently, in 2017, the Machado Lake Ecosystem Rehabilitation Project was completed. This much-needed restoration mission removed built-up sediment from the bottom of the lake, installed trash-removing devices, and eliminated many other pollutants while also oxygenating the water (which helped remove algae blooms, and boost the viability of the habitat). Machado Lake is now a healthier environment for humans, but also for the Southern water snakes that have made their way into this community swimming hole – most likely the multi-generational products of former pets illegally sprung loose. 
Lafayette Reservoir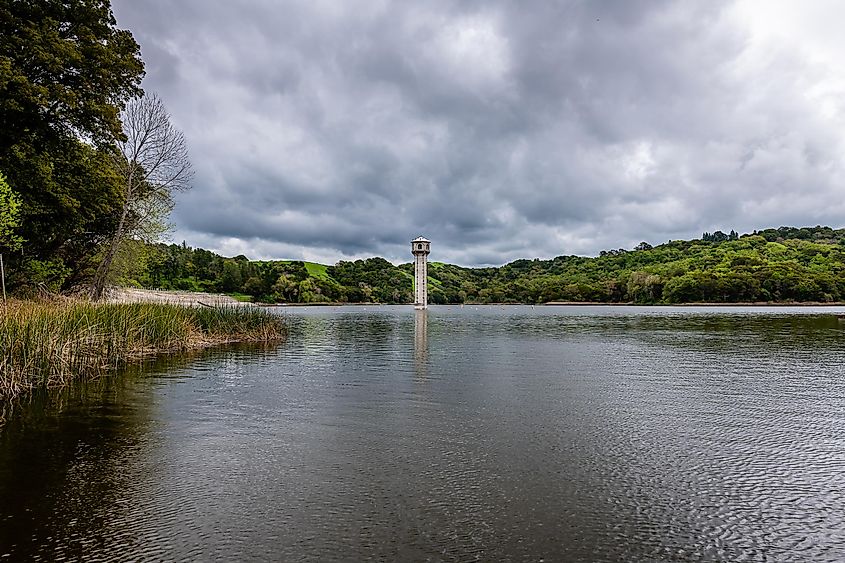 The elusive and nocturnal ring-necked snake, the aptly-named sharp-tailed snake, the light yellow/brown-spotted gopher snake, and the bold-looking California kingsnake have all been observed in the vicinity of the Lafayette Reservoir. All four species are non-venomous, and are therefore predominantly harmless to humans and pets. But as with any creatures capable of breaking the skin with their bite, visitors to this artificial Central Californian waterway will want to keep a respectful distance. Lafayette Reservoir sits just West of the city of Lafayette (immediately South of Highway 24) and is open year-round for day-use purposes. This commonly includes: hiking/jogging, picnicking, fishing, and boating (both row and pedal boats are available to rent on-site). 
Bear Gulch Reservoir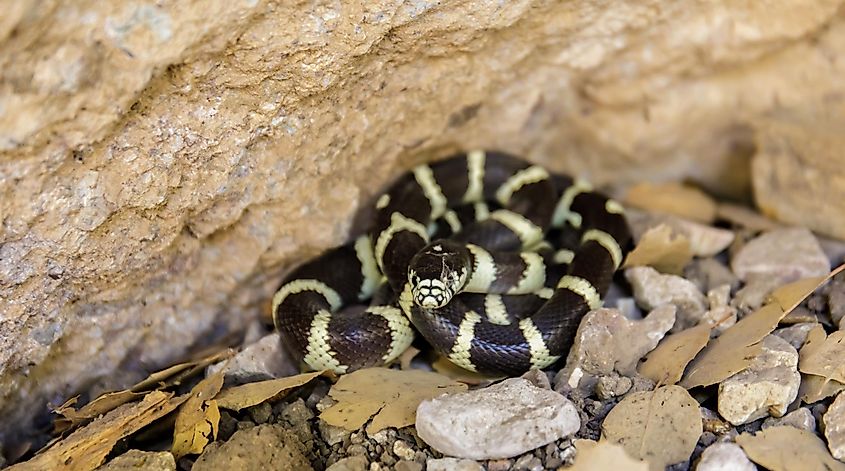 Another artificial oasis in Central California is Bear Gulch Reservoir. Not to be confused with the small, circular watering hole in the town of Atherton, the Bear Gulch Reservoir in question is part of Pinnacles National Park. Surrounded by the inspiring spired rock formation, the narrow, bendy, almost snake-shaped body of water is part of an ecosystem with 14 known species of snakes (including such recognizable entries as the garter snake, gopher snake, and Western rattlesnake), plus a wealth of other interesting reptiles, such as the threatened red-legged frog. Park goers can reach this pleasant spot by taking the one-mile Moses Spring trail. Pack a light lunch, or head out late in the day to enjoy a brilliant sunset (just make sure to pack headlamps for the return journey…and watch where you step!). 
Folsom Lake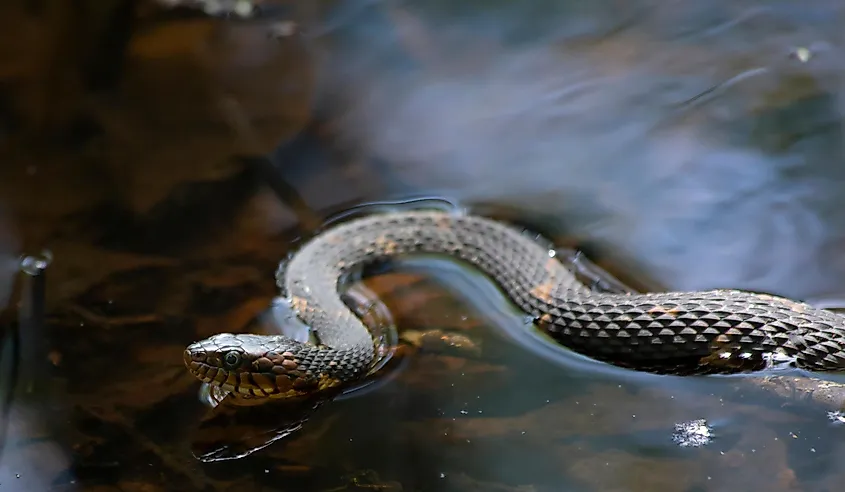 25-miles East of Sacramento, in the foothills of the Sierra Nevada range, Folsom Lake State Recreation Area gives Californian city-slickers a quick getaway in nature. The eponymous lake is the centerpiece of the park, and is beloved by boaters, water-skiers, and anglers alike. This site is well-stocked with trout, catfish, largemouth/smallmouth bass, and perch, but Southern water snakes and rattlesnakes also work within the rhythms of the reservoir. When the waterline is low and debris is high, these semi-aquatic species are better able to skirt along near the surface, whereas during high water seasons, more snakes can be spotted on the surrounding trails. Folsom Lake congregates the North Fork American River, South Fork American River, and the American River, which rolls South to our last entry. 
Lake Natoma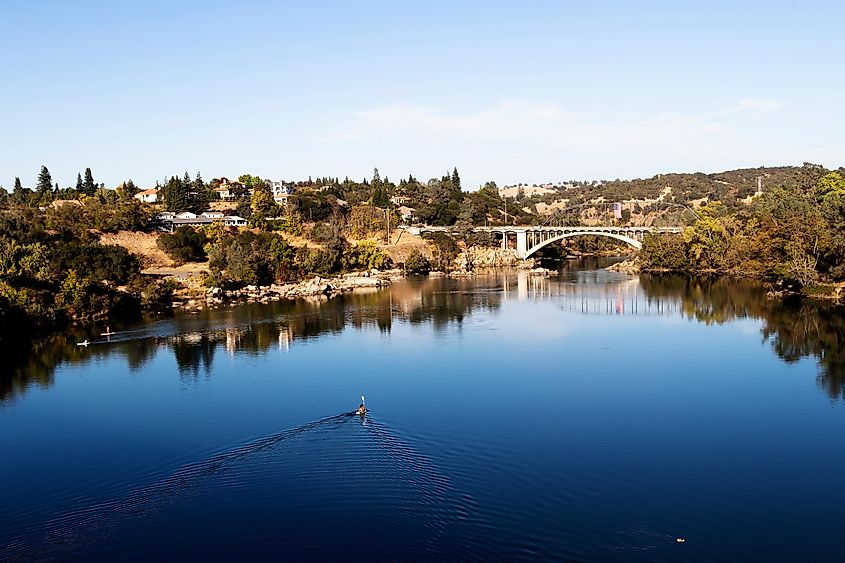 Lake Natoma sits only a few miles downstream from Folsom Lake. Its slender, four-mile-long, once-again snake-shaped body presses up against the Mississippi Bar nature preserve, and is met by the Sacramento State Aquatic Center at is Southern tip, and the Folsom Powerhouse State Historic Park (which enshrines what was once called "the greatest operative electrical plant on the American continent"), marks the Northern tip. Natoma is another magnet for water sports – this time specializing in crew races, sailing, and recreational paddling with the help of its enforced 5-mph speed limit. The invasive Southern water snake works its way into these parts as well – feasting on the local population of fish and amphibians, while also being protected by the ban on motor boats. 
Though snakes strike a primal chord within many of us, they are paradoxically quite harmless in the grand scheme of things. While some of the 50+ species of snakes residing in California are indeed venomous (most notably, the seven species of rattlesnakes), they do their best to stay away from humans, and often give fair warning before lashing out. Nonetheless, some swimmers might be startled by an encounter with a slithering reptile, so be sure to take a little look around before plunging into these six lakes.