Mobile Bay – Map & Details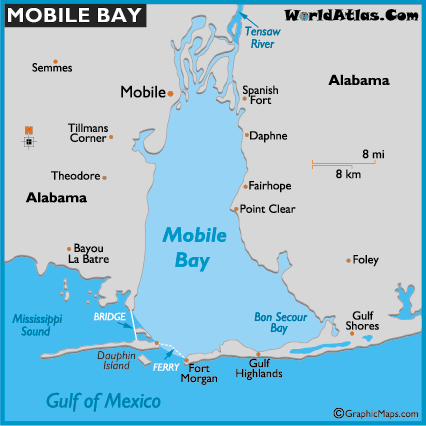 Mobile Bay is a northern extension (or inlet) of the Gulf of Mexico, one bordered completely by the State of Alabama.
About 30 miles in length, the bay averages near 11 miles in width. Excluding the dredged ship channel, the bay is shallow, as the average depth is measured at only 12 feet.
In the summer, residents along the eastern and western shores (somewhat frequently) are the beneficiaries of a mysterious natural phenomenon, locally called a Jubilee. Experts believe that low levels of dissolved oxygen in the bay's water cause marine life to become very lethargic and then move into shallow water to try to get more oxygen. During this movement, locals literally walk along the shore and fill their ice chests with crabs and flounder and other forms of marine life.
This page was last updated on September 2, 2020.