Isles of Scilly Map and Information Page
Isles of Scilly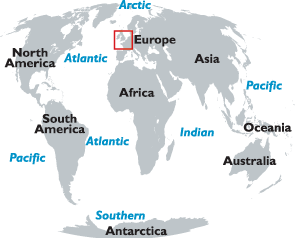 The Isles of Scilly form an archipelago off the southwestern tip of the Cornish peninsula of England, a part of the United Kingdom (UK).
The archipelago includes five inhabited islands and numerous other small rocky islets (around 140 in total) lying 45 km (28 mi) off Land's End.
Because of the islands' position and the warming Gulf Stream, they rarely have frost or snow, which allows local farmers to grow flowers well ahead of those in mainland Britain. In fact, the chief agricultural product is cut flowers, mostly daffodils.
Exposure to Atlantic winds means that spectacular winter gales lash the islands from time to time. This is reflected in the landscape, most clearly seen on Tresco where the lush sub-tropical Abbey Gardens on the sheltered southern end of the island contrast with the low heather and bare rock sculpted by the wind on the exposed northern end.
Today, tourism is estimated to account for 85 per cent of the islands' income. The islands have been successful in attracting this investment due to their special environment, favorable summer climate, relaxed culture, and good transport links by sea and air to the mainland.
This page was last updated on September 2, 2020.