Great Bear Lake Map and Map of Great Bear Lake Depth Size History Information Page
Great Bear Lake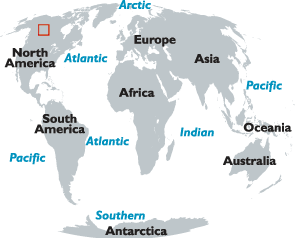 At 31,153 sq km (12,028 sq mi) Great Bear Lake is the largest lake (entirely) within Canada, and the third largest lake in all of North America.
Lake Superior and Lake Huron, two of the Great Lakes on Canada's border are larger.
Great Bear Lake's maximum depth is 446 m (1,463 ft) and its average depth 71.7 m (235 ft). The total shoreline is an incredible 2,719 km (1,690 mi)
Positioned within Canada's Northwest Territories, and dissected by the Arctic Circle, this extremely remote body of water is usually frozen solid from late November to the end of July each year.
On its southwest corner, near the small community of Deline (pop 540), the lake drains into the Mackenzie River through the Great Bear River.
This page was last updated on September 3, 2020.