Frisian Islands – Map & Details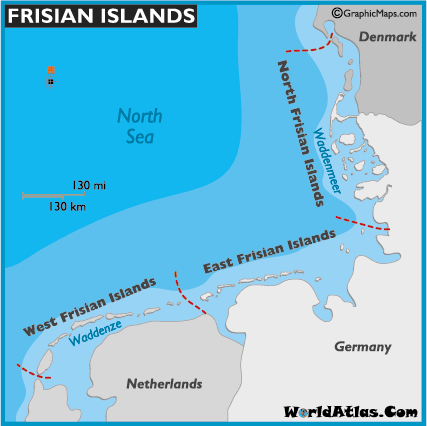 The Frisians are a low-lying chain of islands that extend from the northern coastline of the Netherlands, east and north along the coast of Germany, then ending on the southwestern coastline of Denmark. Though a very similar group of islands (north to south) they're subdivided into the West Frisian, East Frisian and North Frisian Islands.
Over many centuries violent North Sea storms (storm tides) and the resulting flooding and land erosion produced this extended chain of islands. The power of water movement literally washed away, or covered existing land, and then separated what remained from the mainland by the very shallow waters of the Wadden Sea.
Local governments have expended vast sums to reclaim some of the land lost to the sea, and today, these islands are used some for farming and ranching, but mostly, as idyllic (and very popular) tourist destinations.
Detailed Maps and Information
This page was last updated on June 16, 2020.