Bass Islands Map and Map of the Bass Islands Information Page
Bass Islands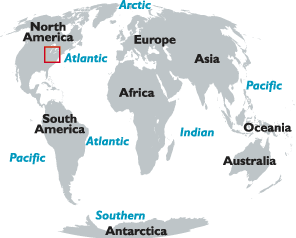 The Bass Islands are a small series of islands in the southwestern corner of Lake Erie.
Located within Ottawa County, Ohio, they're positioned to the northwest of Sandusky, Ohio, and a few miles southwest of Pelee Island, Canada.
The main islands in the group include South Bass Island (the largest), followed size wise by Middle Bass and North Bass.
Middle Bass has also been called Ile de Fleurs and North Bass was called Isle St. George.
The small town of Put-in-Bay on South Bass Island is a popular tourist stop during the summer. It's a Victorian village filled with boutiques, a harborside park with a playground, pubs with live entertainment, and numerous dining opportunities. An excellent ferry service serves the islands.
During the War of 1812, U.S. Commander Oliver Hazard Perry's naval victory over the British during the Battle of Lake Erie is commemorated on South Bass Island near Put-In-Bay. The island is also the annual host of the Inter-Lake Yachting Association Regatta.
Note: Heavily forested Kelleys Island (not considered a part of the Bass Islands) is the largest of America's Lake Erie Islands. It is part of the Sandusky, Ohio, metropolitan statistical area.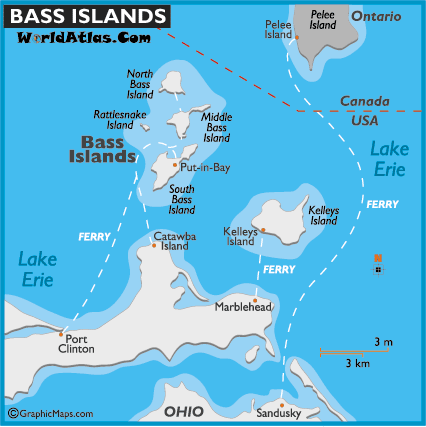 This page was last updated on August 24, 2020.