A Brief Description


Native American peoples (by the millions) occupied this region of South America for eons.



Then in 1500, the Portuguese navigator Pedro Alvares Cabral's fleet, en route to India, landed along the northeastern coastline (near Recife), he quickly claimed this land for Portugal - and the 300-year Portuguese era in Brazil began.



Over the next few decades more adventurers, explorers and treasure-seekers arrived; small settlements were established along the coastal areas, and when Portugal took control in 1580, it was now becoming a lucrative new land based on the growing profits of (slave labor) sugar plantations.



In the late 16th century, the Portuguese crown and colonies were inherited by Spain. After 60 years of contentious Spanish rule, and a small prosperous area of sugar businesses controlled by the Dutch, this now very valuable land was completely reverted to Portuguese sovereignty.



In the early 1800s, Napoleon's aggressive push across Portugal and Spain, caused (forced) Portugal's King to flee to Brazil. When he arrived, King Dom Joao VI established this huge slice of South America as the capital of his new (somewhat mobile) empire.



In 1821, he returned to Portugal, leaving his son Pedro I in charge, but when King Dom Joao attempted (once again) to treat Brazil as his own personal, taxable colony, his son said "No," declared immediate independence from Portugal, and was appointed the new emperor of Brazil.



Soon coffee replaced sugar as the country's most valuable export, and the strong aromatic scent of Brazil's official drink, and the seductive lure of new lands and fresh starts brought a surge of immigrants from Europe - mostly Italian.



Beginning in the early 1890s, the prosperous coffee businesses (seeking change) funded a military coup that forced the emperor to flee. In short, the coffee powers were now in charge, and the country would soon experience a half-century of instability.



In 1985, the ruling regime in Brazil ceded its power to civilian rule, and the country finally overcame a series of unpopular coups, corrupt leaders, and the military's constant intervention in the governance of this massive country.



Today Brazil is justifiably famous for the Amazon River; Carnival in Rio; the beaches of Copacabana and Ipanema; its many champion soccer teams, and of course, for the amazing collection of organized diversity that makes it one of the most significant and important countries on the face of the planet.



Read more about Brazil here!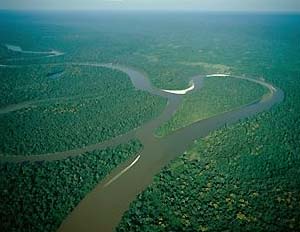 Amazon Rain Forest, Brazil
Travel the World through Poster Art!
Facts and Figures


Name Brazil



(long form) Federative Republic of Brazil



Population 186,112,800



Population & Density (all countries)
here


Capital City Brasilia (2.2 mil)



Currency Real (BRL)



Currency Converter
here


Languages Portuguese (official), and most widely spoken language. Less common languages include Spanish, German, Italian, Japanese, English, and a large number of minor Amerindian languages.



Flag
here


National Day September 7



Religions Catholic (74%), Protestant (15%), others


Geographic Coordinates


Latitude/Longitude (Capital City)


15º 45' S, 47º 57' W



Relative Location Brazil, dissected by both the Equator and Tropic of Capricorn, is positioned in the northern, southern and western hemispheres. Covering almost 50% of South America, Brazil is bordered by Argentina, Paraguay, Uruguay, Bolivia, Peru, Colombia, Venezuela, Guyana, Suriname, French Guiana and the Atlantic Ocean.


Land Statistics


Coastline 4,655 miles (7,491 km)



Land Areas


(land) 3,265,075 sq miles (8,456,510sq km)



(water) 21,411 sq miles (55,455 sq km)



(TOTAL) 3,286,486 sq miles (8,511,965 sq km)



Land Area (all countries)
here


Landforms Brazil is divided into five primary geographic areas: the northern Guiana Highlands; Brazilian Highlands (or plateau) central and east; the massive Amazon River Basin; Pantanal wetland areas of the southwest, and the Southern Highlands - to the west and south of Curitiba.



The Brazilian Highlands are covered by low mountain ranges and forested river valleys. From Rio de Janeiro - north to Fortaleza, a series of higher mountain ranges form a natural barrier between the Atlantic Ocean and the country's interior.



The Pantanal is the world's largest freshwater wetland, a seasonally flooded plain fed by the tributaries of many rivers. For size comparison, it's almost 10 times the size of the Florida Everglades.



The Amazon is the world's largest tropical rain forest. It's drained by the huge Amazon River, and more than 200 of its tributaries - with more than a dozen of those tributaries being on (The Longest Rivers of the World) list. The Sao Francisco is the longest river completely within Brazil's borders.



The Guiana Highlands, a relatively flat-topped mountainous area covered by rain forest, stretches across much of northern South America. It's home to many of the planet's most spectacular waterfalls, and Brazil's highest point.



Highest Pt. Pico da Neblina - 9,888 ft. (3,014 m)



Lowest Pt. Atlantic Ocean - 0 ft. (0 m)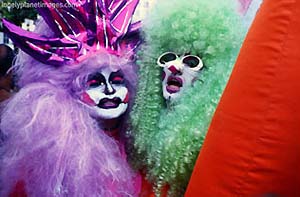 Faces of Carnival, Rio de Janerio, Brazil
Travel the World through Poster Art!


Land Divisions 26 states and 1 federal district; the states include: Acre, Alagoas, Amapa, Amazonas, Bahia, Ceara, Espirito Santo, Goias, Maranhao, Mato Grosso, Mato Grosso do Sul, Minas Gerais, Para, Paraiba, Parana, Pernambuco, Piaui, Rio de Janeiro, Rio Grande do Norte, Rio Grande do Sul, Rondonia, Roraima, Santa Catarina, Sao Paulo, Sergipe and Tocantins. The federal district is: Distrito Federal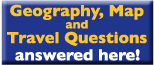 Contact Us | Privacy Statement


Copyrighted by Graphic Maps
All rights reserved!



All maps, graphics, flags and original descriptions created by Graphic Maps, a d/b/a of the Woolwine-Moen Group, unless otherwise noted and/or directly linked to the source, and use of same for any application whatsoever (with the exception of outline maps) requires written permission.



We make no copyright claim on any statistical data on this page, nor on any non-original graphics, and/or pictures not produced by us. Certain statistical data is gathered from the CIA World Factbook, as well as numerous public domain reference materials.



Every effort is made to be as accurate as possible when disseminating information on any worldwide destination. We are not responsible for unintentional data entry errors or omissions. If you would like to submit an addition, change or correction, or suggest a new link, please forward it to our map department and we will give it our immediate attention.




/worldatlas.com/aatlas/world.htm">


Maps


Brazil (large color) Map
here


Brazil Outline Map
here


Brazil CIA version here



Brazil Maps at UT here



- - - - - - - - - - - - - - - - - - - - - - - - - - - - -



South America (Bodies of Water) here!



South America (Capital Cities) here!



South America (Landforms) here!



South America (Outline) here!



South America (Country Test) here!



- - - - - - - - - - - - - - - - - - - -



World Outline Maps (printable) here



World Time Zone Map
here


Recommended Links


Brazil (Complete) info on the (GDP) economy, imports and exports, natural resources, government, population, military, transportation, and more here



Brazil Embassy (Washington, DC) web site



Brazil Minister of Tourism
here


Brazil Photos at TrekEarth.com here



Brazil Tourism
here


Brazil Travel News
here


BrazilLinks.org
here


Amazon PBS Site
here


Carnival in Rio
here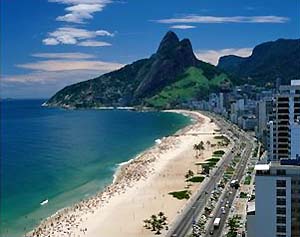 Ipanema Beach, Rio de Janerio, Brazil
Travel the World through Poster Art!

Time and Weather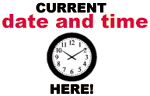 Climate Brazil's weather varies widely from north to south; the inland plateaus, including cities such as Belo Horizonte and Brasilia enjoy a rather mild climate, while the coastal cities of the east and southeast, like Salvador and Rio de Janeiro, are much warmer.



The northeastern area is the hottest region in the country, where summer temperatures exceeding 100°F are somewhat common. In the far south, conditions are subtropical, with frequent frosts in fall and winter.



The entire Amazon River basin region is hot, humid (sticky) throughout the entire year, with an average annual temperature of 81°F (27°C).



As for rainfall, the heaviest amounts occur in the upper-reaches of the Amazon, where more than 115 inches is the yearly average.



Generally, the seasons in Brazil are just the opposite of those in the U. S. and Europe; (Spring) October to December; (Summer) January to March; (Fall) April to June, (Winter) July through September.



Traveler Info


Attractions: Brazil offers any visitor so many things to see and do, that it's all but impossible to describe them all, so we list a few of the major ones.



Rio de Janeiro is on the top of that list as it's the site of (Carnival,) the largest, most exciting festival on the planet; breathtaking Sugar Loaf Mountain; Corcovado Mountain and the Christ the Redeemer statue; dozens of museums; unbelievable shopping values; pulsating, non-stop nitelife (you can dance the samba till dawn), and the many wonderful beaches.



And speaking of beaches, Brazil's (like those in Australia and Florida) are major attractions; the most visited include Copacabana, Ipanema and Joaquina, so bring your bikini, camera and sunscreen.



Briefly, other points-of-interest include Salvador da Bahia, the country's first capital; gigantic Sao Paulo, the economic powerhouse of Brazil; any of the eight UNESCO World Heritage Sites within the country; Porto Alegre, with its excellent museums and beautiful countryside, and any countrywide soccer game you can attend.



Regarding the wonders of nature, that list in Brazil is endless, but must-sees include the Amazon Rain Forest; the Pantanal - the world's largest freshwater wetland, and Iguaza (Iguassu) Falls - a group of 275 individual waterfalls that defy the imagination.



Country Dialing Code 55



Electricity Brazil uses 110/220 volts AC (60 Hz)



Electrical adapters, products and tips here



Travel Warnings
here


Visa Information
here



PLEASE NOTE: Before making travel plans for any worldwide destination, we strongly recommend you authenticate important details regarding visas, local health care, customs, etc. We always find it helpful to contact the nearest consulate of any country before beginning a journey into a foreign land.




South America Countries


Argentina

Bolivia

Brazil

Chile

Colombia

Ecuador

Guyana

Paraguay

Peru

Suriname

Uruguay

Venezuela

Falkland Islands

(a territory)


French Guiana

(a territory)


Galapagos Islands

(a territory)




Argentina

Bolivia

Brazil

Chile

Colombia

Ecuador

Guyana

Paraguay

Peru

Suriname

Uruguay

Venezuela

Falkland Islands

(a territory)


French Guiana

(a territory)


Galapagos Islands

(a territory)




Argentina

Bolivia

Brazil

Chile

Colombia

Ecuador

Guyana

Paraguay

Peru

Suriname

Uruguay

Venezuela

Falkland Islands

(a territory)


French Guiana

(a territory)


Galapagos Islands

(a territory)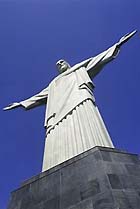 The most famous statue in Brazil
Travel the World through Poster Art!



Argentina

Bolivia

Brazil

Chile

Colombia

Ecuador

Guyana

Paraguay

Peru

Suriname

Uruguay

Venezuela

Falkland Islands

(a territory)


French Guiana

(a territory)


Galapagos Islands

(a territory)




Argentina

Bolivia

Brazil

Chile

Colombia

Ecuador

Guyana

Paraguay

Peru

Suriname

Uruguay

Venezuela

Falkland Islands

(a territory)


French Guiana

(a territory)


Galapagos Islands

(a territory)