TAMPA

Located in west-central Florida and founded in 1824, the clean and modern city of Tampa offers activities and attractions for every interest and age.
Known for its cultural diversity, this southern city boasts a unique blend of Cuban, African American, Italian and Spanish neighborhoods.
Ybor City, known as
Tampa's Latin Quarter,
features its own unique blend of aromas, sights and sounds, including the smooth taste of Spanish Sangria, the smell of Cuban coffee and cigars and the Latin sounds of Rumba and Salsa late into the evening.
ADDITIONAL FLORIDA CITY PAGES:
The name Tampa comes from the local Caloosa Indian word Tanpa, meaning "Stick of Fire."
Gasparilla Days - To visit Tampa in late January and not attend the annual gathering of pirates, beads, boats and parades, all witnessed by hundreds of thousands of revelers, is to have led a deprived and boring life.
The Tampa Bay area is home to three airports, eight hospitals and over 30 universities and colleges.
No city in Florida is more than 75 miles from either the Atlantic Ocean or the Gulf of Mexico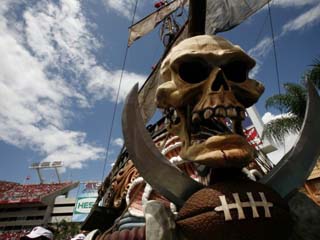 Buccaneers...
by Brian Blanco
Buy This at Allposters.com