OTTAWA

Ottawa was chosen by Queen Victoria in the mid-19th century to serve as the capital of 
Canada
. 
Located along the 
Ontario
 side of the Ottawa River, the waterway forms the natural boundary between the provinces of Ontario and 
Quebec
; and the two are connected by several bridges. 
This unique 
North American
 capital city is bilingual - the majority of people speak English and a significant number are 
French
-speaking. 
The cities of 
Montreal
, Quebec and 
Toronto
, Ontario are within an easy driving distance. Ottawa serves as a convenient base for an extended Canada vacation with its rich natural beauty and opportunites for adventure. 
Boasting a magnificent downtown with renovated 19th and early 20th century buildings, rows of neat Victorian houses, and carpets of tulips and daffodils cloaking residences, Ottawa is an impressive Canadian city. 
A magnet for houseboats and cabin cruisers in the summer and the world's largest ice-skating rink in the winter; the beautiful Rideau Canal, a UNESCO World Heritage Site, cuts a swath through the middle of it all. 
ADDITIONAL ONTARIO CITY PAGES:
Ottawa is one of the nation's youngest cities with over 40% of the population under the age of 35.
Ottawa visitors can stay at a guest hostel that was formerly a prison and the last place to host a public hanging in Canada!
Ottawa hosts more than 35 major festivals per year - including the Tulip Festival, Bluesfest and Winterlude.
Famous Ontario natives who hail from Ottawa include Alanis Morissette, Dan Aykroyd, Paul Anka, and Wayne Gretzky, to name a few.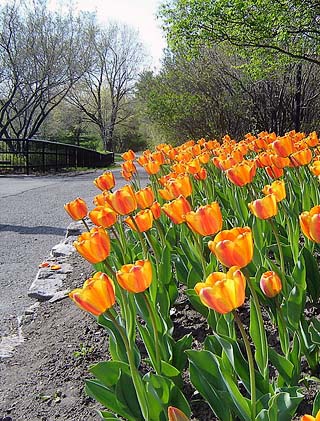 Tulips from the Tulip Festival