Sicily Geography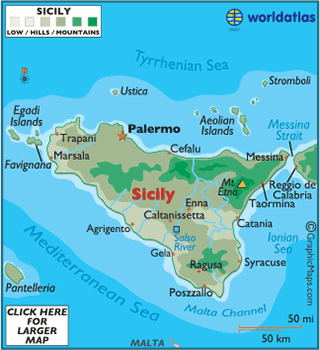 Most of Sicily is a mountainous plateau, with the central plateau sloping to the coastal lowlands and fertile areas which are drained by many small rivers and streams.

The significant rivers of Sicily include the Salso and Simeta.

The active volcano Mt. Etna is Sicily's highest point, and peaks at 10,902 ft. (3,323 m).

As one of the most active volcanoes in the world, Mt. Etna remains in an almost constant state of activity. The most recent eruption occurred on January 5, 2012, and continued through early February.

The lowest point of Sicily is the Mediterranean Sea (0m).