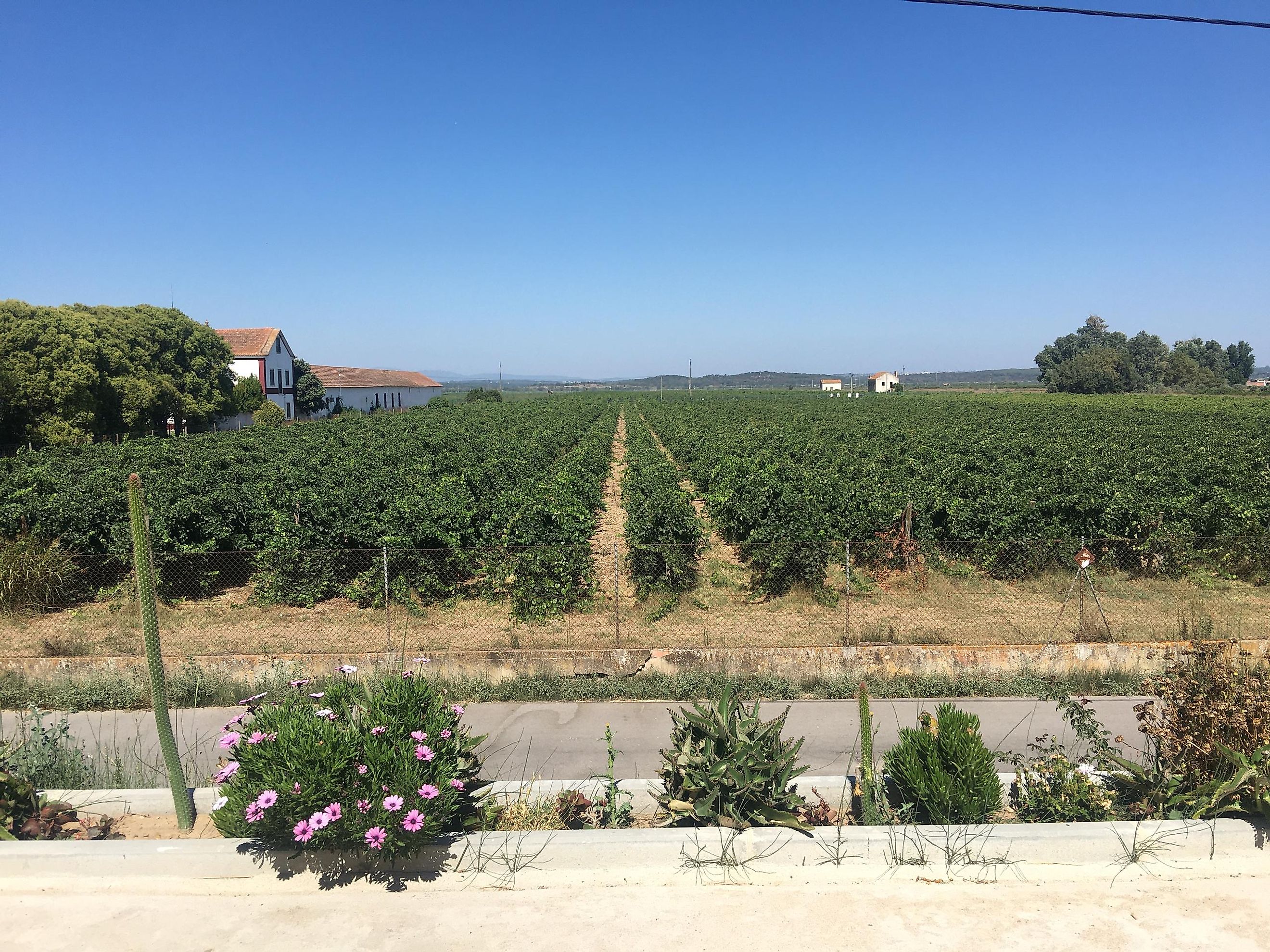 Bom Caminho II: The Rhythm of the Portuguese Way
After a choppy but exciting first day on the Camino Portugués, things relaxed into a steady rhythm. I have found this to be the way of long-distance hikes in general. It takes a lot of energy to get the gear in motion (i.e. planning, packing, traveling; all while managing a mix of anxiety and anticipation), but after that, the established momentum helps you bank the daily miles and manage tasks in a sort of auto-pilot state of consciousness. This is a comforting, and even addicting feeling. Here's a bit of the routine you can expect as you cruise along to Porto (with a side-trip to Fátima). 
Beauty is in the Eye of the Backpacker
The first several days out of Lisbon are nice, and don't let anyone tell you otherwise. Sure, you'll read about long, boring stretches through "industrial" areas, and fellow pilgrims will regurgitate this same cynical verbiage en route, but there is plenty to enjoy. The way I see it, a sunny day spent walking through a foreign country is alright by me. Sure, there's a lot of this: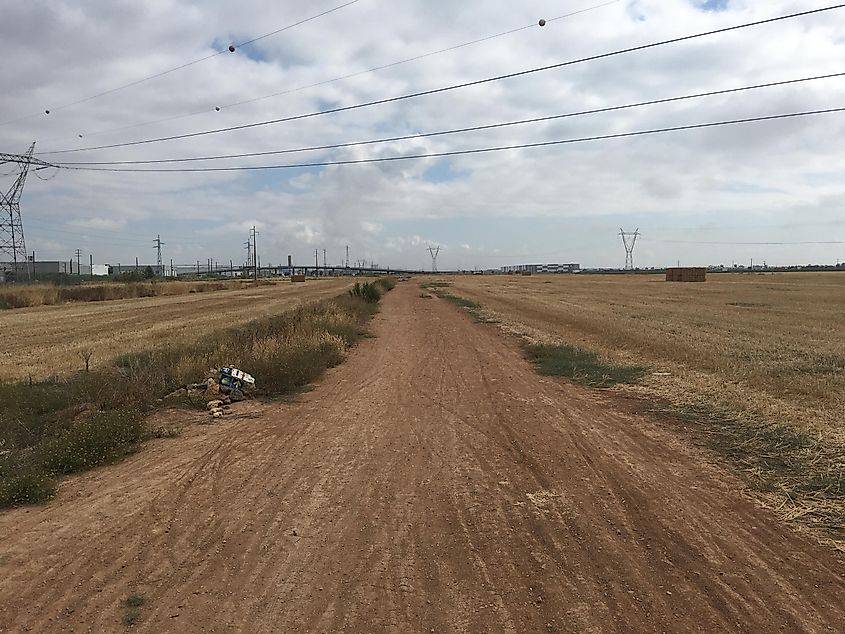 But also a lot of this: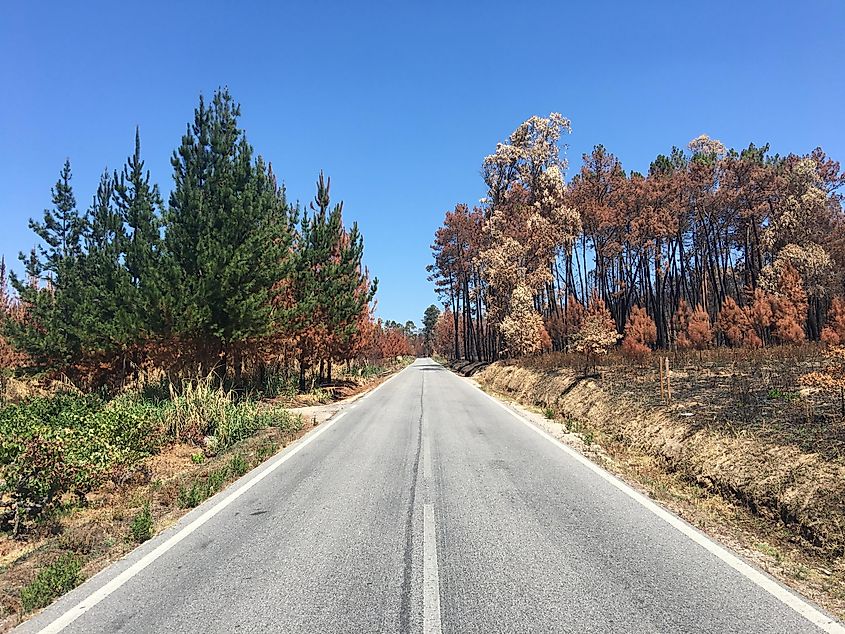 This:
And this: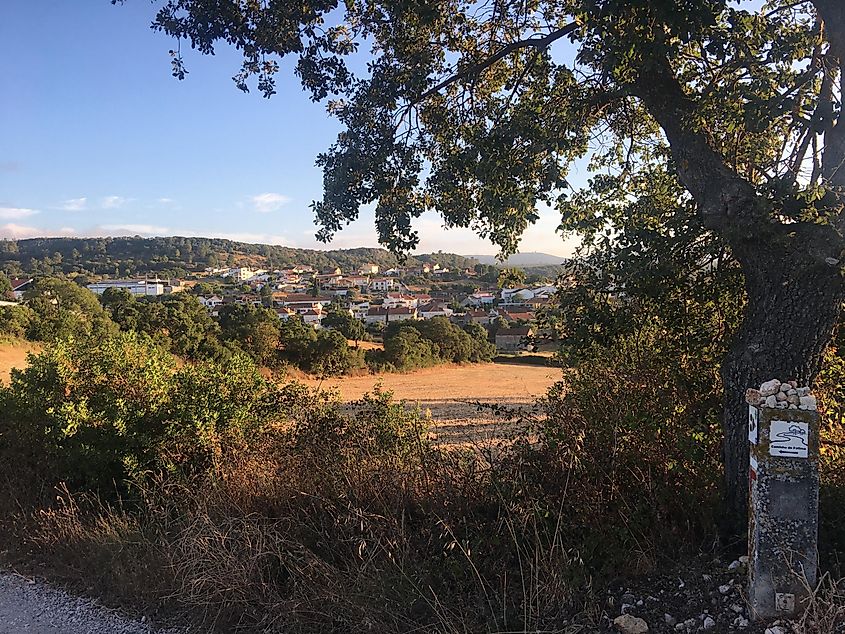 These quiet roads offer a platform for mental (and maybe even spiritual) channels that are normally obfuscated by constant distractions. I sought the Camino, at least in part, to let my monkey mind run rampant, and perhaps tire itself out. The complaints my brethren were lodging seemed to simply accuse the Central Way of not being the Coastal Way. This naturally raises the question, 'well, why not do that hike instead?' I knew that the invigorating views of the North Atlantic Ocean would soon arrive (starting at Porto, Portugal), and the regularity of quaint towns would continue to ramp up, so I aimed to appreciate what was before me. There's no question that the early stages of the Camino Portugués aren't as picture-perfect as the Coastal Way (and other Caminos like the Frances or Norte), but these desolate stretches can provide a valuable experience nonetheless. 
Eating on the Camino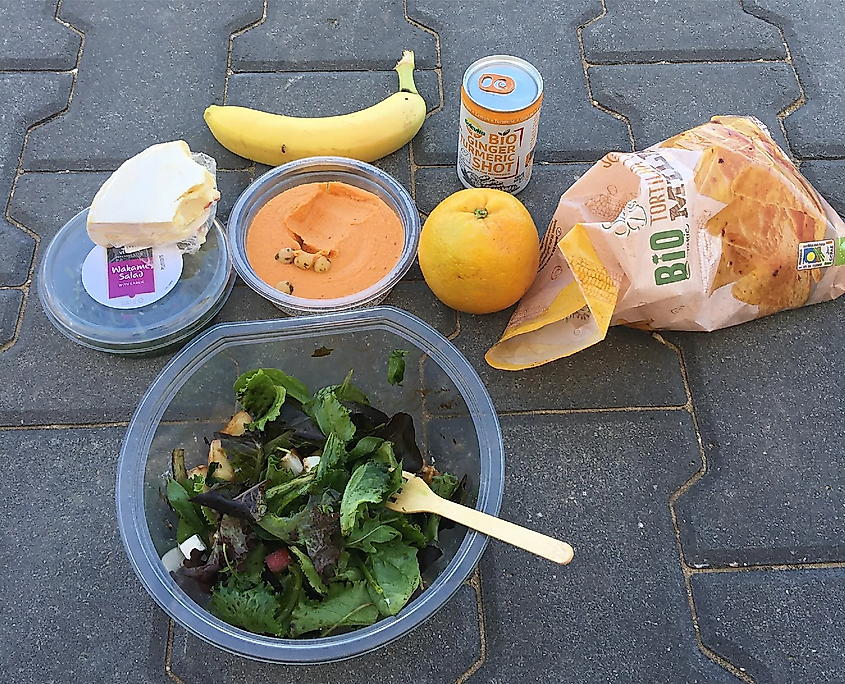 Though the Camino is quite a long walk (with routes ranging from around 100 km to over 1,000 km), it is more of a civilized endeavor than a backcountry trek. Generally speaking, little settlements or natural springs are never too far off. The most barren section I came upon was the 16 kilometers leading up to the hilltop city of Santarem. Since it was completely exposed and the August heat had been unforgiving, I made sure to stock up and hydrate in advance. Some peregrinos pack liberally at all times in case of unexpected delays, or even planned lunches in nature, but some also choose the fastpacking approach, relying on cafes and markets along the way, or simply waiting until the end of the day to play catchup with nutrition (I even met a guy who was intermittent fasting and refused to carry a water bottle). A flexible strategy is possible because the worst-case-scenario on the Camino is nothing like the stakes on, say, the Pacific Crest Trail. 
From the beginning, I adopted a fairly dependable dietary regimen. I would begin each day by eating a solid helping of oatmeal and fruit (which I would purchase the night before, after getting settled into an albergue). I noticed very few of my bunkmates ate breakfast, meaning I was usually the last one to leave the dorm. Next, I would walk at least five kilometers, but sometimes more like ten, until I found a cute spot to have my first espresso of the morning. I usually did this another couple of times throughout the day as I logged anywhere from 20 to 45 kilometers. 
I typically don't put anything in my coffee, but my body craves sugar when exercising. A half packet stirred into a long-shot, combined with a juice, and maybe a bag of chips, always seemed to top up the electrolytes and quick-energy stores. I often liked to munch on an apple, nuts, and/or soft granola bars whenever I needed a boost. I was also religious about my water intake. I carried at least a liter on me, and often dunked my hat, buff, t-shirt, head, and mouth under a fresh spring whenever I saw one. 
For lunch, I would either coast on snacks, or I would stop at a major grocery store, which seemed to come along often enough. There, I would reload on whatever I thought I could eat in that moment (while sitting on the curb outside), as well as some extra snacks for the afternoon. I loved the premade salads/quinoa or rice bowls, as well as things like bread, cheese, chips (again), fruit (again), juice (again), or anything else my body told me I needed.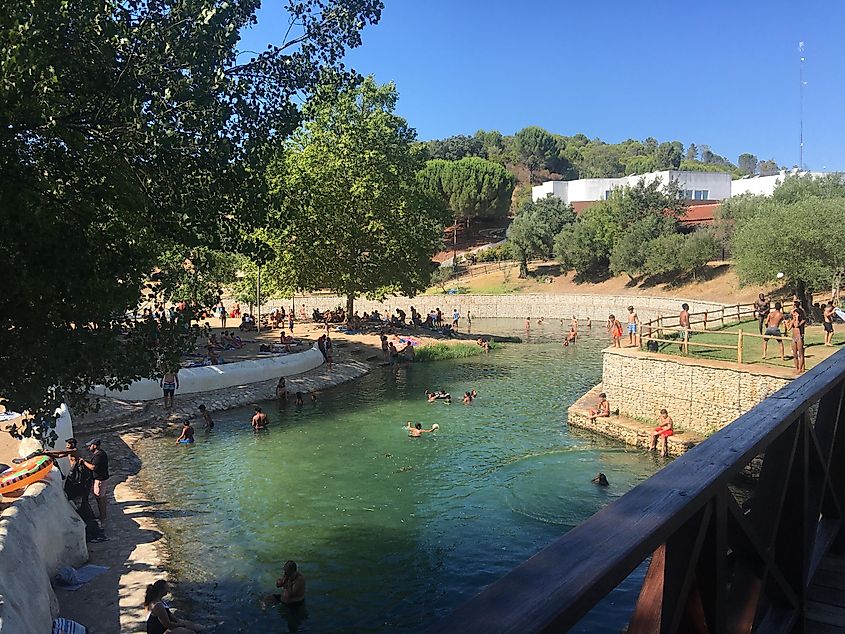 Once the day's finish line was reached, all bets were off. Some pilgrims liked to get cleaned up and go out for dinner, others went straight to bed. I would typically grab something easy, like pizza, or if there was a shared-kitchen, make something simple, such as soup, microwavable rice, pasta, and/or overlapping selections from lunch. Everything depended on what was around, which changed slightly from place to place. 
Going to the Bathroom on the Camino
I'm not going to lie, there will be some trailside peeing (and maybe even pooping) along the way. It's just inevitable. Clearing out the pipes in the morning is never a bad strategy, but every cafe was willing to let me use their bathroom (I always bought something though), and there are some public facilities at random intervals. However, if you walk all day while drinking and eating, chambers are going to want to vent at occasionally inconvenient times. It is what it is, and it happens to everyone. In fact, I would often find evidence that my fellow travelers sniffed out the same bush or side trail. Given the otherwise transient nature of us peripatetics, I think a little effort at burying business goes a long way for the land, and visitors in tow.    
Santuário de Fátima
All pilgrims of the Camino Portugués will be presented with a fork-in-the-road upon reaching the ancient fortress of Santarém. A detour marked by blue arrows (often in conjunction with yellow, but always at least blue) heads to the holy city of Fátima, while the standard route continues Northeast to Tomar, which continues to be marked in the classic Camino yellow. Devout pilgrims (or those who are curious to witness the cultural phenomenon) steer towards Fátima, while others opt to avoid the spectacle and take in the quaint town of Tomar. Whatever route you choose, both trails converge after two or three days (at a place called Ansião).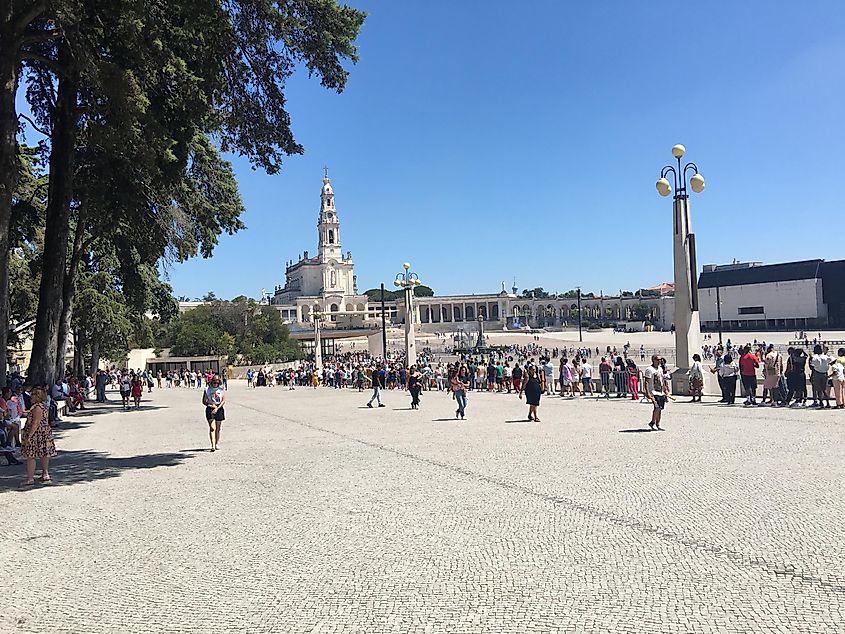 Though I'm a practicing Buddhist, I welcomed the Christian experience during my pilgrimage. The presence of the Catholic faith was palpable throughout much of the walk - from churches and cemeteries, to shrines and signs outside of people's houses. But Fátima was on another level. I just so happened to arrive on the weekend of the 13th, a day that from May to October is celebrated for the six appearances of the Virgin Mary that are said to have occurred in 1917, ending with the Miracle of the Sun, which was reportedly witnessed by 70,000 people. 
Scores of zealous families, peregrinos, and folks from all walks waited in line outside of the bold Santuário de Fátima to make offerings, receive blessings, and participate in one of the regularly occuring sermons. I couldn't understand the Portuguese-speaking bishop who piped through the loud-speakers, but I did recognize the persistent "​​Santa María" as part of the Rosary prayer.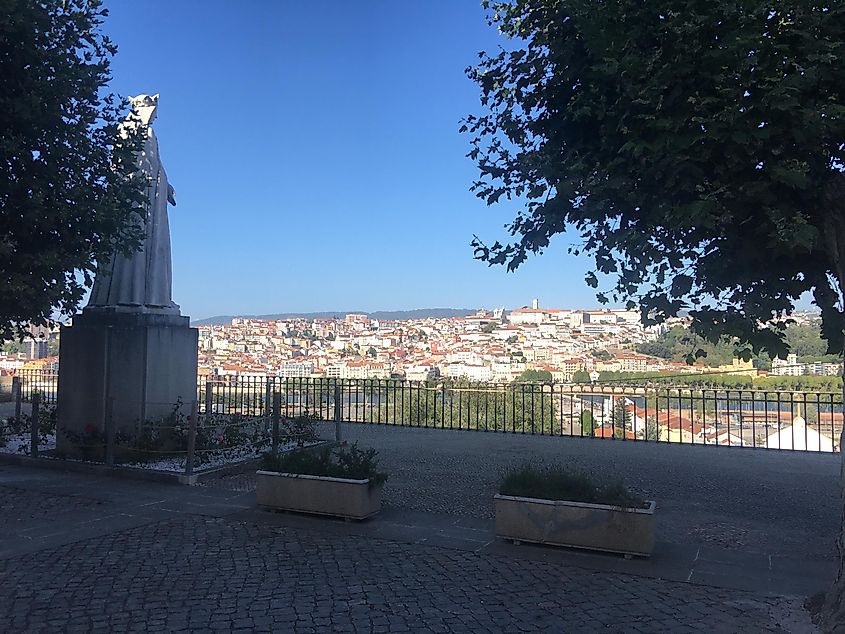 Initially, I planned to just pause for lunch in Fátima and then walk on through to the next town, but a lovely lady at the information kiosk directed me to a free (or by donation) albergue run by the church. This convinced me to linger for the evening and enjoy the essence of the festivities. Amazingly, for as busy as the city was, Casa de São Bento de Labre (or Saint Benedict of Labre Hostel) was wide open. I only had four neighbors in a basement full of cots. 
Making for the Coast with Fellow Pilgrims
On and on the days rolled by, consistently bringing me into contact with interesting places, more expressive trails, and oodles of cool people. In terms of the latter, sometimes simple "Bom Caminho"s were exchanged; sometimes a few miles were walked in solidarity with strangers, and sometimes certain strangers became multi-day trail buddies. 
One such crew that caught my attention, and emanated remarkable openness, was a trio of Italians: Thimoty, Caludio, and Marcelo. Thimoty and Claudio had met while doing another Camino de Santiago pilgrimage, walked the remainder of that route together, and then continued adventuring together ever since. For the Portuguese Way (and then some), they decided to raise money in order to plant one tree for each kilometer walked (totalling 1,000), in an area near their home where the landscape was devastated by a windstorm - a project they called Tree-kking. Along the way, they adopted Marcelo, a rotund and inexperienced pilgrim who despite his blisters and shin splints, had an indomitable spirit and sense of humor. As Thimoty put it, "There are three things you can be sure of in this life. First: you were born; second: you will die; and third: Marcelo will always be destroyed, but will always keep walking."
Though I generally preferred to grind out speedy miles on my own, these three goons took me under their wing for the final day leading into Porto (where, you may recall, I had planned to meet my partner-in-crime for the next section: the Coastal Way). On my last night as a solo hiker, they cooked a large pasta feast (complete with copious amounts of red wine) in the hostel kitchen. We then put those carbs to good use early the following morning, as we marched through an initially heavy fog and into the stunningly beautiful, and by that point, sunny, port city. 
This was one of many positive encounters I had with fellow pilgrims. If you're open to meeting people on the Camino, you'll have no issue doing so. And on the other hand, if you desire an introspective journey, that dynamic will also be understood and respected. I saw many people who appeared to be "working through something" out there. On a number of occasions, I even saw pilgrims with a picture of a loved one tied to their pack, ostensibly signaling who their efforts were dedicated to, and the emotional space they sought to explore.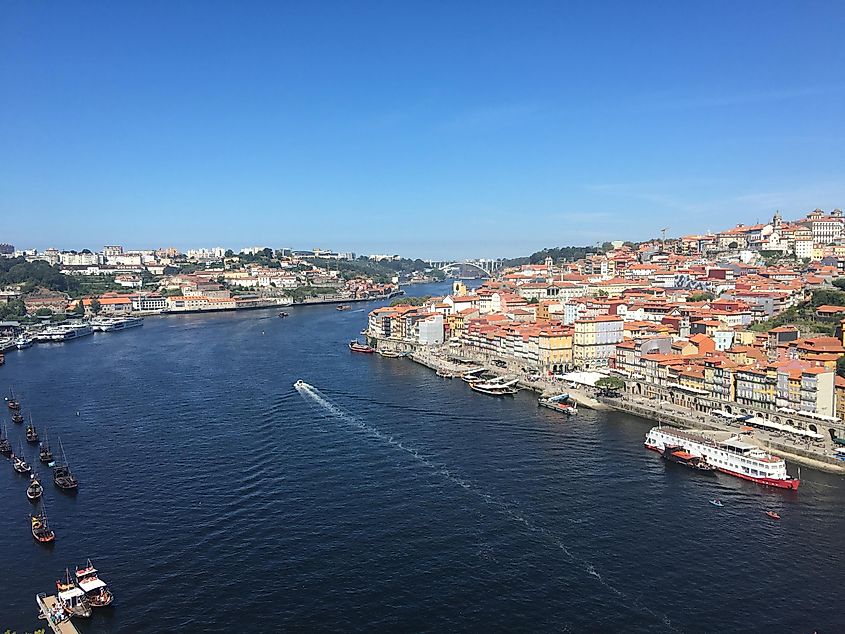 Next up, Irina enters the picture and together we absorb The Beauty of the Coastal Way, walking from Porto to Santiago de Compostela, and then onwards to Fisterra (i.e. The End of the World). If you haven't already, catch up on my first-day shenanigans in Bom Caminho I: Starting A Walk Across Portugal.
Bom Caminho!