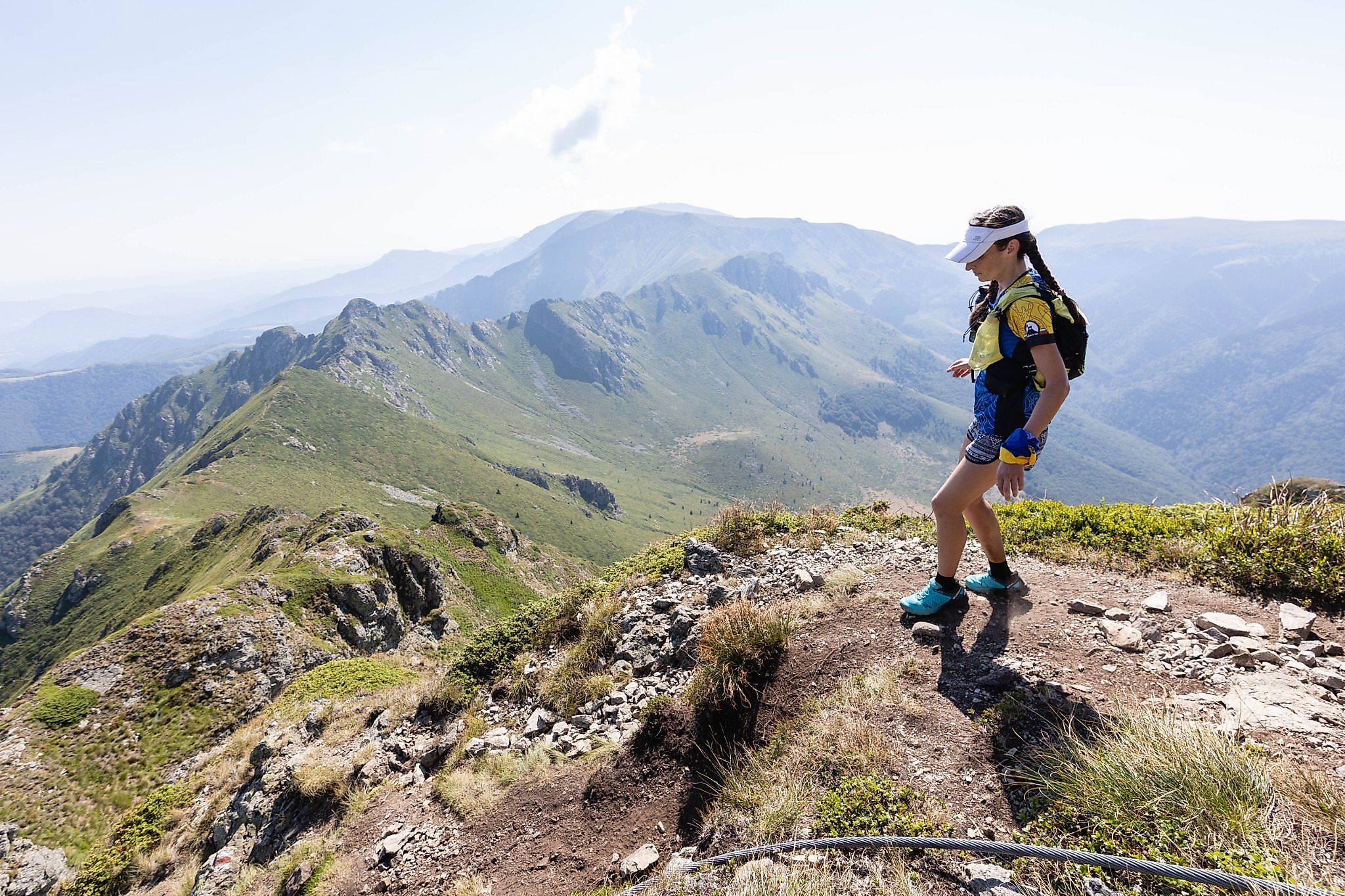 Balkaniada Sky Race: A Bulgarian Adventure
One of the many challenges of traveling is trying to maintain a regular exercise routine. In my case, this means getting in a daily run. Thankfully, these two pastimes tend to compliment each other, since clicking off miles around foreign streets and trails is easily one of the best ways to explore a place.
However, limited local knowledge can only take you so far. That's why organized races are great for taking you deeper into unfamiliar terrain. This past summer, I was able to string together a series of events across Eastern Europe that not only served my athletic goals, but also created a running-tourism sub-category within my broader adventures. What follows is an account of the 27-mile (44-kilometer) Balkaniada Sky Race I partook in, in the town of Karlovo, Bulgaria.
Why Run an Ultramarathon?
Only a few years ago, most people probably considered marathons to be the pinnacle of human endurance. Nowadays, ultramarathons are popping up everywhere and have been pushing the human body above and beyond what marathons used to.
Given that the Sky Race is just a pinch longer than a marathon, it might be fair to round it down to that designation. However, the course gains and loses over 2,500 meters (8,202-feet) in elevation as it traverses the Balkan Mountains (in Central Balkan National Park), oftentimes across steep, jagged, chain-assisted ridges - so the time it takes to cross the finish line is well-within ultramarathon parameters. To put this in perspective, on the day of the race, I was probably in shape to run a typical road marathon in under four hours, but the Sky Race, however, took me over eight!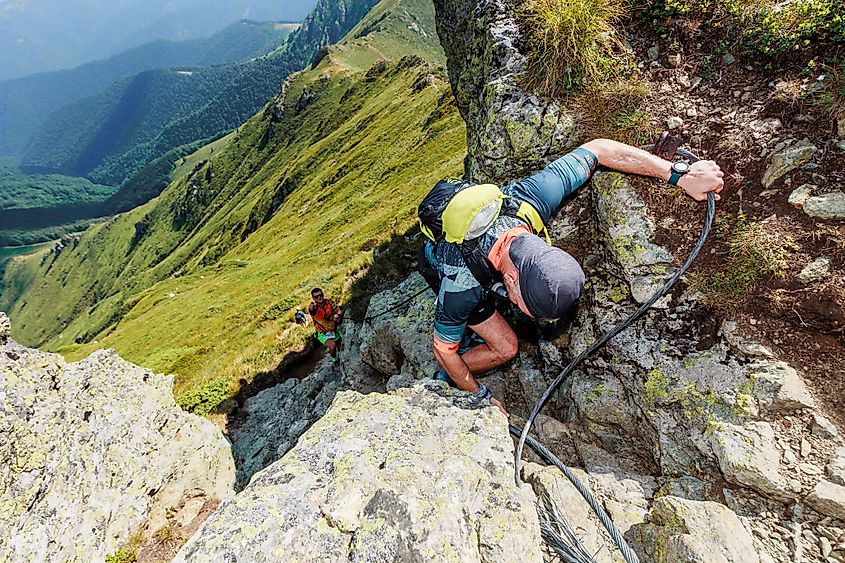 So, why run such a wild event? Aside from exploring the physical world, mega-endurance events are a no-holds-barred way to discover more about yourself. Lately, I've been curious about what it would feel like to have nothing left in the tank, but then keep on going anyway. This kind of challenge brings out emotional highs that surpass Botev Peak, as well as a bottomless desperation that will make you curse the bark off the trees. But no matter what happens, if you can just make it through, you will be filled with a sense of genuine accomplishment that can only come from hard work and sacrifice (not only on the day, but in the months, and even years, leading up). 
Rolling with the Punches Before the Race
The month prior to the Sky Race, I found myself in Sunny Beach, on Bulgaria's East Coast, enjoying the presence of the Black Sea. I was still running every day, but I had to dodge thousands of tourists along the beachside boardwalk, and I had to evade the sun-bathing, day-drinking, all-night-partying sensibilities that infamously permeate this area. As tempting as some of this may have been, I stayed focused on my upcoming events. My initial goal was to run the 78-kilometer (48.5-mile) ultramarathon in Tryavna, another quaint mountain town not too far from Karlovo. This would have been a personal best distance for me, but unfortunately, I came down sick a couple days before, and was forced to readjust. Instead, I turned my attention to the shorter, but much more technically-challenging Sky Race, just two weeks later.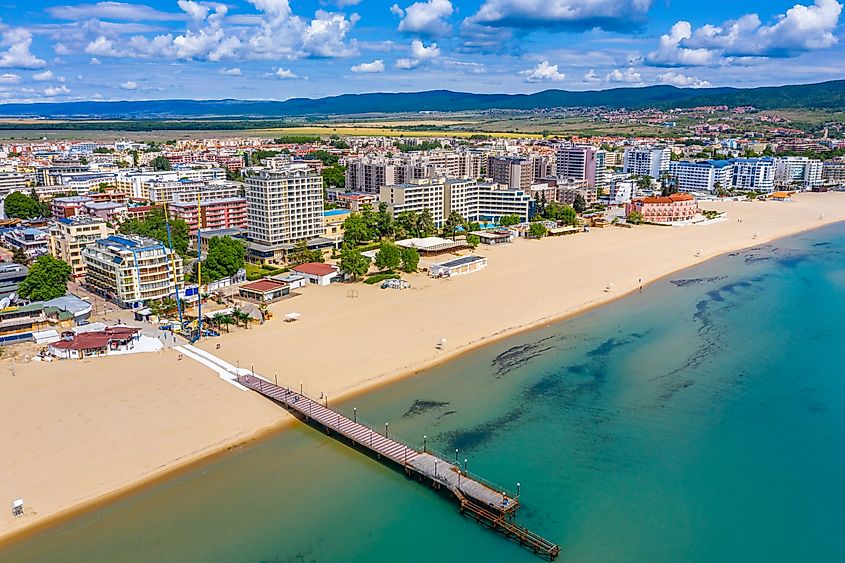 Mixing in Some Travel Before the Race
Leading up to the Balkaniada Sky Race, I camped-out, or rather "glamped" out, on a bohemian property called Humsafar, in the neighboring town of Sopot. A spectacular heatwave pushed the daily temperatures into the high 30s (Celcius; high 90s Fahrenheit), and clouds apparently aren't a thing in the Province of Plovdiv. I mostly just laid around in shady parts of the yard, did some easy jogs on the local trails, and frequently visited the refreshing mountain springs that were scattered throughout the area. The combination of rest and the cool mineral waters put some strength back in my bones. I decided to do a little test hike up the nearest mountain, in order to get a closer look at the paragliders, and to sneak a peek at the national park. It was a little slower-going than I had hoped for, but the views were excellent and my confidence was higher upon returning than it was setting out.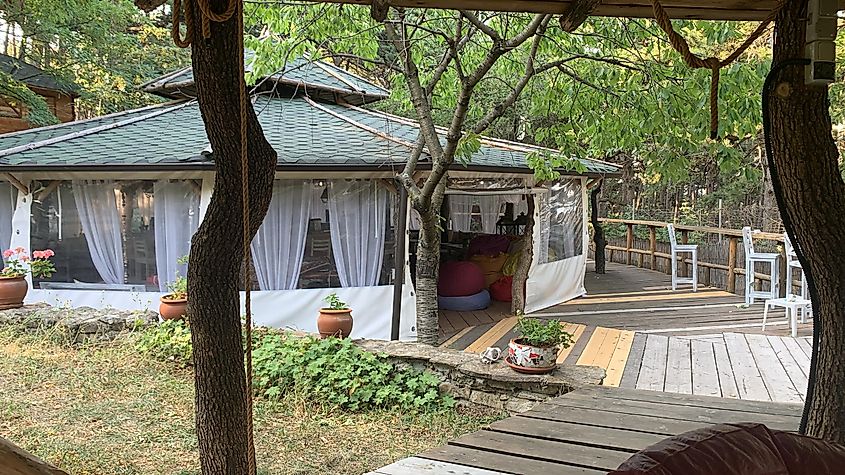 The night before the race, I shifted over to Karlovo to pick up my kit, enjoy a relaxed, carbo-loading dinner, and attempt to get a good night's sleep (which is always elusive the night before a race) in a humble hotel near the start line. 
The Race: The Rocky Road to the Finishline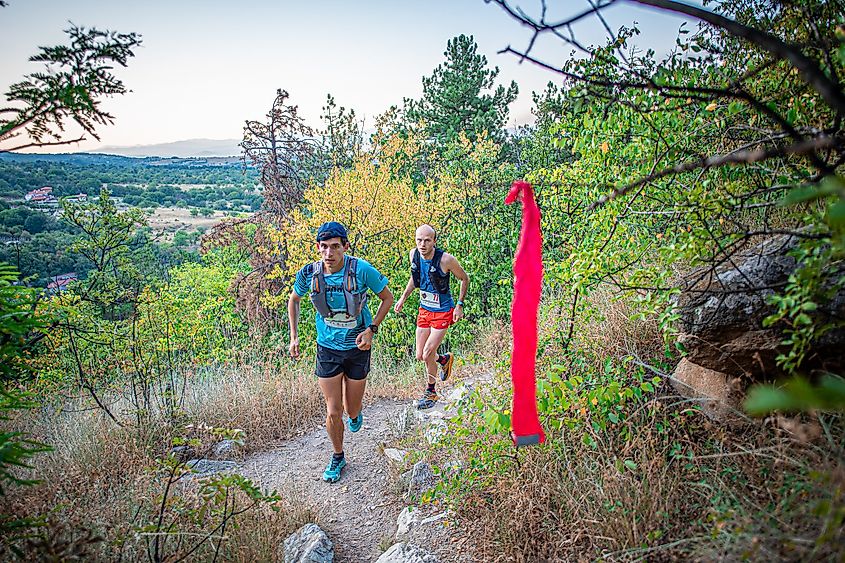 The race kicked off just up the road from Karlovo's spacious town square. Less than a minute after the frenzied start, we reached the trailhead. The hundred or so runners were funneled into a single-track path that steadily gained in elevation. This made the initial section a little slow-going, but also jovial. Gradually, some space opened up as we worked our way through each switchback, eventually breaching the verdant subalpine in unison with the rising sun. I felt great coming into the first aid station (at kilometer 12). A little too good, perhaps. 
I made the mistake of getting swept up in the early runner's high. Instead of taking adequate time to hydrate and refuel, I rushed out of there in order to get ahead of more runners. I calculated that I was in about 10th place, and that became my primary focus. I told myself that I'd take more time at the following aid station - 14 kilometers away.
Unbeknownst to me was that the second section of the course was significantly harder than the first. As we marched on into the sky, the once gentle trails quickly turned rugged (or nonexistent), and as the treeline evaporated, so did the precious shade (the heat wave was still going strong, by the way). I never could have guessed at the beautiful hell that awaited.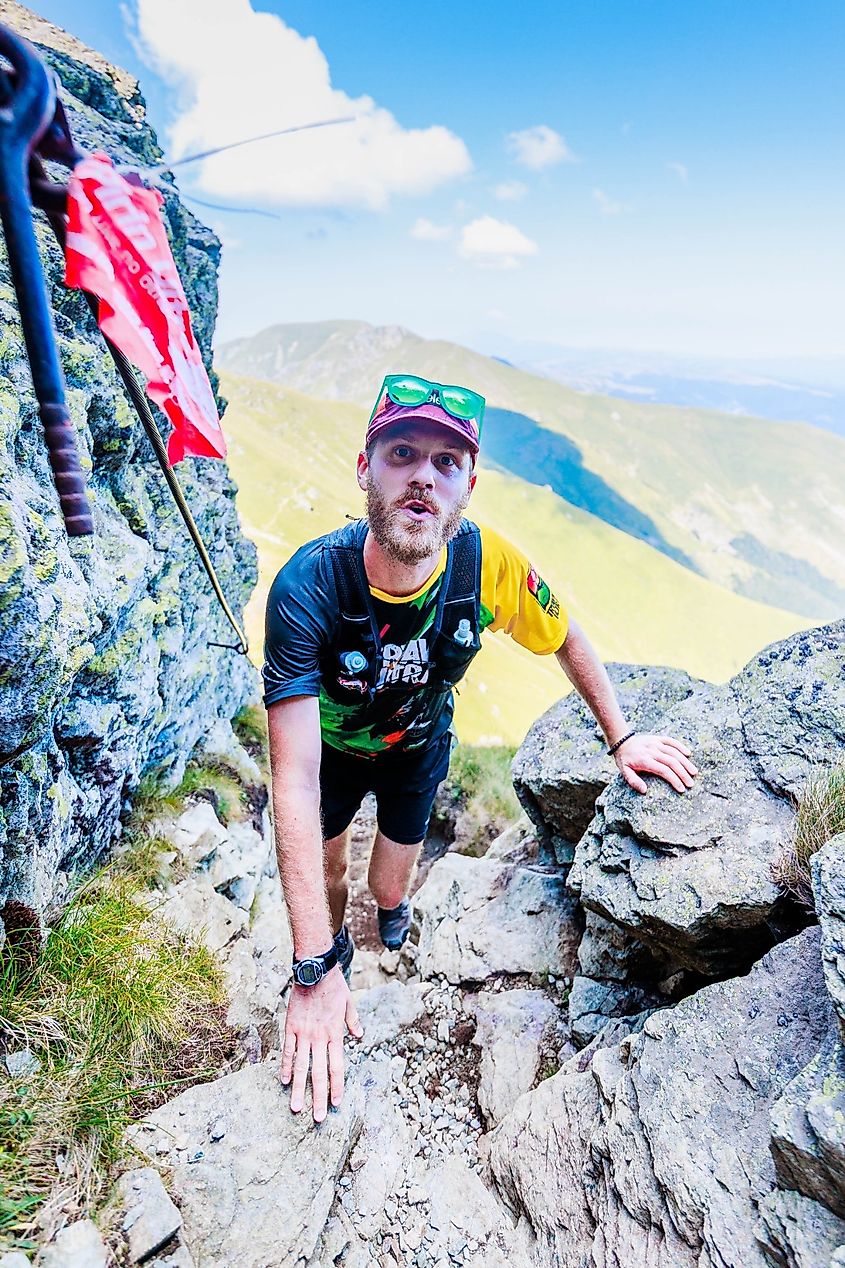 After grinding straight up a series of steep, grassy hills, the route transitioned into a sharp and exposed ridgeline with a bunch of hands-on sections. As fun as this started out, the relentless undulations and uneven pacing eventually took the wind out of my sails. The insatiable sun was sucking the moisture out of me with each passing meter. And because the precarious footing demanded my utmost attention, I ended up downing the rest of my water and my only two energy gels with reckless abandon. All the while, I was certain the second aid station was just over the next hill. That was until a couple guys passed me (which was becoming a regular occurence), and informed me that there was "only seven kilometers to go." Seven kilometers! You mean we've only gone halfway since the last aid station! Such were my pointless pleas against an indifferent reality. 
Trouble was officially afoot. There was nothing I could do to cover the distance any faster, and even if there was, the extra effort would just demand even more water and calories. So I did what I had learned from past experiences (some might call them failures); I settled into a death-march. My legs wobbled and my mouth formed those ever-so-attractive "pasties," but I kept banking the miles. Slowly but surely, the rocky spine of the Balkans turned into cow-ladened pastures, which eventually led down to a glorious white tent in the col before Botev's summit. 
Upon arrival, I chugged cup after cup of whatever liquid I could get my hands on, followed by a small feast of watermelon, bread, bananas, and cheese. This renewed my spirits, but my body was still bonking.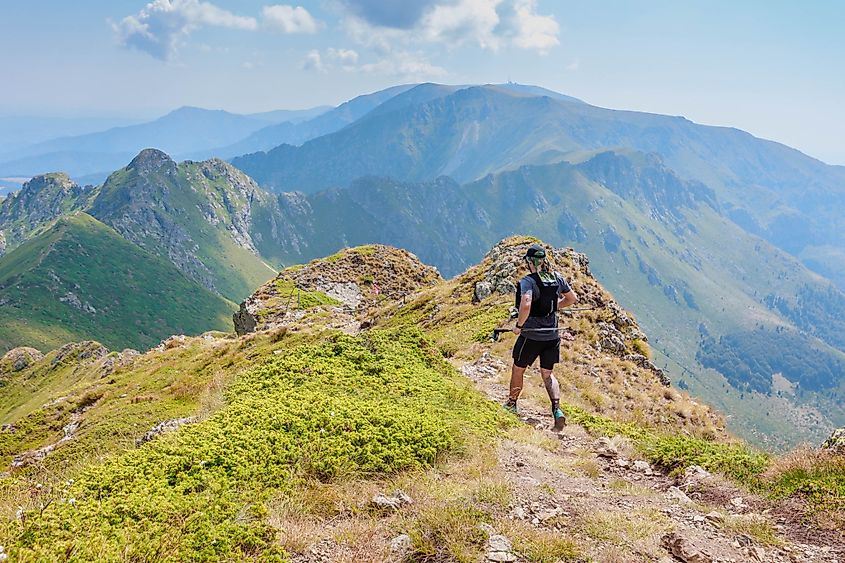 For the rest of the day, I struggled to get out of my sullen slog. I was able to run a bit, here and there, but it would be more accurate to describe it as plodding, plopping, and power-walking. The cruel gift of the Sky Race is that the only way out is through - whatever form that takes. And even though I was hurting, I understood that I was in the thick of what long-distance runners find paradoxically appealing. Remember what I said? I wanted to know what it was like to have nothing left, but then keep on going anyway. Voilà! Be careful what you wish for. 
Finally, The Finish Line
Surely enough, my quivering chicken legs were able to bring me back into the treeline, through the 33km aid station (where I consumed another mound of watermelon), and out along a creekside-paralleling forest trail. Eventually, I heard the bumpin' tunes echoing through the valley, and I knew that my salvation was near. After getting passed by a few more runners (who were all relentlessly positive people), I spotted my girlfriend (who ran the 10k race) waiting for me on the road, a few hundred meters from the finish line. She gave me one last bit of encouragement, and together we ran it in.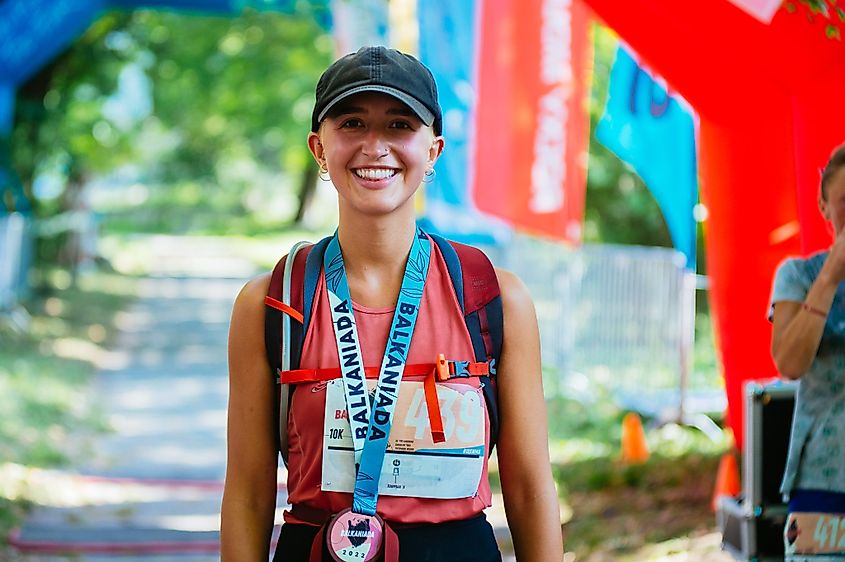 I was handed a complimentary finish line beer, which I thoroughly enjoyed while cheering on the subsequent finishers. I then made for the river, where other warriors were cooling off. I was one of the few native English speakers around, but these types of events always have a communal quality to them that need not be spoken. So in the end, even though the Balkaniada Sky Race exacted its toll (P.S. I lost two toenails), it provided me with a special adventure that I'll always cherish. 
Blagodarya (Благодаря), Bulgaria.