A strait is defined as a narrow water body that serves as a connection between two larger water bodies. Formerly referred to as the "Irish Channel," the North Channel is a strait that links the Irish Sea with the North Atlantic Ocean. This narrow stretch of water separates the northeastern part of Northern Ireland from the southwestern part of Scotland. The North Channel served as the site of a fierce naval battle between the American USS Ranger and the UK's HMS Drake during the American War of Independence.
Geography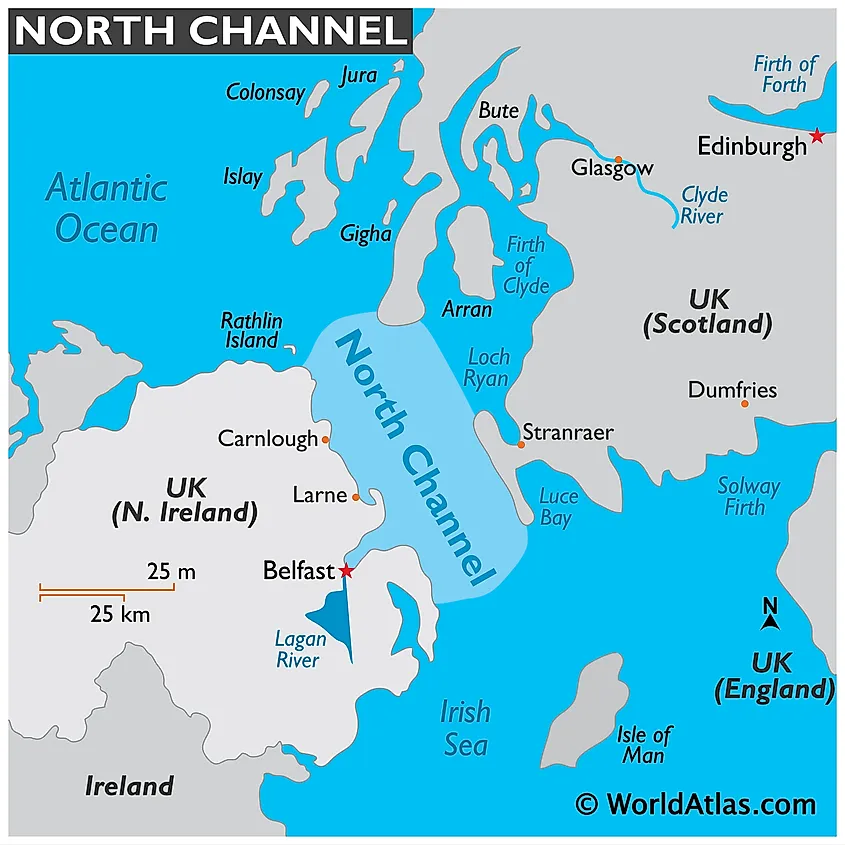 The North Channel has a width of only 21 km at its narrowest point located between Torr Head of Northern Ireland and the Mull of Kintyre of Scotland. Major portions of the North Channel have an average depth of only 10 to 40 m. The deepest part of the North Channel is the Beaufort's Dyke. It is a natural seabed depression that is about 50 km in length and has a maximum width of about 3.5 km. The dyke has a maximum depth of about 200-300m. The Beaufort's Dyke was used by the United Kingdom's Ministry of Defense as a military ordnance disposal ground during World War I.
The coastline of the North Channel is deeply indented and forms the Belfast Lough which is a wide inlet of the channel on the Irish coast. The Sound of Jura, Firth of Clyde, and the Kibrannan Sound are found on the Scottish coast. The distance between the northeastern shore of Northern Ireland (County Antrim) and the southwestern part of Scotland (Mull of Kintyre) is only 19 km and is separated by the narrow Straits of Moyle.
Several islands are located in the North Channel. These include the large islands of Arran and Gigha and the small islet of Ailsa Craig. The only populated offshore island is Rathlin Island, which is situated near the upper boundary of the North Channel.
Economy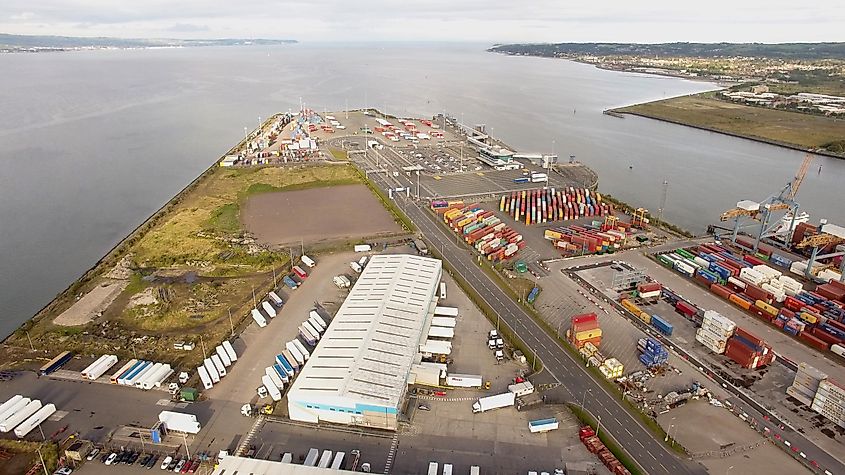 It has been estimated that more than half of the wildlife of Northern Ireland is found in and around the North Channel. Some of the significant species that are found here include the harbor porpoise and fan shells. Both shores of the North Channel serve as important breeding grounds for many seabirds like guillemots, puffins, wintering shorebirds, and razorbills.
The North Channel serves as one of the chief maritime passages in the United Kingdom. The port of Belfast in Northern Ireland and the Glasgow port in Scotland are some of the significant regional ports. The entire North Channel area is well connected by many ferry services.