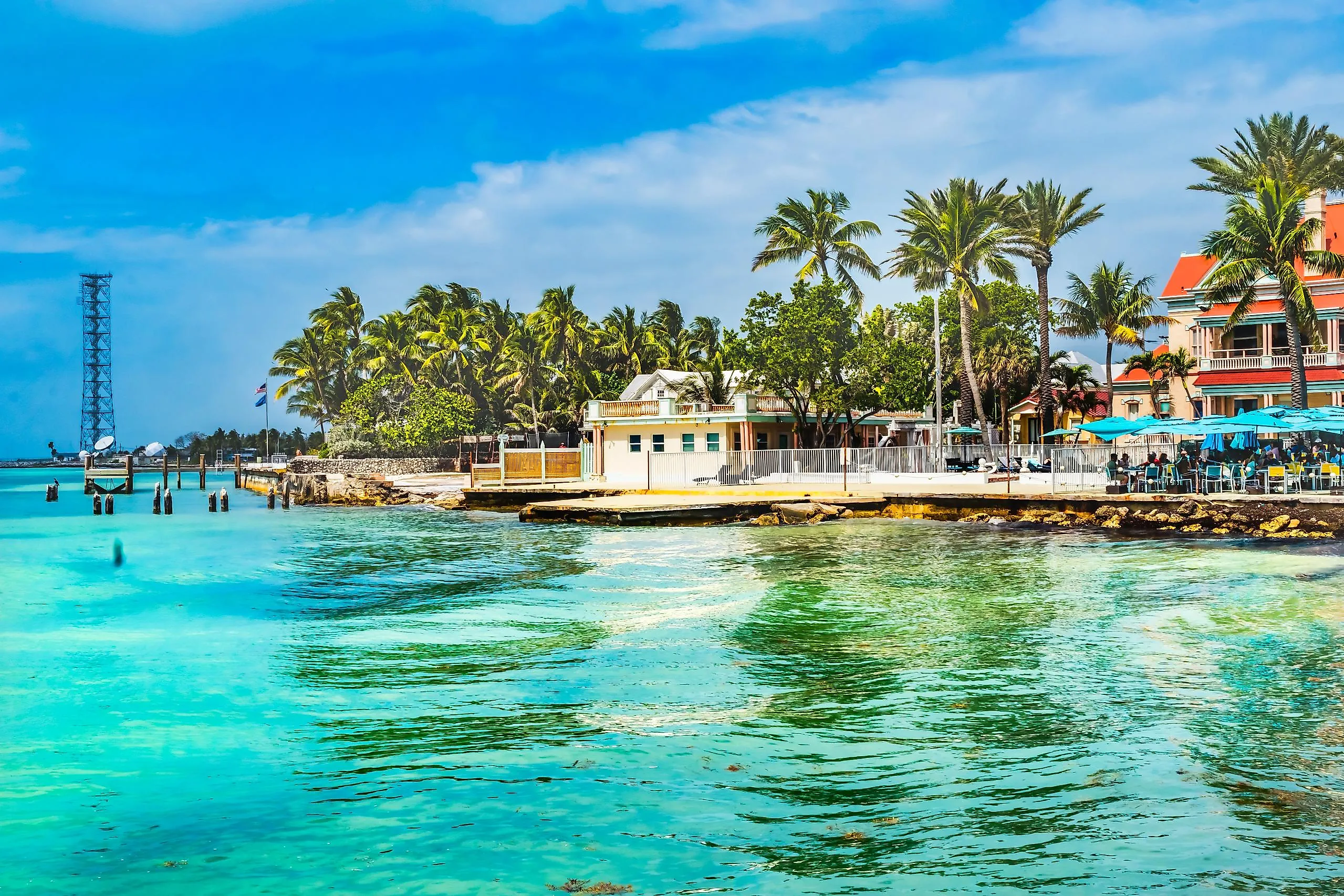 7 Most Beautiful Florida Keys Beaches
Located off the southern coast of Florida, the Florida Keys are a beautiful coral cay archipelago home to some of the most stunning beaches in the region. With more than 350 sq. km. within the arc, this place is known for being a tourism hub attracting people from all over the country to enjoy the views and activities.
Spanning a variety of of unique beaches, state parks, and historical monuments, this region provides attractions such as large palm trees, crystal clear water, windsurfing, and much more. However, with so many options, how can you figure out where to go? To help you find the best beaches to go to with the most exciting features, we have prepared a list of the top 7 most beautiful Florida Keys Beaches.
South Beach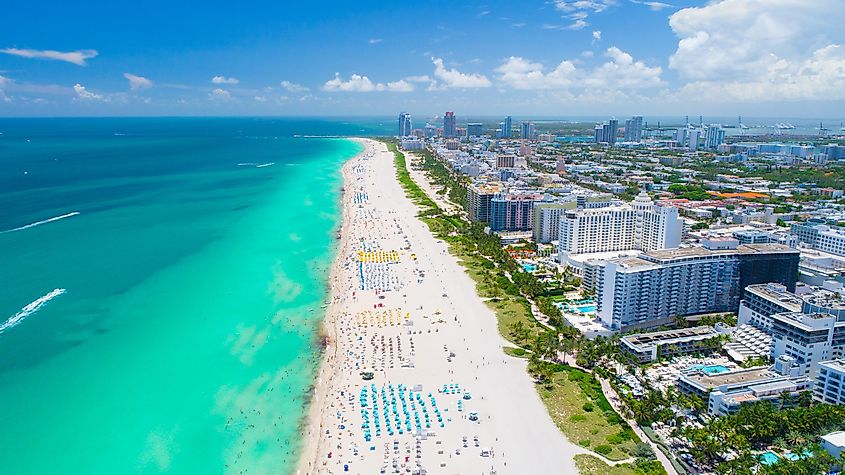 Home to the famous Key West southernmost Point marker, South Beach is a prime location for an enjoyable day. Located at the end of the lively Duval Street, this beach is surrounded by unique establishments such as a colourful Victorian mansion which is currently a boutique hotel. Apart from this, South Beach itself is quite small but makes up for this with a large number of visitors almost daily. Thus, if you want to enjoy the photo sessions near the water, have a drink at the Beach Cafer, or even spend the night at one of the local bars, it might be best to find a spot as early as possible.
Calusa Beach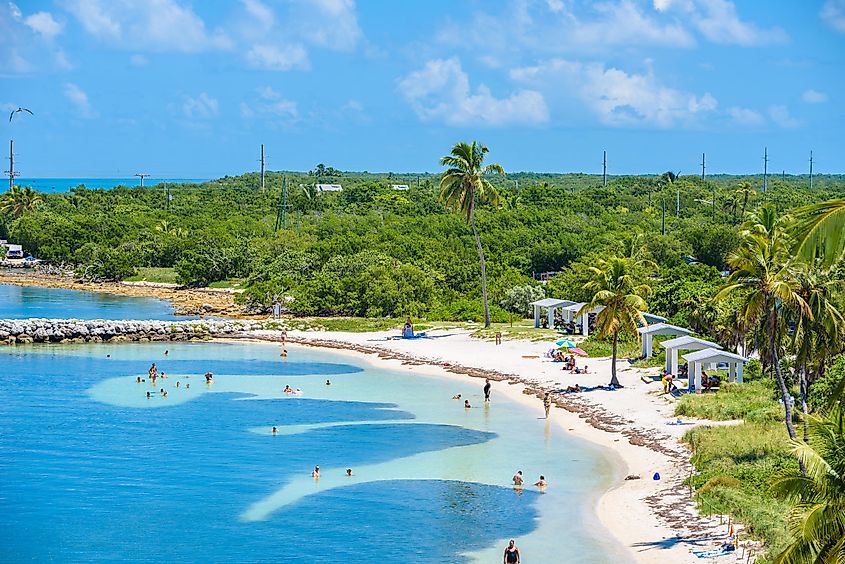 One of the few beaches that are completely natural within the Florida keys, Calusa Beach is known for its beautiful palm trees and white sand. Located on the gulf side of the Bahia Honda State Park, this beach is one of the most peaceful in the region, with serene waters that can make even the most hectic day seem relaxing. Moreover, the waves on this beach tend to stay quite timid, providing a perfect visiting spot to visit with your family or spend your day sunbathing without any hindrance.
Besides being calming, this beach also offers various amenities such as several picnic tables, souvenir stalls, and even snorkelling areas to enjoy your time. That being said, due to its natural beauty, this beach is also filled with tourists, so you might want to book a spot if you plan on spending the day here. Thankfully, getting here is easy and visible from the beach itself is the famous Florida Keys Overseas Railroad trestle bridge, an architectural masterpiece currently part of the Overseas Highway.
Smathers Beach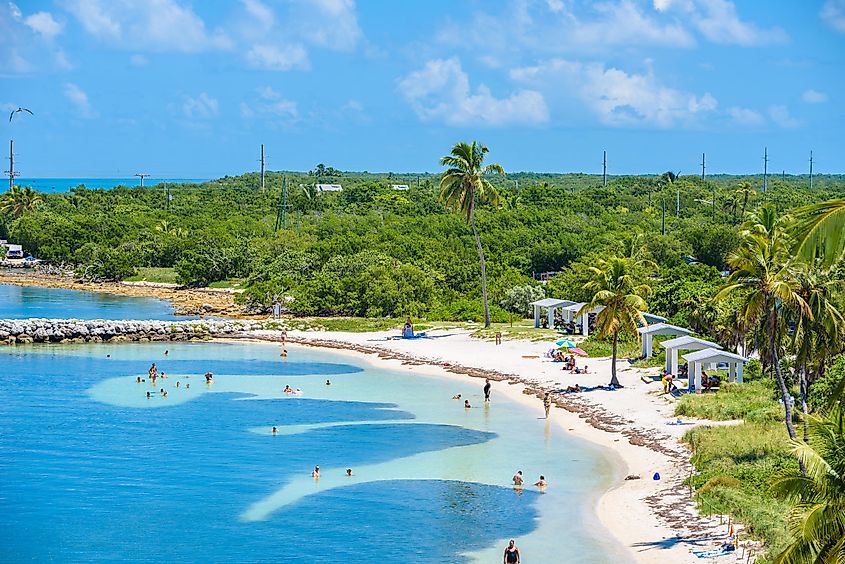 With more than a kilometre of lovely sand, trees, and water, Smathers Beach is the largest public beach in the Key West region. Making use of all the space, the beach is filled with activities that are perfect for all types of people. For example, if you are an adrenaline seeker, there are plenty of sports, such as sailboats, jetskis, parasailing, etc., that can quench your thirst for excitement. Similarly, the beach also has bike trails and picnic sports, with the best part being that entry is entirely free! So, this is one that everyone should surely check out.
Sombrero Beach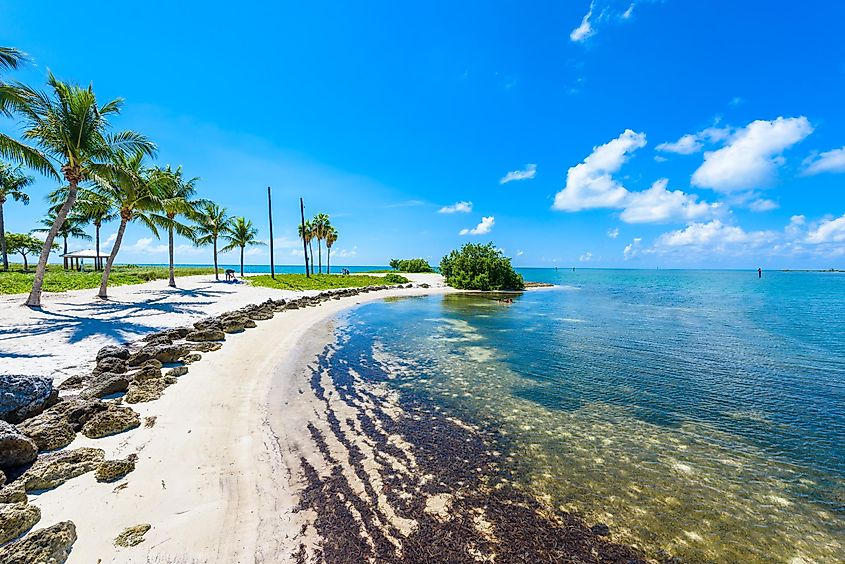 Sombrero Beach is often regarded as being one of the region's best-kept beach secrets. Unlike many others that are flocking with tourists, this beach tends to see more of the locals who enjoy the beautiful park and beach area. Having been redeveloped in 2001 by the city, this beach is very easy to get to with complete handicap accessibility making it great for everyone. Once you get to Sombrero Beach, the well-managed greenery, tall trees, and crystal clear water are sure to keep you fascinated throughout the day. However, if that's not enough, this beach also has volleyball courts and picnic pavillions, so there is always something fun to do.
An interesting fact about Sombrero Beach is that it is also a turtle nesting area. Specifically, 10% of the beach's total area is reserved for Loggerhead turtles and some other species to use as their nests during the breeding season. If you're lucky, you might even be able to spot some of these turtles on the beach or in the nearby care sites.
Higgs Beach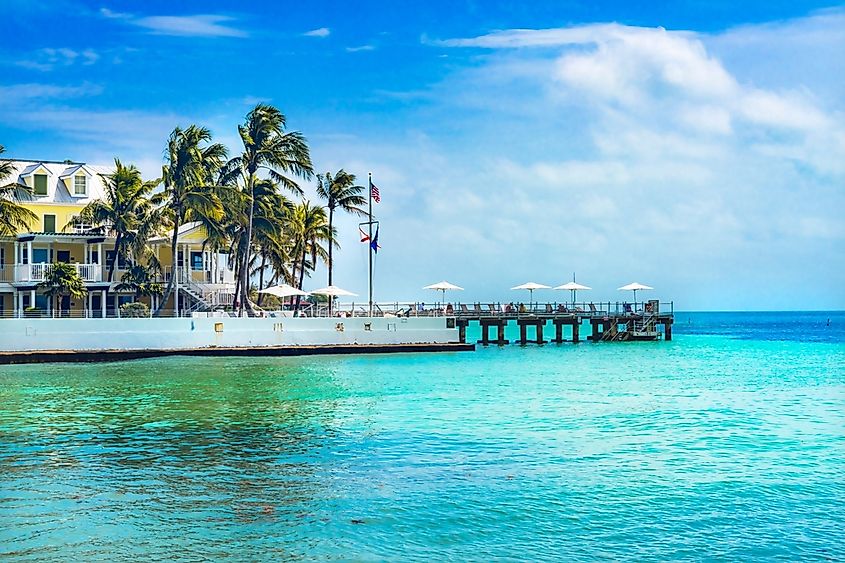 One of the smaller beaches within the Florida Keys, Higgs Beach, or Higgs Memorial Beach Park, is known for both leisure and its historical value. Unlike many other beaches in the region, which are adored for solely their recreational activities, the primary attraction of this beach is the historical Civil War Era Fort, Fort West Martello. This fort is currently home to the Key West Garden Club and is listed on the National Registrar of Historic Places, making it a blast from the past that attracts many people from all around. Moreover, with monuments such as an 1800s African slave cemetery documented in the area, it is a prime tourist spot in Key West, Florida. With so much traffic, Higgs Beach is also well developed, with a large Memorial park surrounding it filled with cafes, restaurants, and many enjoyable water sports.
Zachary Taylor State Park Beach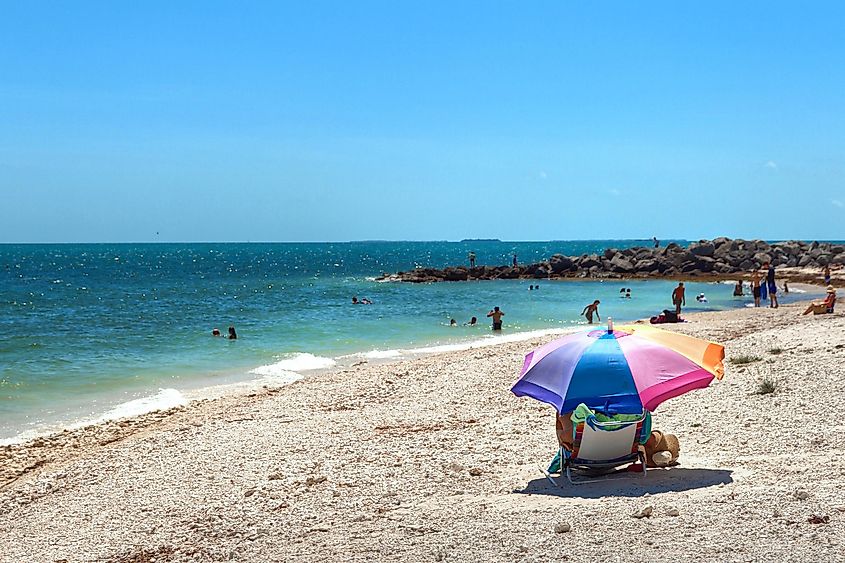 Situated within the southernmost state park in the continental U.S., Fort Zach Beach is a favourite amongst both locals and tourists alike. With some of the clearest waters that are often within comfortable temperature ranges, many people enjoy diving into the Atlantic Ocean for swimming and snorkelling. Once you are done taking a dip into the cool waters, the beach is also home to some unique landmarks that make it one of the most beautiful within the Florida Keys. Specifically, as the name suggests, the National Historic Landmark, Fort Zach, is located near the beach, so you can take a tour to understand the pre-civil war history eminent throughout. Although, if this isn't your cup of tea, the beach also has a plethora of cafes, water sports, and even trails for a fun and relaxing day.
Cannon Beach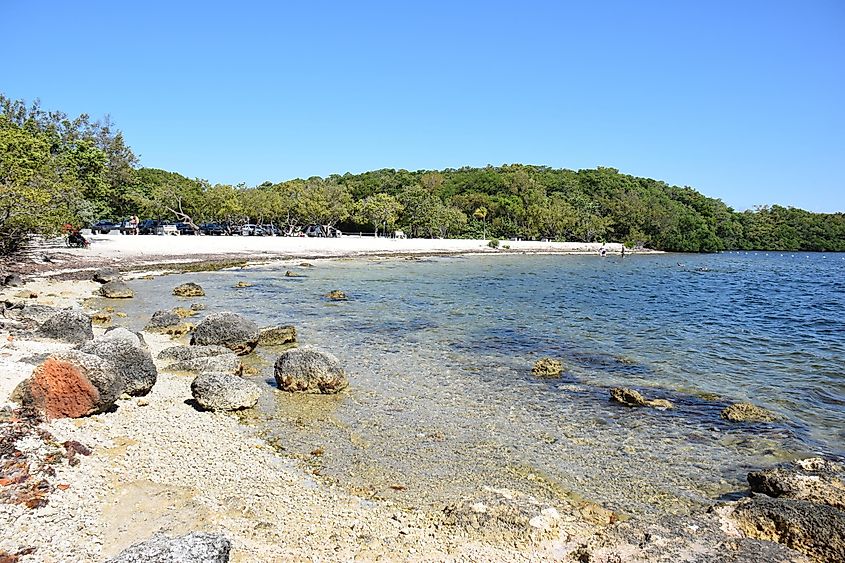 Cannon Beach is known as the primary beach to visit within the John Pennekamp Coral Reef State Park on Largo Sound. The beach itself is manmade and gets its name from 17th-century cannons located along the beautiful beach's rocky shore. That being said, don't let this ancient artifact fool you, as this beach is a popular spot with lots of modern amenities. Specifically, tourists can enjoy the shallow waters to spend their day snorkelling and swimming alongside the stunning tropical fish along the coast. Apart from this, if you want to get away from the beach, the surrounding state park is home to 210 sq. km. of protected land and an undersea park that is a completely unique experience.
As you can see, the Florida Keys region is home to a wide array of natural and man-made beaches offering an endless supply of beatufiul views and relaxing activities. Parallelly, the beaches are also adjacent to large state parks and historic monuments so everyone from young kids to history enthusiasts have something to enjoy. That being said, if you do plan on going to one of these beautiful beaches, make sure to make reservations beforehand because they can get crowded in no time!