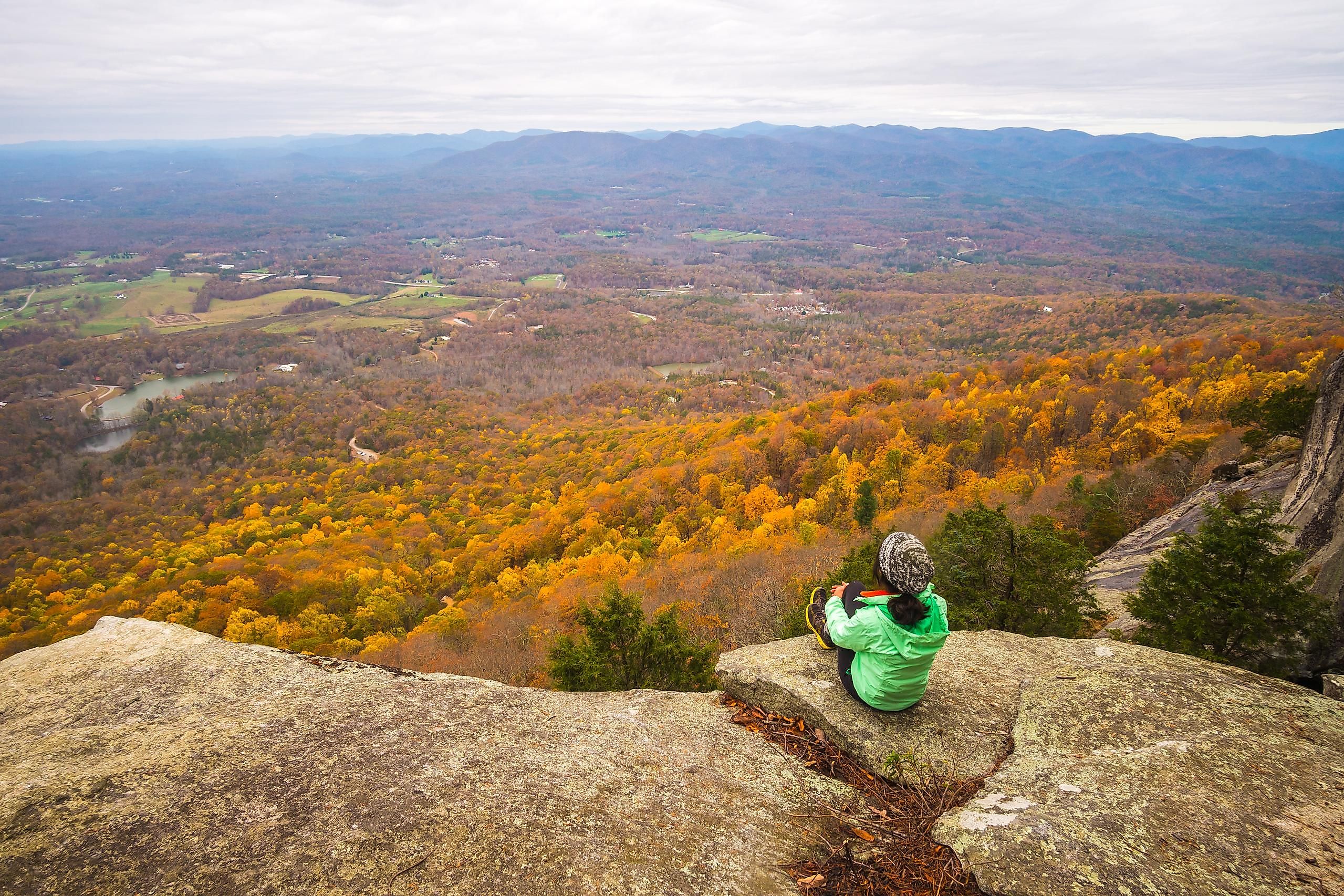 10 Best Hikes In Virginia
Virginia is the perfect place for hiking. Nearly half of the 672 miles of trails in Virginia's state parks are reserved for hiking, and that is without counting close to 400 miles of hiking allowed on multi-use trails. With incredible, varied topography ranging from coastal climbs to craggy mountain outcrops and dense Appalachian forests, Virginia is an East Coast hiking paradise, and it is easy to see why. Here is a list of 10 jaw-dropping trails in Virginia with difficulty levels ranging from beginner to expert. Remember, there is something on this list for everyone.
Dragon's Tooth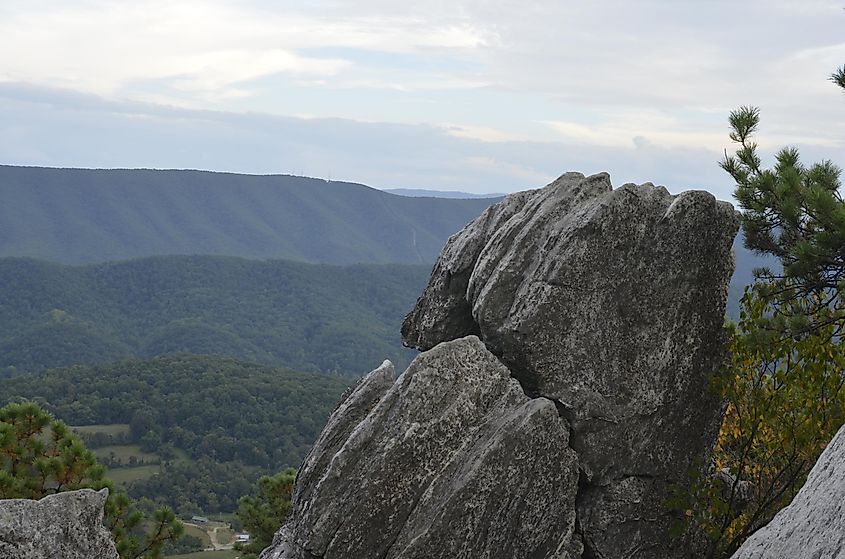 Starting this list with a popular but challenging hike up Cove Mountain, Dragon's Tooth is much adored by veteran hikers and photographers alike for the wonderful panorama view at the top. Be warned, however, a section of this hike takes place on the Appalachian Trail. Hikers wishing to reach the summit will need to rock scramble with hands and feet for a while, but this should not be too discouraging as this popular destination hike is frequented by thousands of people every year. Those who brave the challenging section described above are rewarded with a fantastic view of the Roanoke River Valley like none other. Dragon's Tooth is accessible via the nearby town of Roanoke. The trail is nearly five miles round trip.
Raven Cliff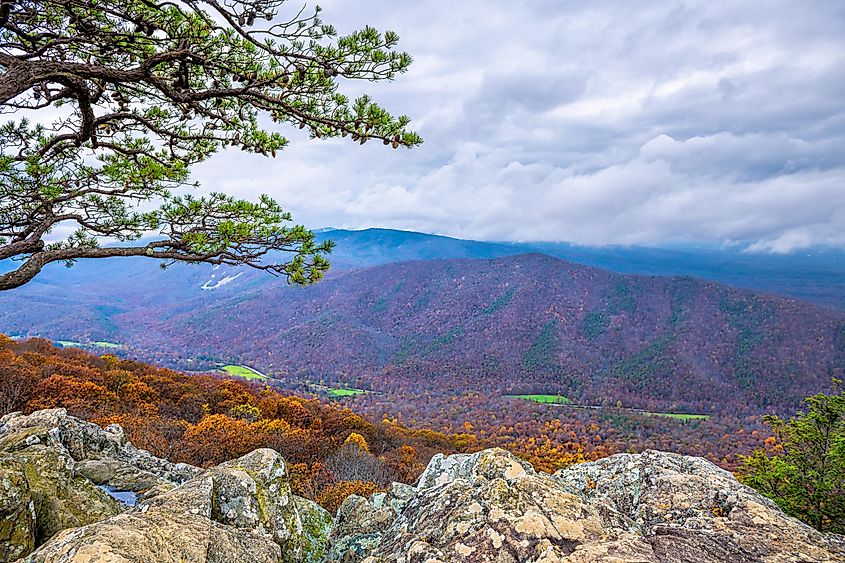 For an easier but no less beautiful hike, consider Raven Cliff, which is a perfect entry point for hiking enthusiasts interested in a slow introduction to the state's trails. Raven Cliff is broken up into two parts and takes roughly an hour and a half to complete. Trek up the gorgeous scenic Cripple Creek on the Raven Cliff Furnace trail, eventually leading to the remains of an intact iron furnace. Double back and rest up if needed at the campground before taking on the Raven Cliff Trail. As a bonus, bring fishing poles and fish for smallmouth bass in Cripple Creek, if so inclined, or a bicycle to traverse the New River Trail. This hike is found through the closeby town of Ivanhoe.
Bearfence Mountain Rock Scramble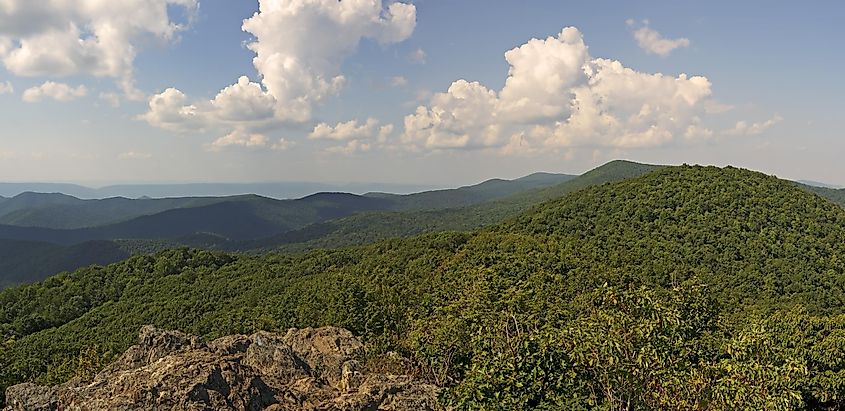 This hike begins near the town of Elkton and is a friendly one-mile round trip with a stunning 360-degree panorama view at the summit. Somewhat of a combination of the two previous hikes on this list, Bearfence has Raven Cliff's approachable beginner difficulty with a twist. This hike does require a touch of rock scrambling as well but in a digestible quantity, perfect for newcomers and families. If one finds themselves tired of scrambling through boulders, keep going. The incredible vistas are only just beyond. Start at the Bearfence Loop Trail off of Skyline Drive in Shenandoah National Park and climb while enjoying the views of Conway River, Jones and Fork Mountains, and one of the best views of Shenandoah Valley to the west.
Humpback Rocks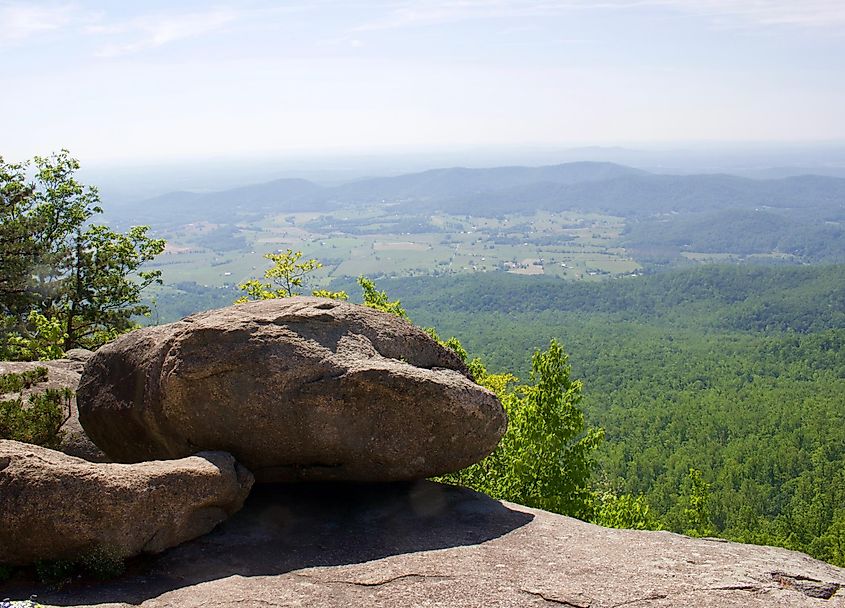 This is a highly popular hike thanks to its close proximity to the Blue Ridge Parkway and Interstate 64 near Afton Mountain and the vineyards nearby. Parking can be found at the Humpback Rocks, and then the fun begins. Caution, despite being only one mile, with its 1,240 ft elevation, this trail is not for the faint of heart. The views of the Shenandoah Valley, however, are truly worthwhile. Take the blue-blazed trail, go slow if necessary, and use the rest stops. The trail has several park benches scattered throughout. Keep straight at the intersection halfway up, and beware of the rocky sections of the hike. Head left at the neck intersection on the spur trail to the rocks and a scenic photo opportunity. 
Chestnut Knob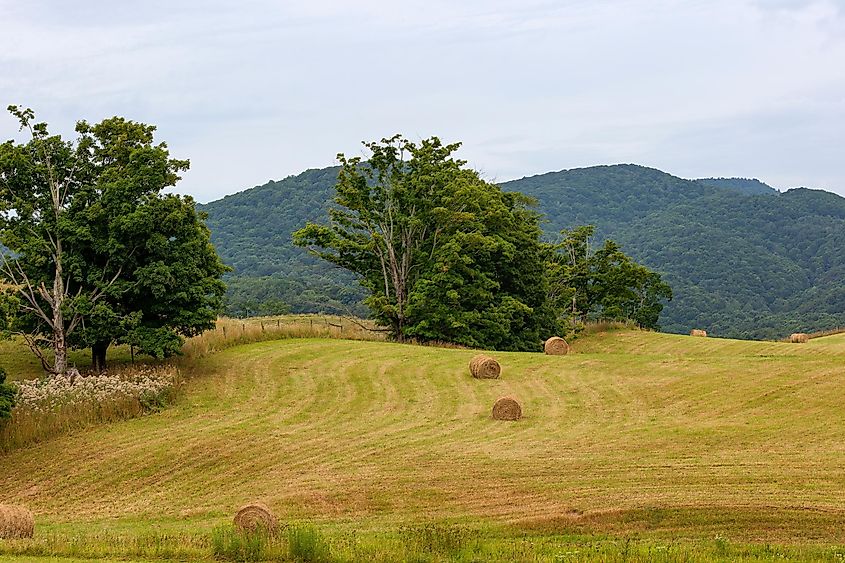 This sub-10 mile there and back hike in southwest Virginia leads to outstanding views of a stone ranger cabin, Burke's Garden, and open, rolling meadows of unbridled greenery. Portions of Chestnut Knob are part of the famed Appalachian Trail, the longest hiking-only trail in the world. Find the Chestnut Knob Shelter, an old fire warden's cabin built from stone at the hike's summit and is still a functioning hikers' shelter today. Look upon one of the state's most eye-catching farmlands in Burke's Garden. Reach Burke's Garden general store on Route 623 and head southeast for just over a mile. Turn left on Route 727 and follow for four miles until one sees a farmhouse on the right. Park on the left side of the road and walk from there.
Angel's Rest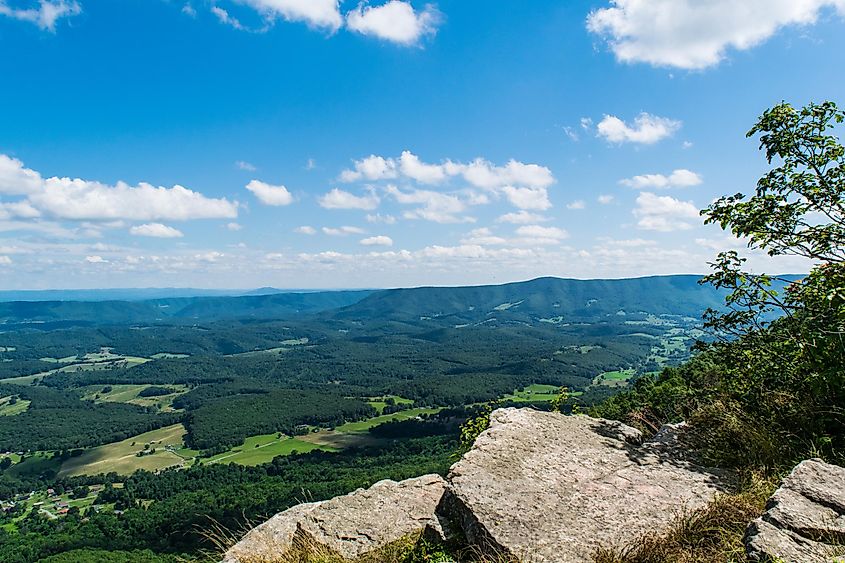 Challenging but worthwhile, Angel's Rest is a tough five-mile total Appalachian Trail hike that leads up the northeastern shoulder of Pearis Mountain, offering two incredible vistas to enjoy. This trek begins near the town of Pearisburg before cutting between a number of switchbacks through a dense, wooded ridge. From there, continue climbing and pass through the boulder garden and enjoy the scenic Angel's Rest. Stretching out into the distance is the New River Valley. Then, head south along Pearis Mountain towards the Wilburn Valley Overlook for a tremendous observation point of the pastoral Virginia countryside.
Kelly Knob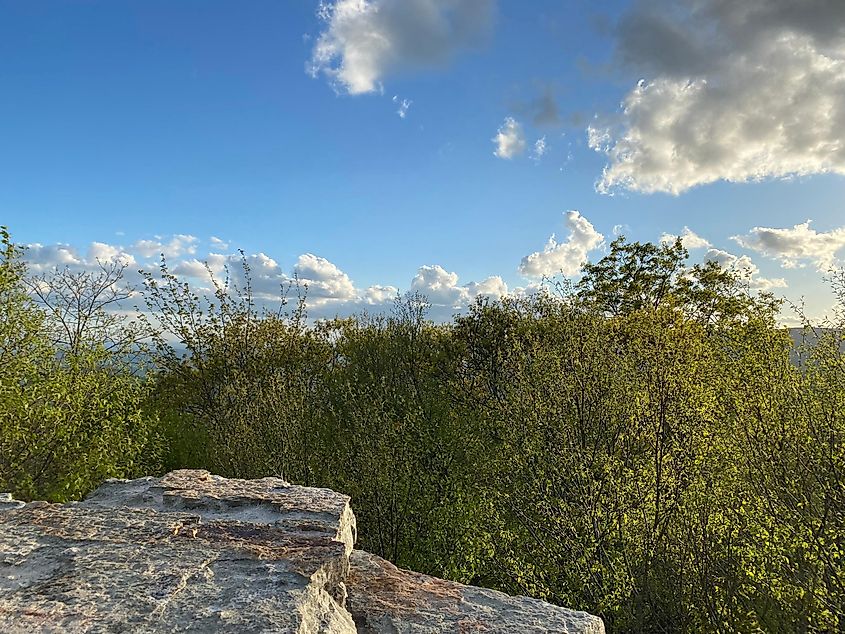 Solitary and perfect for collecting one's thoughts, this entry-level hike is perfect for hikers who appreciate good old-fashioned peace and quiet. With a length of four miles there and back, this jaunty hike is a perfect way to start the day before stopping at the other nearby attractions, like mountain biking at Pandapas Pond or tubing down the New River. Kelly Knob is found in the historic village of Newport just north of Blacksburg. It is a brisk but short ascent to the top of Johns Creek Mountain. Having reached the crest, the hard work is over. Saunter over to Kelly Knob and find the nearby outcrop for views of the New River Valley and the mountains nearby.
Ottie Powell Memorial
According to legend, this segment of the Appalachian Trail is haunted. Little Ottie Powell, a boy just shy of his fifth birthday, disappeared from school after the first snowfall of the season in 1891. It was a Monday. He had climbed the nearby Bluff Mountain, the siren call of its thick foliage too strong to resist, only never to return. Today, the Appalachian Trail leads up to Bluff Mountain, where a memorial was placed for little Ottie Powell. Climb the still intact fire tower for a scenic view of the valley below and, if you dare, stop by at the Punchbowl Mountain trail shelter en-route to Bluff Mountain.
Blackrock Summit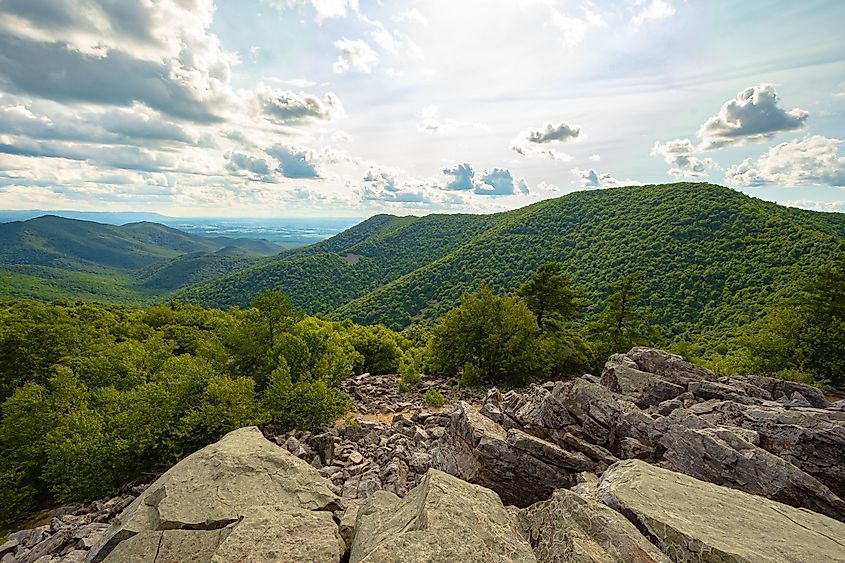 This trail is fun for all ages. Blackrock is visually engaging in a way many hikes are not, thanks to the rock jumble found on the Appalachian Trail. What is a rock jumble? That is exactly what it sounds like. From the Shenandoah National Park's Skyline Drive, start the hike and begin the climb to the summit to see hundreds and hundreds of boulders at the top of the mountain, an unusual sight at a summit. What is not unusual, however, is the Appalachian Trail beauty extending for miles in all directions below. For added fun, try the Trayfoot Mountain Trail up to Furnace Mountain, known to a lesser extent but no less remarkable excursion.
Flat Top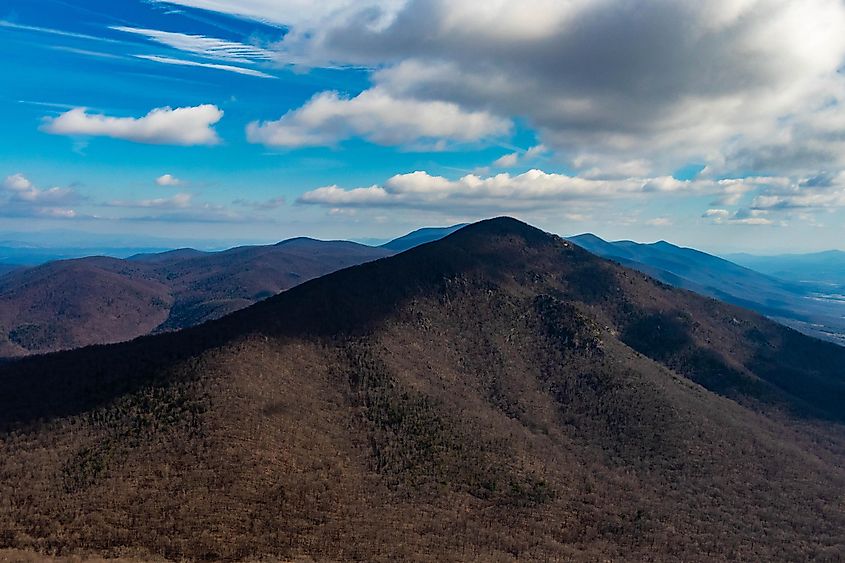 Conquer the switchbacks up the gorgeous Flat Top Mountain for stunning views. For best results, take this hike on a clear day. Flat Top begins near the town of Bedford. This hike is below six miles round trip and leads through scenic wood straight from a picture book. The climb up to the peak is 1,500 feet, but the trail construction is world-class. The reward for this precipitous climb is astounding views of the Peaks of Otter and all the colors of the Appalachians.
Virginia's reputation as a hiker's paradise is well deserved. The state is home to 544 miles of the Appalachian Trail, which would take a lifetime to see the way they deserve to be seen. Color-changing trees in autumn and serene meadows await explorers and require only a pair of hiking boots to see. Not every trail is for everyone, beginners and newcomers to the scene should start slowly with the beginner entries on this list, but with so many trails on offer in Virginia, there is certainly something for everyone.