Canada's Westernmost province, British Columbia, mixes the beauty of the Pacific coastline and the Canadian Rockies. The relatively temperate climate provides an extended hiking season compared with the rest of the country. Thus, there is an abundance of enticing hikes in British Columbia - too many for a lifetime, let alone a highlight reel. Nonetheless, here are ten amazing trails, paths, and peaks that British Columbia offers. 
Stawamus Chief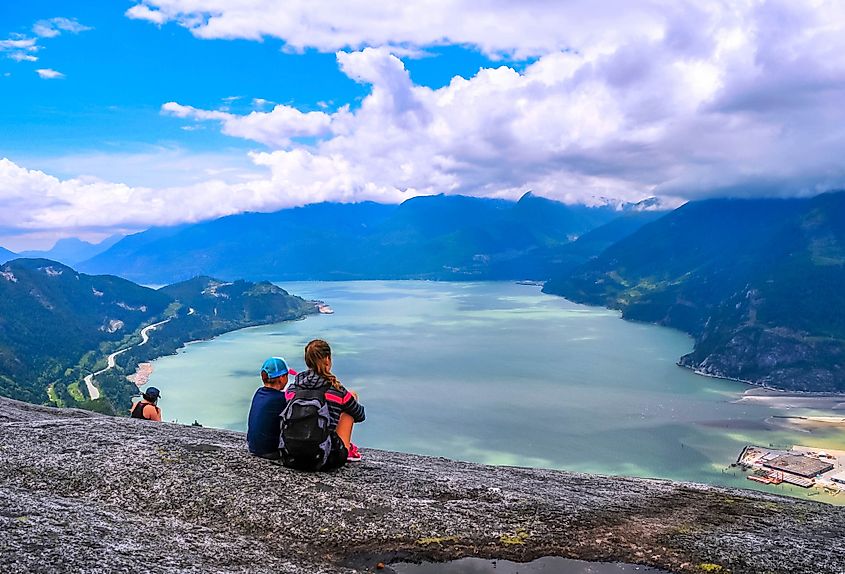 The community of Squamish is referred to as "the outdoor-recreation capital of Canada." This hiking mecca alone has many noteworthy options for this list, but the Stawamus Chief, or "The Chief," as it is locally known, quite literally stands above them all. This choose-your-own-adventure route ascends the 2nd tallest freestanding granite structure in the world, using a series of trails, boardwalks, bridges, ladders, and ropes. Along with the artificial aides, the route also requires some basic bouldering, so anyone attempting this should be comfortable maneuvering up and down steep rock sections. This is not a climb, simply a focused, hands-on scramble. There are three peaks to choose from or connect. The distance, elevation, and duration will vary quite a bit depending on which peaks are chosen - particularly given that a partial descent is required to bridge them. 
Giant Cedars Boardwalk Trail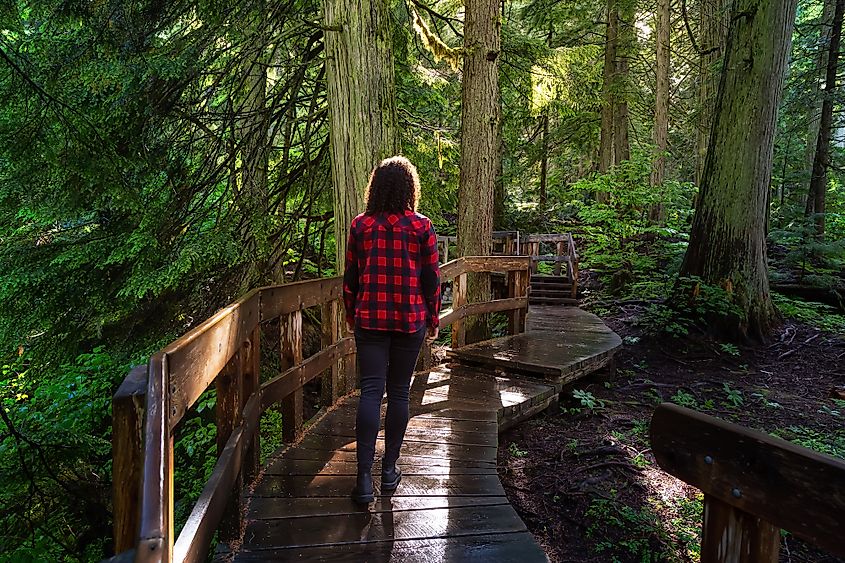 This lovely boardwalk loop in Revelstoke National Park is short but giant. That is to say, the hike itself is a mere 0.2 miles, but colossal cedar trees also engulf it. This tranquil and interpretive trail begins just off the Trans Canada Highway and offers an immediate dichotomy for road-weary adventurers. There is no better place to get out and stretch your legs than a wooden path through a temperate rainforest. Though a no-brainer in route-finding, the short circuit still includes a decent number of stairs, which can become slippery when wet. Even at a leisurely pace, multiple loops will likely be desired as this place is so surprisingly special. 
West Coast Trail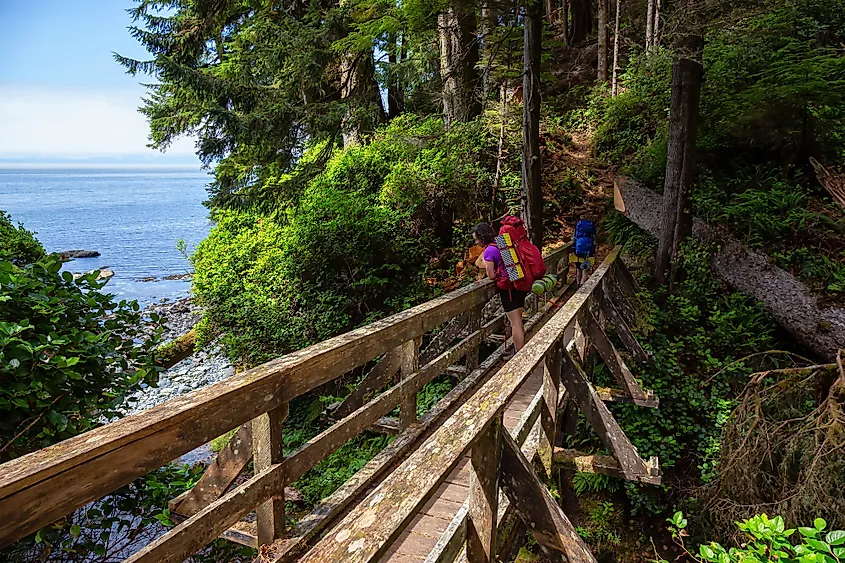 The West Coast Trail is a 47-mile point-to-point trek in Pacific Rim National Park, along the Southwest coast of Vancouver Island. The rough, undulating trail alternates between sandy beaches, rocky shorelines, and dense, often muddy, tropical rainforest. There are over 100 wooden ladders to climb throughout and several river crossings to contend with (either via suspension bridges, hand-over-hand cable cars, a mid-way boat crossing, or simply high-stepping across). The layout of the trail, combined with the tide schedule and many irresistible viewpoints, can make the West Coast Trail a slow-going experience - but this is part of its charm. For a lesser-known alternative or an excellent add-on to the WCT, check out the Juan de Fuca Trail, which heads a further 25.5 miles south of Port Renfrew (the WCT's Southern trailhead). 
Nipika Mountain Resort Trails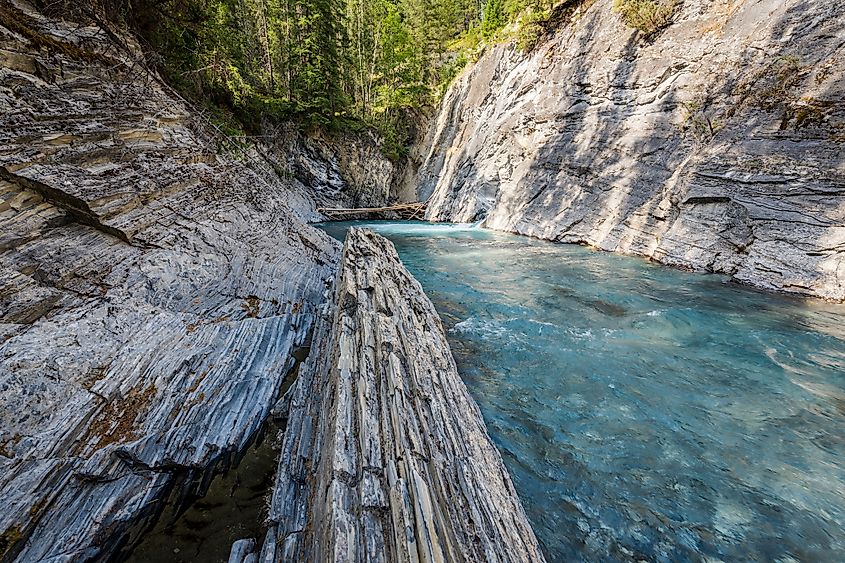 The Nipika Mountain Resort is a paradisiacal eco-lodge deep within Kootenay National Park. Over 30 miles of trails can be accessed from the family-friendly cabins spread throughout the peaceful meadow. These networks explore the Kootenay and Cross River Valleys as they meander throughout the 1,500 acre Cross River Canyon Recreation Site. The trails are perfect for hiking and cross-country skiing, and snowshoeing in the winter. Nipika utilizes these groomed trails to host several adventure races throughout the year. Additionally, some enthralling backcountry treks are but a short drive away.
The Rockwall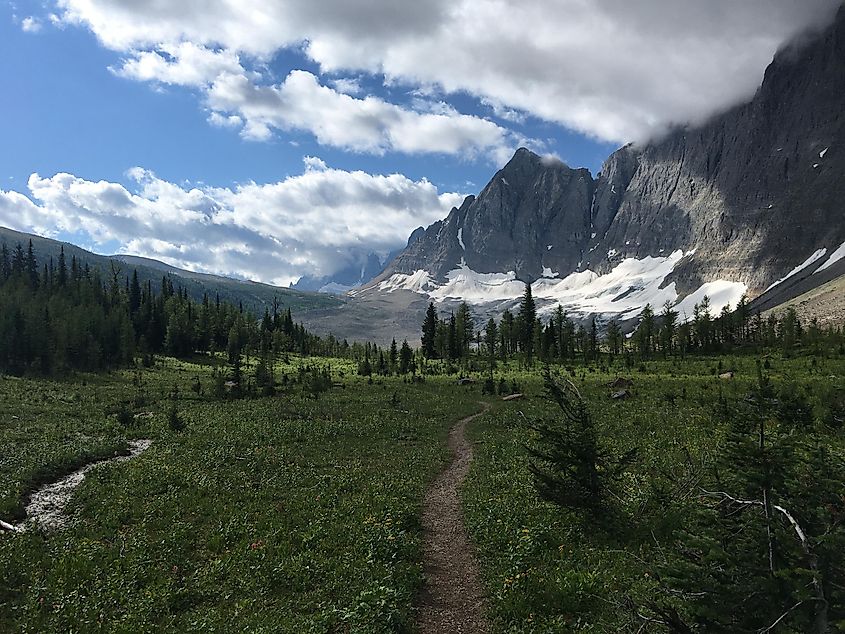 Rockwall Trail is a 34 mile, magnificent grind in Kootenay National Park. Most of the hike traverses alongside a continuous, mammoth limestone cliff from which the trail gets its name. Rockwall is typically done in 3 to 5 days, although it is also regularly fast-packed or runs in a single push by dedicated athletes. The trail gains more than 9,000 feet as it ascends three mountain passes. The established campsites can be found in the corresponding valleys of each. Day-hikers can get a taste of the Rockwall experience by parking at either terminus and hiking into the Paint Pots or Floe Lake. Through-hikers will have to make arrangements for a shuttle back to their starting point or contend with an extra 8 miles of walking along the shoulder of Highway 93. 
Stanley Park Seawall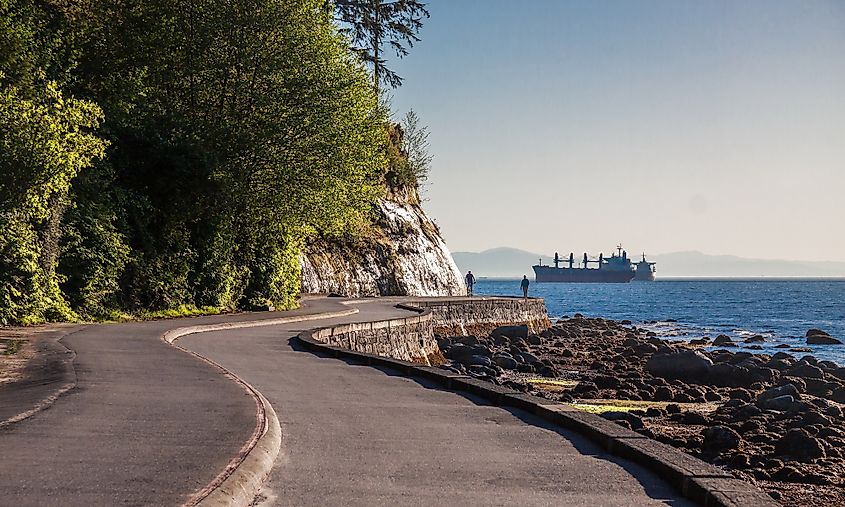 This 6-mile paved path circumnavigates Stanley Park in downtown Vancouver. This loop boasts an array of refreshing views, from the downtown core to the North Shore, to the shrouded mountains, to the waters of Burrard Inlet - all while cruising around a verdant and social park. Unlike some of the more rugged hikes of this list, the Stanley Park Seawall is appropriate for all ages and abilities. Those with some extra time on their hands can stop to enjoy the beaches and picnic areas, take a tour of the Vancouver Aquarium, or play a game of pitch and putt. History lovers will also appreciate the collection of totem poles that commemorate the traditional territory of the Musqueam, Squamish, and Tsleil-Waututh Nations. 
Marble Canyon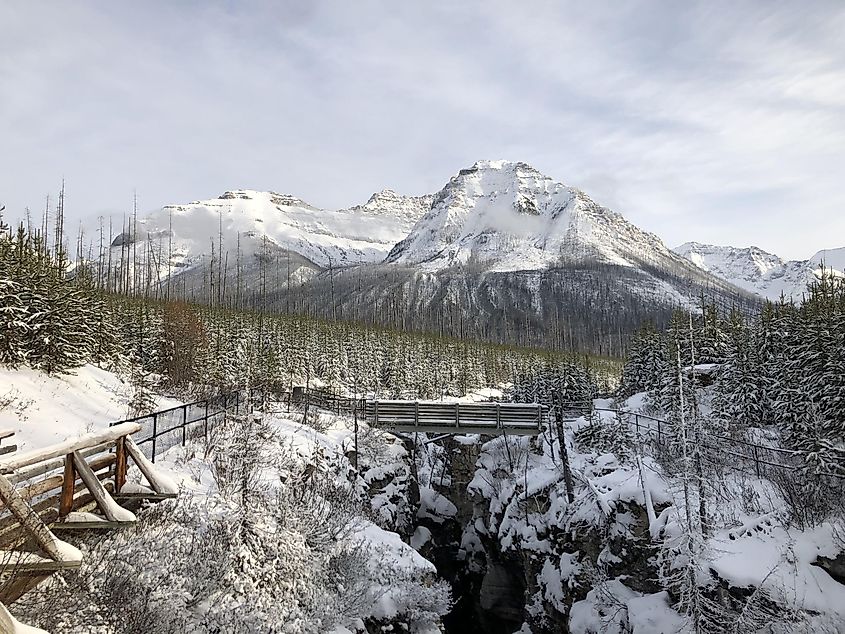 Marble Canyon is another standout, highway-adjacent, boardwalk hike. This gem is located in Kootenay National Park, not far from the Highway 93 turnoff between Lake Louise, Alberta, and Banff, Alberta. The mix of trails and boardwalks is officially around a mile in length, though some additional paths and zigzags can be taken at one's leisure. Looking down to the roaring glacial waters gives a glimpse into the canyon's slow but violent past. Looking out offers always-inspiring views of the Canadian Rocky Mountains, and looking around at the charred/new growth forest reveals the devastating yet regenerative effects of the regional wildfires.  
Stanley Glacier Trail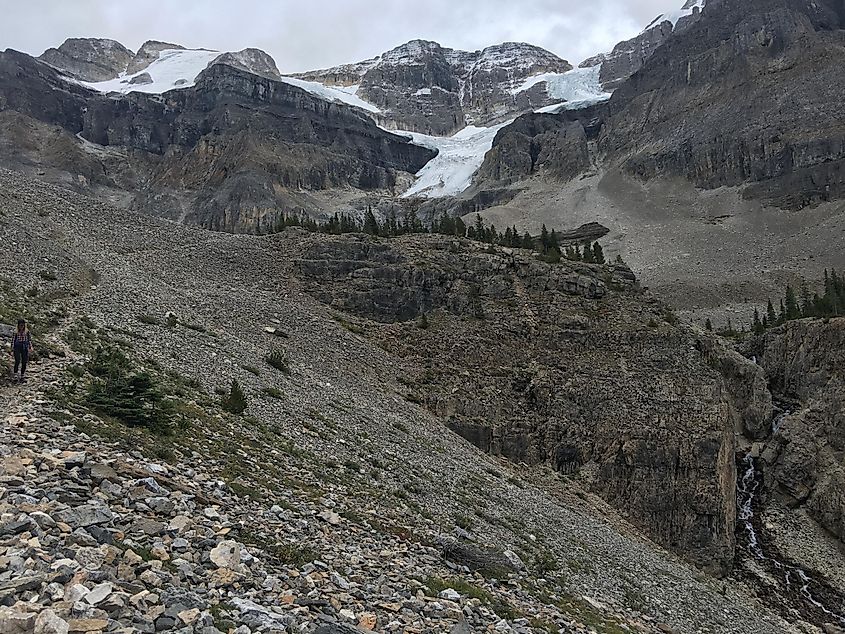 Marble Canyon's neighbor takes hikers deeper into the landscape that the scenic boardwalk teases. This 7-mile trek can be done as an out-and-back or a loop. It gains at least 2,000 feet, but more like 3,000 if the final, off-trail scramble is made to the glacier's base. This hike's trailhead can again be accessed right off of Highway 93 - a trademark feature of much of Kootenay National Park. From the parking lot, the switchback trail climbs through the new-growth forest that is still rebounding from a major wildfire in 2003. From there, a steady effort ensues across the rocky, barren landscape that curiously contrasts the earlier sections. A sign will mark the official end of the trail, but worn paths and a bit of creativity will show the way forward. Multiple waterfalls provide excellent spots for a lunch break. 
Grouse Grind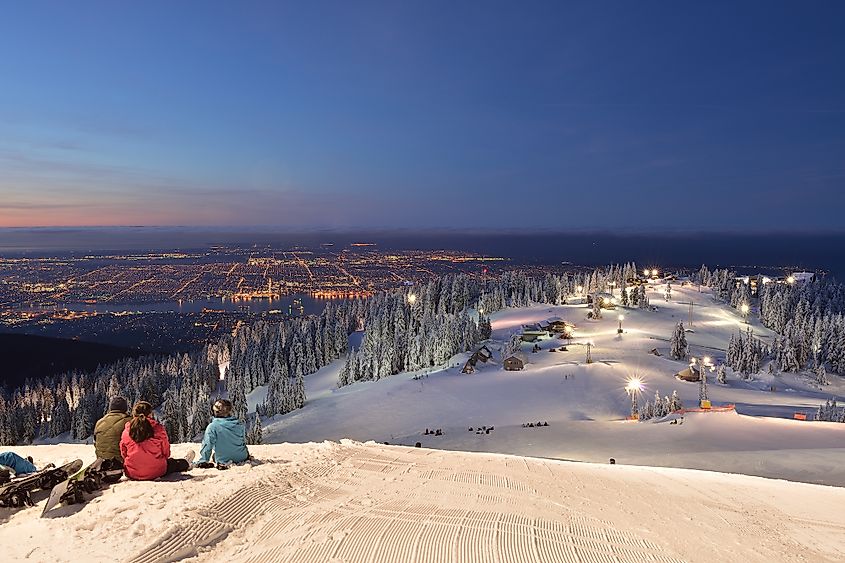 The Grouse Grind is a short and popular grunt up Grouse Mountain on Vancouver's North Shore. It is affectionately named "Mother Nature's Stairmaster." The heavily-trafficked trail is semi-groomed but still rugged and steep. The beauty of the Grouse Grind is easily accessible and can be done by anyone fit and determined. The 1.8 miles (one-way) trail ascends 2,800 feet through the mature forest surrounding the slopes of Grouse Mountain. Once the sweeping views of BC's capital city have been sufficiently enjoyed, hikers have the option of retracing their steps or taking the Grouse Mountain Gondola back down. 
Brunswick Mountain Trail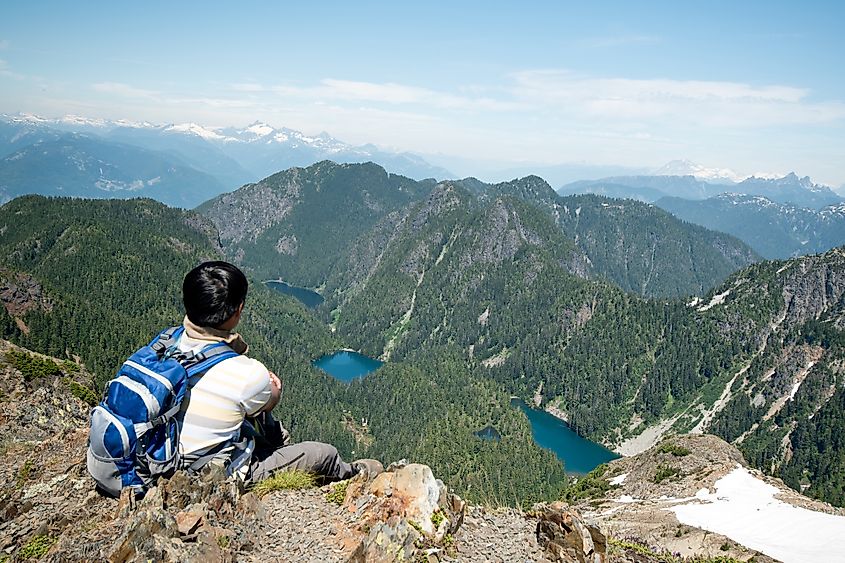 Brunswick Mountain is the highest peak on Vancouver's North Shore and could perhaps be considered the Grouse Grind on steroids. This 8.9-mile out-and-back trail gains a leg-zapping 5,100 feet. It begins as a single-track push through the dense forest, eventually transitioning to a steep grind up the rocky alpine slopes and finishing off with an epic traverse of the narrow ridge (arête) to the summit. This hike requires excellent fitness and the final stretch is only appropriate for the sure-footed and those comfortable with some hands-on scrambling/bouldering. Anyone up for the task will be treated with sweeping views of the misty North Shore Mountains that sprout up from the emerald waters of Lion's Bay.  
British Columbia has a wealth of amazing hikes throughout its varied landscapes. The breathtaking scenery is available to dedicated fitness buffs and budding hikers alike. The options also range from epic multi-day treks to casual Sunday strolls. Whatever you are looking for, British Columbia will provide.