Initially carved out by glaciers, Convict Lake is a 170-acre lake situated in the Sherwin Range of the majestic Sierra Nevada Mountains in Mono County in the eastern part of the US State of California. What separates this lake from other water bodies in the area is its location, dramatic history, and outstanding beauty. Situated close to the scenic Highway 395, Convict Lake is easily accessible for travelers at all times. With its crystal-clear turquoise-blue waters and beautiful backdrop of mountains and trees, it is the perfect place for anyone looking to rest and relax in the great outdoors or for those looking to indulge in some fun recreational activities.
Geography Of Convict Lake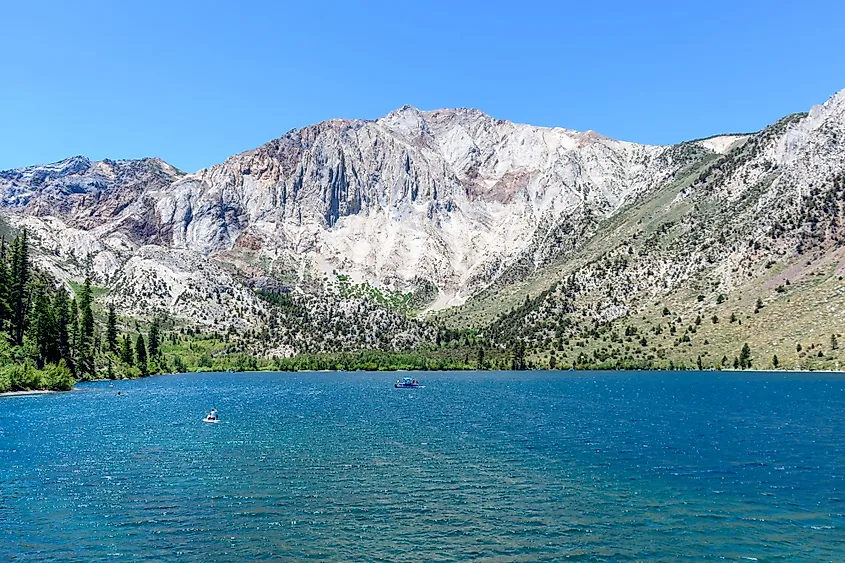 Almost 760,000 years ago, a huge volcano erupted because of natural forces that created the Sierra Nevada Mountain Range. Many years after this phenomenon, changing temperatures caused glaciers to cut through the mountains, leaving behind piles of strikingly-shaped rocks called moraines. A moraine acting as a natural dam led to Convict Lake's formation.
Oblong in shape and surrounded by a box canyon, Convict Lake reaches almost 43 m deep in different places and is among the deepest lakes located in the Sierra Nevada Mountains. Placed at a surface elevation of 2,390 m above sea level, Convict Lake has a maximum length of 1.4 km and a maximum width of 0.6 km. Mount Morrison, which is about 3,731 m high, lies to the lake's southeast and contributes to its imposing and stunning backdrop.
Climate Of Convict Lake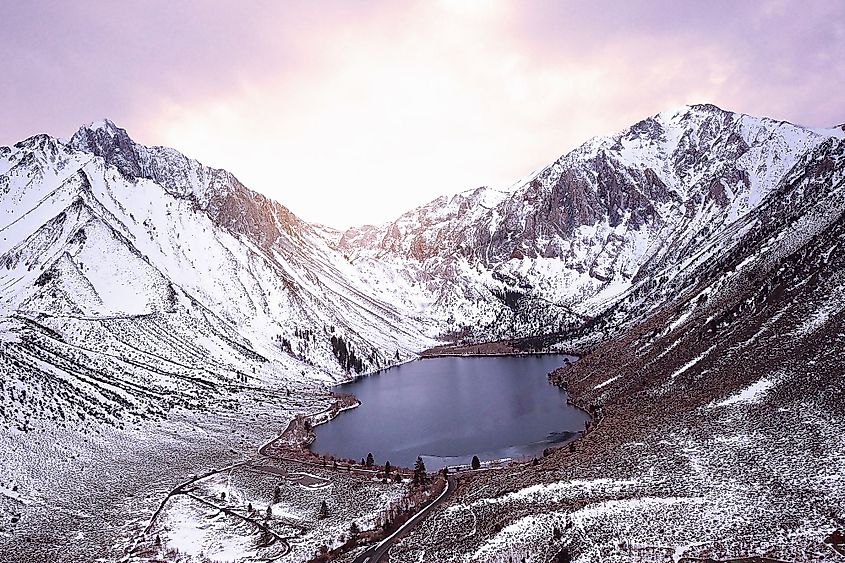 The Convict Lake area generally experiences good weather throughout the year. The average temperatures reach a high of 81°F during summers and a low of 16°F during winters. While June to August are the most desirable months for visitors looking for some adventure and activities, the Lake sees a lot of traffic from the months of April to November. The region sees 277 sunny days per year and receives only 18 inches of rainfall yearly. However, the region receives a massive 101 inches of snowfall, which makes it harder to get there in the winter.
History Of Convict Lake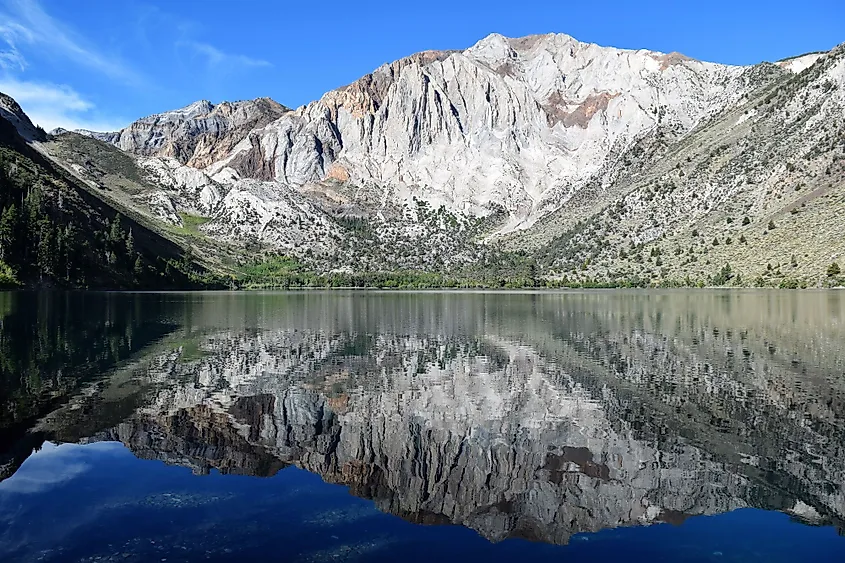 The indigenous Paiute Indians called the lake Wit-sa-nap and considered it a safe haven for "water babies." Later, when mining started in the region, locals named the lake and surrounding area "Monte Diablo." Its most recent name, however, has the most dramatic origin. A group of convicts escaped from Carson City's Nevada State Prison in 1871 and sought refuge near the lake. The convicts killed a local mailman, Billy Poor, who chanced upon their camp by accident. Enraged by their violent act, the county residents formed their own posse to capture the outlaws. A shootout ensued, killing some members of both groups.
The posse caught and executed the remaining convicts, and that is how Convict Lake got its name. The magnificent high mountain behind the basin was named Mount Morrison, and a nearby smaller peak named Mono Jim, in honor of the slain local merchant and the Indian officer. Apart from its own violent history, there have been other tragedies at Convict Lake as well. In February 1990, a group of teenagers and camp counselors from Camp O'Neal met with a sad accident when they were visiting the area. They were on the frozen lake, but the ice was too thin in some parts. As a result, four teenagers and two adults fell through the ice. One of the kids managed to pull himself out, but two other rescuers also drowned in the process. Apparently, the young people had received a warning that the ice would be too thin to support their body weight, but they decided to try walking on it in spite of that.
Ecology Of Convict Lake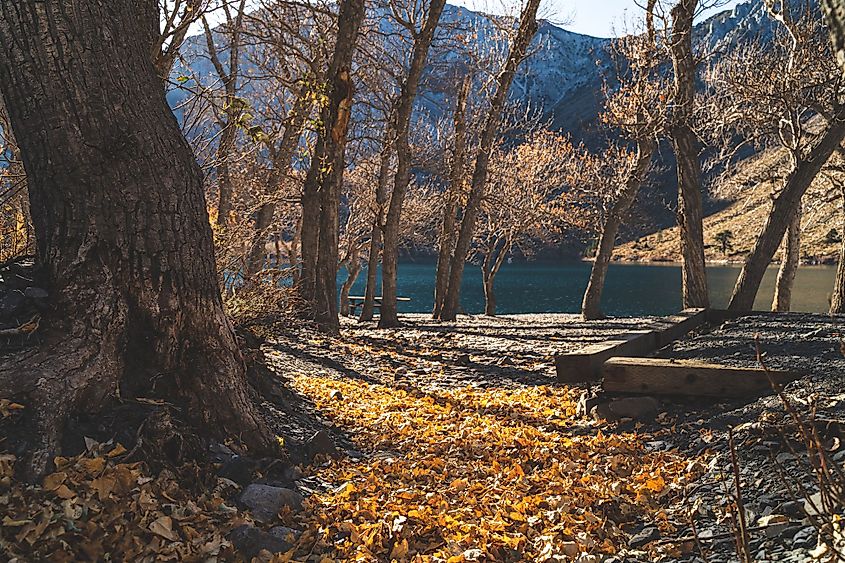 Several fish species, such as German brown trout, rainbow trout, and sucker fish, are found in the lake. Due to the high demand of fishing enthusiasts, during summer, the lake is well stocked once a week with rainbow trout from nearby hatcheries. Another feature that adds to Convict Lake's natural beauty is the amount and variety of trees found in the region. At a higher altitude, visitors can delight in the Jeffery pines, western junipers, and lodgepole pine. The Eastern Sierra also has an abundance of Aspen, willow, and cottonwood trees, and these are the ones mainly responsible for the area's magnificent fall foliage. Wildflowers grow in all regions; however, they are most visible during the spring.
Tourism In Convict Lake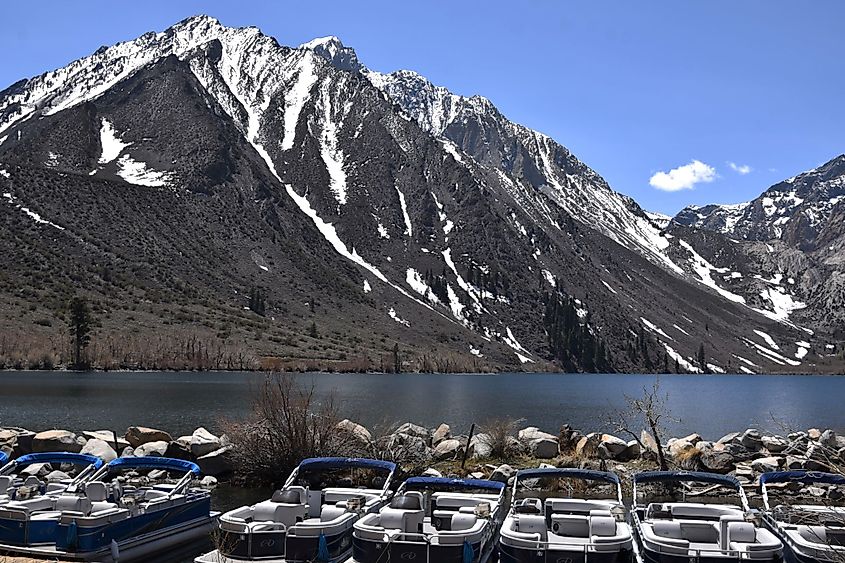 There is no shortage of activities at Convict Lake, which serves as an ideal destination for those looking to rest and recharge after their hectic everyday lives. Visitors can fish, swim, hike, and even go horseback riding, boating, and skiing in the Mammoth Mountain Ski Area. It is an ideal location for photographers, couples planning a romantic getaway, and even for families who want to build memories by spending time together away from the daily routine of city life. The Lake has a guarded camping site with all kinds of amenities. Besides offering visitors an array of delicacies, the Convict Lake Resort offers options to book cabins as well. Convict Lake is, therefore, a must-visit vacation spot for anyone looking to absorb the beauty of nature.