Nothing beats spending a nice summer day out at the lake. Activities around the water are almost endless, regardless of what time of year it is. With nearly three million lakes found within the US, there are a lot of bodies of water to choose from. However, there are a few freshwater lakes that stand out from the rest.
1. Lake Powell, Utah/Arizona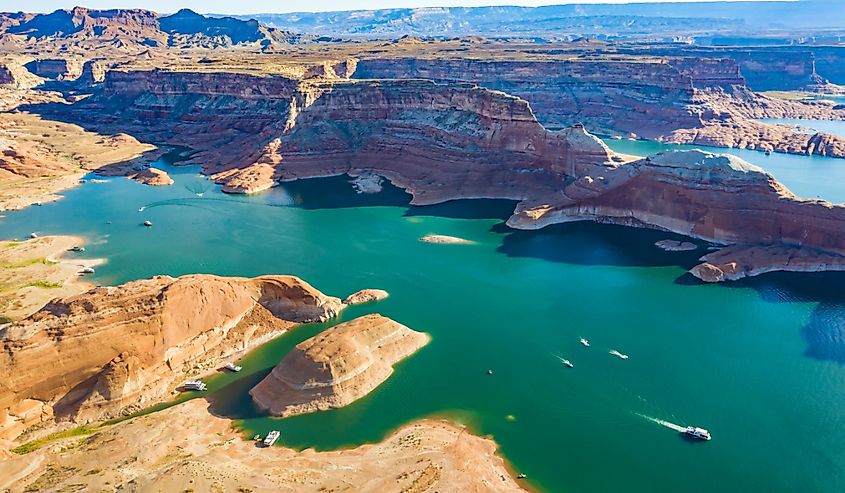 An oasis in the desert, the Utah and Arizona border split Lake Powell with a majority of the lake ending up on the side of Utah. Lake Powell is not a naturally forming lake but rather a man-made reservoir. In 1963, the completed Glen Canyon Dam began directing river water to the lake that you see today. The bright blue water and red canyon backdrop are hard to beat, making the lake one of the most stunning in the world.
2. Yellowstone Lake, Wyoming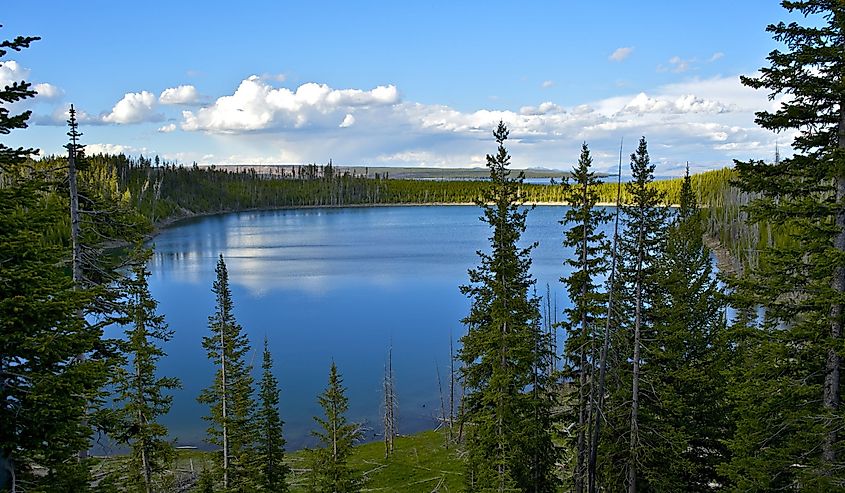 Located in the famous Yellowstone National Park, Yellowstone Lake is just one of the countless sites to see during your visit. The lake itself is the largest high-elevation lake in North America at a staggering 7,733 feet above sea level. At the bottom of the lake, there is a series of hot springs and geysers that shoot warm water into the lake. The hottest temperature that was ever recorded was a boiling 252 degrees Fahrenheit.
Despite the flow of hot water, Yellowstone Lake is very cold. It freezes over during the winter months and only thaws around May. The average water temperature in summer is a chilly 41 degrees Fahrenheit and park officials do not recommend visitors swim at all. Staying in waters that temperature can be very dangerous. Do not let the cold water stop you from visiting, Yellowstone Lake is one of the most spectacular bodies of water in the world.
3. Lake Superior, Michigan/Minnesota/Wisconsin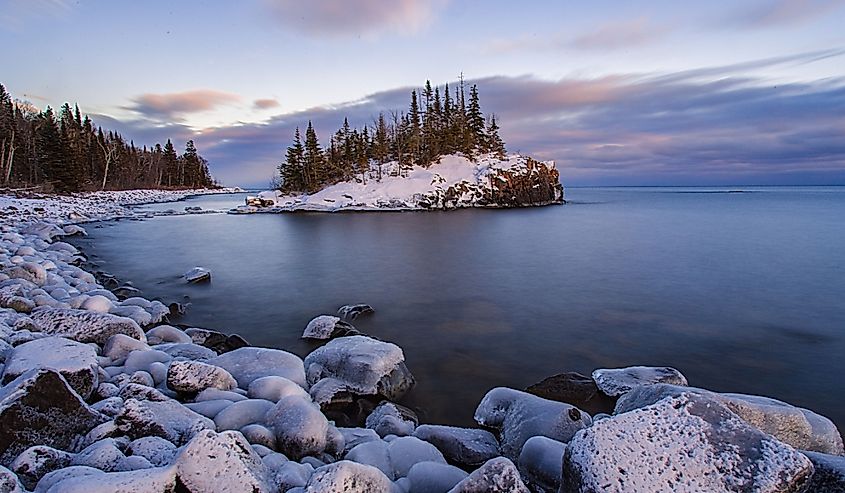 It would be impossible to talk about beautiful lakes without mentioning at least one of the five Great Lakes. Big enough to be a small ocean Lake Superior is truly a marvel of mother-earth.
Known for its outstanding fishing and sailing, Lake Superior is routinely enjoyed by the three states that are lucky enough to border it. In the middle of Lake Superior lies the national park of Isle Royale. This park is often visited by boaters and sailers looking to camp overnight on the stony island. Just make sure you layer up, Lake Superior is notoriously windy and cold.
4. Crater Lake, Oregon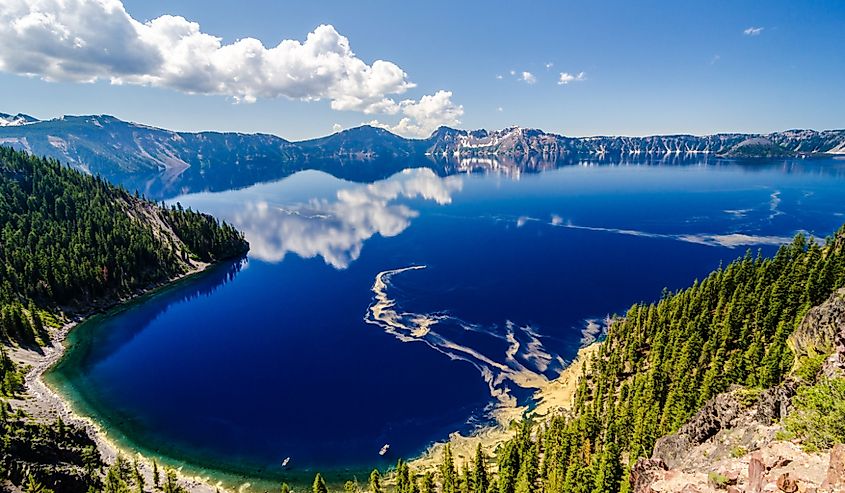 The naturally occurring masterpiece that is Crater Lake formed nearly 7,000 years ago in the wake of a violent volcanic eruption. This volcanic activity is responsible for giving Crater Lake its distinctive bowl shape.
The middle of the lake is home to Wizard Island. A very unique characteristic of the lake, this small island has a much larger density of trees than the surrounding area along with a small hill. It is common for visitors to make trips to Wizard Island via canoes and kayaks. You can also find campsites around the "rim" of the lake for those who want to make Crater Lake more than a day trip.
5. Caddo Lake, Texas/Louisiana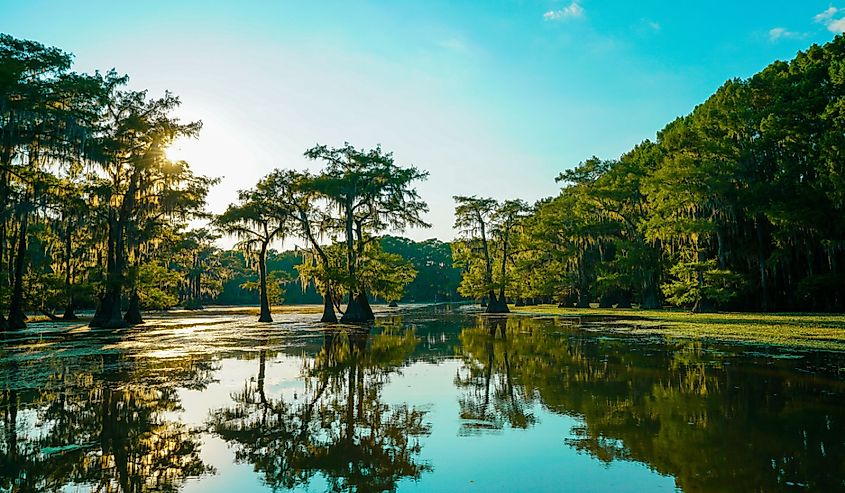 Split vertically by the border between Texas and Louisiana, Caddo Lake is a far cry from what you might find in the northern states. Caddo Lake shares more in common with a swamp or everglade but is magnificent in its own way.
Filled with shallow water and bald cypress trees, Caddo Lake is a different experience for those visiting from outside of the region. Canoeing through the maze of water trees is a popular activity and can be a fun and adventurous way to travel between the various campsites that the lake has to offer. Just make sure to be mindful of the alligators that call Lake Caddo home.
6. Lake Tahoe, California/Nevada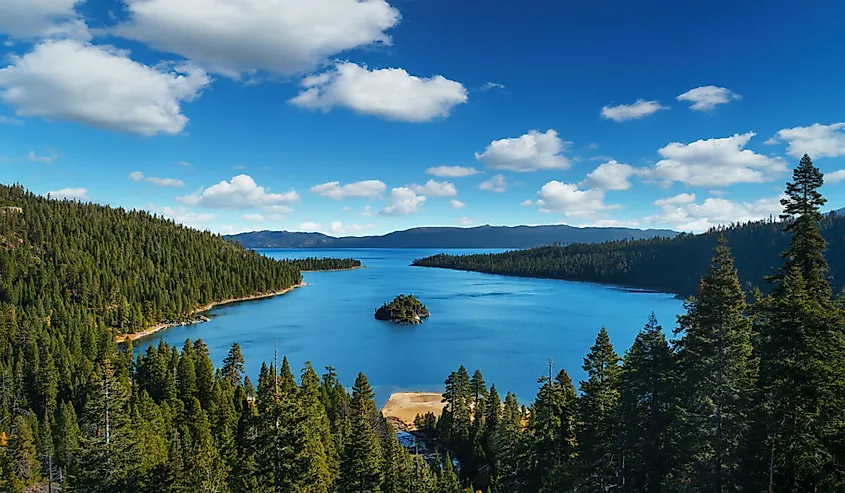 It just so happens that one of the most popular lakes in the US is also one of the most beautiful. Split between California and Nevada, it does not matter which side you spend your time on, the breathtaking grace of Lake Tahoe will be apparent.
Lake Tahoe is enormous. With countless small towns dotting its shores there are plenty of accommodations for those visiting the lake. Boating is huge on Lake Tahoe, and rentals are easy to find and relatively affordable. Visitors can expect crystal-clear waters and a majestic mountain backdrop. Only two hours away from Sacramento, Lake Tahoe is one of the most easily accessible lakes for international travelers and those visiting from distant states.
Summary
The pristine beauty of America's lakes is waiting for you to explore. Trips to lakes are generally easy, cheap, and best of all fun. The one-of-a-kind views and nature at the most spectacular freshwater lakes in the US are sure to impress.