Burgh Island is a 0.105 sq.km tidal island that is situated in the South Hams District, off the coast of South Devon in England, close to the small fishing village of Bigbury-on-Sea. Currently, there are many buildings on the island including a pub, three private houses, and the large Art Deco-styled Burgh Island Hotel. The Burgh Island is located approximately 250m from the mainland and is accessible on foot during low tide by a strip of sand. During high tide, this tidal passageway remains completely underwater and then the island can be accessed only via a sea tractor.
History Of Burgh Island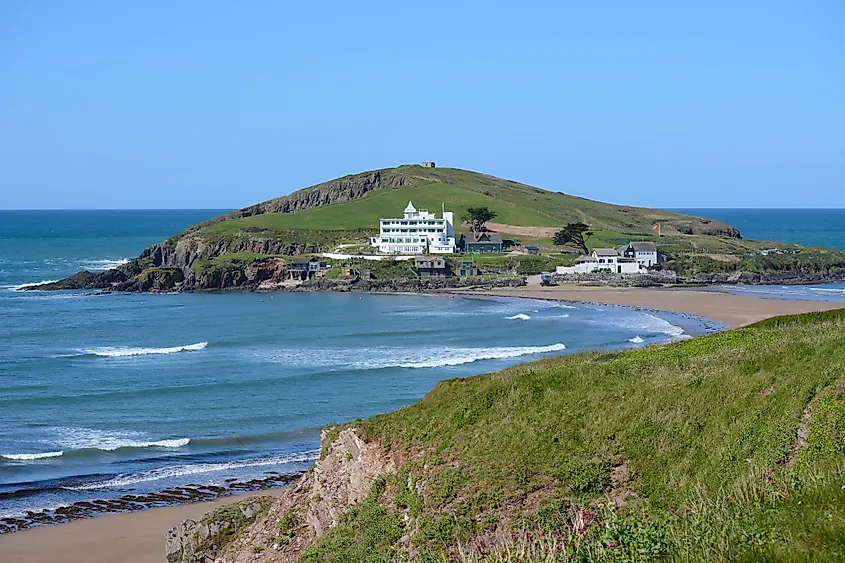 The early history of Burgh Island is still unclear, but it has been found that some old maps and records referred to the island as St. Michael's Island. In a 1908 postcard by London's Stengel & Co Limited, the island was referred to as "Burr Island", and in a 1947 Ordnance Survey Map, the island was referred to as "Borough Island." The present name "Burgh Island" is thought to be a corruption of the name "Borough Island." Many people believe that in ancient times, a monastery was built on the island, and the remains of this monastery still exist beneath the present Burgh Island Hotel. After the dissolution of the monastery, the island was inhabited by a small, temporary population of fishermen. On the top of the island, the ruins of a small chapel can be found. It is believed that this chapel was used as a "huers hut" for fishermen during the Pilchard season.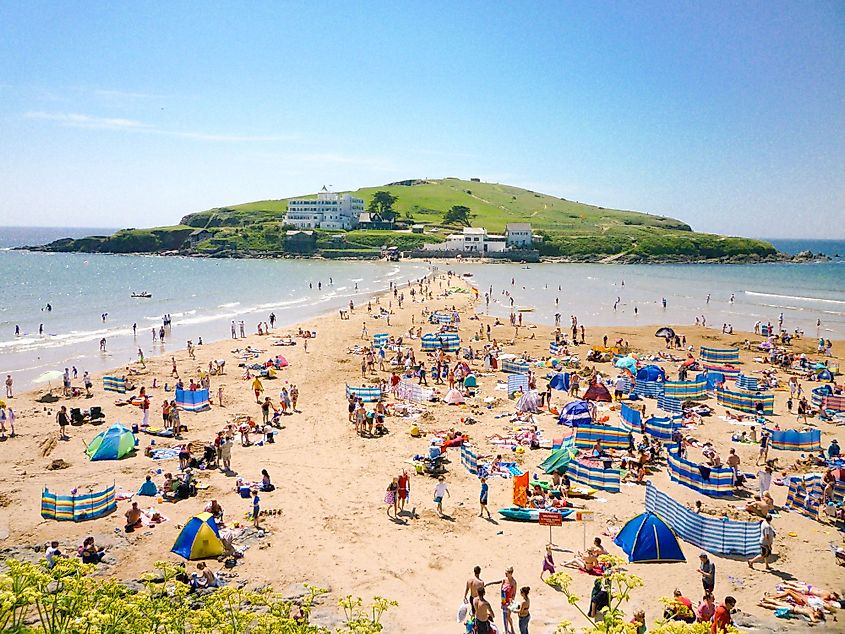 In the 1890s, the island was bought by George H Chirgwin – a famous music hall star. Mr. Chirgwin then built a secluded wooden house on the island, where he invited guests for parties and weekend getaways. After he died in 1922, the property was sold to the filmmaker Archibald Nettlefold in 1927. Mr. Nettlefold then built an Art-deco-styled hotel on the island which eventually became one of the most popular destinations. During the Second World War, the hotel served as a rest and recovery center for the wounded personnel of the Royal Air Force. The top floors of the hotel were also damaged by bombing during the war. In the early 1990s, the hotel was restored and is currently a Grade II listed building.
The Burgh Island served as an inspirational setting for the two famous novels of the well-known crime novelist Agatha Christie. Some famous visitors of the Burgh Island Hotel were Sir Winston Churchill, Eisenhower, Edward VIII, Wallis Simpson, Noël Coward, and many others. In 2018, Burgh Island was purchased by "Project Archie" from its owners Deborah Clark and Tony Orchard.