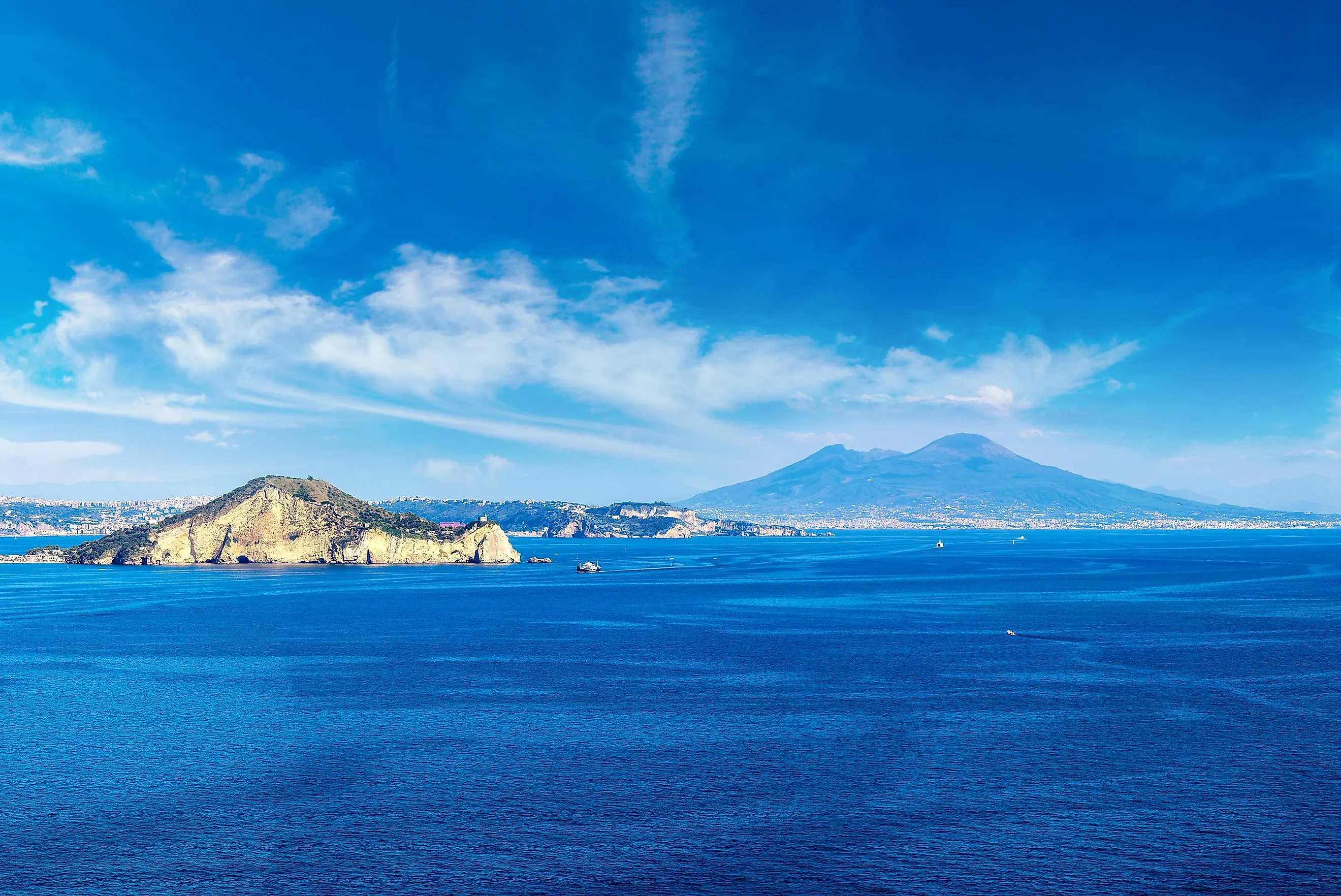 Covering an area of about 900 km2, the Gulf of Naples is a semi-circular embayment of the Tyrrhenian Sea, located in the south-western part of Italy. The Gulf of Naples is famous for its scenic beauty and for the volcanic mountains that surround it, including Mount Vesuvius which was responsible for the eruption that destroyed the city of Pompeii in 79 AD.
Where Is The Gulf of Naples?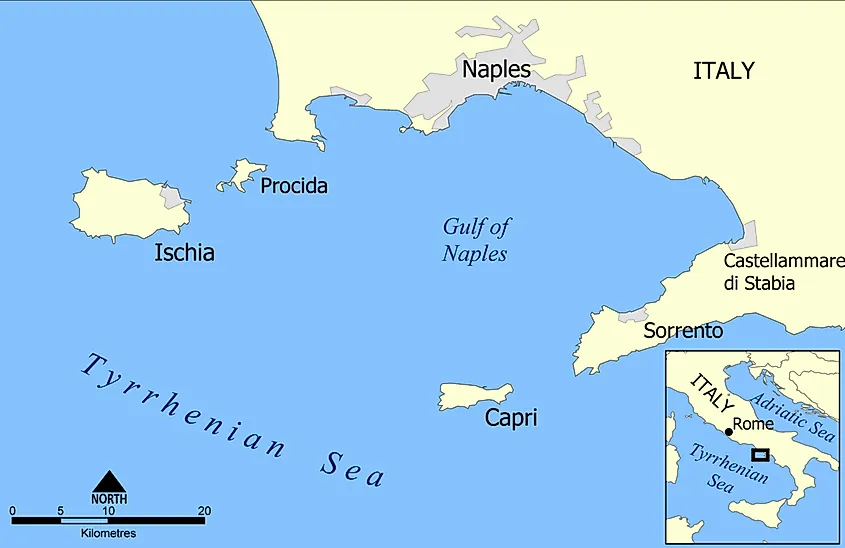 The Gulf of Naples is situated in the Campania region of southern Italy. It is bordered by the Italian cities of Naples and Pozzuoli in the north, by Mount Vesuvius in the east, and by the Sorrento Peninsula in the south. The Gulf opens westwards into the Mediterranean Sea. The Gulf is separated from the Gulf of Salerno by the Sorrento Peninsula.
Geography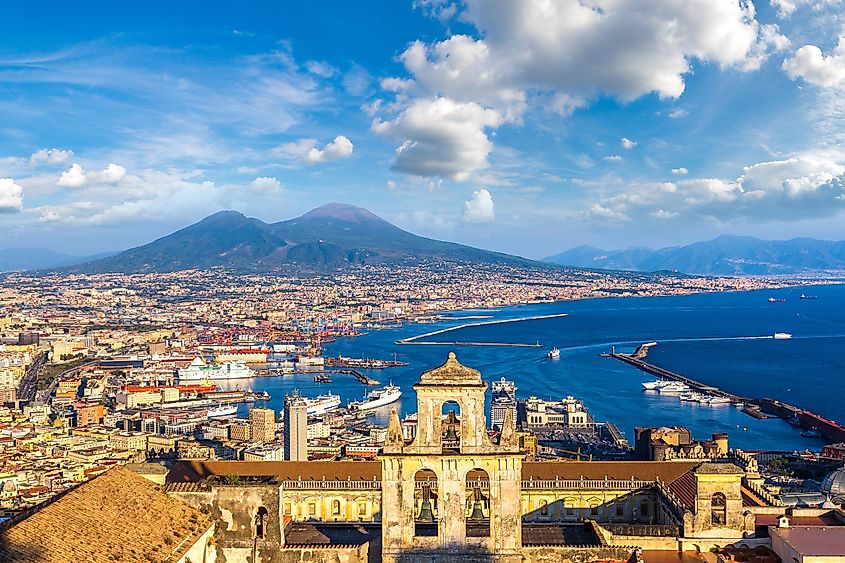 The Gulf has a maximum width of 15 km. Mount Vesuvius, the only volcano in Europe to have erupted in the last 100 years, is a part of the Campanian volcanic arc. In its 79 AD eruption, it destroyed the city of Herculaneum and various other settlements besides Pompeii.
There are three islands in the Gulf of Naples. These include the islands of Capri, Ischia, and Procida. The mountainous island of Capri is famous for its scenic beauty and several ruins of Imperial Roman villas. There are two communities on the island, namely Anacapri and Capri. The island serves as a popular tourist destination. Ischia is a mountainous volcanic island on the Gulf of Naples. Mount Epomeo, which rises to an elevation of 788 m, is the highest peak on Ischia island. The island of Ischia also serves as a major tourist destination. Positioned between Ischia island and Cape Miseno is the island of Procida. It is the smallest inhabited island in the gulf.
Economy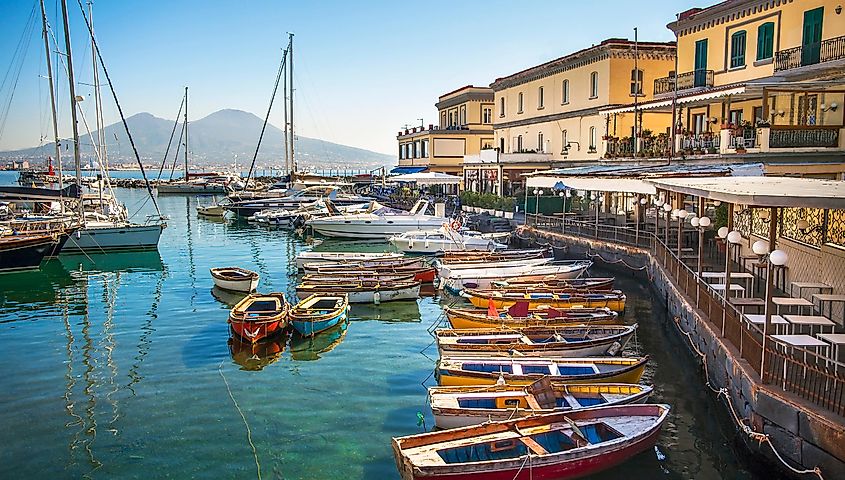 Different species of whales, including sperm whales and fin whales, and numerous dolphins are found in the gulf waters. Fishing and tourism are important economic activities in this region.
Some of the major towns that are located along the Gulf of Naples include Castellammare di Stabia, Pozzuoli, Sorrento and Torre Annunziata. Naples is the principal port situated on the Gulf.