Utah's Popular Soda-Pop Geyser
The only cold-water geyser in North America (and one of only a handful in the world) has resumed its somewhat regular eruptions after an extended period of dormancy. Eastern Utah's Crystal Geyser, aka the "Soda Pop Geyser," is a partially human-made phenomenon that draws school field trips and casual road-trip tourists hoping to catch a glimpse, as well as more dedicated visitors who elect to camp out next to the Green River in an effort to increase their chances of seeing the unusual show.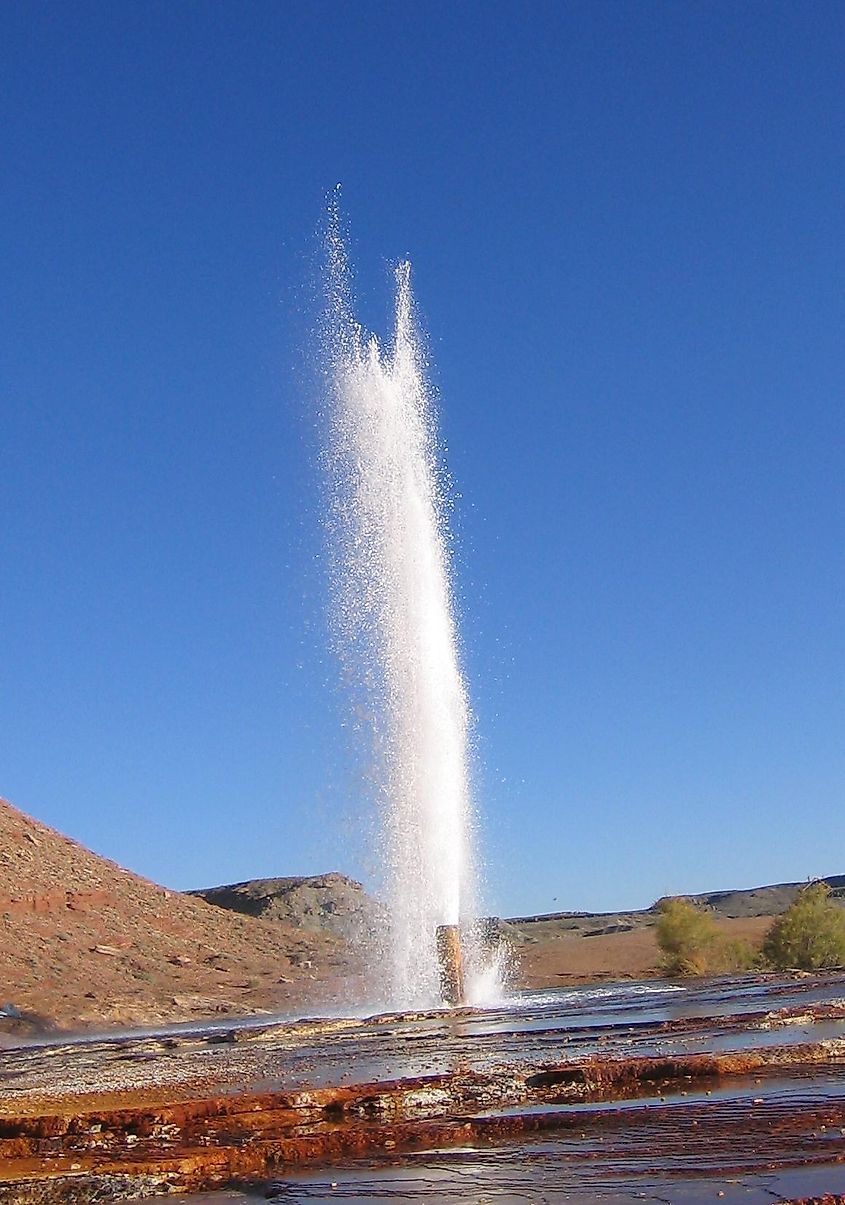 Back in the 1930s, when an oil and gas drilling operation came upon a reservoir of carbon-dioxide-saturated water, Crystal Geyser was born. Every so often, the pressure builds to such an intensity that the water shoots straight up out of one of the artificial columns, just as soda pop shoots out of the bottle after shaking it up and popping the lid. In 2014, after a long period of dependability, it looked as though the fun was fizzling out. Thankfully, sizable eruptions have once again resumed. With that said, the duration and magnitude of the spectacle vary significantly, so observers never quite know what to expect (if anything at all). But on a good day, Crystal Geyser is still quite a sight. 
Where Is Utah's Soda Pop Geyser?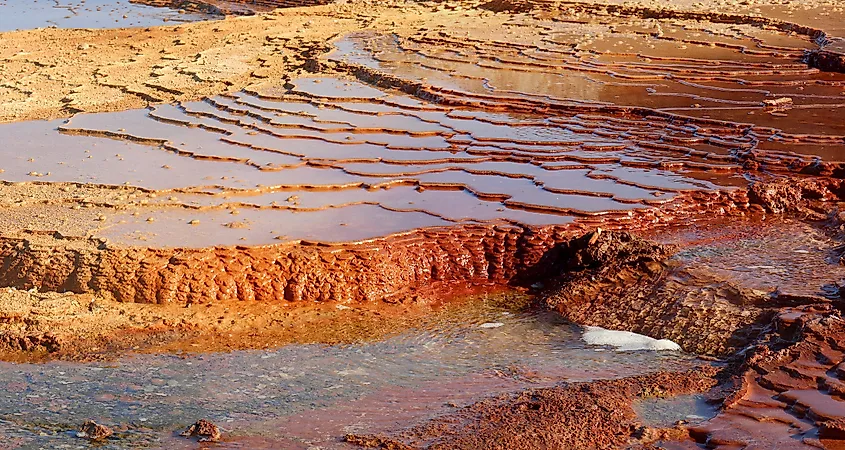 The Crystal "Soda Pop" Geyser is about nine miles South of the tiny city of Green River (population of 847 as of 2020), on the river's Eastern shore that rolls through town and shares the same name. This faux-geyser is part of East-Central Utah's Grand County, whereas Green River belongs to Emery County. The backroad turnoff from U.S. Route 6/Grand Army of the Republic Highway is the first right after crossing over the Green River if heading eastward or the last left before reaching the river if traveling Westward. The community of Green River is about 182 miles Southeast of Salt Lake City, the state capital, and roughly 52 miles Northwest of Moab, the preferred basecamp for visitors of both Arches National Park and Canyonlands National Park. 
How Does Crystal Geyser Work?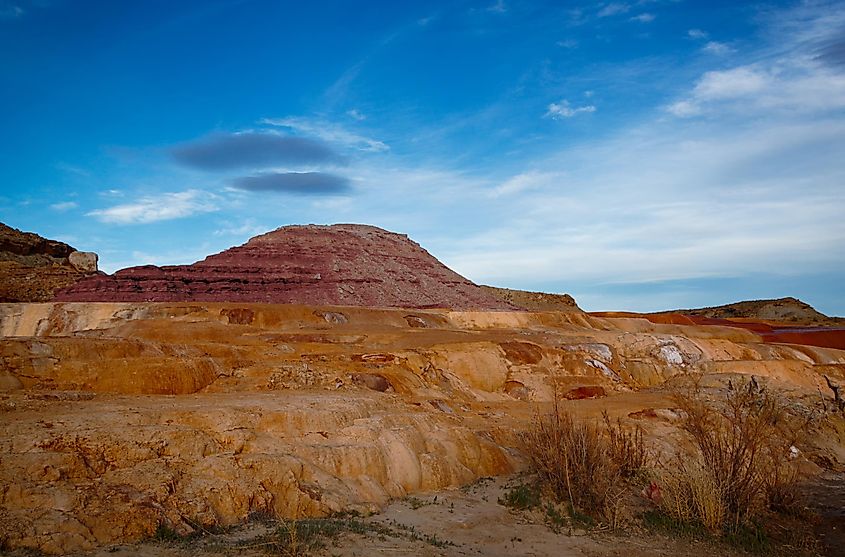 Geysers are a type of hot spring that shoots water into the air after being heated and pressurized by magma deep in the Earth's crust. Crystal Geyser, on the other hand, sprays cold water that has been energized by a subterranean pocket of carbon dioxide (at a depth of about 360 feet). And rather than travel through naturally-formed tubes in the ground, as typical geysers do, the "Soda Pop Geyser" follows the path of the infrastructure left behind from an abandoned exploratory oil well. Whereas geothermal geyser eruptions last for only a few minutes (for example, Old Faithful blows for between one and a half to five minutes), Crystal Geyser's demonstrations can last anywhere from three to 50 minutes). Less than a decade ago, it appeared as if the soda pop geyser was running out of steam (so to speak). Researchers suggested that this could have been a result of changing geological conditions or because tourists took to throwing rocks down the narrow opening in a misguided attempt to trigger an eruption. Over the years, a significant pile built up that could have easily impeded the flow of water. 
How To Witness A Soda Pop Geyser Eruption?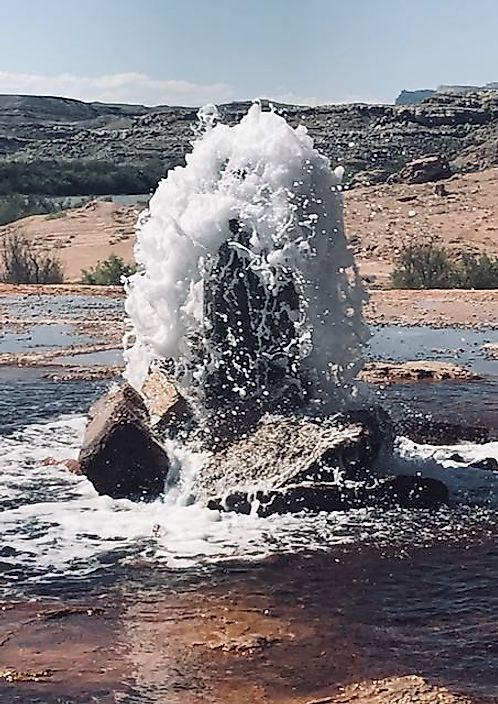 When the Ruby No. 1 well was drilled back in 1936, impressive carbon-dioxide-triggered, geyser-like eruptions began occurring regularly. At the time, it was reported that 80-foot-high columns sprang forth every 15 minutes, and 150-foot sprays occurred at nine-hour intervals. Nowadays, the eruption schedule ranges from 17 to 27 hours, with minor eruptions gushing two to ten feet and major ones hitting 40 to 80 feet. In other words, if you are determined to catch a memorable display, patience is a virtue. Consider camping out, but don't oversleep! Also, be aware that there are no facilities in the immediate area. So all food, water, and bathroom necessities will have to be packed in, but be sure also to pack everything back out – lest the free and open site be overrun with garbage and inevitably closed off to the public or micromanaged by authorities. 
Utah's Crystal Geyser, better known as the "Soda Pop Geyser," is a fascinating byproduct of humans and nature unintentionally teaming up. What began as a mission to extract energy resources led to the formation of a cold water "geyser" fueled by an underground pocket of carbon dioxide gas. Roughly once a day, the waters below are oversaturated with CO2, and the surplus of pressure forces a jetstream through an artificial column leading to the surface. Sometimes the eruption is only slight, but on other occasions, a powerful burst rockets dozens of feet into the air and for the better part of an hour. By some metrics, Crystal Geyser is in the middle of nowhere, but on the other hand, it is less than an hour's drive from two of the state's most cherished national parks. If you are in the mood for a bizarre side trip through small-town America, go see what the fuss is all about. But don't wait too long, for the one-of-a-kind soda pop geyser may soon fizzle out again.