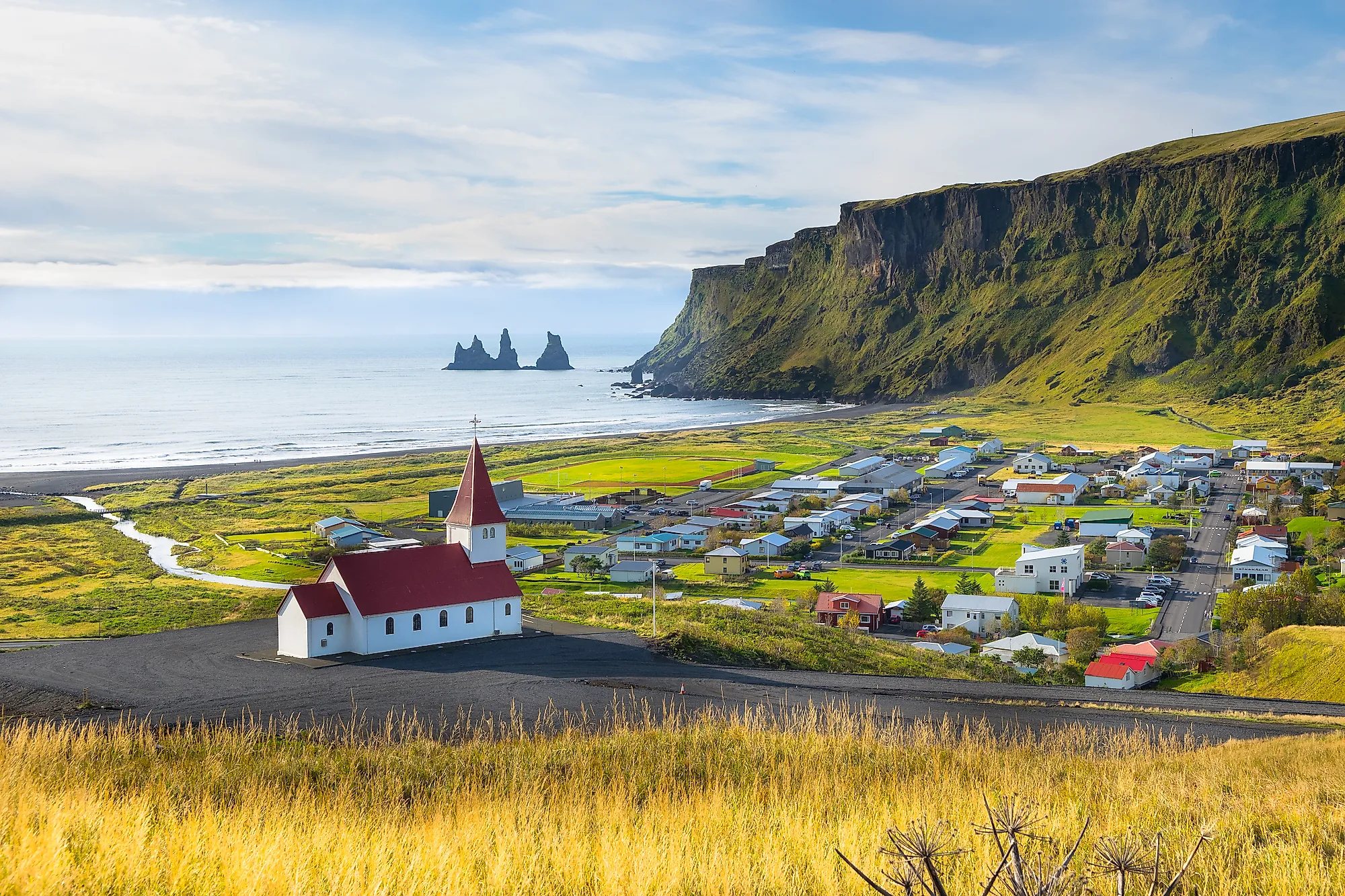 Iceland is an island country in the North Atlantic, located south of the Arctic Circle. It is approximately 290 kilometers off south of Greenland, 860 kilometers from Scotland, and about 4,200 kilometers from New York. Although the country comprises numerous islands, the main island covers 98.8% of the country's total area (101,826 square kilometers of the 103,000 square kilometers). The main island is Europe's second-largest and the world's 18th largest island. Iceland has a coastline of about 4,970 kilometers.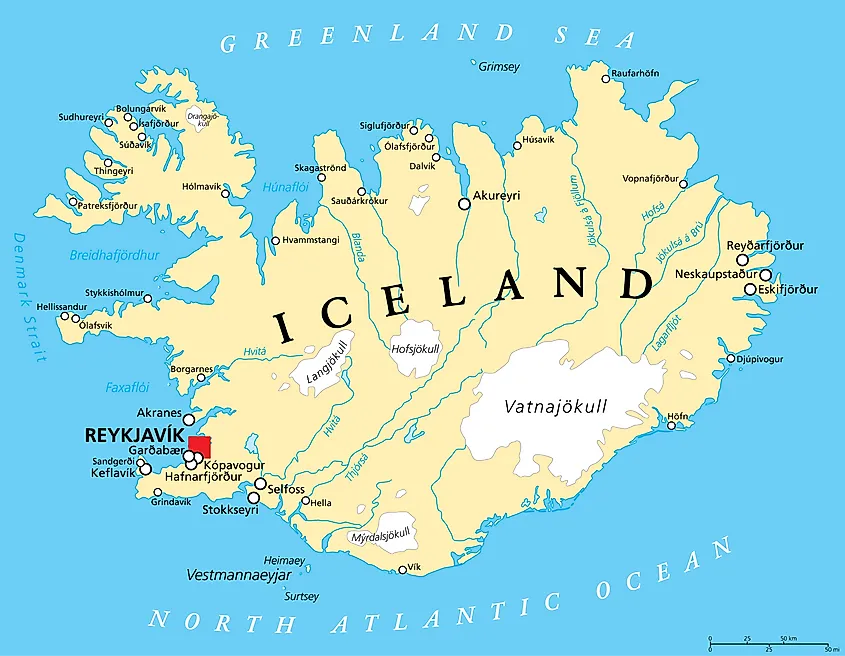 Contents:
Climate
The climate of Iceland can be described as subpolar oceanic and sub-arctic climates. The subpolar climate dominates the southern coastal areas, while the sub-arctic climate is common in highland areas. The country's climate is influenced by the North Atlantic Current, which makes the conditions much warmer than other places on the same latitude. However, the country's weather is unpredictable and varies with location and topography. The north coast is colder, drier, and less winder than the south coast, while central highlands are the country's coldest areas. The northern lowland areas are the driest.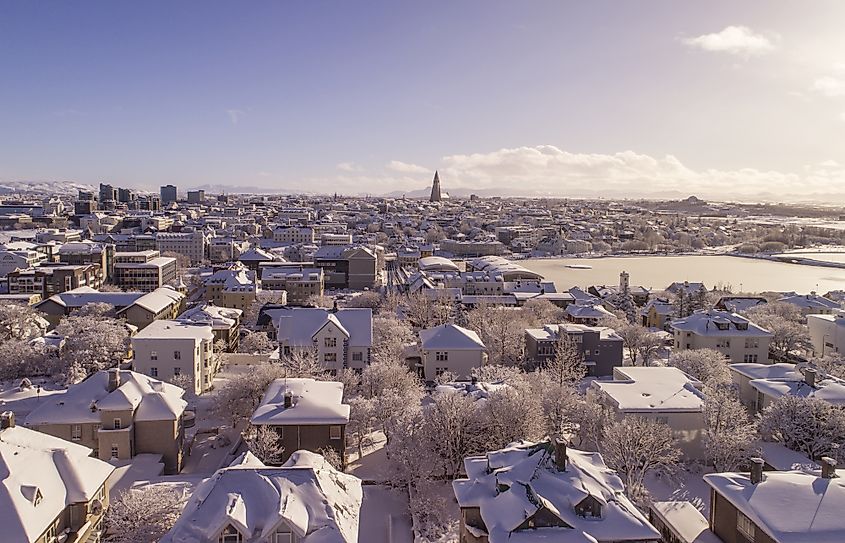 Iceland's climate is characterized by cool, damp summers and mild, windy winters. Winters are generally mild due to the maritime and warm ocean current influence. Winter temperatures average 14 degrees Fahrenheit in the north, with the lowest ever recorded temperatures being -39.5 degrees Fahrenheit. During summers, temperature averages 50-55 degrees Fahrenheit in the southern parts. However, temperatures can reach 77 degrees Fahrenheit on warmer summer days. Thunderstorms are rare across the islands, with less than five storms annually. The storms result from air masses originating from Europe.
Islands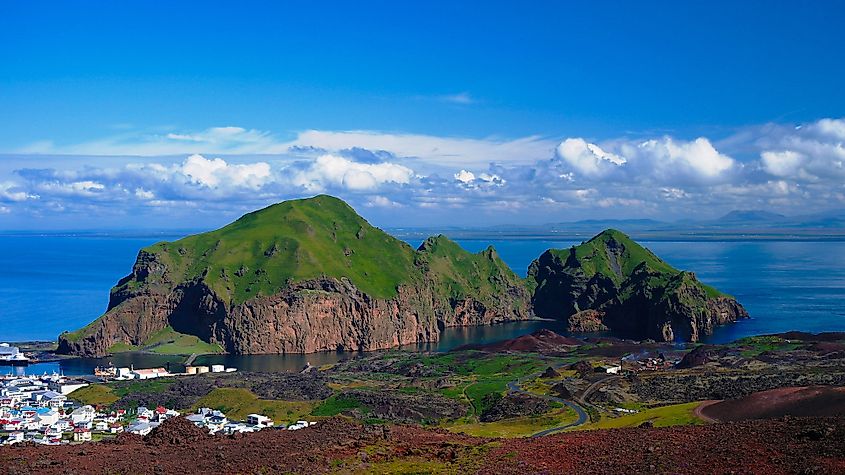 Iceland comprises one big island, at least 30 smaller islands, and numerous rock formations. However, the sizes of these islands vary from time to time due to sea action and volcanic activities. Besides the main island, only four islands are inhabited, while the rest are tourist or birds' nesting spots. The four inhabited islands are Heimaey, Flatey, Hrisey, and Grimsey. The main island covers about 99% of the country's total land area (101,826 sq. km of 103,000 sq. km).
At 13.4 square kilometers, Heimaey is the largest island off the main island's coast and Vestmannaeyjar's largest island, hosting some 4,200 people. Hrisey is approximately 8 square kilometers but hosts less than 200 people. Grimsey, located 40 kilometers off the main island's north, covers 5.3 square kilometers and is home to about 76 people. Flatey is the largest of the West Iceland islands, which comprises over 40 small islands and islets. It is home to about five people. Other Icelandic islands are Hjörsey, Brokey, and Popey.
Mountains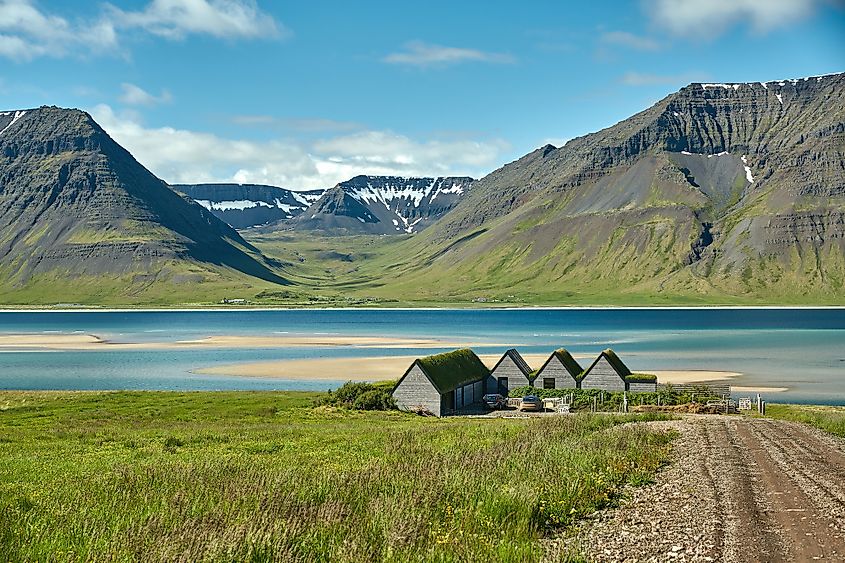 Iceland has mountains and volcanoes of all sizes and shapes. In Westfjords, mountains have table-like tops with fjords, while in the east, the mountains are generally rugged. The Westfjords mountains date back 10-16 million years and were shaped by glacial activities. The younger mountains were mainly formed when the Eurasian and American plates collided. Several mountains can be seen from the capital, Reykjavík, including Snæfellsjökull, Esjan, and Akrafjall.
Ten Icelandic mountains are at least 1,500 meters tall, of which two rises above 2,000 meters. Öræfajökull, an active volcano, is Iceland's highest volcano. Hvannadalshnúkur, one of the volcano's peaks, is the country's highest mountain at 2110 meters. Bárðarbunga is the second-highest peak, at 2009 meters. Other major mountains are Kverkfjöll, Snæfell, and Hofsjökull.
| Rank | Highest Mountains in Iceland | Elevation |
| --- | --- | --- |
| 1 | Hvannadalshnjukur | 2,110 meters |
| 2 | Baroarbunga | 2,000 meters |
| 3 | Kverkfjoll | 1,920 meters |
| 4 | Snaefell | 1,833 meters |
| 5 | Hofsjokull | 1,765 meters |
| 6 | Heroubreio | 1,682 meters |
| 7 | Eiriksjokull | 1,675 meters |
| 8 | Eyjafjallajokull | 1,666 meters |
| 9 | Tungnafellsjokull | 1,540 meters |
| 10 | Kerling | 1,538 meters |
Volcanoes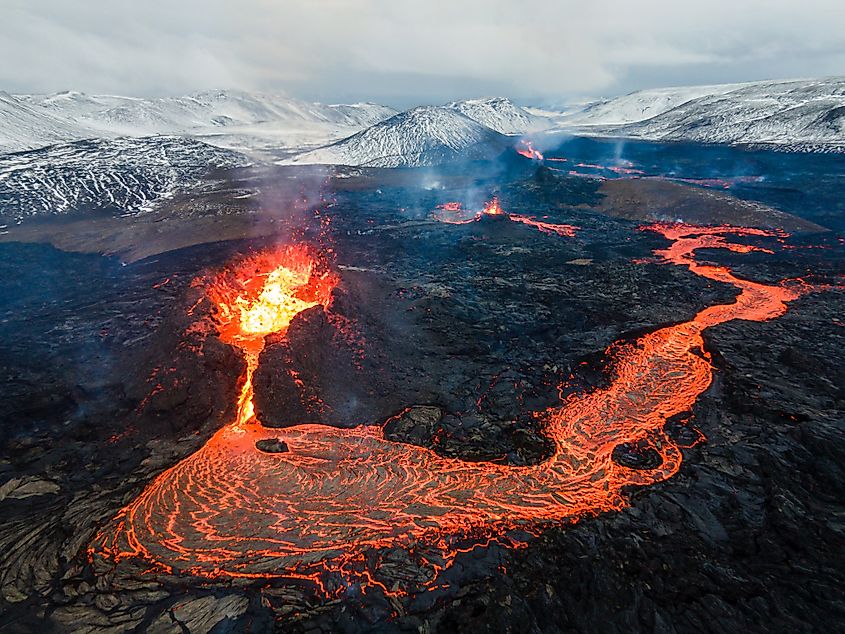 Iceland is one of the Earth's youngest landmasses located on the Mid-Atlantic Ridge and the Iceland hotspot. The location and age make the island a geologically active region with frequent volcanoes and earthquakes. The island itself formed from a large crack on the Mid-Atlantic Ridge, where the American and Eurasia plates meet. Today, Iceland's land area is growing at a rate of 5 cm annually.
Iceland is characterized by frequent volcanoes, including Eldfell, Hekla, Herðubreið, and Eldgjá. Eyjafjallajökull erupted in 2010, causing transportation delays, especially European air traffic. Grímsvötn erupted in 2011, while Holuhraun is the latest volcano to erupt, erupting continuously for seven months between August 2014 and February 2015. The 1.4 cubic kilometers of lava produced by the erupting volcano covered about 85 square kilometers, Iceland's largest lava field since 1783. 
Öræfajökull is Iceland's largest volcano and the country's highest peak, at 2119 meters above sea level. This active, ice-covered volcano is located in the Vatnajökull National Park. Öræfajökull last erupted in 1728, with increased earthquake activities recorded in 2017 and 2018. Other large volcanoes are Bárðarbunga, Kverkfjöll, and Hofsjökull. 
| Rank | Name | Elevation (m) |
| --- | --- | --- |
| 1 | Öræfajökull | 2119 |
| 2 | Bárðarbunga | 2005 |
| 3 | Kverkfjöll | 1920 |
| 4 | Hofsjökull | 1782 |
| 5 | Esjufjöll | 1760 |
| 6 | Grímsvötn | 1725 |
| 7 | Laki | 1725 |
| 8 | Herðubreið | 1682 |
| 9 | Eyjafjallajökull | 1666 |
| 10 | Loki-Fögrufjöll | 1570 |
Glaciers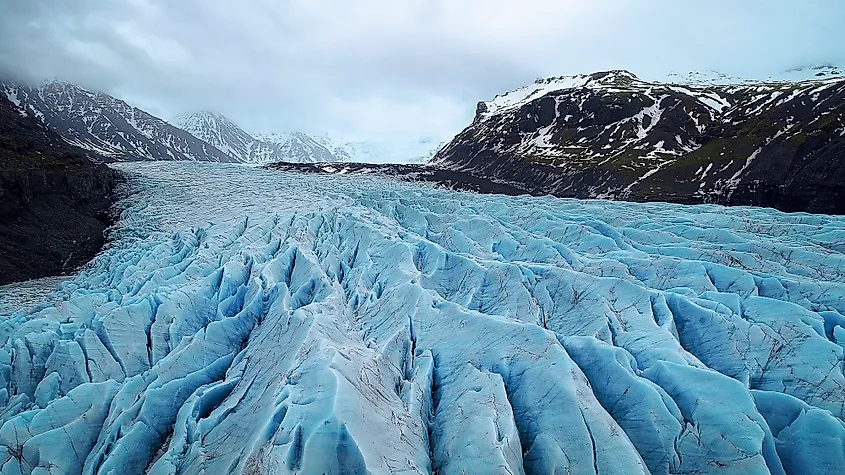 Although Iceland lies close to the Arctic Circle, glacier covers only 11% of its total land area, about 11,400 square kilometers. The island is home to about 269 glaciers of all kinds, including ice caps, mountain glaciers, outlet glaciers, alpine cirque glaciers, piedmonts, and ice streams. Glaciers are Iceland's major tourist attractions, with glacier tours popular throughout the country. However, climate change is increasingly leading to ice loss, a concern to the government and conservation societies.
Iceland's ice caps cover less than 50,000 square kilometers and are common in highland areas, including summits of volcanoes such as Grímsvötn and Bárðarbunga. The Bárðarbunga ice cap covers about 60 square kilometers, while Grímsvötn is 100 square kilometers. However, Vatnajökull is the country's largest and Europe's second-largest ice cap by area, spanning 7,900 square kilometers, about 8% of the country's total area. It is Europe's largest ice cap by volume, at 3,000 cubic kilometers. The ice has an average thickness of 380 meters. There are numerous volcanoes under the ice cap, some of which continue to erupt, leading to flooding incidences.
| Rank | Glacier or Ice Cap | Area km² |
| --- | --- | --- |
| 1 | Vatnajökull | 8,300 |
| 2 | Langjökull | 953 |
| 3 | Hofsjökull | 925 |
| 4 | Mýrdalsjökull | 596 |
| 5 | Drangajökull | 160 |
| 6 | Eyjafjallajökull | 78 |
| 7 | Tungnafellsjökull | 48 |
| 8 | Þórisjökull | 32 |
| 9 | Eiríksjökull | 22 |
| 10 | Þrándarjökull | 22 |
Lakes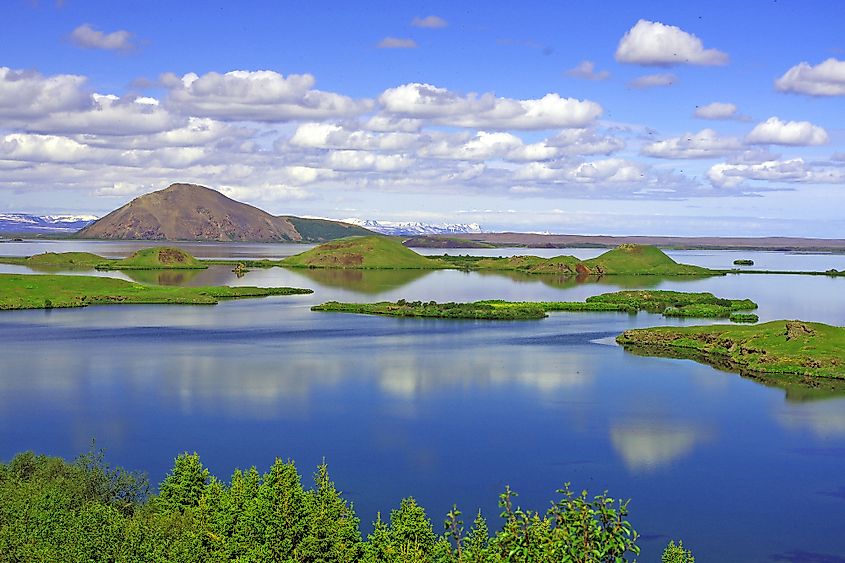 There are numerous lakes in Iceland which formed from different geological and geographical processes. Some lakes like Þórisvatn and Þingvallavatn are of tectonic origin, while Skorradalsvatn and Lögurinn resulted from the valley deepening by glacial erosion or lava flow. Lakes like Grænalón were dug by glaciers and occasionally empty beneath the glacier, causing jökulhlaups to form. Although Iceland receives about 2,000 mm of rainfall annually, some lakes are filled by the melting glacier. 
20 Icelandic lakes have a surface area of more than 10 square kilometers, and 40 other lakes are between 2.5 and 10 square kilometers. Þingvallavatn is the country's largest lake, at 84 square kilometers, followed by Þórisvatn, at 83-86 square kilometers. However, Þórisvatn is the largest lake by volume, at 330 gigaliters, while Lake Öskjuvatn is Iceland's deepest lake, at 217 meters.
| Rank | Name Of The Lake | Area Occupied By The Lake (in km²) |
| --- | --- | --- |
| 1 | Þórisvatn | 83–86 |
| 2 | Þingvallavatn | 84 |
| 3 | Hálslón | 57 |
| 4 | Blöndulón | 57 |
| 5 | Lagarfljót (Lögurinn) | 53 |
| 6 | Hágöngulón | 37 |
| 7 | Mývatn | 37 |
| 8 | Hóp | 29–44 |
| 9 | Hvítárvatn | 30 |
| 10 | Langisjór | 26 |
Waterfalls
Due to the impact of glaciers, Iceland hosts some incredible waterfalls on Earth. The waterfalls are surrounded by nature and scattered throughout the country. They contain some of the pure glacier water that carves through rocks to create fascinating shapes. The glaciers result from the frequent snow and rains and the country's location near the Arctic.  Some of the famous waterfalls in the Iceland area Dettifoss, Gulfoss, Haifoss, Skogafoss, and Selfoss.
Dettifoss is Iceland's most powerful waterfall located in Vatnajökull National Park. It is considered Europe's second most powerful waterfall after Rhine Fall. Dettifoss is 100 meters wide 44 meters wide, with a water flow of 193 cubic meters per second. Morsárfoss, also located in the national park, is Iceland's tallest waterfall, with a height of 240 meters.
National Parks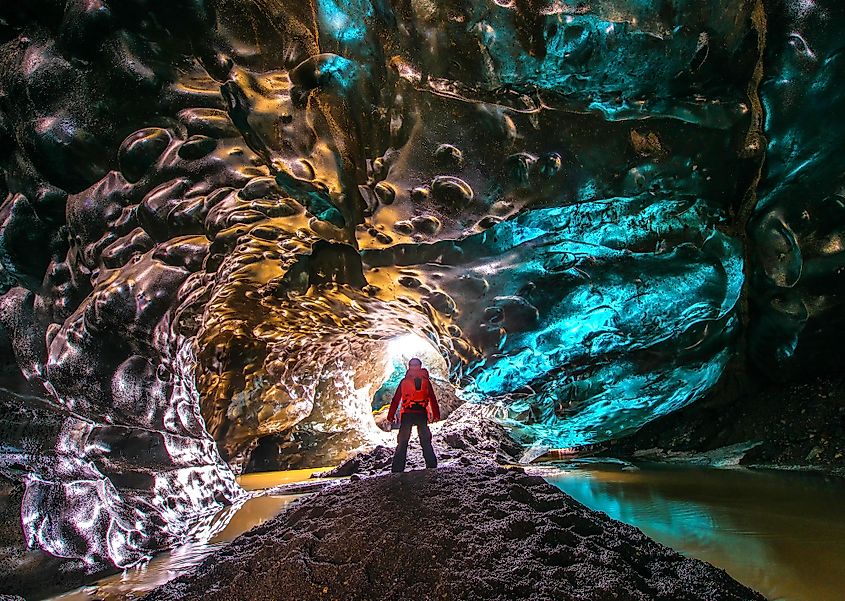 Before 2008, Iceland had four national parks. However, two of the national parks, Skaftafell and Jökulsárgljúfur, were merged and became part of the Vatnajökull National Park. The other two national parks are Snæfellsjökull and Þingvellir. Vatnajökull National Park is Iceland's largest national park, spanning over 14,141 square kilometers. It is located in South-East Iceland and has varieties of features, including volcanoes, rivers, and the Vatnajökull glacier, Europe's largest glacier. The glacier has a surface area of about 7,900 square kilometers and a thickness of 400-600 meters. The glacier is surrounded by high plateaus, broad wetlands, and high mountain ridges. It was declared a World Heritage Site in July 2019. 
Snæfellsjökull is located in West Iceland and covers about 170 square kilometers. The park's main attraction is the 700 thousand-year-old ice-capped stratovolcano known as Snæfellsjökull. The national park was established in 2001. Þingvellir is a national park in Southwest Iceland used as Iceland's annual parliament site (Alþing) between 930 CE and 1998 CE. The park is about 40 kilometers off Reykjavík's northeast. It is an important cultural, geological, and historical park.
Natural Resources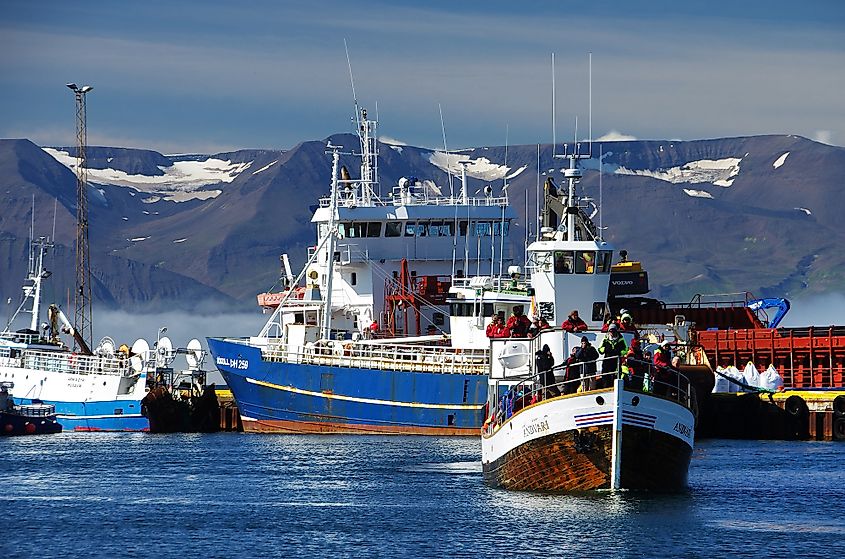 Iceland has three major natural resources that have contributed significantly to its economic growth over the years. These major resources are fisheries, water, and renewable energy. Fishing has been one of the country's major economic activities since ancient times. Fisheries were so important to Iceland that they fought the UK over fishing limits. Today, Iceland's exclusive economic zone is approximately 751,345 square kilometers. Fish accounts for about 40% of the country's export value. In 2011, the sector contributed 27% of the GDP. According to the labor department, fisheries employ over 5% of the total workforce.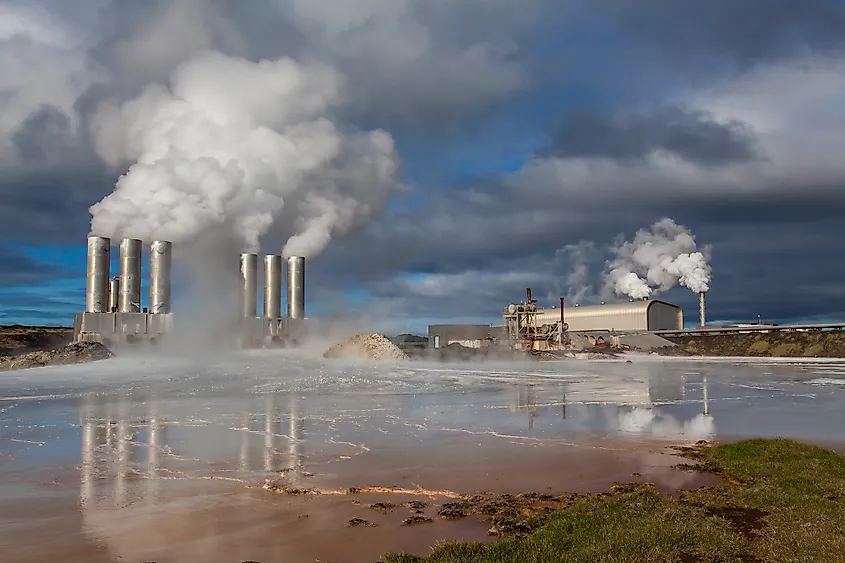 Iceland has vast amounts of geothermal and hydroelectric power due to its location. The country generates almost all its energy from clean sources, making it the world's largest renewable energy user. About 90% of homeowners use geothermal power to heat their homes. The government has constructed geothermal plants throughout the country, including Krafla and Nesjavellir.
Although Iceland is surrounded by the saline Atlantic Ocean, it has plenty of pure water. It is one of the major exporters of bottled water, with its water becoming more popular globally. Water remains an essential natural resource in Iceland because of its industrial and home use. Up to 70% of the country's electricity is hydropower, while other industries also rely on water for production.