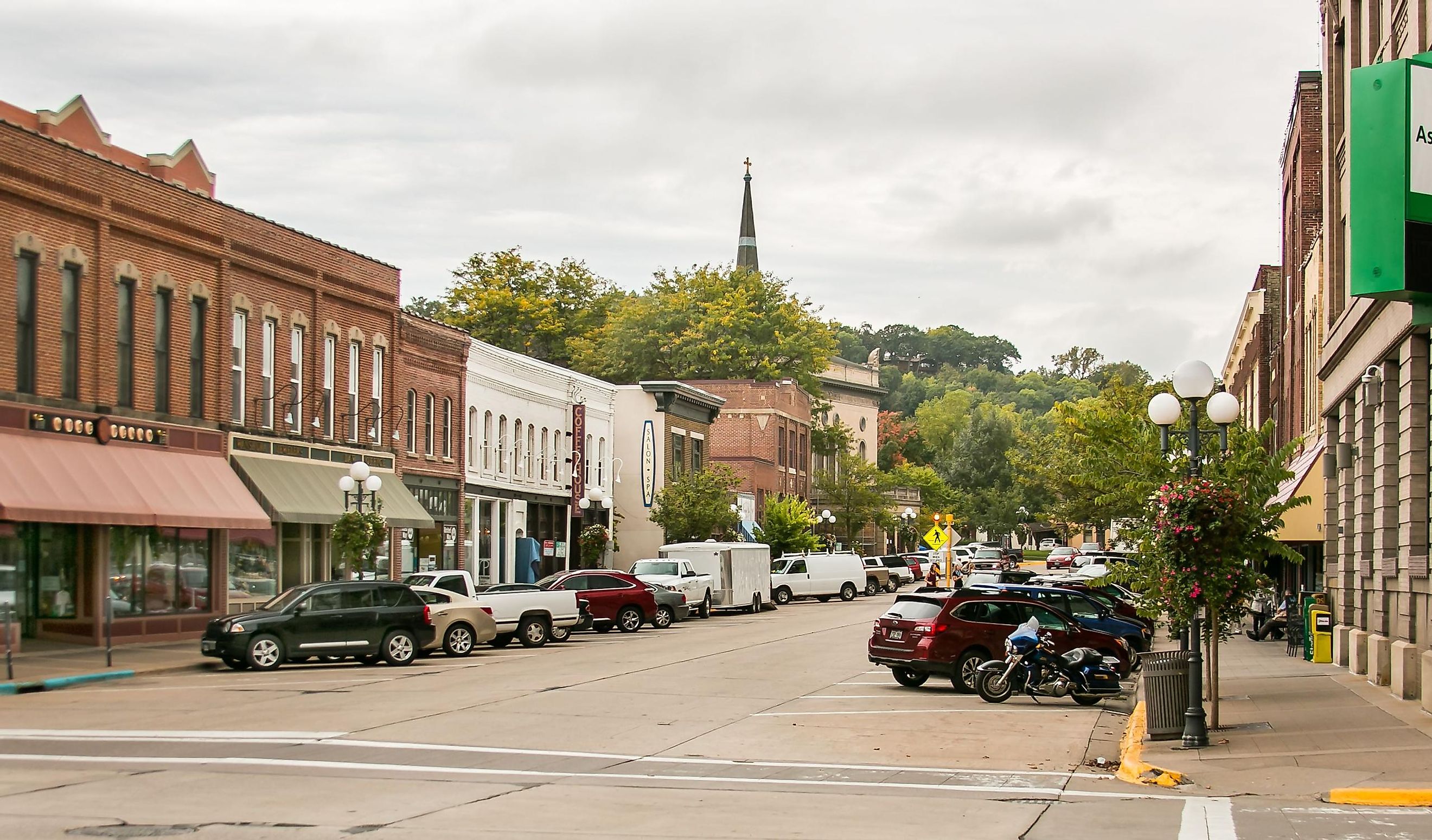 These Small Towns in Minnesota Come Alive in Fall
The Upper Midwestern state of Minnesota is known as the "Land of 10,000 Lakes," but also treats its residents and visitors to rolling prairies, forests, bluffs, hills, miles of Lake Superior shoreline, as well as sweeping Mississippi River views. During the autumn, Minnesota's big cities draw tourists in from all over, but its the state's small towns that really come to life with their pumpkin patches, apple orchards hometown fall festivals, and cozy eateries and cafes. Although the days may be a bit chilly, especially in the northern region of the state, the parks, historic districts and cultural attractions still beckon to be explored. If you're driving through Minnesota next fall, put these seven small towns on your trip itinerary. 
Ely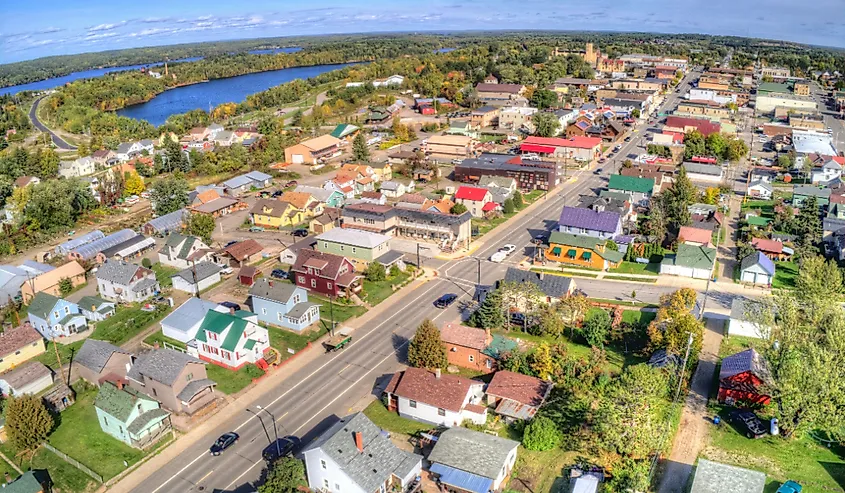 Miles of crystal clear waterways, pristine wilderness teeming with wildlife, a rich native history and culture, and a friendly Midwestern community converge in Ely. Located on the edge of the Boundary Waters Canoe Area Wilderness in the Superior National Forest, the small town of Ely is surrounded by nature, making it the perfect place to take in all of fall's fiery colors. If you want to take a rugged hike, put your boots on and traverse across the 2-mile-long Bass Lake Trail a few miles north of Ely. Not only will you be treated to colorful leaves, you'll also find scenic overlooks and waterfalls along the way. Aerial tram tours are available for adventurous people who want views of the Northwoods that aren't accessible by vehicle. 
Grand Rapids
Grand Rapids is the ideal destination for an autumn girls-only trip, a romantic getaway, a family vacation, or a solo excursion. Surrounded by lakes and forests in Minnesota's northwoods, Grand Rapids has no shortage of natural beauty, outdoor recreational opportunities, cultural attractions, and historic sites.  Vast and filled with an abundance of native wildlife, flora and fauna, the Chippewa National Forest features several different hiking and biking trails from which you can enjoy the autumn colors. Lavaliers Berry Patch and Apple Orchard offers seaonal apple picking, and the Grand Rapids Famers Market, which takes place every Wednesday through October, encourages visitors to find their perfect pumpkin.
Red Wing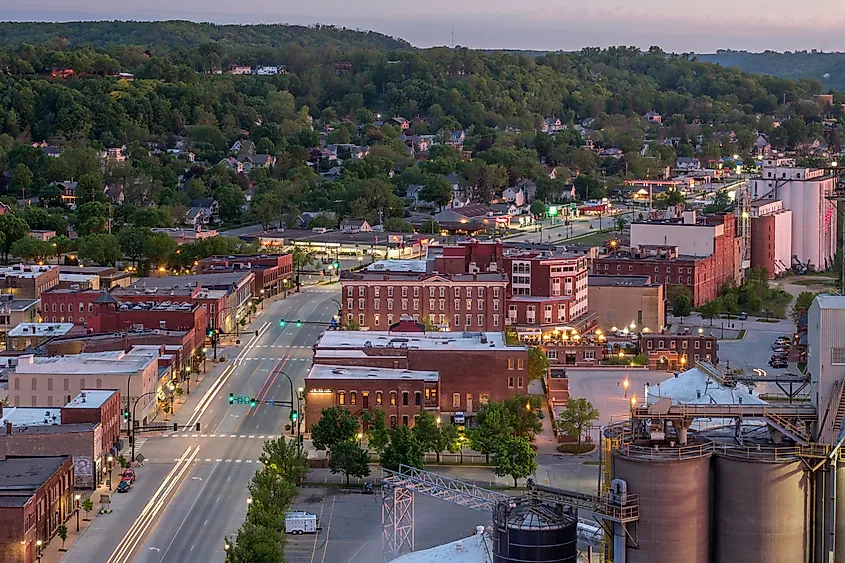 A historic Mississippi River town, Red Wing has everything that it takes, from stunning scenery to festive fall festivals, to make it a great autumn trip location. Just an hour southeast of the thriving city of Minneapolis, Red Wing feel a world away due to its small-town charm and laid-back vibe. The town springs to life in fall, when visitors from all over come to take in the changing colors. For hikers that are willing to climb 340 feet up to Barn Bluff, sweeping views of the Mississippi River and Lake Pepin await. Frontenac State Park offers more than 2000 acres of natural space, where you can bike, hike, or have a picnic amongst the fiery fall hues. The annual Red Wing Arts Fall Festival takes place downtown every October.
Henderson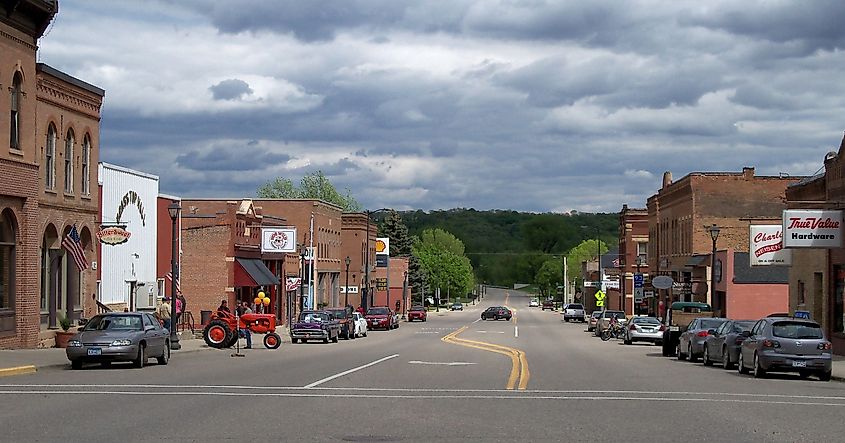 Henderson, which is located in the Mississippi River Valley an hour southeast of Minneapolis, is known as one of the oldest communities in Minnesota. There is no shortage of places to take in the fall colors in this small, charming town. The Ney Nature Center, which offers 446 acres of meadows,bluffs, prairies, forest and more, is available for a relaxing day hike. If you're feeling adventurous, go on an aerial Kerfoot Canopy Tour, where you can take in the autumn foliage from a zipline, suspension bridge, and a challenging ropes course. For those that want to stay overnight and warm up around a cozy bonfire, you can rent one of Allanson's Park's 18 developed campsites, which feature electrical hook-ups, water, and restroom facilities. 
Pipestone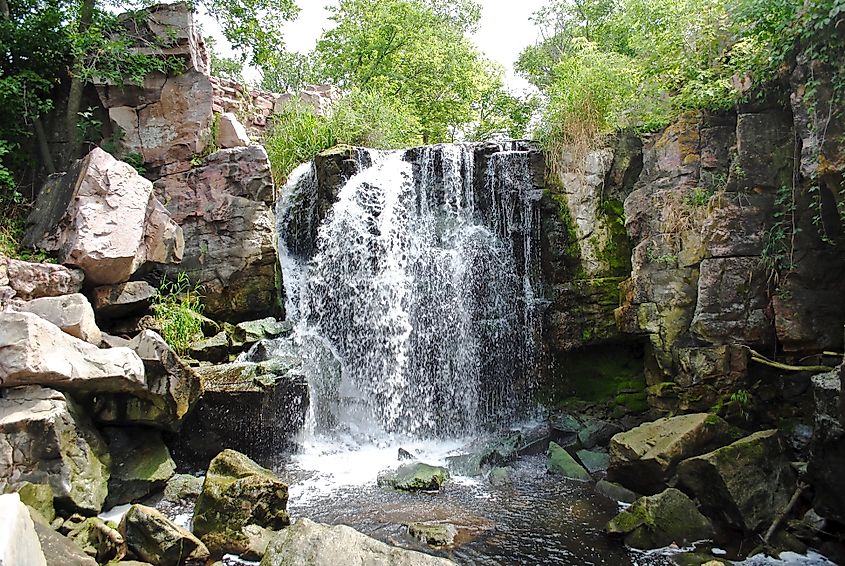 Year-round, visitors flock to the town of Pipestone to view the Pipestone National Monument, a quarry that has been considered sacred by American Indian tribes for centuries as they carved the red pipestone into ceremonial pipes.  Split Rock Creek State Park, which features a lake, prairie highlands and woodlands to explore, is another Pipestone attraction to put at the top of your fall "must-see" list. If you need to warm up on a chilly autumn day, you can't go wrong with a trip to the Pipestone County Museum, which is filled with local history exhibits. Pipestone Performing Arts Center puts on live shows year round, and is another place to escape the chill of autumn for a few hours. 
Lindstrom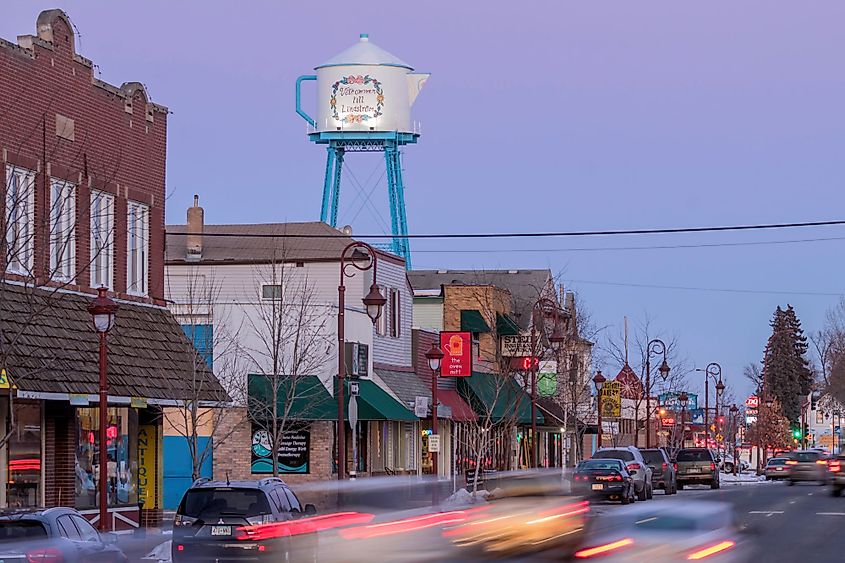 The charming small town of Lindstrom is known for its Scandinavian heritage, iconic coffee pot water tower, vintage and antique shops, and natural beauty, making it another fall road trip-worthy destination. Not only does the town offer much in the way of art and culture, it's surrounded by water as well. Visitors can view the autumnal spectrum of colors from the Chisago Lakes Water Trail, which connects more than 10 lakes, and are ideal for boating and fall fishing adventures. If you'd prefer to stay on land, the Swedish Immigrant Trail, which combines nature and history for an unforgettable trek, is perfect for hiking and biking.
Lake City
Lake City is surrounded by the Mississippi River and Lake Pepin, as well as forests of trees that put on a dazzling color show each fall. Although the small town is an exciting place to vistit all year round, the autumn months accentuate all that it has to offer. Tourists flock to Lake City to enjoy the annual Johnny Appleseed Days, which takes place at the end of September and features local and regional beer and cider, food trucks, live entertainment, and arts and crafts for sale. Leaves explode into a fiery array of colors at both the Hok Si La Park or Frontenac State Park, which offer miles of trails for hikers and bikers. 
From top to bottom, Minnesota is a autumn roadtripper's delight. No matter if you're in the mood for a crisp fall hike, a fishing expedition on one of the 1000s of lakes, a boating adventure on the Mississippi River, or a festive harvest time event, you'll find it at one of the state's small towns. There's no better time than autumn to visit Minnesota, so pack your bag and hit the road to the Upper Midwest.