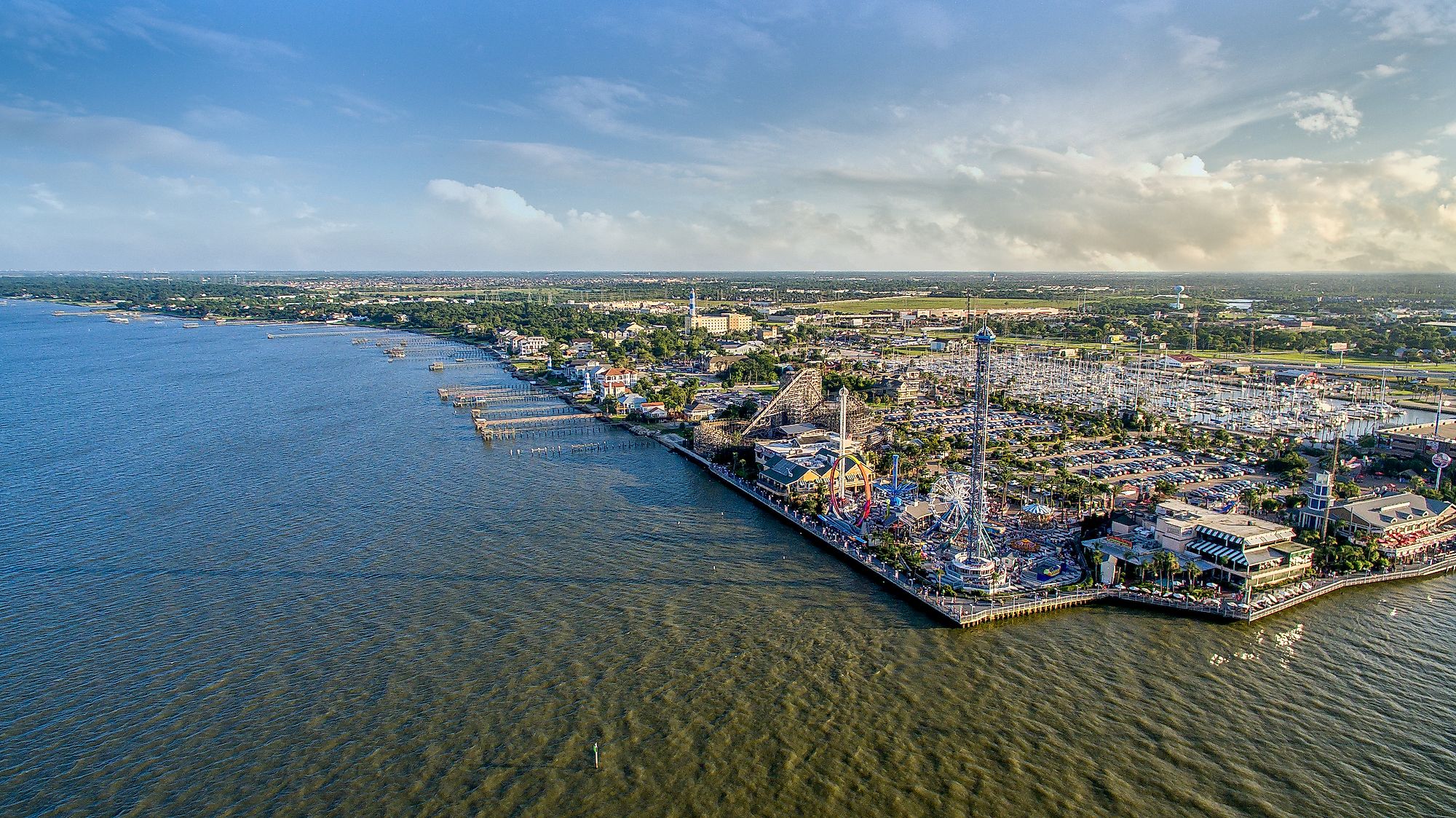 Kemah is a small city located near Houston in the US state of Texas. Situated on Galveston Bay and originally a small fishing town, this small city has become a popular destination due to its restaurants and attractions. Its name translates to the Native American phrase, "facing the winds," given its coastal location.
Geography Of Kemah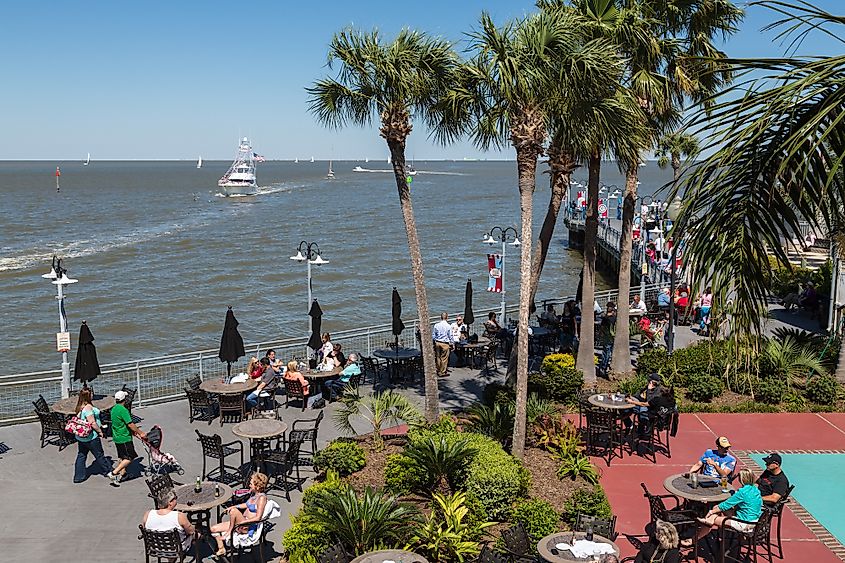 Located in the north-eastern part of Galveston county near Houston, Kemah is a city within Texas. It is situated on Galveston Bay along the Gulf Coast of Texas. It has a total area of 1.91 square miles, consisting of a land area of 1.84 square miles and a water area of 0.07 square miles. It is also considered to be a part of the Clear Lake Area. Its geographic coordinates are 29.5427°N, 95.0205°W. As for its elevation, Kemah is only 6.56 feet above sea level. The city is bordered by Seabrook in the north, League City to the west, Clear Lake Shores to the northwest, and Bayview and Bacliff to the southeast.
Climate of Kemah
Kemah generally experiences long and hot summers, whereas its winters tend to be short, windy, and cool. Temperatures during the summer period range from an average high of 91.9°F to an average low of 65.1°F. The city experiences an average of 203 sunny days annually. On the other hand, winter temperatures range from an average high of 51.8°F to an average low of 43.5°F. Regarding yearly precipitation, Kemah receives an average of 101 rainy days and 53.9 inches of rain per year, which is notably higher than the overall US average of 38 inches of rain annually. In terms of air quality, its score of 70 on the Air Quality Index indicates low levels of concern and overall acceptable air quality. To enjoy the city's warm-weather activities, Kemah is best visited within the end of March to mid-May or early October to early November.
The Population And Economy Of Kemah
With just over 2,000 residents, Kemah is the 7,546th largest city in the US and the 600th largest city in Texas as of 2019. The city is currently experiencing growth at 0.44% per year, with a population density of 1,111 individuals per square mile. Regarding Kemah's population demographics, its predominant ethnic group is White and represents 73.21% of residents. Other ethnic groups present within the city's population are African Americans at 10.63%, Asians at 7.52%, two or more races at 7%, and other races at 1.63%. When it comes to the languages spoken, a vast majority of 78.7% can only speak English, whereas 10.1% can speak Spanish, 9.1% can speak Asian or Pacific Islander languages, and 2% can speak any other language.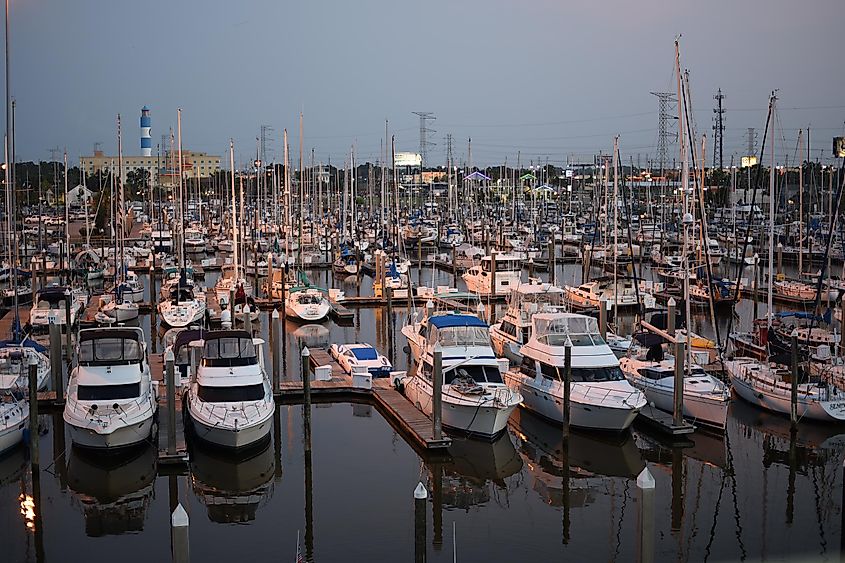 With 1,016 households counted in the most recent US Census, the median household income in Kemah is USD 73,068. The city has an employment rate of 63.2% and a poverty rate of 8.89%. Moreover, the city has a median house value of USD 204,000 and a median monthly rental cost of USD 1,525. Kemah's largest industries are retail and trade with 181 individuals, manufacturing with 163 individuals, and professional, scientific, and technical services with 158 individuals. Given its location on Galveston Bay, its main industry is shipping. The highest paying industries in Kemah are wholesale trade, public administration, mining, quarrying, and oil and gas extraction. The average salary was USD 68,707 for males and USD 49,245 for females in 2019.
A Brief History Of Kemah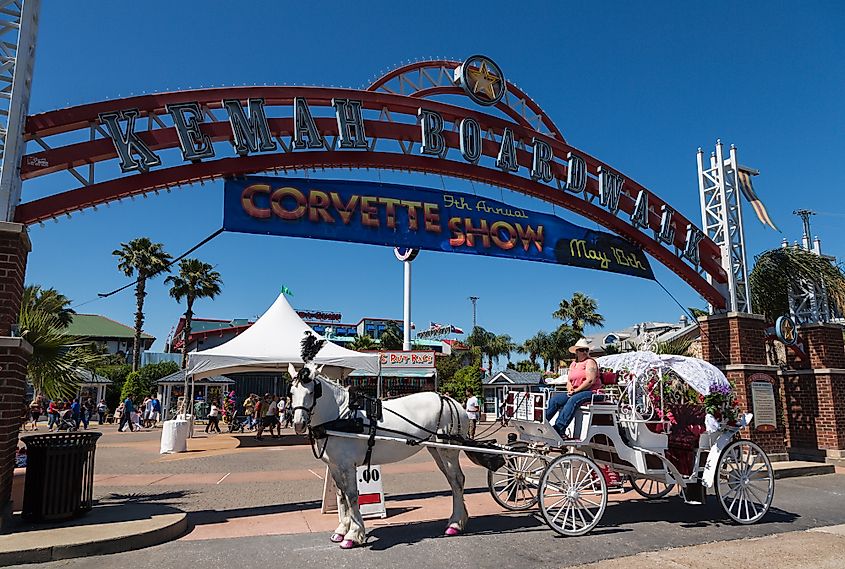 Although the community was first established in 1898 by the Bradford and Kipp families, it was initially given the altogether different name of "Evergreen." Moreover, given its location along Texas and New Orleans Railroad and oyster shell hauling activity, the area was frequently referred to as "Shell Siding." However, as the community's first post office opened in 1907, a name change was required as its previous title was discovered to be in use by a different community. Thus, Kemah was adopted to become the bay area's official title, translating to the Native American phrase of "facing the winds." Since its establishment, the community continued to grow and became a population of 200 by 1914. Moreover, the area was composed of several hay producers, several fishing camps, and summer homes for Galveston and Houston residents.
Despite this growth, the infamous Great Depression resulted in the community's population dwindling to a mere 100 residents. Nevertheless, the community witnessed significant growth as a result of World War II, whereby 550 individuals dwelled in the area by 1943. Businesses within the area also substantially grew to incorporate the oil and shipbuilding industries. Moreover, its growing shrimp and fishing businesses and its inclusion in the Clear Creek Consolidated Independent School District helped its population grow to over 2,000 individuals by 1970. Although the population declined in the following years, the 1990s doubled the population upon redefining Kemah as a tourist and recreational destination, especially due to the Kemah Boardwalk opening.
Tourist Attractions In Kemah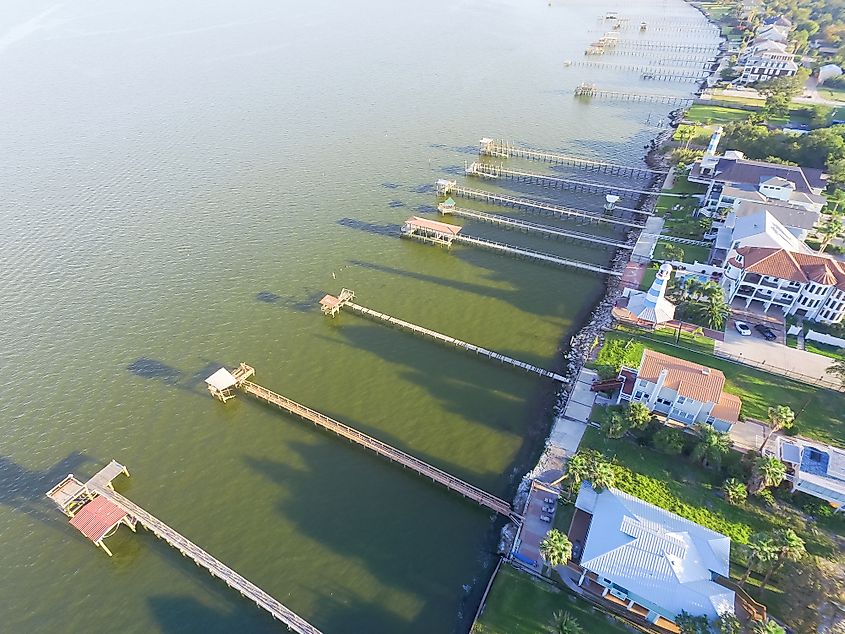 Kemah has become quite a popular tourist destination in the area due to its entertainment and shopping complexes, including many attractions.
Kemah Boardwalk and the Kemah Lighthouse District
Perhaps the most popular of Kemah's attractions, the Kemah Boardwalk is a 14-acre complex that offers a wide range of amusement park rides, festivals, and seaside shops. Rides available at the Boardwalk include the 65-foot Century wheel, the Boardwalk Tower, and various roller coasters. A number of seafood restaurants can also be found serving up some of the bay's daily catches. Several hotels are also found around the Boardwalk and the marina. Not far from the Kemah Boardwalk is the Kemah Lighthouse District, including various shops and fine dining restaurants.
NASA Johnson Space Center
Despite not technically being within Kemah itself, the NASA Johnson Space Center is only 10 minutes away by car. Established in 1961, the center serves as a hub for space exploration. It is home to the International Space Station operations, the astronaut corps, the Orion program, and future space missions. The center currently serves as one of NASA's largest research and development facilities in the United States.