Hershey is an unincorporated community within Derry Township, Dauphine County, south-central Pennsylvania, in the United States. Philanthropist and entrepreneur Milton S. Hershey founded the community in 1903. He chose the site around Derry Church for his chocolate factory. The town attracts millions of visitors annually with its many landmarks and is home to a population of around 14,000 people.
Geography And Climate Of Hershey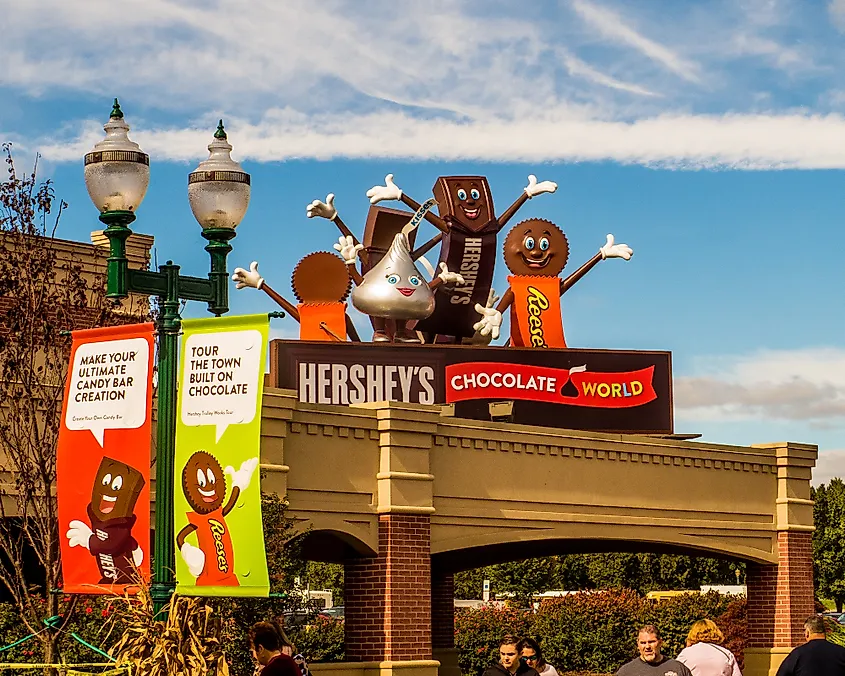 The town is situated 19 km east of Harrisburg and bordered to the west by the borough of Hummelstown. Palmdale (in Derry Township) and Campbeltown (in South Londonderry Township, Lebanon County) are to the east. 
According to the U.S. Census Bureau, Hershey has a total area of 37.3 square km, of which 37.2 square km is land and 0.15 square km is water. Hershey, like many parts of Pennsylvania, has a humid continental climate. Temperatures can reach up to 35 °C in the summer and fall below -6 °C in the winter.
The Population Of Hershey 
In 2019, Hershey in Pennsylvania had 14,700 people with a median age of 46.2 and a homeownership rate of 51.5%. The majority of the people in Hershey are non-Hispanic White, and they represent 82.3% of the town's population. The other ethnic groups in Hershey are Other race at 8.41%, Asian at 5.46%, Black or African American at 2.68%, and Two or more races at 1.10%.
As of 2019, around 2000 (14%) of Hershey's population were born outside the country. All the households in Hershey speak English as their primary language at home, and 89.6% of the residents are U.S. citizens.
The largest university in Hershey by the number of degrees awarded is Pennsylvania State University-College of Medicine. The most popular majors are Medicine, Physician Assistant, and General Public Health. The student population of Hershey is skewed towards females and most students graduating are White, followed by Asian, and Hispanic or Latino. 
The Economy Of Hershey
The median household income in Hershey is $69,688, which grew from $62,834 to $69,688, a 10.9% increase only in one year between 2018 and 2019. The economy of Hershey employs more than half of the town's residents in different industries, with the largest ones being Health Care & Social Assistance, Agriculture & Forestry, Fishing & Hunting, and Educational Services. However, the highest paying industries are Utilities, Manufacturing, and Transportation & Warehousing, & Utilities.  
Brief History Of Hershey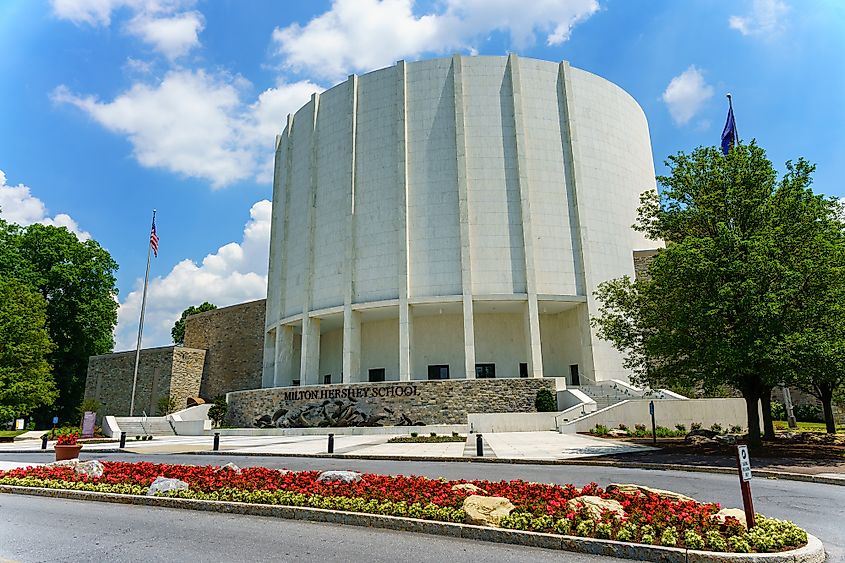 Milton Hershey, born September 13, 1857, on a farm near the small community of Derry Church in Pennsylvania, was the only surviving child of Fannie and Henry Hershey. After a four-year apprenticeship with a Lancaster candy maker, Hershey established his first candy-making business in Philadelphia. Hershey bought the equipment for the Lancaster plant he owned and began producing a variety of chocolate creations.
His business was booming, and he had ambitions not limited to producing chocolate. Hershey envisioned a completely new community around his factory. He built a model town for his employees and their families. The town included comfortable homes, an inexpensive public transportation system, a public school, and extensive recreational and cultural opportunities. He built a park that opened in 1906 and added a swimming pool, amusement rides, and a ballroom to the community he built.
Many of the buildings were completed during the Great Depression as part of Hershey's "Great Building Campaign" to provide jobs for the people in the community. Moreover, monumental structures such as The Hotel Hershey, theater, community center, and sports arena were added, transforming the community into a major tourist attraction that grew in popularity each year. The town of Hershey continues to be a special place for its residents and a popular attraction for millions of visitors annually. 
Tourist Attractions In Hershey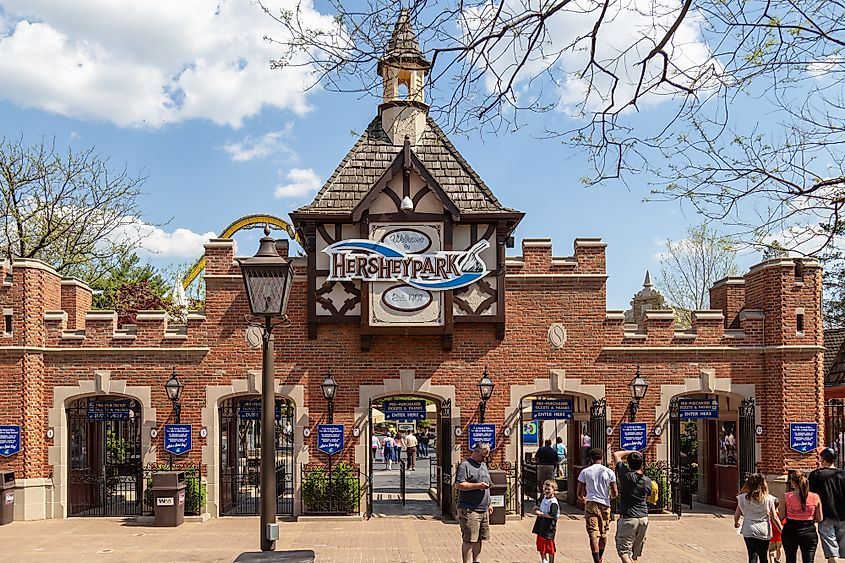 Hershey is one of the most popular destinations in the state of Pennsylvania. The community has many landmarks that attract millions of tourists and visitors annually. Visitors enjoy the themed areas, shops, and the famous Hershey's Chocolate World.
Hersheypark is one of the oldest spots in the town. Milton S. Hershey planned to build the park to create a more pleasant environment for workers and residents than any typical factory town of the time. It was formally opened to the public on Memorial Day, May 30, 1906. In 1933, The park included The Mill Chute water flume ride, The Bug, a funhouse, and the penny arcade. In the 1980s, additional rides were added, including the Cyclops, Conestoga, and Timber Rattler. The family-friendly theme park comprises six themed areas to offer something for everyone, entertainment areas, and places to eat.
Another popular attraction in Hershey is Hershey's Chocolate World. It offers an array of fun chocolate-related activities. Visitors take an interesting, guided chocolate tour of the Hershey's factory, create their own personalized Hershey's chocolate bar, and hop on the Chocolate Trolley. The trolley takes them on an in-depth historical tour to explore the story of Milton Hershey and the town he built for his workers and families. 
Tourists also visit the Hershey Gardens. It was established by Milton Hershey in 1937 and has been pleasing visitors with a unique floral experience ever since. The botanical garden overlooks the town of Hershey and features a collection of rare trees and shrubs, seasonal flower displays, and themed gardens. The Gardens are also home to an outdoor Butterfly House attracting families with kids that can walk among thousands of free-flying butterflies and discover the world of gardens in the enchanting and interactive Children's Garden.