Cathedral City is located in Riverside County, California, in the United States of America, between Rancho Mirage and Palm Springs in the Coachella Valley. It is one of the Palm Desert Cities and the Coachella Valley's second most populated city after Indio. It covers an area of 56 square km.
History Of Cathedral City
Cathedral City's history is linked to the Cahuilla people, one of the original people of Southern California who settled in Coachella Valley nearly 5,000 years ago. The Spanish claimed the Coachella Valley in 1768, while the Mexicans took over in 1821 via the Treaty of Cordoba. After the Mexican-American War, the United States finally acquired the land, and the Coachella Valley officially became part of California in 1850.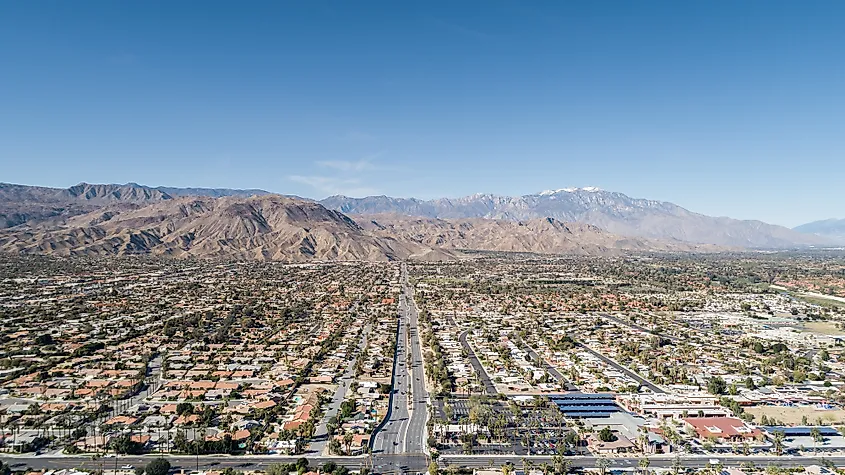 U.S. Army Colonel Henry Washington, a descendant of George Washington, was contracted to survey Southern California, and in 1855, he reached the Coachella Valley. He discovered interesting rock formations in the foothills of Santa Rosa and the San Jacinto Mountains. It inspired him to name it Cathedral Canyon, for it reminded him of a cathedral's interior in Europe. 
In 1876, the Agua Caliente Band of Cahuilla Indians established their reservation which took approximately 28% of Cathedral City. Today, they own every other square mile of land in neighboring Palm Springs.
By 1925, four developers worked on developing the area and created the area's first housing subdivision north of the Cathedral Canyon area and called it Cathedral City, and the city was incorporated in 1981.
Population Of Cathedral City
As of 2019, Cathedral City, CA, was home to a population of 54,400 people with a median age of 39. In 2019, White Hispanic residents were 1.45 more than any other race or ethnicity. The largest ethnic groups in Cathedral City are Hispanic White (44%), non-Hispanic White (30%), Hispanic (11%), Asian (5.7%), and Black or African American (2.26%). Around 82% of the residents in Cathedral City are U.S. citizens, and 32% were born outside the United States. Residents of California who are born outside of the country are usually born in Mexico, the Philippines, and China.
The largest university by the number of degrees awarded is Mayfield College. The most popular majors in Cathedral City are Medical Assistant, HVAC Maintenance, and Medical Office Assistant.
Economy Of Cathedral City
The median household income in Cathedral City is $46,521. Females in California tend to have an average income that is 1.26 lower than the average income of males. The income inequality in California, in general, records 0.49 (measure using Gini index), and it is higher than the national average.
The economy of Cathedral City consists of many industries and employs over 23,000 people. The largest industries are Accommodation & Food Services, Retail Trade, and Health Care & Social Assistance. However, the highest paying industries are Utilities ($63,539), Management of Companies & Enterprises ($60,539), and Information ($52,375). 
In 2019, the homeownership rate in Cathedral City was 60.7%. Most of the residents drove alone to work, and the average car ownership was two cars per household in 2019. 
Tourist Attractions In Cathedral City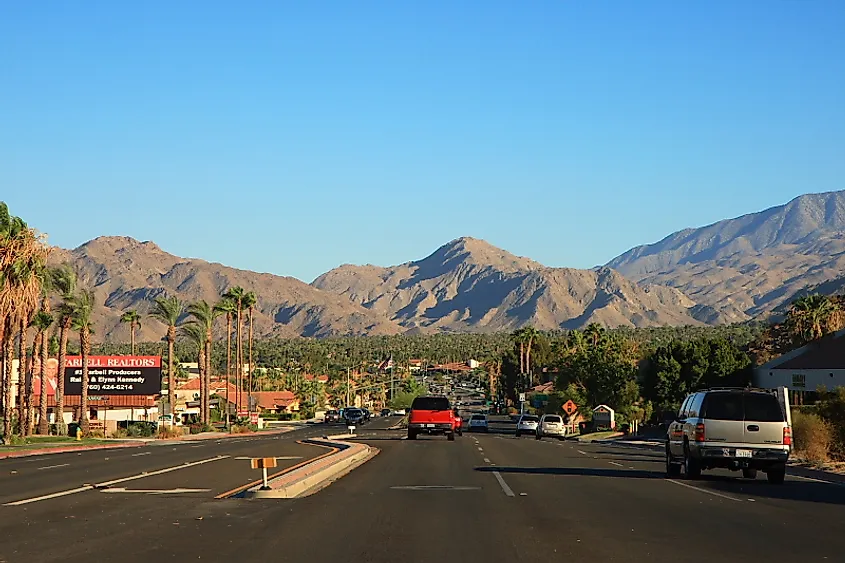 Cathedral City, also known as Cat City, is one of the United States' "Most Livable" cities. It is a desert resort famous for its cultural attractions, shopping venues, posh resorts, art galleries, and family-centered recreational activities. Due to its excellent year-round weather, Cathedral City is also a popular destination for snowbirds escaping the cold due to its ideal year-round climate. 
People usually visit Panorama Park, the biggest park in the city. It features enough open space for different activities and picnics and has many amenities across its seven acres. 
Tourists visit the Museum of Ancient Wonders when passing by Cathedral City. It is a family-centered destination where people can see artifacts representing ancient civilizations and prehistoric life from around the world. Although some are replicas, many of the items on display are original. The museum has five exhibits, including Faces of Africa, Enlightening the Coachella Valley, and Vessels of Gods.