Bloomington is a suburban city situated in Hennepin County in the southeastern portion of the US State of Minnesota. The city is considered the state's fourth-largest city and is also a suburb that is situated south of Minneapolis, on the northern shores of the Minnesota River. The city hosts an extensive city park system, with over one-third of its land area covered with parks, such as Hyland Lake Park Reserve and Minnesota Valley National Wildlife Refuge.
Geography And Climate Of Bloomington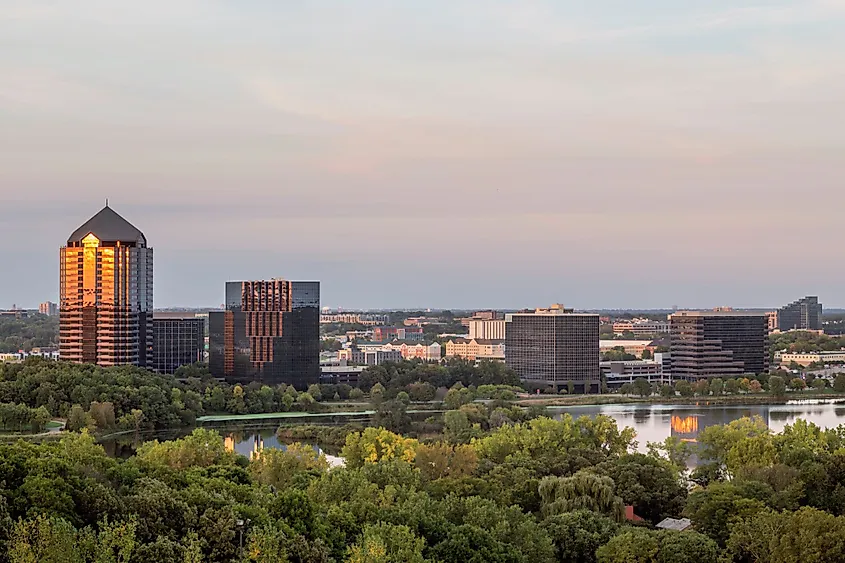 Bloomington covers a total area of 99.51 sq. km, of which 89.82 sq. km are occupied by land, and 9.69 sq. km are covered with water. There are several water bodies included in the city like Bush Lake, Long Meadow Lake, Lake Normandale, Marsh Lake, Nine Mile Creek, and Penn Lake, in addition to around 100 minor lakes and ponds. Moreover, there are three primary land types in the city. The northeastern part of the city consists of a sand plain, whereas low hills dominate the city's western area, and the far south is located within the valley of the Minnesota River.
The climate in Bloomington is humid continental with warm and wet summers and freezing windy winters, along with partly cloudy skies throughout the year. Temperatures fluctuate seasonally between -13 °C to 29 °C and are hardly below -24 °C or above 33 °C. For tourists, the best time of year to visit Bloomington for warm-weather recreation is between June and September.
Brief History Of Bloomington
Bloomington was settled in 1843 by Peter and Louisa Quinn, who taught farming methods to the local Native Americans. In the same year, Gideon Pond organized a mission in the area, held church services, and instructed the local Dakota school about subjects and farming. The entry across the Minnesota River in Bloomington came in 1849 when William Chambers and Joseph Dean established the Bloomington Ferry, which remained active until 1889 when the Bloomington Ferry Bridge was constructed. The area was chartered as a town in 1858 and was named after Bloomington, Illinois, to be incorporated later on in 1960 as the City of Bloomington. Furthermore, Bloomington was the site of Metropolitan Stadium from 1956 to 1985, where the city served as the home to Major League Baseball's Minnesota Twins and the National Football League's Minnesota Vikings.
The Population And Economy Of Bloomington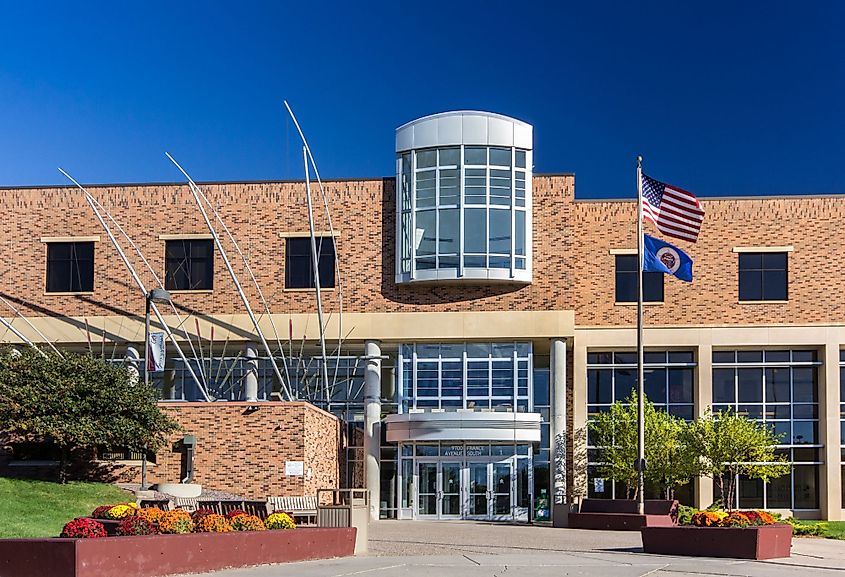 As per the latest US Census, Bloomington has a population of 83,350 residents. With almost 85.88% of them born in the United States and 60.87% being born in Minnesota. However, around 6.98% of the residents are not US citizens with most of them originating from Latin America.
Bloomington is a major tourism and hospitality center with nearly 8,000 hotel rooms Due to its location near main transportation routes and the Minneapolis–Saint Paul International Airport. Moreover, the city hosts big groups of employers, providing more than 100,000 jobs. From another perspective, the annual average income of a Bloomington resident is $36,430 a year, undergoing a 7.5% sales tax and a 7.1 % income tax.
Top Attractions At Bloomington
Mall of America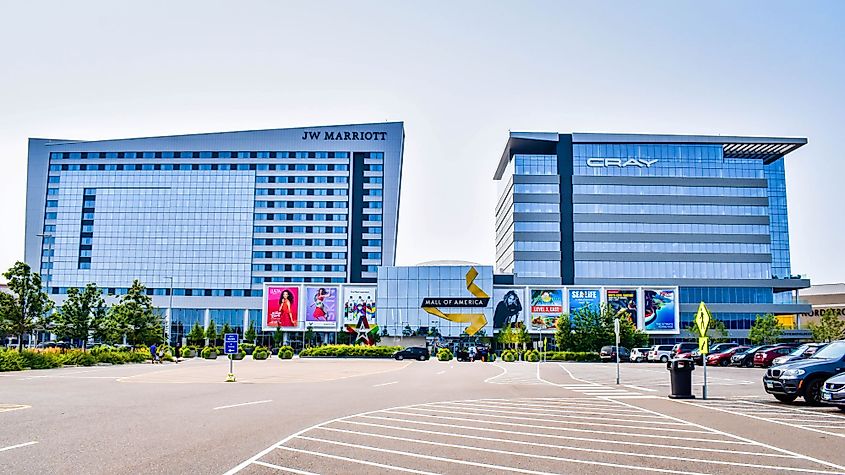 Mall of America opened in 1992 and is considered the largest indoor shopping mall in the United States. The mall covers an area of 4.2 million square feet featuring a collection of restaurants, nightclubs, a theme park, a wedding chapel, an aquarium, a miniature golf course, and more than 500 retail stores.
Minnesota Zoo
The Minnesota Zoo opened in 1978 and offers visitors the opportunity to connect with the natural world. Radical exhibits offer exciting experiences with animals and their habitats, introducing guests to species from around the globe. Located just minutes south of Mall of America, the Minnesota Zoo hosts penguins, a lavish tropical forest and aviary, a marine center, and a family farm. The zoo is home to more than 4,300 creatures and features banquet amenities and picnic rentals.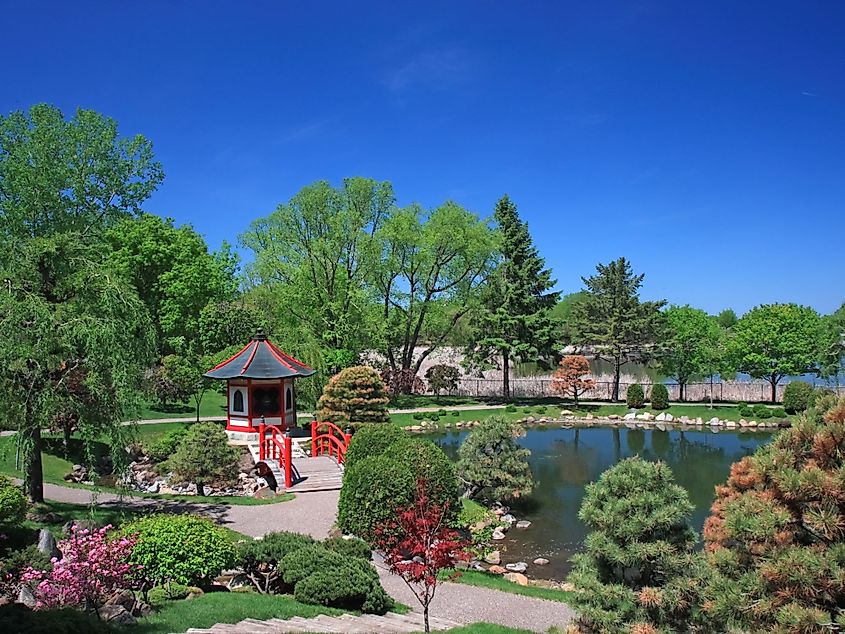 Moreover, Bloomington is home to a list of museums and parks that host frequent events and festivals that attract both residents and visitors. January's St. Paul Winter Carnival, which is the city's biggest event, hosts winter sports tournaments, ice and snow carving, parades, and live shows. The Minnesota State Fair is considered one of the country's largest farming and educational entertainment events. Another famous celebration is the "A Taste of Minnesota," which runs at the end of June and hosts a carnival of food and music. Furthermore, Minnesota is home to a large number of sports teams, including Major League Baseball's Minnesota Twins, the National Basketball Association's Minnesota Timberwolves, the National Football League's Minnesota Vikings, and many more.