A suburban city in the northeastern Miami-Dade County of Florida, United States of America, Aventura is 17 miles north of the city of Miami and is part of the Miami metropolitan area. The city is especially well known for the Aventura Mall, the fifth largest mall in the United States of America and the largest mall in Florida. Aventura gets its name from the Spanish word for "adventure." It was named after the developers of the original group of condos in the area.
Geography And Climate Of Aventura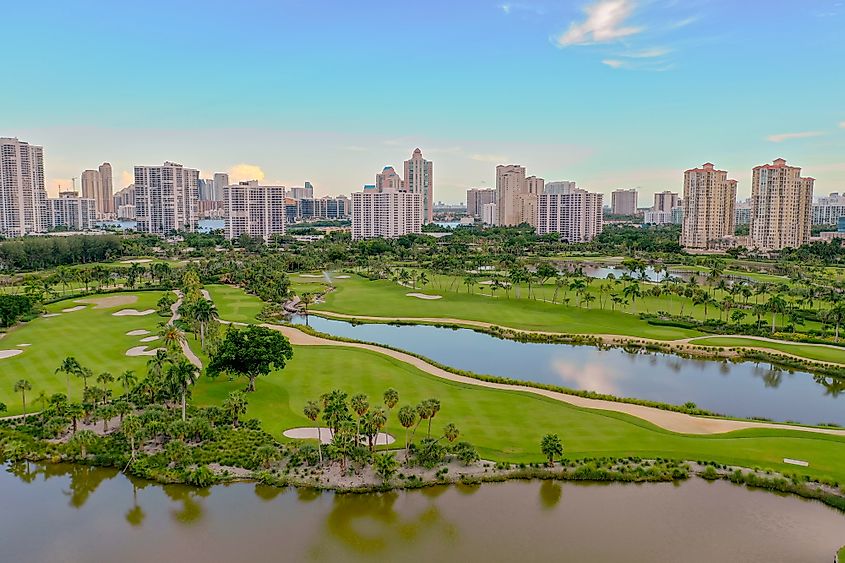 The city of Aventura has an area of about 3.5 square miles, including 2.7 square miles of land and 0.8 square miles (23.08%) of water. Aventura has a tropical monsoon climate which means that it features hot and humid summers and short, warm winters. Aventura experiences its "wet season" during the summer, where the city sees the majority of its rain and is also typically hot and humid. This season typically lasts from May to September before giving way to the dry season, which features slightly milder temperatures and the occasional invasions of colder air. Little rain is experienced during the dry season. Additionally, the hurricane season coincides with the earlier wet season. 
A typical summer day in Aventura does not see temperatures below 75 degrees Fahrenheit (24 degrees Celsius) and temperatures are often in the high 80s-low 90s (30-35 Celsius.) These high temperatures are frequently relieved by afternoon thunderstorms as well as see breezes which develop off the Atlantic Ocean. These reliefs allow lower temperatures; however, conditions continue to remain very muggy. During winter, Aventura often experiences colder temperatures. The average minimum temperature during the winter is around 59 degrees Fahrenheit (15 degrees Celsius) and rarely dripping below 40 degrees Fahrenheit (4 degrees Celsius)
Hurricane season begins on June 1st and is officially over on November 30th. In October 2005, Aventura was severely hit by Hurricane Wilma, and was continuously undergoing recovery as of November 2011. The library had been destroyed and has since been rebuilt.
During winter, humidity is significantly lower, allowing for cooler weather to develop. Average minimum temperatures during that time are around 59 °F (15 °C), rarely dipping below 40 °F (4 °C), and the equivalent maxima usually range between 65 and 75 °F (18 and 24 °C).
The Population Of Aventura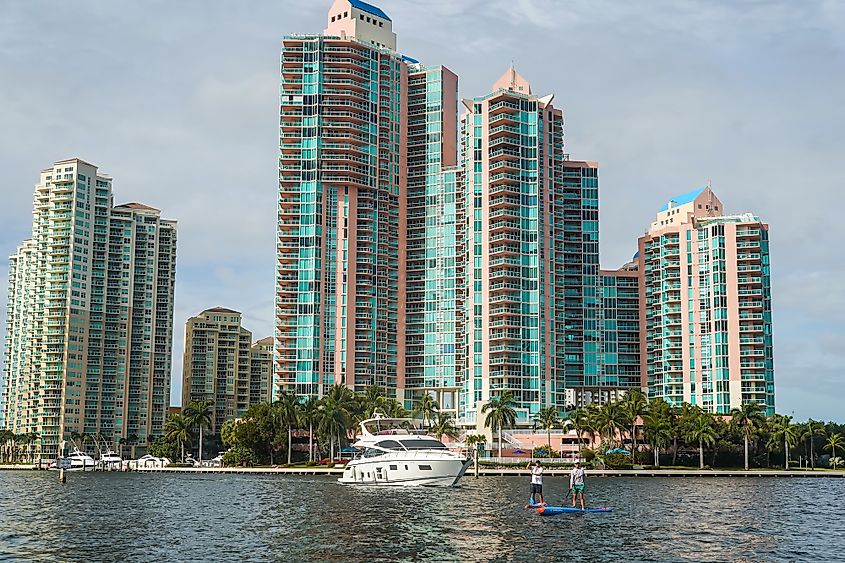 As of the 2020 census, Aventura's population was 40,242 including 18,035 households and 9,370 families residing in the city. The 2020 United States of America census suggested that the composition of Aventura is as follows: 49.45% of the population is White/Caucasian, 2.74% Black or African American, 0.05% Native American or Alaskan Native, 2.06% Asian, 0.02% Pacific Islander, 0.81% Some Other Race, Mixed/Multi-Racial 4.56%, Hispanic or Latino 40.32%.
Language And Culture Of Aventura 
As of 2000, speakers of English as a First Language made up 59.92% of the population. Spanish accounted for 22.63% of the residents, Hebrew and Yiddish comprised 3.66% and 2.78% of the language, respectively. Other languages spoken include Portuguese (2.65%), French (2.40%), Russian (1.75%), and German (1.46%) 
Aventura also had the seventeenth-highest percentage of Brazilian residents in the United States of America as of 2000, with 1.9% of the United States' populace, the thirteenth-highest percentage of Colombian residents in the United States, at 4.25% of the city's population.
Aventura also had the twelfth-highest number of Israelis in the US, at 2.4% of the city population. Aventura's Russian community had the twenty-fifth-highest percentage of residents, at 12.4%. 
The Economy Of Aventura 
The average income of an Aventura resident is $43,109 a year, and the median household income of $62,882 a year. Aventura has an unemployment rate of 7.0%, whereas the figure is 6.0% for the country. 
The top ten most popular fields of occupation in Aventura are as follows: Retail Trade (15.6%), Professional, Scientific and Technical Services (12.9%), Health Care and Social Assistance (10.3%), Educational Services (8.5), Real Estate, Rental, Leasing (6.6%)
Brief History Of Aventura 
Originally referred to as Turnberry, the development of Aventura picked up pace in the early 1970s. It became an incorporated city in 1995, with the police department being formed in 1997. 
Aventura is home to the luxury resort Turnberry Isle, where the Monkey Business was docked during the Gary Hart/Donna Rice incident, which contributed to the ending of Hart's 1988 presidential bid.
Former President of the United States of America, Bill Clinton, delivered one of his first speeches in Aventura after leaving the White House. This speech was delivered at the Aventura-Turnberry Jewish Center in 2001.
Tourist Attractions Of Aventura 
Aventura Mall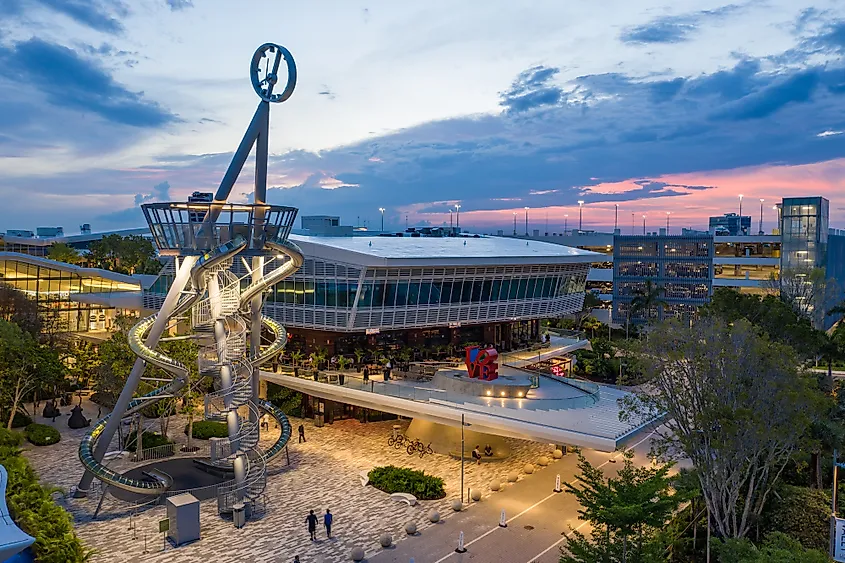 The Aventura Mall is an upscale shopping mall. It is the fifth largest mall in the United States of America, with over 300 stores. Aventura Mall also features more than 50 eateries and restaurants and an experiential Arts Aventura Mall program that showcases 20 museum-quality pieces in a range of mediums.
Oleta River Slate Park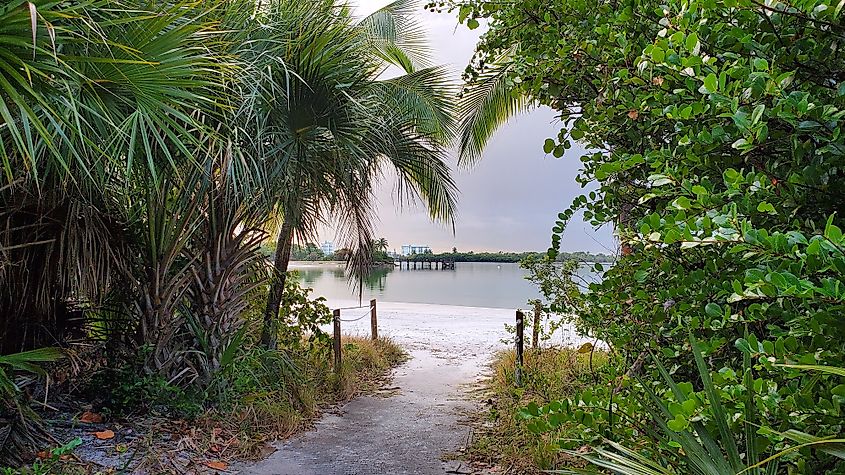 Oleta River State Park is Florida's largest urban park. It features excellent amenities for mountain bikers, paddlers, anglers, and swimmers. Additionally, fourteen tiny cabins provide a great place to relax with the convenience of remaining close to shopping, restaurants, and entertainment in Miami. 
Notable People From Aventura
Some notable people from Aventura include: Lucille Ball (American actress best known for the television series Love Lucy), Morton Downy Jr (American singer, songwriter, and talk show host), Whitney Houston (American singer and actress), Sid Raymond (actor and comedian), Billy Cunningham (American basketball player and coach), Alan King (Actor), and Sid Luckman (NFL Hall of Fame football player.)