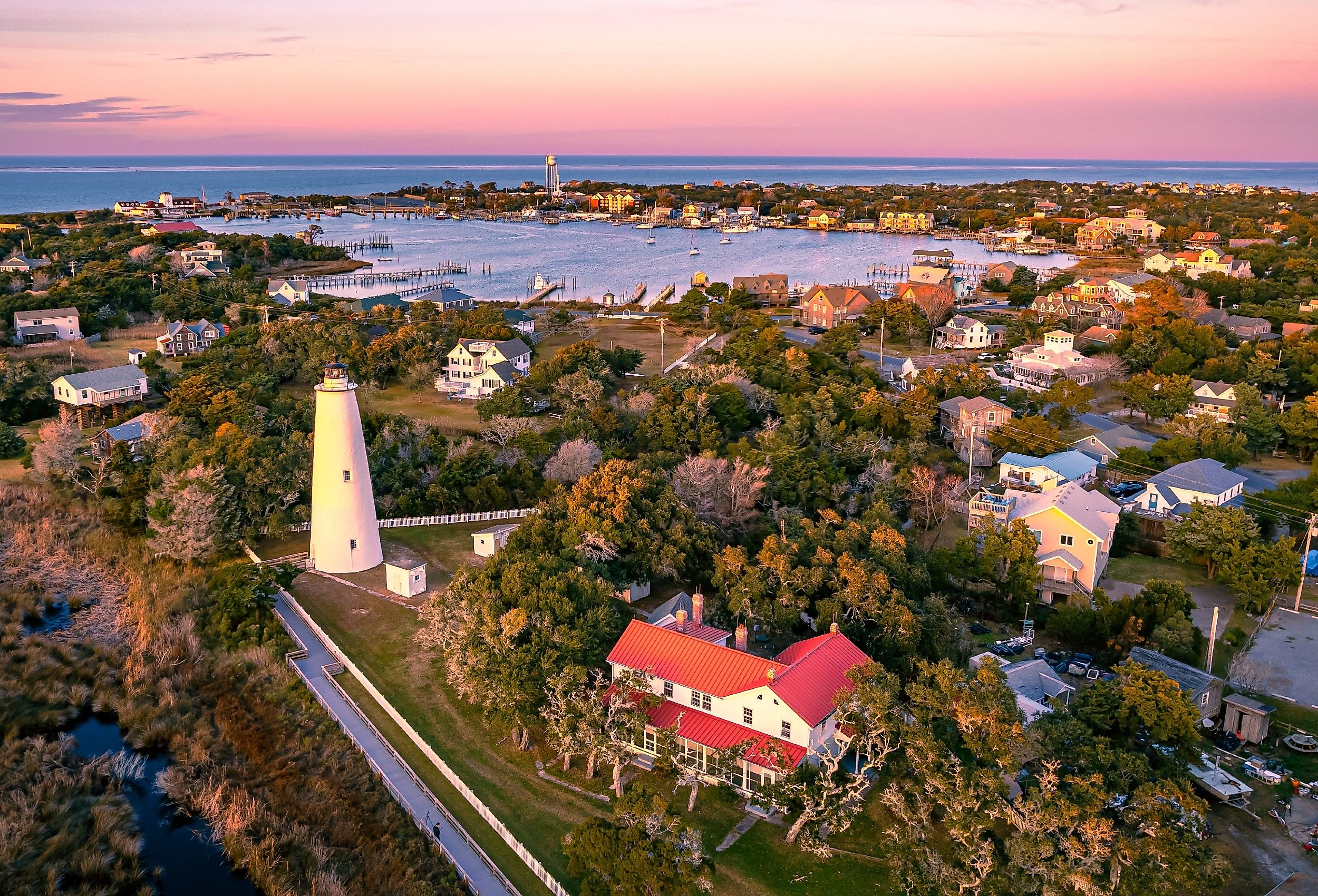 9 Most Scenic Outer Banks Towns
The Outer Banks of North Carolina is an area that's well known for its endless beaches and natural beauty. Often referred to simply as "OBX," this chain of barrier islands stretches over 200 miles from the Virginia border along North Carolina's Atlantic coast as far as the town of Corolla and attracts an impressive five million visitors a year. Along the way are countless reasons to stop and explore this area of outstanding natural beauty, along with numerous quaint small communities. From famous Kitty Hawk to the wonderfully named Kill Devil Hills, take a look at the nine most scenic Outer Banks towns to visit.
Kitty Hawk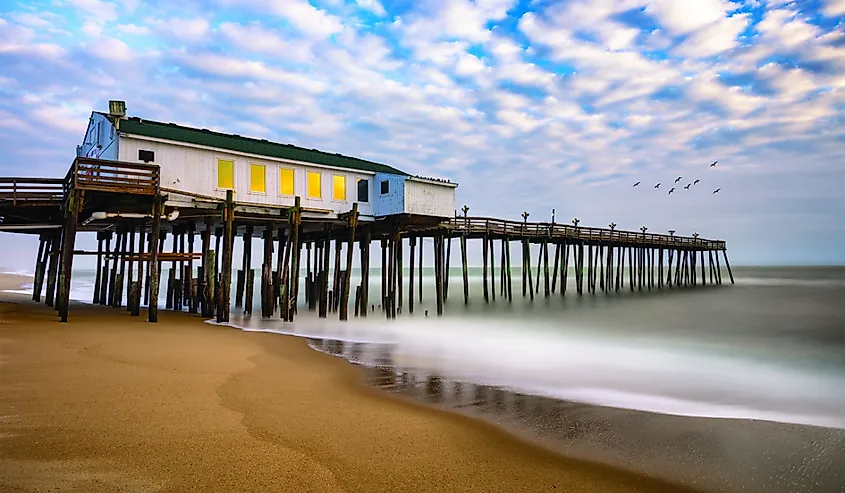 The attractive beach town of Kitty Hawk needs no introduction as one of the oldest-founded towns in the Outer Banks. It was here on December 17, 1903, that brothers Wilbur and Orville Wright saw years of hard work culminate in the construction of the world's first successful manned airplane, an achievement that forever cemented Kitty Hawk's name in history books.
Visit Kitty Hawk today, and you'll find references to this landmark event everywhere. Notable examples include the Wright Brother's Garage Monument, marking the spot where the plane was built, and the Wright Brother's Trail. Other highlights include Kitty Hawk Woods Coastal Reserve, a popular spot to explore for its maritime forests, marshes, and diverse wildlife, as well as the town's many beautiful beaches.
Kill Devil Hills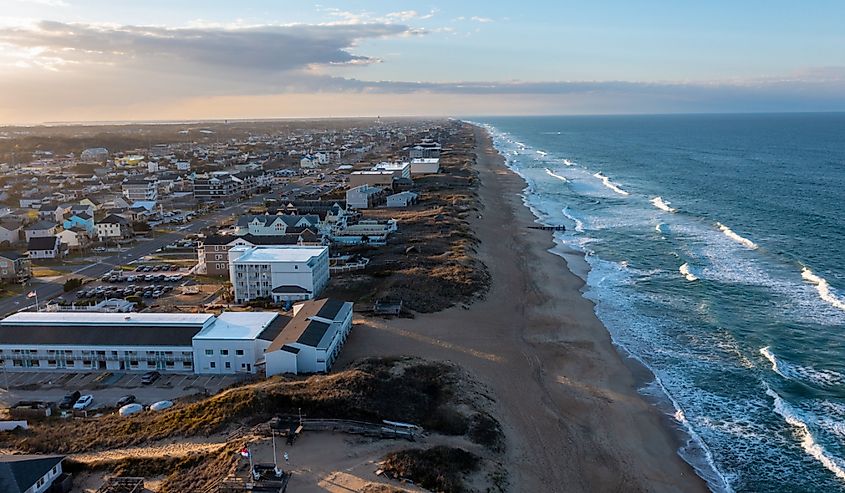 Situated just a few miles south of Kitty Hawk is another scenic North Carolina community that's associated with the Wright Brothers: Kill Devil Hills. It was here that these two young innovators conducted the world's first controlled, sustained flight, dragging their plane to a series of tall sand dunes from the workshop in Kitty Hawk where they built it. The Wright Brothers National Memorial marks the exact location.
You should explore this stunning series of dunes, the best of which is Jockey's Ridge. Here, you can enjoy adventures such as sandboarding, hang gliding, or simply taking a stroll to enjoy the panoramic views over the Atlantic Ocean.
Corolla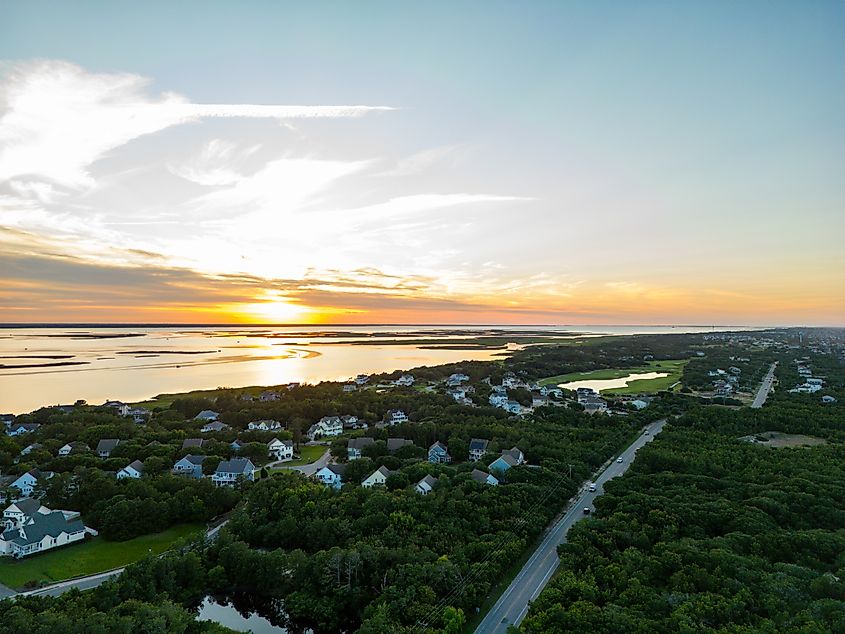 Located at the top of the Outer Banks, the charming town of Corolla is renowned for its wild horses. Pay a visit and you're likely to see these Spanish Mustangs roaming freely along Corolla's beaches, presenting a memorable, even dramatic photo opportunity against the backdrop of those rolling ocean waves.
Other places to visit in Corolla include Currituck Beach Lighthouse. This iconic landmark with its attractive red brick façade presents another scenic photo opp, especially if you frame it against a cloudless sky. Also worth visiting is the Currituck National Wildlife Refuge with its undisturbed natural habitat. Popular with birdwatchers, the refuge serves as a sanctuary for various bird species and other native wildlife.
Duck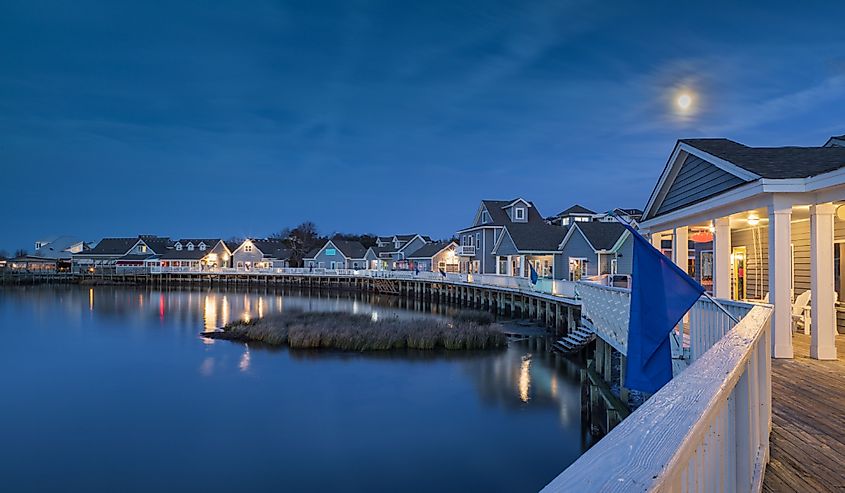 Just nine miles north of Kitty Hawk, the underrated town of Duck boasts a number of reasons for visitors to want to visit. Top of the list is the extensive Duck Town Park Boardwalk. Stretching for 1 mile along Currituck Sound, this scenic spot features a number of boat launches and offers superb views over the wetlands. It's an especially pretty view at sunset.
Head to the Atlantic side of Duck, and you'll enjoy its coastal dunes and pristine beaches.  Duck is also known for its upscale shopping, dining, and the annual Duck Jazz Festivals. The town is also famous as the birthplace of the delicious Duck Donuts.
Southern Shores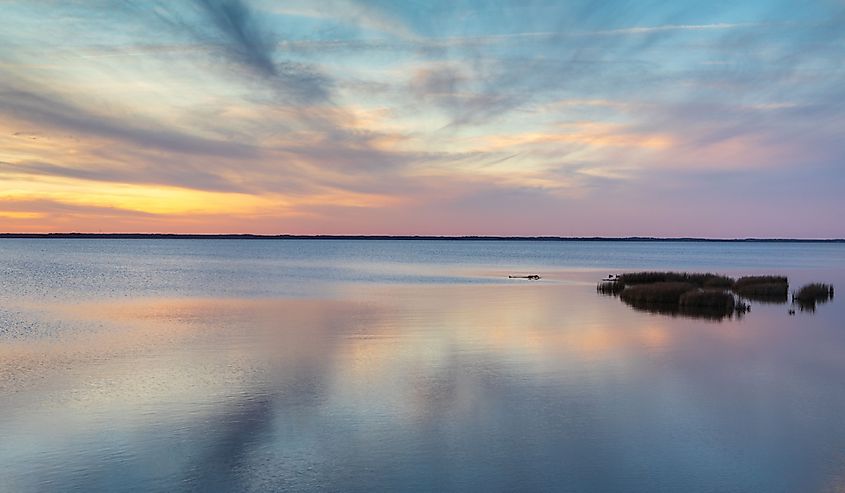 Sandwiched between Kitty Hawk and Duck, the cute village of Southern Shores is popular for being a little less commercial than some of its neighbors. Predominantly a residential community, Southern Shores is ideal for visitors seeking a peaceful vacation spot away from commercial bustle, with a small population of around 3,000.
While inland features include densely wooded residential areas that can be traversed by bike, the secluded Southern Shores Beach and Soundside Park are the best places to go for a walk. The tall sand dunes offer plenty of excuses to stop and soak up the sun and the views.
Nags Head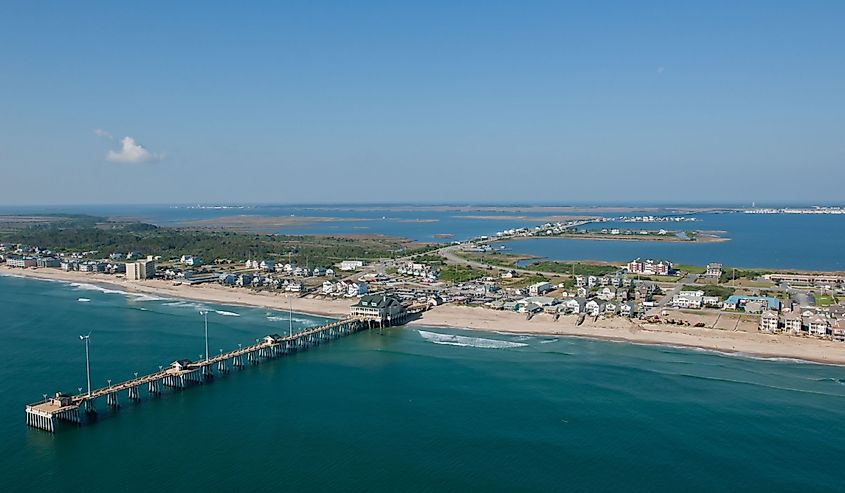 Boasting one of the more unusual names on the Outer Banks, legend has it that picturesque Nags Head got its name from a gang of thieves known to have frequented the area. These devious bandits were said to have strung lanterns to their horses and had them paraded along the sand dunes at night, tricking captains who would then steer their ships toward shore and the treacherous shoals that awaited.
While you won't find any such shenanigans taking place on this beautiful 12-mile stretch of shoreline these days, you'll find plenty of good reasons to want to stop awhile. Topping the list are the 400-acre Jockey's Ridge State Park and Nags Head Woods Preserve, both of which offer a combination of scenic dunes, ponds, and marshes to explore.
Rodanthe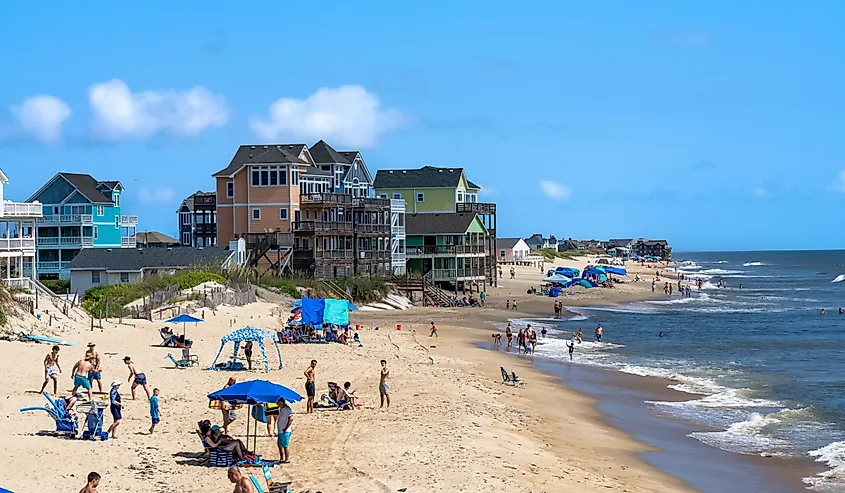 As part of Hatteras Island near the bottom end of the Outer Banks, Rodanthe provides visitors with some of the most spectacular views of North Carolina's Atlantic coastline. From the Old Lighthouse Beach Access point, you can continue walking south to Cape Point, where the beach makes a sharp turn westwards; from here, you can get some stunning sunset photos.
In addition to the mesmerizing beachfront views, Rodanthe is an excellent spot for those who enjoy surfing and kiteboarding. Into birdwatching? Pea Island National Wildlife Refuge is for you, while the Chicamacomico Life-Saving Station Historic Site and Museum is worth a visit for its history of maritime rescue.
Ocracoke
Accessible only by boat or via regular ferry service, Ocracoke offers 16 miles of untouched beaches, making it a secluded paradise. In addition to its usually uncrowded beaches, a number of important landmarks are located around this picturesque Outer Banks community, which is part of the Cape Hatteras National Seashore.
These include the Ocracoke Lighthouse, said to be the oldest operating light station in North Carolina; and the Ocracoke Island Visitor Center, which provides insightful information about the area's history and natural assets. Be sure to also spend time in Ocracoke Village itself. The unique charm of this tight-knit and friendly community includes a number of small shops and local eateries.
Manteo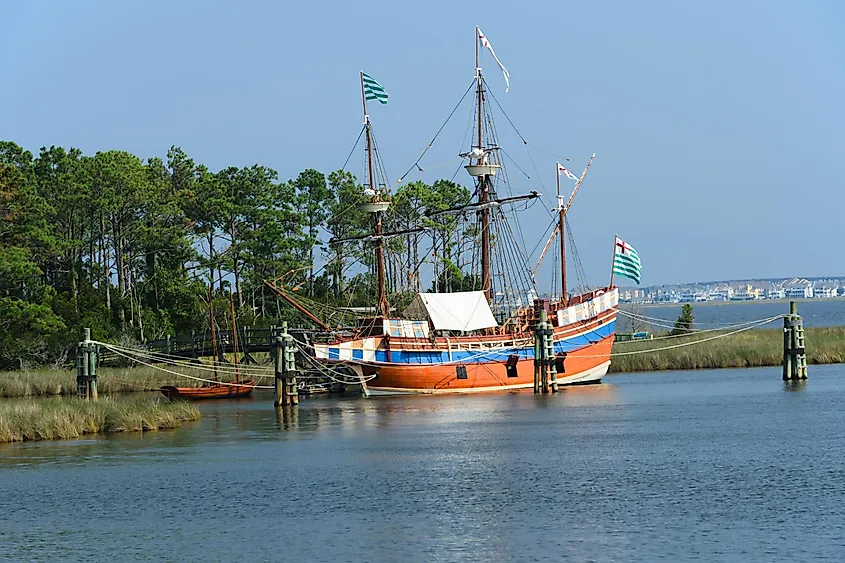 Situated on Roanoke Island, Manteo is a hub for watersports. Popular activities include boating and fishing, as well as swimming, paddleboarding, and sea kayaking. Other highlights include the Elizabethan Gardens with its manicured lawns and flowerbeds with their seasonal blooms, which are especially nice to visit in springtime.
The Roanoke Marshes Lighthouse is also worth a visit. This small, picturesque structure by the waterfront makes for a lovely scenic backdrop for a solo or group selfie. Roanoke Island Festival Park, which depicts the first English settlement on the Outer Banks, is also worth checking out.
Each of the small coastal towns, from Kitty Hawk to Manteo, features a unique blend of natural beauty and cultural significance, ensuring that visitors have no end to exciting experiences and adventures to choose from. These nine most scenic Outer Banks towns represent a mix of popular and lesser-known destinations worth visiting for their scenic beauty and natural features.