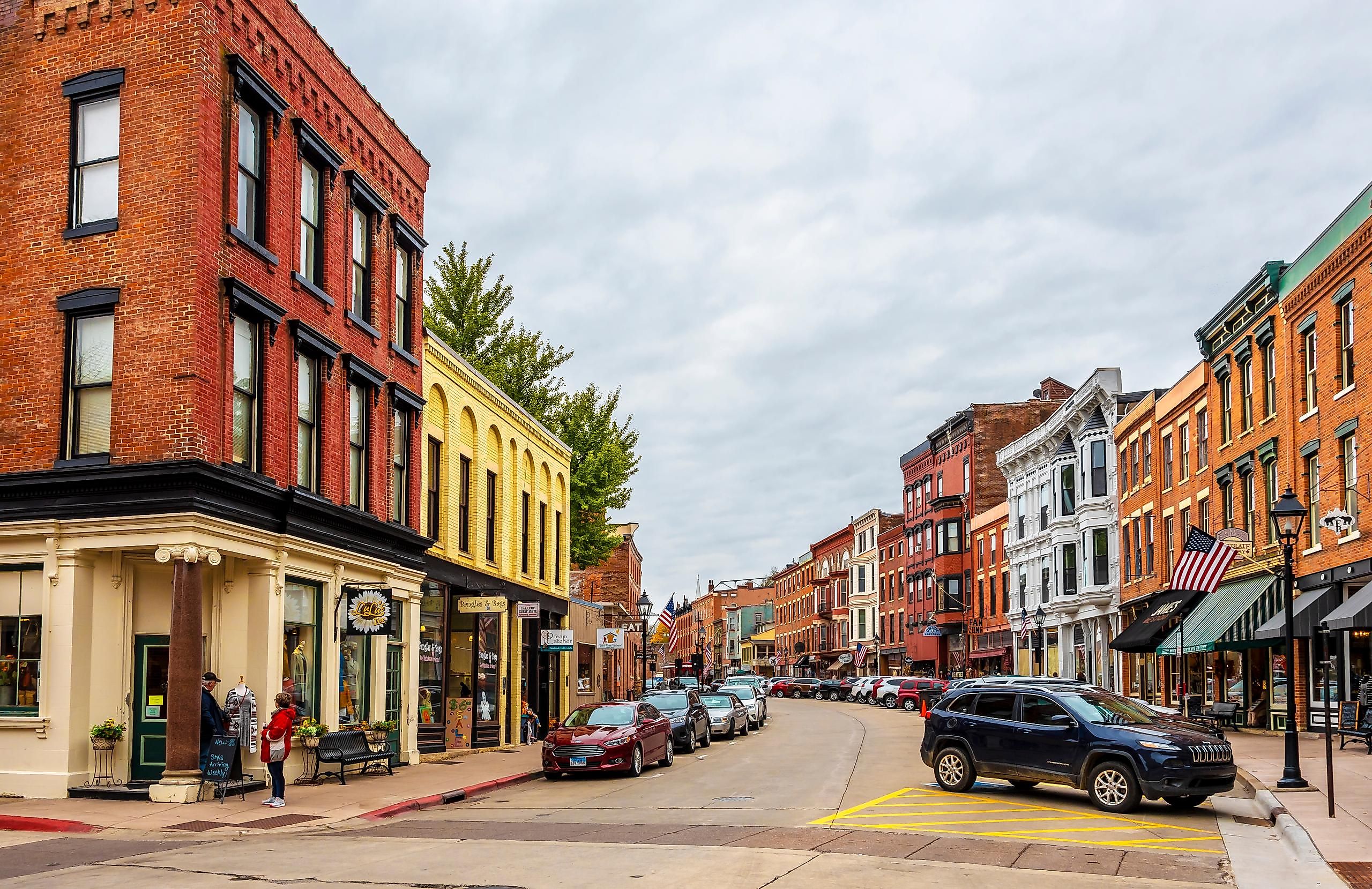 8 cutest small towns in Illinois
When most people think of Illinois, their minds immediately race to towering skyscrapers, crowed Chicago streets, and the hustle of the Loop. But just a few gas tanks away from the Windy City, you can discover little enclaves where farmers' markets double as social gatherings, and the only traffic jams are caused by Canadian geese waddling across the road. Picture places where the Mississippi River serves as a shimmering backdrop to spirited street festivals and where you can spend an afternoon digging for vintage treasures in shops housed in historic 19th-century buildings. So, why not shift gears, step off the beaten path, and explore the Land of Lincoln's lesser-known, but equally enthralling, tiny havens?
Galena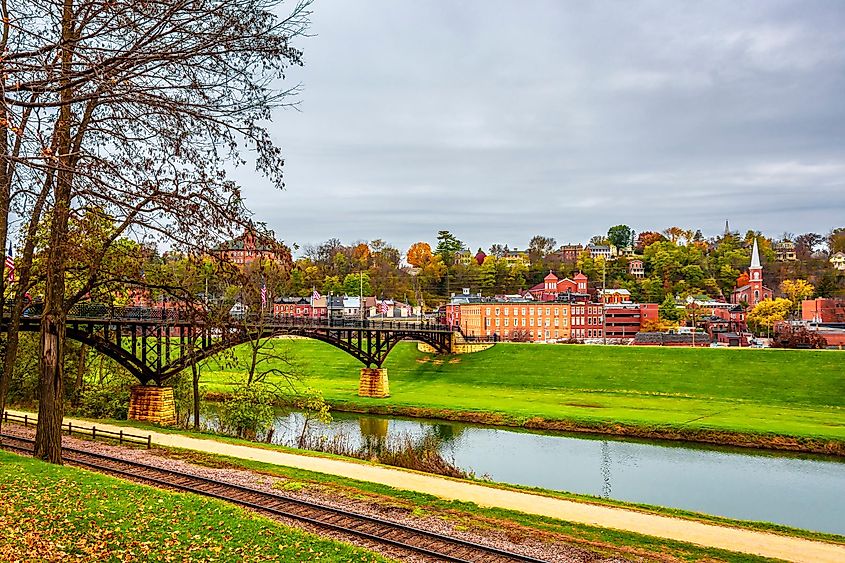 In Travel & Leisure's 2023 list of the 20 Most Beautiful Small Towns In The US, only one Illinois town made the cut. That town is Galena. Located about three hours from Chicago, Galena looks like a scene from a blockbuster novel. Hidden in the northwestern corner of Illinois, Galena's backdrop is defined by gorgeous hills and even more gorgeous dales. Don't miss out on visiting Horseshoe Mound, which provides sweeping views over the Mississippi River and three different states. Yet Galena itself, sometimes called "the masterpiece of the Midwest," is the real gem. For those interested in American Civil War history, the Ulysses S. Grant Home is a well-preserved site that was gifted to General Grant after the war. Looking like a city that time forgot, Galena is dotted with several stately mansions of which more than 85% are listed on the National Register of Historic Places. And with more than 120 shops and restaurants, both shoppers and foodies will be spoilt for choice in this cute, little town.
Geneva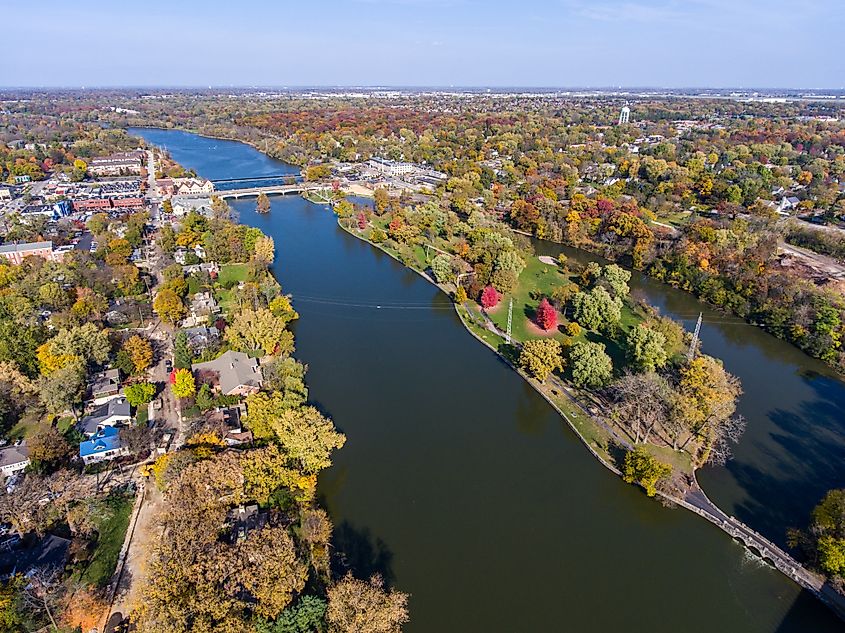 Nestled about 40 miles west of Chicago and in an area that spans 9.75 square miles, Geneva may not look like its famous European namesake, but it boasts style and charm that are no less appealing. A leisurely stroll around Geneva's downtown, while sampling the town's many eclectic shops and restaurants — may make one seriously consider relocation. It does not help matters that Geneva hugs the picturesque Fox River which in turn imbues it with a bucolic setting that will make any first-time visitor consider extending his stay. The Fabyan Windmill, an authentic, working Dutch windmill dating from the 1850s, is an engineering marvel and a history lesson rolled into one. Don't miss out on the Little Traveler, a 36-room historic mansion turned shopping experience that specializes in items from around the world. Outdoor options include Island Park, one of the town's consistent highlights. This green-space gem features a beautiful pavilion, a tree house playground, and the Fox River Bike Trail —where bikers can pedal a vacation away.
Mount Caroll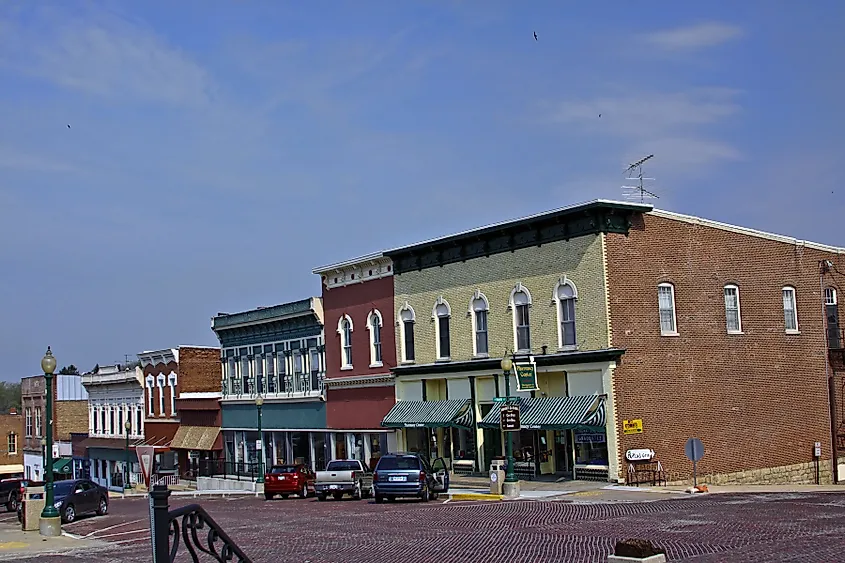 Curled up in the northwestern corner of Illinois, Mount Caroll boasts a population of just about 1,500. Since population often determines whether a city is regarded as small or big, Mount Caroll's size does not need conjecture. Yet Mount Caroll's most defining feature is not its size or even its distinctive small-town allure. With the Wakarusa River, also called Caroll Creek, meandering through the cute, little town, Mount Caroll is the quintessential image of peaceful serenity, slow pace, and authentic charm. The town is also known for its range of antique stores where shoppers can enjoy sampling unique treasures. For those who want to dabble in some spine-chilling adventure — tinged with lots of fun — Raven's Grin Inn Haunted House is a must-do. And to appreciate color green in all its pristine glory, Point Rock Park is the place to be.
Carbondale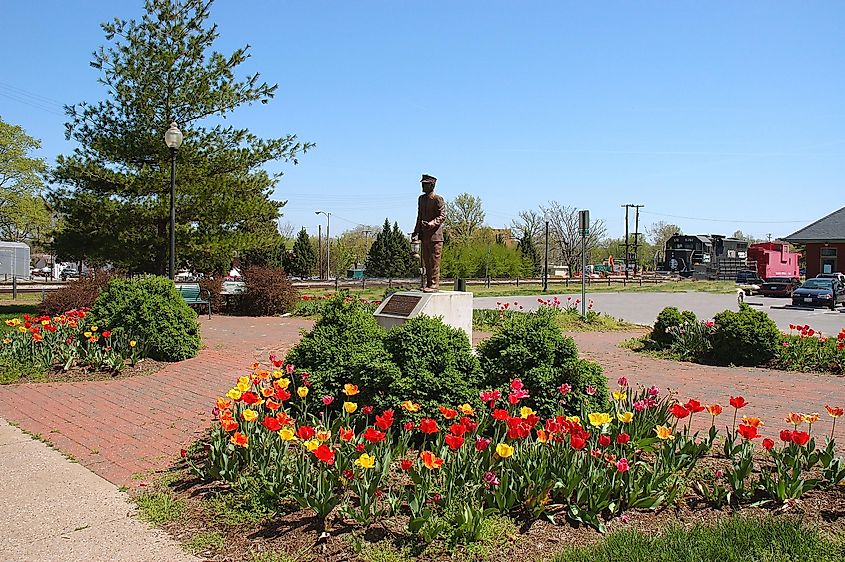 Named for the surrounding coalfields, Carbondale sits on the northern edge of Illinois Ozarks about 100 miles from St. Louis, Missouri. For a long time, life in Carbondale has revolved around Southern Illinois University. With the influx of students from across the United States, Carbondale flourished to become an attractive college town. Today, Carbondale is a melting pot of culture and nature and is a great place to enjoy the quaint majesty of the outdoors. The Science Center of Southern Illinois is a must-visit, especially for families, as it features a range of interactive exhibits to engage young minds. Known as the gateway to the Shawnee Hills Wine Trail, Carbondale is a perfect base from which to explore the 11 award-winning wineries along a 35-mile drive along Highway 127 and Highway 51 in the Shawnee National Forest. Besides, Carbondale is home to up to nine nature trails—as well as 14 amazing parks. Don't miss a trip to Giant City State Park, where you can hike the Giant City Nature Trail and see the fascinating 12,000-year-old sandstone bluffs. These two features, among many,  make it an outdoor lover's paradise worth exploring.
Alton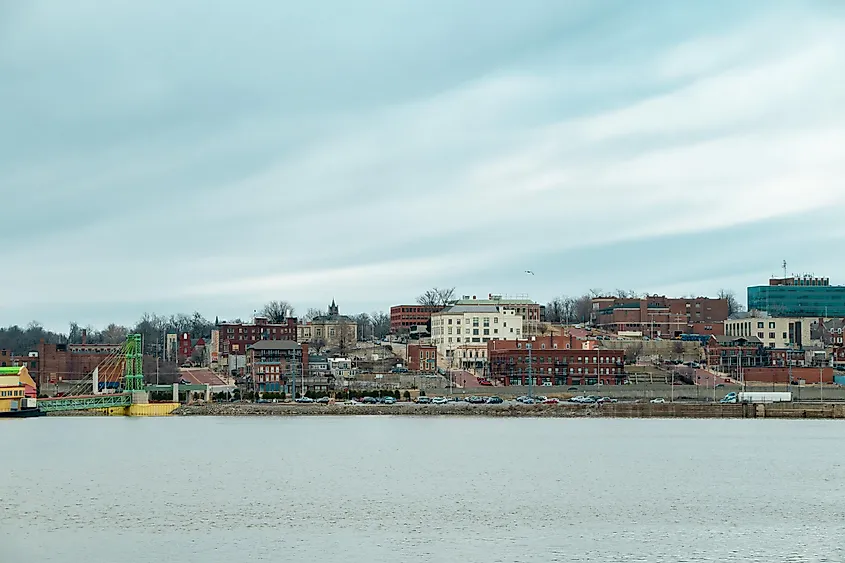 Once the largest city in Illinois, Alton was established in the glory days of the steamboat era — on the banks of the Mississippi River. For a history lover, the town is no small gem. It is here that Elijah Lovejoy, an American Presbyterian minister and newspaper editor would set up his press for the Abolitionist newspaper, the Alton Observer. A pro-slavery mob, however, would throw this press, and two more that he would subsequently purchase, into the Mississippi River. It was in Alton also where Lovejoy would finally be killed while trying to protect his fourth press; probably becoming the first martyr of the Abolition movement. Today, visitors can see this press at the Hayner Library at 132 Alton Square as well as the building where Lovejoy was killed: Godfrey, Gilman & Co. Warehouse at 217 William Street.
Fulton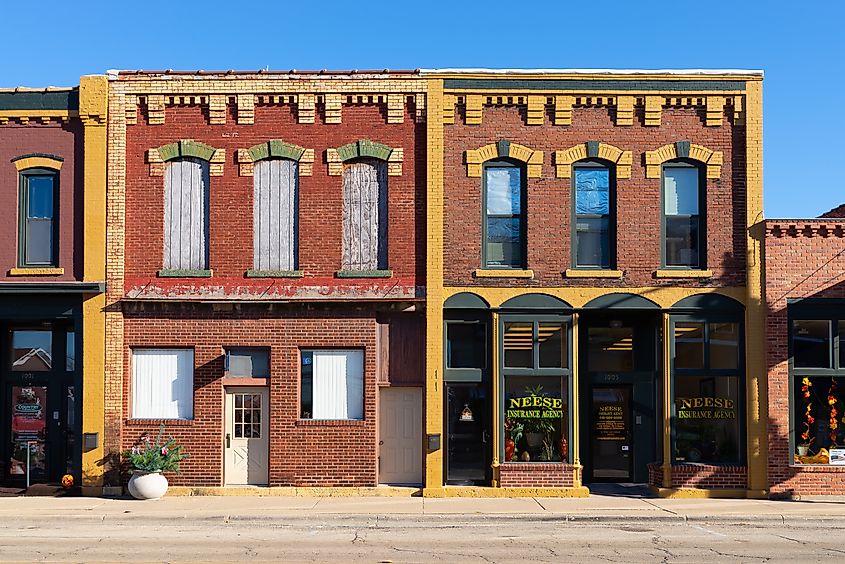 Boasting a population of less than 4,000, Fulton is a cute, quaint town that is enticingly rich in heritage and charm. The town is curled up on the picturesque banks of the Mississippi and was named in honor of Robert Fulton: widely regarded, albeit incorrectly, as the inventor of the steamboat. Visitors will love strolling through the town's Commercial Historic Downtown where 32 historic buildings, some of which date back to the 19th century,  will pique interest. These buildings spot varied architectural legacies. For a quick but sumptuous bite, Krumpets Restaurant & Bakery serves some of the yummiest food in town — and all in a clean and classy environment. Besides, one will learn fascinating historical tidbits at the de Immigrant Windmill, an authentic windmill that was pre-fabricated in the Netherlands before being shipped to the United States.
Princeton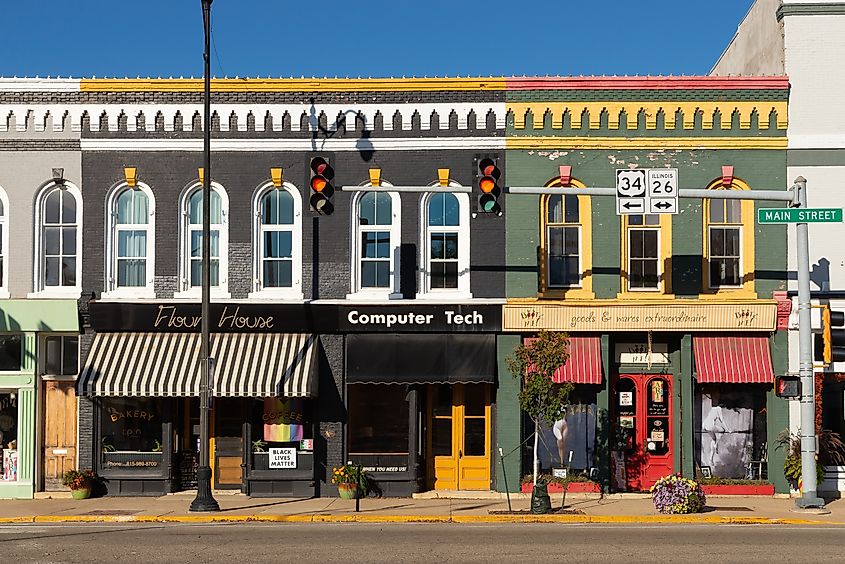 Princeton is a town of about 7,000 that is often mentioned among the most picturesque small towns in Illinois. The town is a two-hour drive from Chicago on Interstate-80 and has a lot to offer by way of attractions. One of the town's claims to fame, however, remains its quaint, historic downtown. Divided into separate districts that are connected by a time-frozen main street, Princeton's downtown is just where one will enjoy taking some leisurely stroll through — while taking in the picturesque views of many historic buildings. Princeton's main street is lined with a broad range of shopping and dining options as well that will be worth exploring. These include antique malls, speciality shops, and eclectic restaurants. Finally, no one really comes to Princeton without checking out the town's Red Covered Bridge, a famous landmark that dates back to 1863 or the isolated Captain Swift Bridge.
La Salle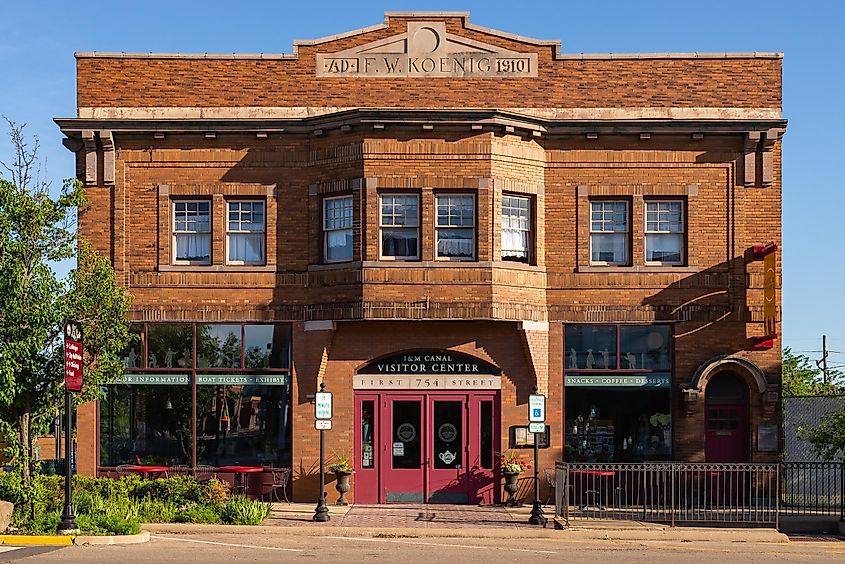 La Salle is a city in an Illinois county that goes by the same name. This city boasts a 2023 estimated population of 9,402 and is located right at the intersection of Interstate 80 and Interstate 39. LaSalle sits on the expanse that extends from the Illinois River to a mile north of Interstate 80. For those interested in the natural world, Starved Rock State Park is just a short drive away, offering miles of hiking trails and seasonal waterfalls. The downtown blends the excitement of a big city and the irresistible charm of a small town. LaSalle's architectural landscape features such must-see jewels as the Hegeler Carus Mansion, a 19th-century marvel that is one of the Midwest's great Second Empire structures. For movie lovers, Stage 212 boasts an impressive record: more than 200 productions since 1968. Don't miss the Illinois and Michigan Canal, a historic waterway that once connected the Great Lakes to the Mississippi River, which has a visitor center detailing its impact on the region. For entertainment, Back Door Lounge, perched on a bluff high above the scenic Illinois River Valley, is a rocking gem worth checking out.
The Takeaway
Known as the Land of Lincoln, Illinois boasts a landscape that, while not as dramatic as that of Switzerland, has its fair number of spots that are gasp-inducing. Illinois is also famous as the birthplace of the skyscraper. The 1885 Home Insurance Building, for instance, which has since been demolished, is widely regarded as the world's first skyscraper. Yet Illinois is not all about skyscrapers. From Geneva to LaSalle, the Prairie State has a range of cute, little towns that cater to every aesthetic taste and style.