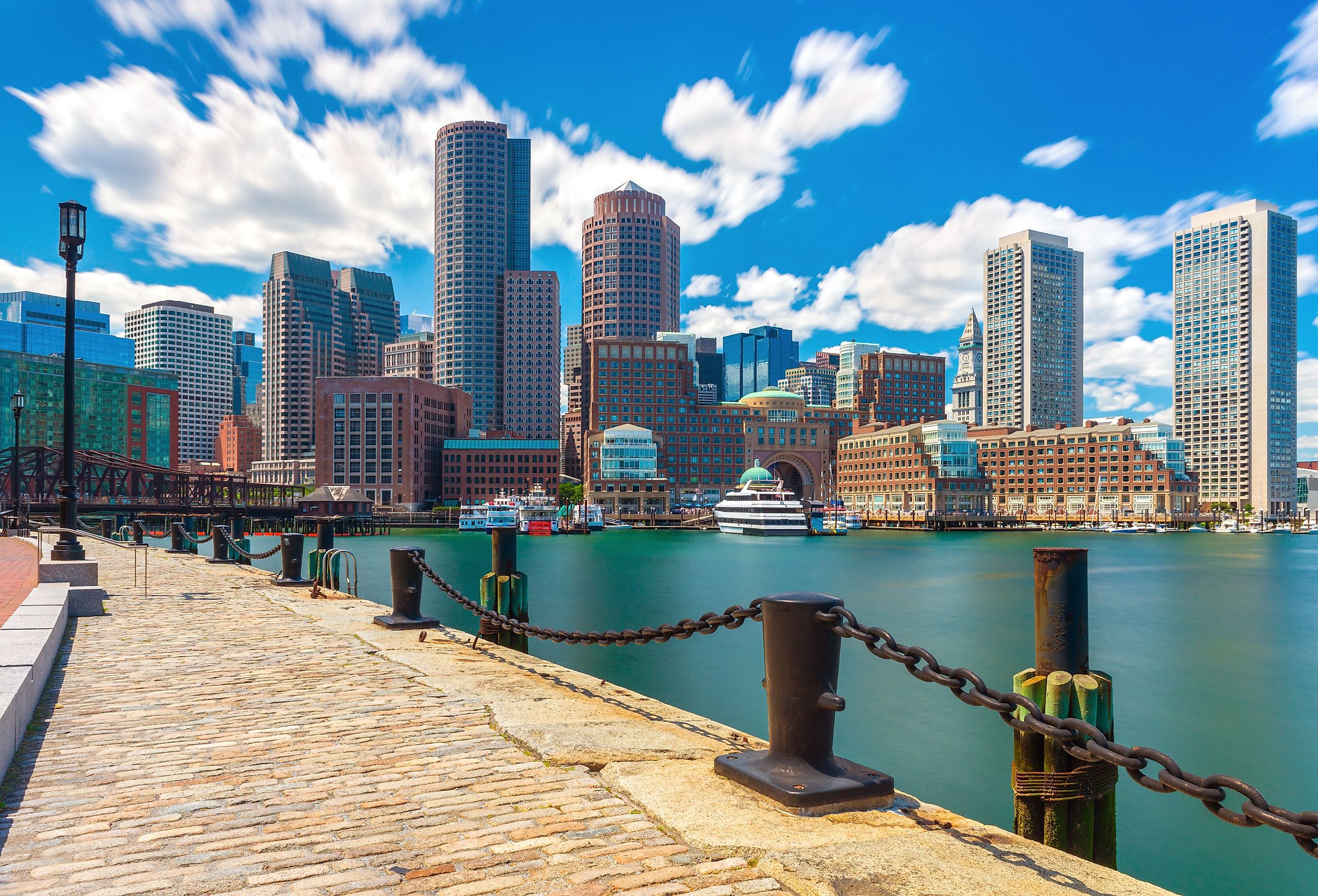 8 Cities in Massachusetts With the Best Downtown Areas
A downtown full of culture and activity can transform what tourism looks like for a city. Whether a small historical downtown with bars and local restaurants or an urban downtown with clubs, culture, and an array of food choices, a good downtown can elevate your time in a new city. Massachusetts is a fascinating, historical, and beautiful state with some of the country's best education rates and tourism. As the most populous state in New England, Massachusetts has many attractions, including Fenway Park, the Museum of Fine Arts, Boston Tea Party Ships & Museum, the Boston Public Garden, and much more! Whether the big and iconic Boston or small oceanside cities packed with history, there is much to offer in this beautiful region dubbed "The Bay State."
Boston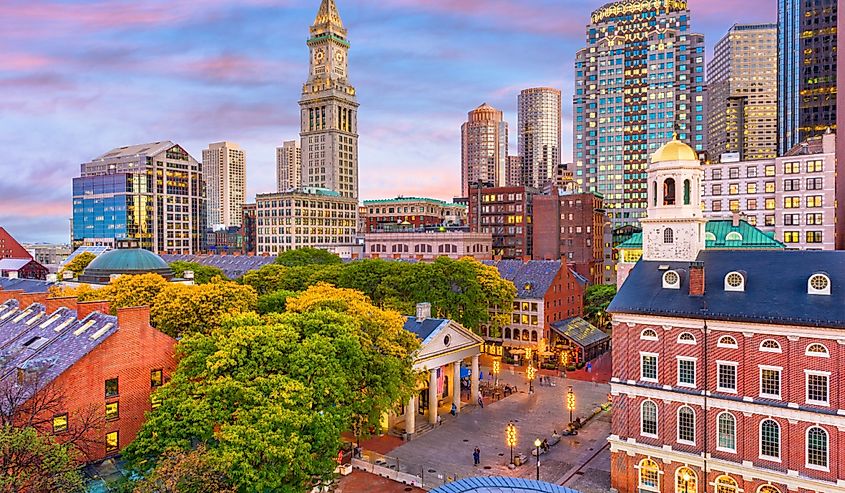 Boston has made its mark as a must-visit US city! Boston is one of the oldest municipalities in The United States of America, founded upon the Shawmut Peninsula in 1630 by Puritan settlers who hailed from an English town of the same name. Numerous historical events took place in Boston, such as several key events of the American Revolution, The Boston Tea Party, The Siege of Boston, and The Battle of Bunker Hill.
Boston is also home to the first public school (Boston Latin School) in The United States of America, the first park in The US (Boston Common), the first subway system in the US (Tremont Street Subway), and the first large public library, Boston Public Library. All this history and culture comprises a mix of Irish, Italian, Caribbean (Dominican, Puerto Rican, Haitian, Jamaican), African-American, Cape Verdean, and Chinese communities. Boston has a proud Irish Heritage. The name of their basketball team, the Boston Celtics expresses this heritage and is also a tremendous driver of tourism. During special events, there are an estimated 2 million people in Boston.
Boston's iconic downtown area draws visitors from all around. Thankfully, there is a useful subway system that converges in the downtown area at Park Street, Downtown Crossing, Government Centre, and State stations. The notable South Station is a transportation hub with subway, commuter rail, intercity bus, and Amtrak service. If you are looking to start your day shopping, downtown Boston has an impressive 200 retailers and 300 independent jewelers, and over 100 restaurants to explore.
Plymouth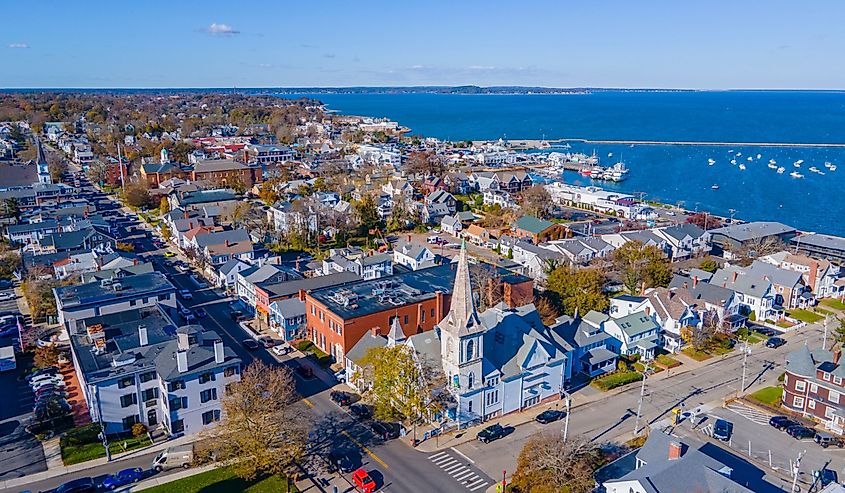 The destination of the Mayflower is the historic and enriching town of Plymouth, Massachusetts. Home to iconic American monuments like Plymouth Rock, this picturesque coastal town will not disappoint those interested in history and cultural experiences. Alongside its beautiful downtown, Plymouth boasts various activities such as maritime excursions, cranberry farms, cultural tours, historical societies, monuments, statues, and mansions. Boredom will be the last emotion tourists feel when navigating this exceptional destination.
With 100s of shops, restaurants, spas, and more, downtown Plymouth has so much to offer. In addition, the beautiful and unique architecture dating back to the early days of America offers tourists excellent photo opportunities. Downtown Plymouth is a unique and memorable area that will leave lasting memories.
Cambridge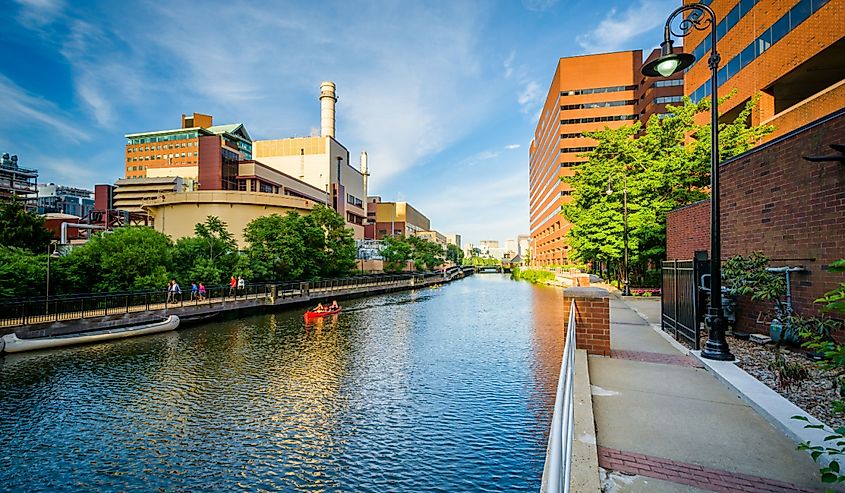 Cambridge has a vibrant downtown with stunning, classy architecture, and a variety of shops, restaurants, and bars. The gorgeous courts, walkable downtown streets, and brick buildings are aesthetically pleasing to the eye. Perfect for photography and sightseeing while having the modern luxury of shopping and eating delicious food in a beautiful historic city. Home to around 117,000 people, downtown Cambridge has the perfect combination of heritage, modernity, and stunning architecture.
The city is a center of education, with Harvard University, Massachusetts Institute of Technology (MIT), and Cambridge College as well as other notable colleges which boast spectacular architecture. There are also several museums including; the MIT Museum, Harvard Museum, List Visual Arts Center, and Peabody Museum of Archaeology and Ethnology. For travelers desiring to explore the architecture of Cambridge, there is the gorgeous Elmwood House, the residence of the president of Harvard University, Asa Gray House, Austin Hall, Cambridge City Hall, and the Public Library. For art and culture, Cambridge has an abundance of bucket-list of downtown attractions.
Worcester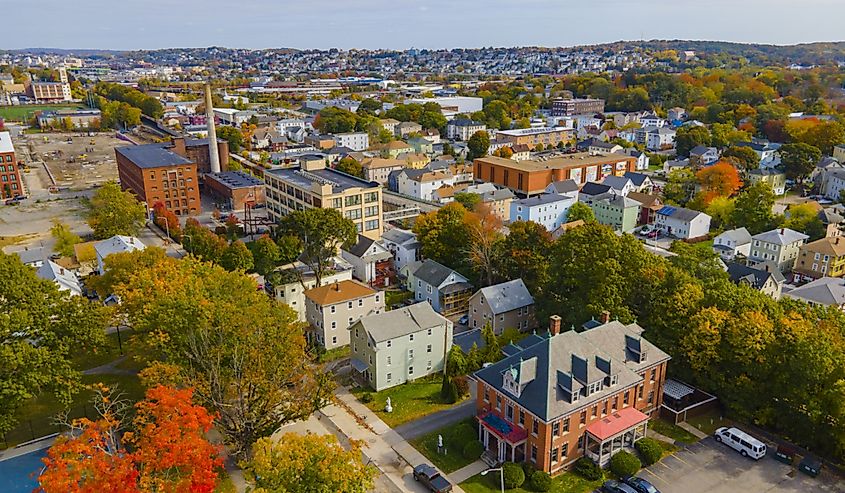 With a nickname like "Heart of The Commonwealth" Worcester makes for a great place to visit, and is the second largest city in Massachusetts. Within the past decades heightened interest in Worcester's downtown has made way for plenty of new investment within the area. In 1997, a new convention center opened along the DCU Centre Arena in downtown Worcester. Later, in 2000 Union Station opened in downtown Worcester after 25 years of neglect with a 32-million-dollar renovation. This made transportation less car-dependent within the downtown area, reducing congestion and allowing pedestrians to walk easier. Next, Hanover Theatre for the Performing Arts received a multi-million-dollar renovation, perfect for tourists interested in theatre and shows.
The "mixed-use" development of CitySquare, completed in 2012, was an ambitious project aimed to reconnect old street patterns while creating a new commercial, retail, and living destination in the growing city of Worcester. Worcester has loads to offer culturally with large influential populations of Irish, Vietnamese, Brazilians, Albanians, Puerto Ricans, Ghanaians, and Dominicans. This amazing diversity thankfully influenced downtown cuisine introducing restaurants from the listed cultures as well as Italian food, soul food, Mexican food, and more!
Salem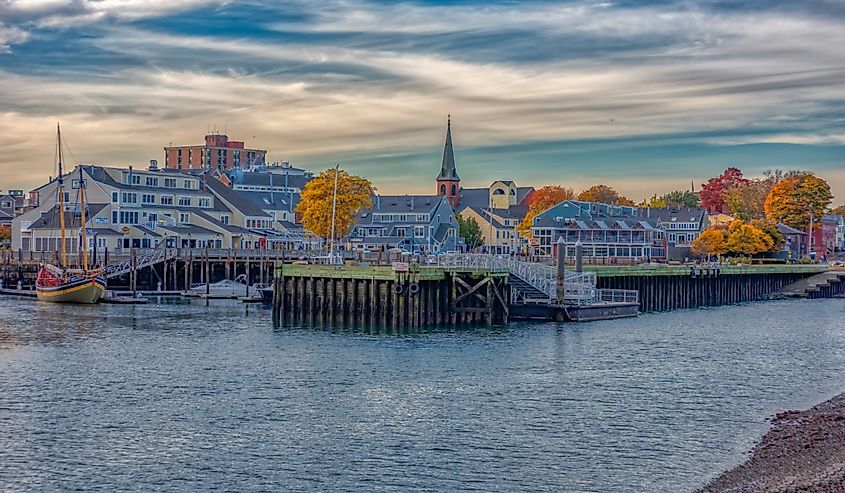 Salem is an iconic historic town in coastal Massachusetts packed with intriguing history, attractions, and a wonderful downtown area. With a variety of events from Salem So Sweet to Salem's New Year's Eve celebration, you will want to add Salem to your New England bucket list. The Naumkeag indigenous peoples first inhabited Salem and were later colonized by the English in the 1600s and established in 1629. Unfortunately, smallpox was rampant in this town due to European contact and the indigenous people's leader Nanepashemet succumbed to the disease in 1619. One historical event Salem is famous for is the Salem Witch trials, where a recorded 19 people were executed out of suspicion of the practice of witchcraft.
Salem has risen to fame as a tourist destination due to the witch trials and the preservation and education of its history. In memory of the victims of the witch trials, there is a memorial to reflect on the history and remember the victims. Salem's downtown is home to an amazing farmers market, Punto Urban Art Museum, Peabody Essex Museum, The Witch House at Salem, Salem Pioneer Village, Hocus Pocus tours, Hamilton Hall, Pickering House, Salem Witch Museum, and Mcintire Historic District.
Lynn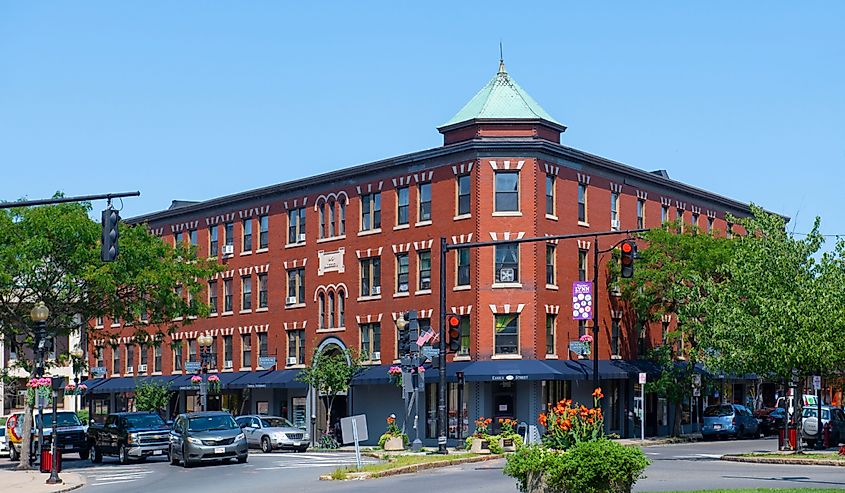 Lynn, Massachusetts is a small coastal city of around 101,253 people first inhabited by the Naumkeg people under the inspirational and powerful Sachem; Nanepachemet. Lynn was later incorporated in 1629 and named after King's Lynn, England. In the 2000s, Lynn saw a revitalization after renovations and adaptations of its historic downtown structures paired with modern new developments. This renaissance of development and progression in Lynn is ongoing. Brand new art organizations, public art projects, cultural venues as well as new restaurants emerging in the downtown area are booming Lynn's growth and tourism.
In 2016 Lynn's Diamond Historic District underwent restoration and abandoned industrial spaces transformed into loft spaces. Many new developments are transit-oriented, generally half a mile from Lynn's transit hub; Lynn Station. To add art and culture downtown, the city commissioned painted murals across Lynn by local, national, and international artists, adding vibrancy and a sense of individuality to the booming city. Also adding cultural experience, Mount Vernon Street, in the heart of the Central Square area, downtown, hosts food trucks, block parties, and other special events. Thanks to the diversity of Lynn, its downtown is home to delicious local restaurants from Mexican to Cambodian to Italian.
Springfield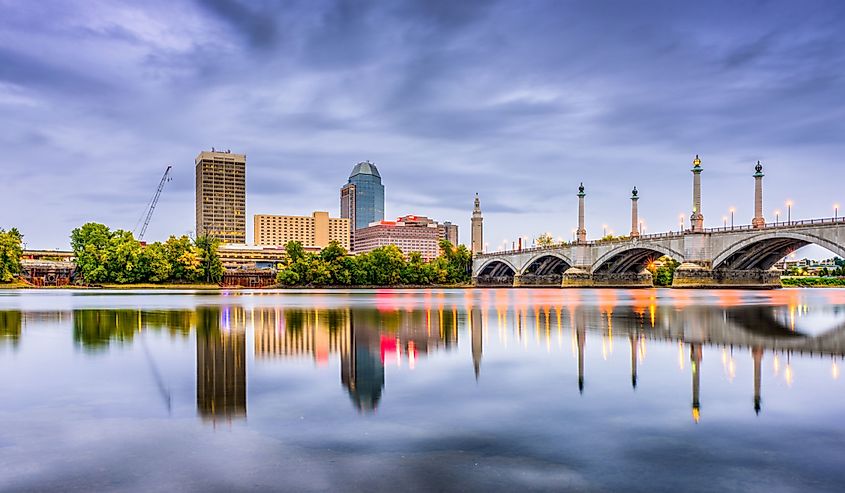 Dubbed the Birthplace of Basketball and the third largest city in the Commonwealth of Massachusetts, Springfield has lots to offer. Settled in 1636 and incorporated in 1852, Springfield has a long and rich history with amazing architecture and many downtown options. With well-established downtown nightclubs, and loads of food options from Indian, Italian, Greek, and more, visitors will have a great time in downtown Springfield. Take a visit to the Basketball Hall of Fame, or The Club Quarter, an area comprised of 60 clubs (several of which are LGBT), bars, and restaurants around Stearns Square, Worthington, and Main Streets.
Falmouth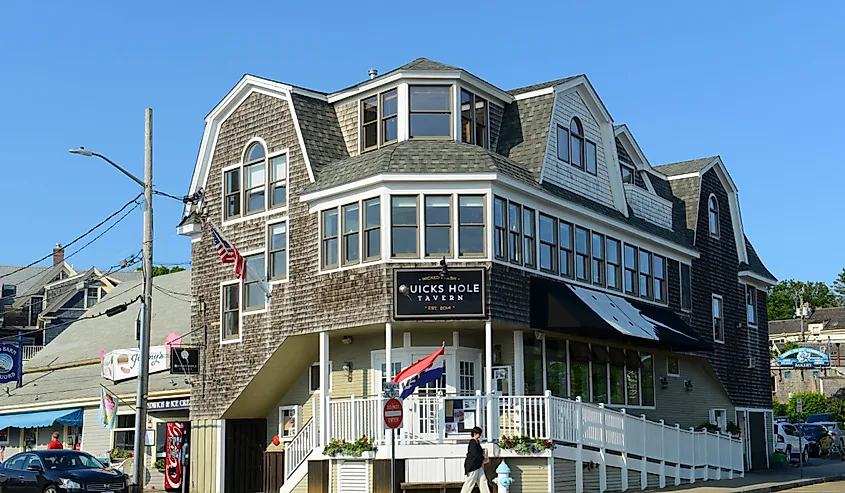 Falmouth is a gorgeous coastal town on the mainland, perfectly placed across from the popular tourist destination of Martha's Vinyard. Many tourists fall in love with this quaint, oceanside town. Falmouth boasts gorgeous beaches, Gardens, and The Woods Hole Science Aquarium. However, there is far more Falmouth has to offer including its amusing downtown.
For those looking for a scenic shopping experience, downtown Falmouth will not disappoint many. Falmouth has a seasonal market downtown, approximately half a mile from the marine park. Queens Buyway is also downtown offering a variety of shops and cafes. Restaurants include Mexican, a chocolate emporium, seafood, Italian, nautical historic-themed restaurants, and more.
Conclusion
Massachusetts is a jaw-droppingly beautiful state with a variety of coastal and inland cities with gorgeous downtowns whether old-time and historic or modern and full of nightlife! Walking the streets of Boston, admiring skyscrapers or historic buildings with architecture from the 1700s, or dancing in a packed nightclub, travelers will have a memorable time. Strolling through downtown Salem to see a witch trials museum or having a bite and a drink at an old fashion theme pub, is a unique experience. In a state with so much history, tourists will not want to skip over the stunning downtowns of Massachusetts, for a once-in-a-lifetime trip that you will never forget.