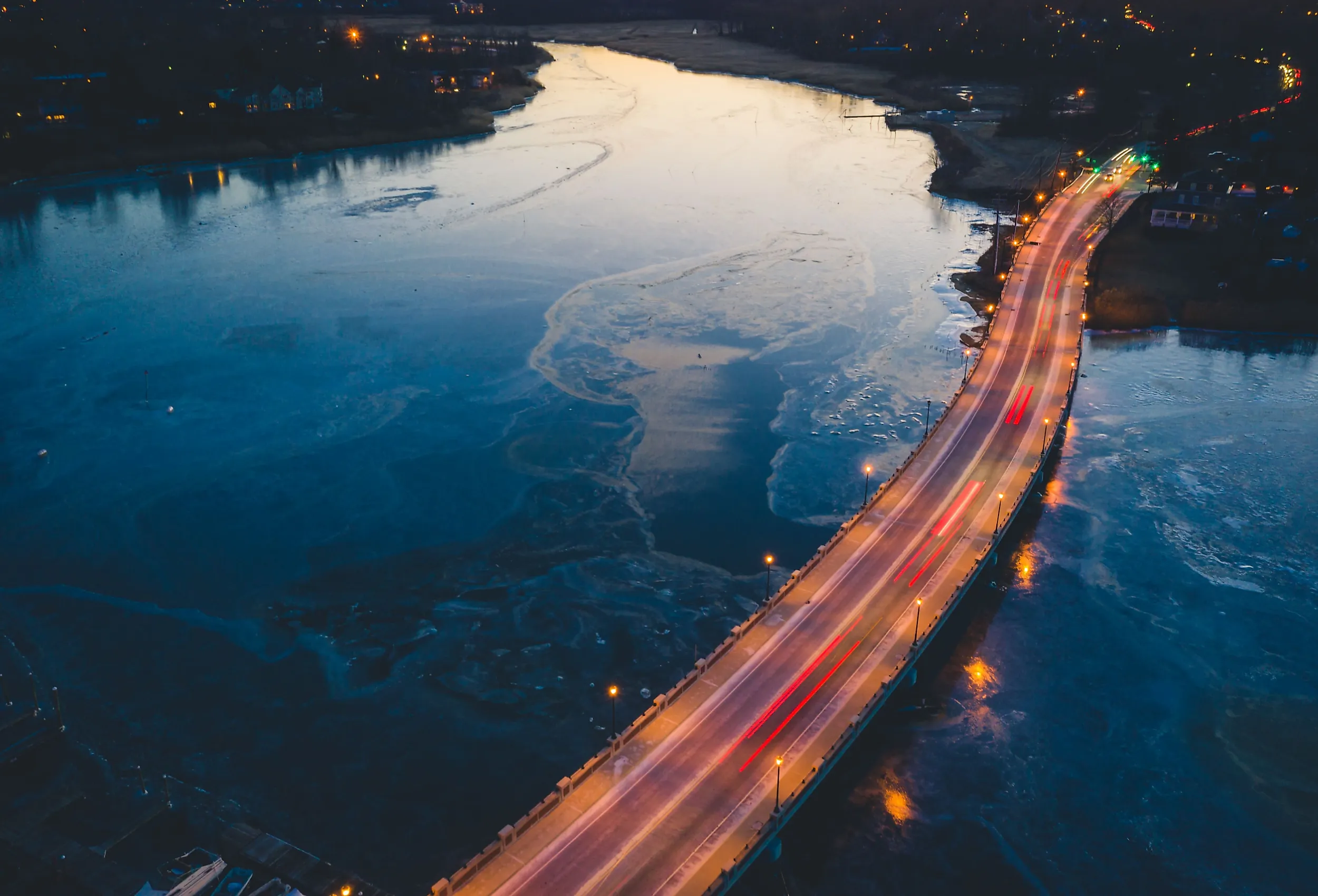 12 Gorgeous New Jersey Towns To Visit In 2023
Travelers and state locals have begun to prefer quirky small towns and heartwarming communities, according to recent trends, as they offer a much more personalized experience. While it may not be well-known, the state of New Jersey, is one of America's main hubs of gorgeous and charming small towns. In the Garden State, visitors can experience every season to its truest, enhanced with historical landmarks and the hospitality of locals. From the artistic town of Cranbury to the unique water-surrounded Cape May, New Jersey balances all aspects that make America a diverse country. 
Madison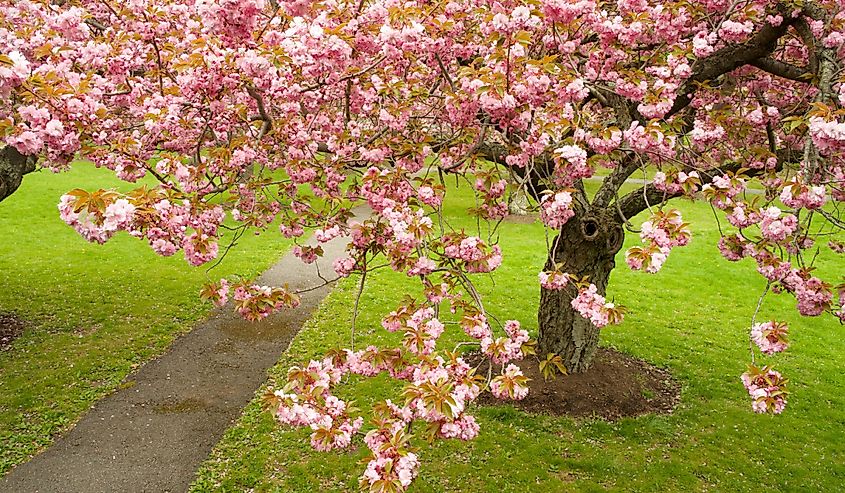 A town synonymous with quality education and historic heritage, Madison is a small town with extensive city amenities and a lively, youthful ambiance thanks to its student population. Home to Drew University and Fairleigh Dickinson University's Florham Campus, Madison is a gorgeous New Jersey town tucked away in the heart of Morris County. Its downtown area is a living testament to the town's history of 18th-century settlers, primarily Dutch and English. Madison, New Jersey, was nicknamed Rose City for being one of the largest rose producers in the area. The town has everything from quirky family-owned businesses like the Chatham Bookseller and the Snooki Shop Cafe to a rich culture and art scene that can be experienced at The Shakespeare Theatre on the Drew University campus. 
Lambertville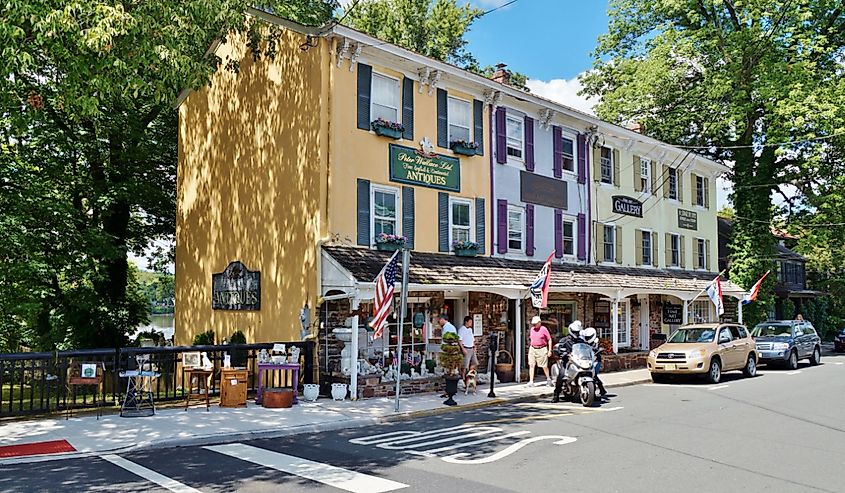 Along the Delaware River banks, Lambertville proudly wears the title of the Antique Capital of New Jersey, decorated with cobblestone streets and an array of antique shops, small creative businesses, and endless art galleries. Among the treasures are the Golden Nuggets Antique Market, Highlands Art Gallery, and DeBogat Fine Art. In Lambertville, nature enthusiasts can enjoy the Delaware and Raritan Canal State Park, while Art enthusiasts will spend entire days browsing North Union St. For a well-rounded experience, visitors can explore historically significant landmarks like the James Marshall House, and stay at the Lambertville Station Restaurant and Inn overlooking Delaware river. 
Red Bank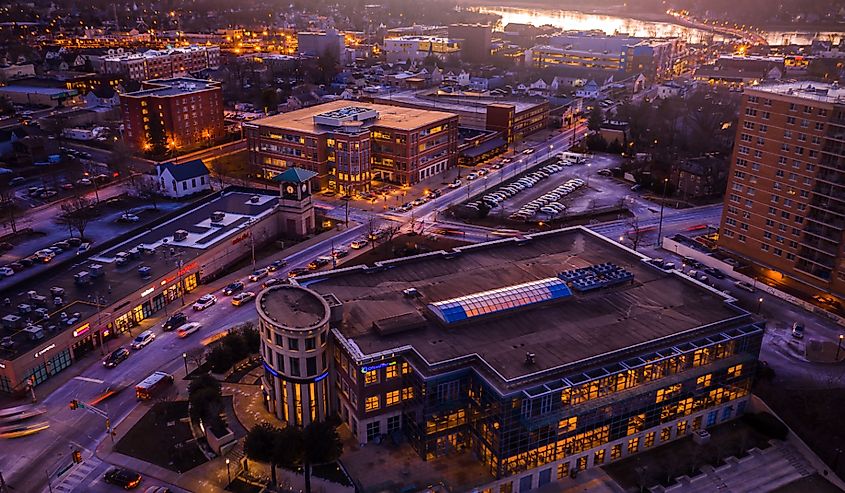 Nationally renowned for performing arts and creative small businesses, Red Bank enjoys a hippie atmosphere that escapes the norms of a traditional small town. From quirky coffee shops to The annual Red Bank StreetLife event, the community nurtures talent and embraces individuality by all means. The Red Bank RiverCenter and Broadwalk are living testaments to the town's pivotal role as an art hub for creatives. The town has something for all visionaries and creatives; from the Count Basie Center for Arts to the Two River Teather, there is always a live show or community event to catch. Adding to the town's eclectic charm are two nature-centric destinations any visitor will enjoy. Check out Riverside Gardens Park and the waterfront Marine Park overseeing Navesink River for a well-rounded experience and stay in Red Bank. 
Montclair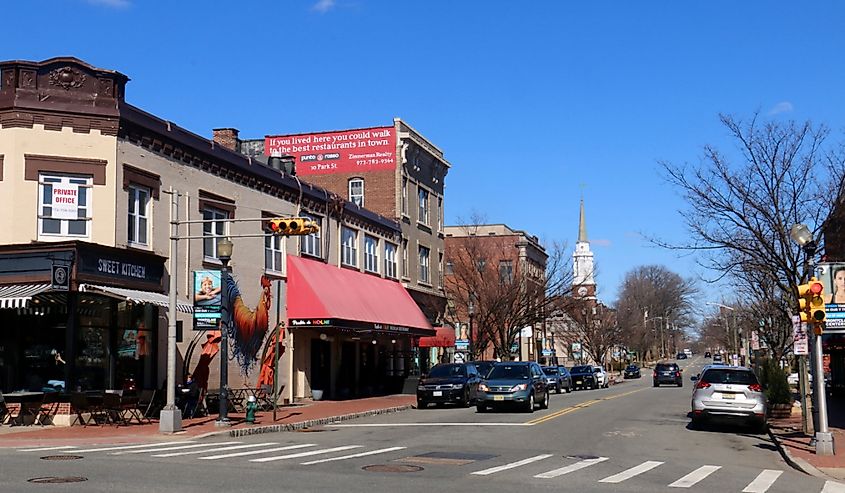 Montclair is one of this list's smallest yet most artistically vibrant communities. Montclair is known as a bedroom community for those looking for a quick commute to New York City with the big city hassle. Located just 20 mi from the Big Apple, the town stands out with its strong sense of local community, beautiful local gardens like the Presby Memorial Iris Garden, and a diverse and booming creative art scene. DiRasa House of Diversified Arts and Montclair State University's Art Gallery are some of the best destinations in town to grasp the local art scene. The city is also tailored to the student demographic with eclectic small businesses like Mishmish Cafe, Watchung Booksellers, and Tierney's Tavern. Furthermore, popular attractions in the town are the Montclair Art Museum, Montclair Farmers Market, Wellmont Theater, and parks such as Edgemont Park. 
Cranbury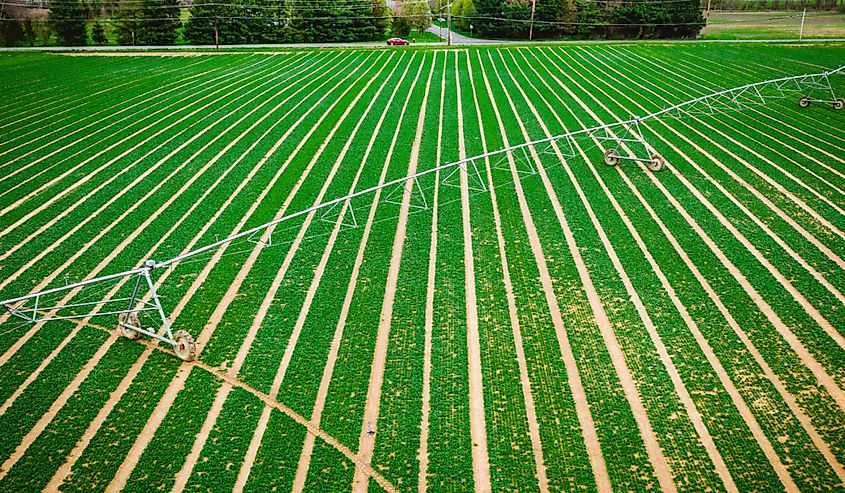 The single best-preserved 19th-century town on this list, Cranbury's charm is its extraordinary historical legacy that dates back to the late 1680s. Some of the most popular historic destinations in the area include The First Presbyterian Church, John S. Silvers Mansion, the Cranberry Mills, and the Cranbury Inn. In addition to its heritage of rich history and charming buildings, the town is home to a thriving antique industry that accompanies its lovely ambiance and adds to its welcoming old-school feeling. The city also stands out with a strong sense of community with popular annual events like the Cranbury Craft Show, the Xponential Music Festival, and the Barn Art Show. Nearby natural reserves like Plainsboro Preserve, John A. Roebling Park, and Village Park offer a sanctuary for nature lovers. 
Princeton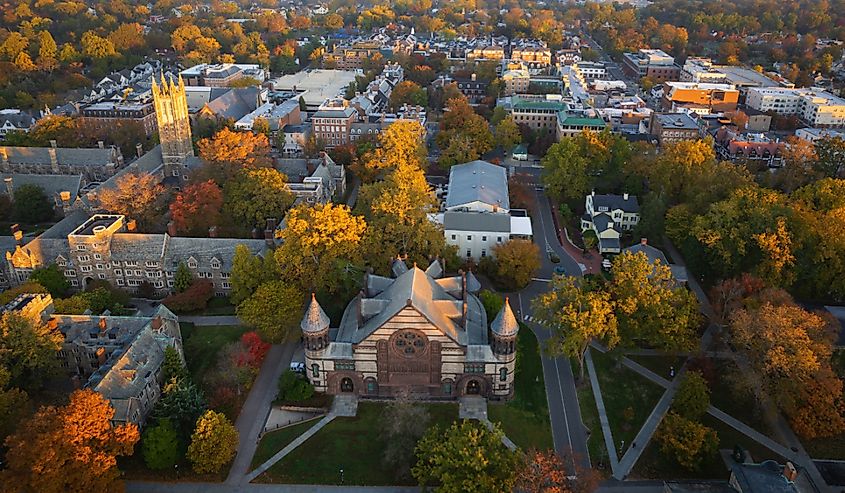 Princeton makes every list of the best New Jersey towns for being home to one of the best universities in the world, Princeton University. Home to the legendary physicist Albert Einstein, Princeton boasts a broad array of charming small-town atmospheres. From the historic downtown and Palmer Square to quaint boutique shops, bookstores, and restaurants on Nassau Street. Support locally owned businesses like Labyrinth Books, Ficus Restaurant, Cafe & Gallery, and Thomas Sweet Ice Cream when exploring the streets of Princeton. Visit the Albert Einstein Museum, the former home of Albert Einstein, which is now a main tourist attraction showcasing his life and work. Entertainment-based businesses and eateries thrive in Princeton thanks to its student population. Check out Brick House Tavern + Tap, Elements upscale restaurant, and Alchemist & Barrister for a night out and some fine dining. 
Flemington
Adding to the beautiful historic towns on this list of the 12 gorgeous New Jersey towns is Flemington. This small town sits around 50 miles from Philadelphia and boasts a range of aesthetically pleasing historic buildings like the 1756 Flemington Castle Museum, one of the town's main tourist attractions. In addition to the town's ancient heritage, it is surrounded by wildlife and nature-rich parks and preserves you can venture out to during your visit, like the Bernadette Morales Nature Preserve and Clover Hill Park. Locally Acclaimed places to check out in Flemington's downtown area include unique shops like The Corner Flemington Mercantile, 39 Mine Boutique, and The Gift Horse. At the same time, delightful dining experiences can be found at Blue Fish Grill, Factory Fuel Coffee House, Humdoo Ice Cream, Teaberry's Tea Room, and Matt's Red Rooster Grill.
Spring Lake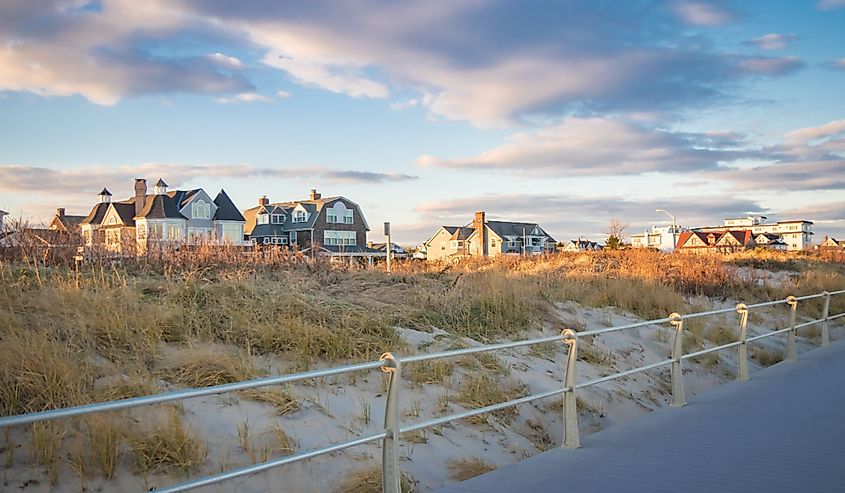 Leading our transition to towns with rich waterfront scenery, Spring Lake is an idyllic coastal destination on the Jersey Shore in Monmouth County. The beautiful town is nicknamed the Irish Revira for its high percentage of residents with Irish ancestry who settled in the area. Visit Divine Park and Marucci Memorial Park to admire the lush green gardens and serene, relaxing natural aesthetics. Begin your journey exploring Spring Lake Beach's waterfront town as you go to its main street, appreciating Irish ancestry's influence depicted by the quaint shops and historic architecture. Martin Maloney Cottage, Thunder Road Books, and the Irish Center are all must-see places when strolling the flower-decorated downtown of Spring Lake.
Cape May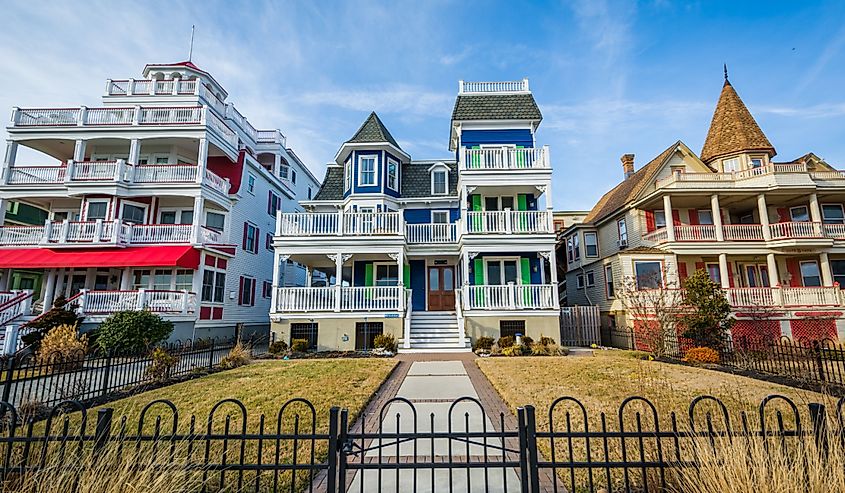 Cape May is a town in the southernmost point of New Jersey with a charming historic advantage known for its stunning waterfront vistas and an endless range of long-standing Victorian architecture. Despite its small population of less than 3,000 people, Cape May has long been a famous summer escape town for its unique setting at the southern tip of New Jersey's Cape May peninsula. Beyond the water fun, take the time to embrace the town's past through sight-seeing tours of historically significant buildings like The George Allen House, the Caroll Villa, and Congress Hall on Beach Avenue. A must-see destination, however is the 1859 Lighthouse, which allows stunning views of the Atlantic Ocean and Delaware Bay from Cape May Point State Park. 
Asbury Park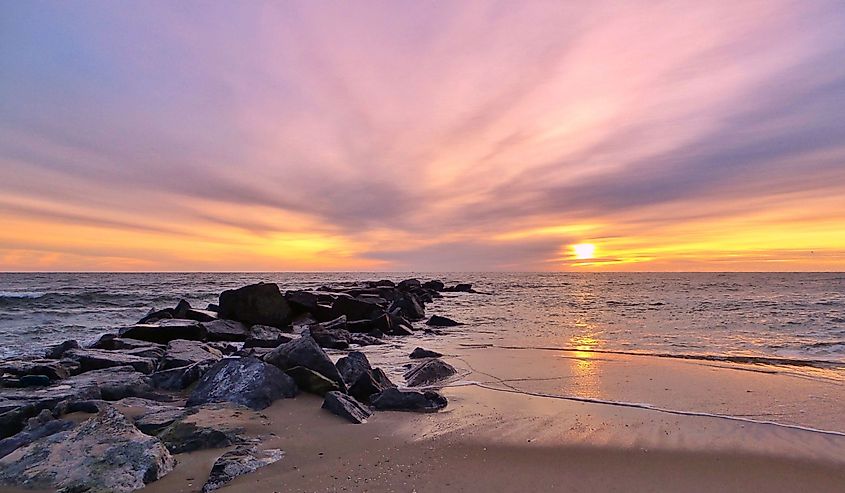 Asbury Park is named after the first bishop of the Methodist Episcopal Church in America and boasts a lush landscape that compliments its serene waterfront setting. Appealing to nature lovers and watersport enthusiasts alike, Asbury Park has been a small-town escape since its Convention Hall and Paramount Theatre began attracting visitors from all over the state in the 1930s. Aside from the natural attractions, Asbury Park differentiates itself from neighboring cities with quirky local attractions like the Paranormal Museum that takes visitors on a creepy journey, combining history with unusual artifacts. Asbury Park is also known for its rich musical history and vibrant artistic community, as you can catch local performances on the famous boardwalk.
Avalon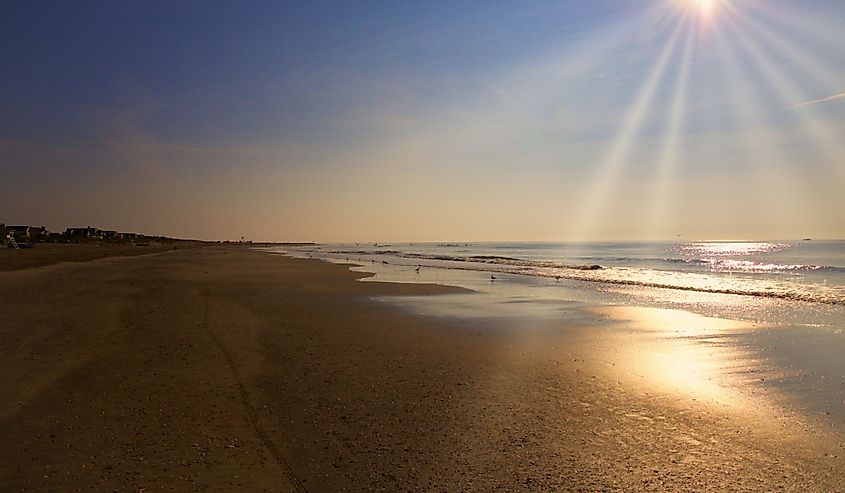 If more than the waterfront atmosphere of previous towns is needed to make the ideal weekend or a relaxing escape, Avalon takes things a step further by transforming its beach escape into a luxury getaway. The city is located in Cape May County on Seven Mile Island and is known for its upscale accommodations and pristine beaches. ICONA Avalon, The Hen Houses, and Salt Spa at the Reeds are some of the best relaxing destinations to visit during your solo or family stay in Avalon. Enjoy an endless array of watersport activities like jet-skiing, kayaking, and paddleboarding at Avalon Beach, or hit the trails and hike the waterfront trails of Avalon Dunes and Beach trails. Wrap up your day in the charming beach town by touring the eclectic mix of restaurants, pubs, and grills on the western block of 20th Street and 21st Street along Dune Drive, like Princeton Bar & Grill, The Circle Tavern, and The Sea Grill. 
Frenchtown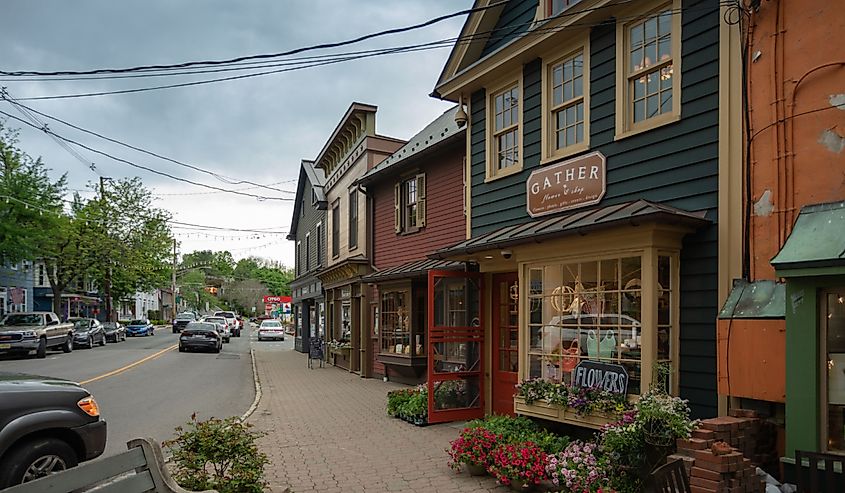 Wrapping up the ultimate list of gorgeous New Jersey towns, Frenchtown was also named many other names like Alexandriaville Sunbeam but was given its current name for its residents who primarily speak French. The city is located in Hunterdon County and is gorgeous for its array of historic 19th-century buildings and remnants of its booming commercial industry that developed due to its location near the Deleware River and railroad system. Embrace Frenchtown's Victorian homes and Inns, like the railroad house now named Frenchtown Inn, the National Hotel, and Temperance House. The downtown area is abuzz with colorful Victorian architecture, like the small shops on Race Street leading up to Bridge Street and its small local businesses like Early Bird Espresso & Mercantile, Gemstone Gallery, and the wholesome Frenchtown Bookshop.
In a world where bustling cities often steal the spotlight, the small towns of New Jersey stand as diverse hidden gems waiting to be explored. For those looking to escape the hustle and bustle of big cities such as New York and Philadelphia, many towns are conveniently located near major metropolitan areas, making them easily accessible for day trips or weekend getaways!