In the northeast of Vietnam, one can find Ha Long Bay, with its collection of limestone karst landscape rising from the water's surface to form islands. Karst are geological formations caused by underwater drainage depositing dissolved minerals. In fact, there are sixteen hundred islands and islets to explore therein, amidst the water and under the blue skies of the Gulf of Tonkin, complete with natural pillars, arches and caves. This destination is sparsely populated, and the scenery is unrivaled in the area. Getting to this geomorphological wonder is easy, as it is within a highly frequented tourist region. Tourists are urged to visit between late May and early August, as the months between January and March bring cool weather and a great deal of rain.
A Popular Tourist Destination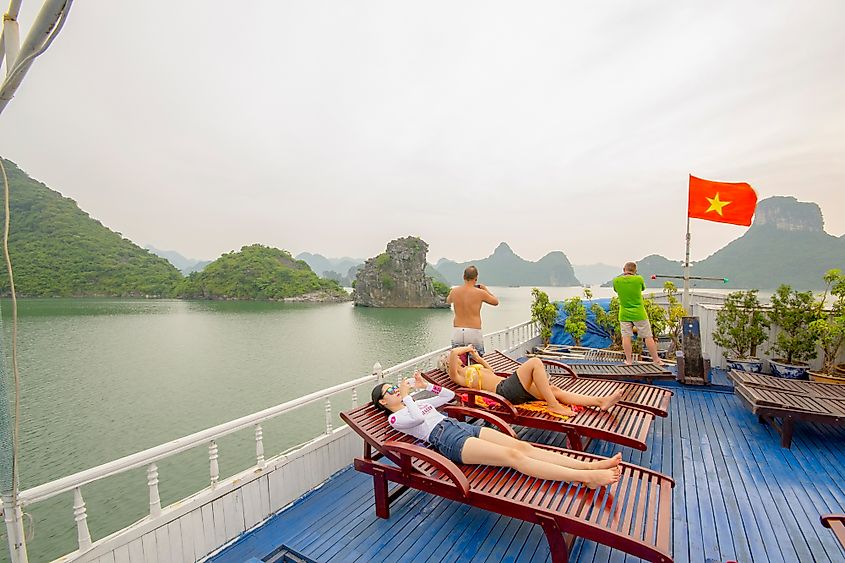 Ha Long Bay is a popular tourist destination, as it is situated close to the metropolis of Hanoi, Vietnam, which is but a mere 165 kilometers away. This destination is one of the world's best examples of karst formations, which were formed over a thousand of years ago. The bay features a collection of caves, islands and grottoes that lie in an enclosed sea area. There are boat and junk boat tours for one-day cruises and two-day cruises alike, in order to better take in all of the natural wonders. The average tourist can reach Ha Long Bay from Hanoi or Haiphong by bus, straight from the many international flights coming into the Hanoi and Haiphong International Airports from all over the world. After the sightseeing is over, tourists can enjoy shopping within the local night markets. Here are over a hundred stalls selling handicrafts and tee shirts. There are also two shopping complexes that sell traditional items and high-end designer items.
A Natural Wonder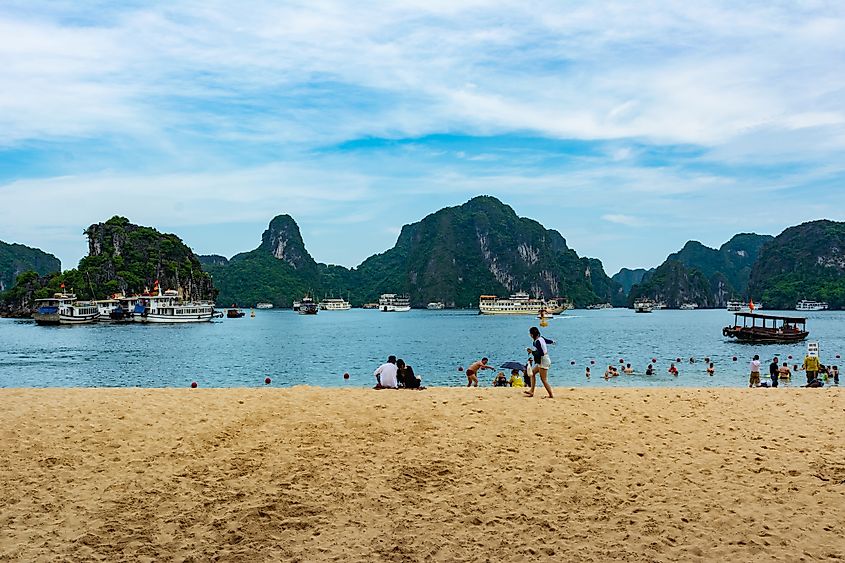 "Bay of Descending Dragons" is the English translation for the Vietnamese name for Ha Long Bay. The name exudes a magical essence, and the place has been designated as a UNESCO World Heritage Site. Ha Long Bay is also featured in the list of the New Seven Wonders of the World. They bay also boasts of having four fishing villages on its shores, which make for interesting stops for guided tours, while the nearby secluded beaches serve as an additional bonus. In the local restaurants, staples of Vietnamese Cuisine have hints of French zest stirred in, and the exquisite food will be a wonderful addition to any tour. The caves there are exotic sites, colorfully lighted to show off their stalactite and stalagmite formations. There are many reasons why people should care about this bay, and you are sure to find one for yourself when you visit.
The bay has also been defined as a naturally-formed "geological museum", with its many caves and islands of karst. The bay supports coral reefs and mangrove forests, as well as tropical forests atop the islands themselves. The coral reefs are teeming with marine life, while the terrestrial tropical forests are populated by squirrels, deer, mink, and monkeys alike. Migrating birds live in the mangrove forests that also support semi-aquatic and marine life.
Threats 
The tourist trade brings to the bay a deal of damage associated with human activities. It's a wonder, though, that the bay has received a soft impact from human use over hundreds of years nonetheless. Currently, the integrity of the bay is protected by both provincial and national laws. In this respect, government authorities have ensured that development and conservation remain balanced and sustainable. In fact, a master plan has also been instituted to maintain the same kinds of values at least through the year 2020.