Worst Storms of All Time - The Ground Blizzard of 1977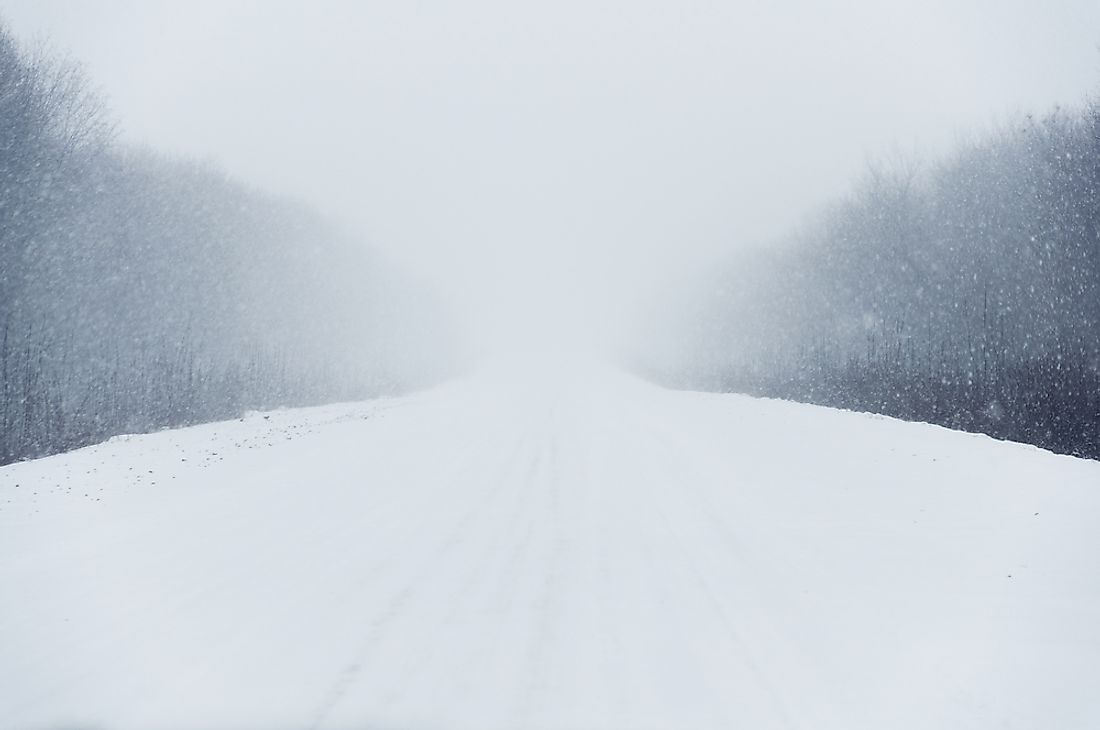 Some parts of the world like North America and Antarctica experience severe snow storms, especially during winter, that create disruption to transport and other daily activities. Sometimes, the snowstorm becomes massive and is accompanied by strong wind sustained at high wind speed for a long period. Such a snowstorm is referred to as a blizzard. The difference between a snowstorm and blizzard is not the amount of snow involved but the strength of the wind. For a snowstorm to be called a blizzard, the wind must be sustained at 35 mph or greater for a long period of time, often 3-4 hours with visibility reduced to not greater than 0.25 miles.
Blizzard Vs Ground Blizzard
While a blizzard is characterized by the blowing away of falling snow by a strong wing sustained at 35 mph or greater for a period of time, a ground blizzard is when the loose snow is lifted from the ground and blown away by a strong win. For an ordinary blizzard to take place there has to be a heavy falling snow, unlike the ground blizzard which can occur in absence of any precipitation and even when the sky is clear. Both blizzards and ground blizzards are dangerous as they reduce visibility and cause disruptions, especially in the transportation sector.
The Ground Blizzard of 1977
The ground blizzard of 1977 occurred in western New York and southern Ontario between January 28 and February 1, 1977. It is considered one of the worst snowstorms of all time considering the wind gust and the amount of snowfall. Up to 46-69 mph of daily wind gust was recorded in Buffalo with some areas recording a snowfall as high as 100 inches. A total of 23 storm-related deaths were recorded in western New York and five in northern New York.
Beginning of the Blizzard
From midnight to around 11:00 am on January 28, 1977, the temperature in Buffalo rose to 26°F from 5°F. Snowfall began at 5:00 am the same day. By afternoon, the temperature at the Buffalo airport had fallen from to 0°F. The snow quickly built up and by 1:00 pm a bumper-high snow had been formed. Several roads were soon rendered impassible by the depth of the snow while the blowing snow limited visibility, making traveling almost impossible. Several vehicles also broke down due to the combination of high winds, cold temperature, and blowing snow. About 13,000 people were stranded in downtown Buffalo and had to stay in whatever shelter they could find. By midnight, about 10,000 cars were stranded on Main Street and in the city of Buffalo.
Driving Ban and Cleanup
Several cities in western New York restricted travel for several days including Buffalo and Niagara Falls since most of the roads were closed by the snow. The town of Clarence ordered for the seizing of gasoline to prevent driving while on Lancaster, only two routes were open. On February 1, sixteen towns in the Erie County and the City of Buffalo declared a state of emergency and declared a ban on nonessential travel. The driving ban was necessary to allow for the cleanup activity which was mainly done using the front-end loader.