World's Largest Airlines By Fleet Size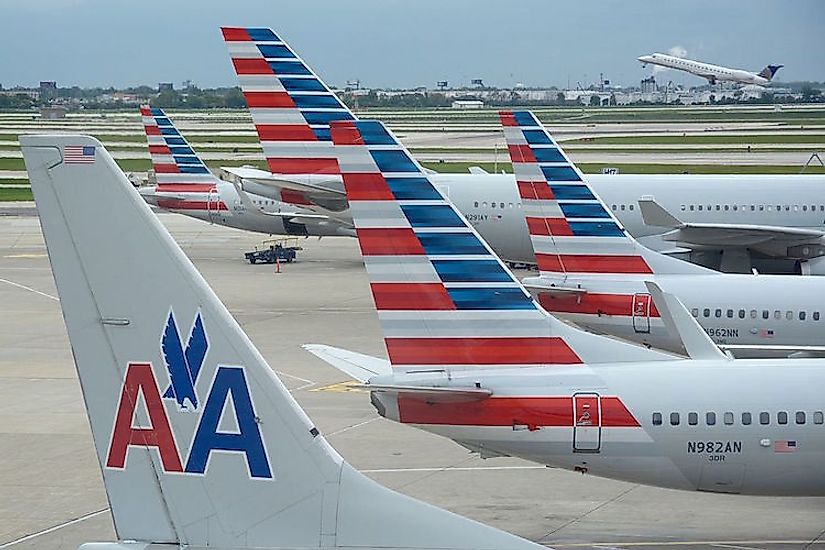 Largest Airlines can be defined in several ways including fleet size, number of passengers carried, profits generated, asset value, market capitalization, the number of countries covered by the airline, and the number of international passengers carried. Fleet size refers to the number of planes or aircraft of similar model or makes operated by an airline. Many airlines around the world have increased their flight size in order to meet high passenger demands.
American Airlines
American Airlines is a major airline in the United States with its headquarter in Fort Worth. It is the largest airline in the world by fleet size, revenue, and destinations served. American Airlines, together with its regional partners, operates about 6,700 flights daily to over 350 destinations. It operates interchange flight services with several airline companies and also has joint ventures with British Airways and Japan Airlines. As of June 2016, the American Airlines together with its regional partners operated a fleet of 1,789 aircraft. It operates a mix of Airbus, Boeing, McDonnell Douglas Aircraft, and Embraer. Most of these aircraft are narrow-bodied while the Boeing airliners are mainly wide-bodied.
Delta Air Lines
Delta Air Lines is headquartered at Hartsfield-Jackson Atlanta International Airport in Atlanta Georgia. It operates over 5,400 international and domestic flights daily together with its subsidiaries. Delta Air Lines operates a network of 319 destinations covering over 54 countries in six continents. As of June 2016, Delta Air Lines together with its regional partners operated 1,330 aircraft. Most of the aircraft operated by the Delta Air Lines are manufactured by Airbus, Boeing, and McDonnell Douglas. It operates some of the largest Boeings in the world including Boeings 717, 757, and 767. Delta Air Lines often acquires and uses old aircraft as part of its strategies to utilize less expensive airplanes.
United Airlines
The United Airlines is one of the largest airlines in the world by revenue and fleet size. It is headquartered in Chicago and operates a comprehensive international and domestic network with a significant presence in Asia-Pacific Regions. It operates to 235 destinations covering 60 countries within Asia, America, and Europe. United Airlines and its regional partners operate a fleet of 1,229 aircraft. Its fleet consists of Airbuses A319-100, A320-200, and A350-1000, Boeing 737, 747, 757, 767, and 787. Much of its fleet consists of Boeing aircraft.
Southwest Airlines
Southwest Airlines is the largest low-cost airline in the world. The airline was founded in 1967 and renamed to its present name in 1971. It has its headquarter in Dallas, Texas and operates almost 4,000 flights per day during the peak season. The Southwest Airlines had 101 scheduled destinations in the US and eight additional countries as of June 2016. The airline operated a fleet of 720 aircraft as of June 2016. Southwest Airlines has almost exclusively operated the Boeing 737 aircraft since its inception except between 1979 and 1987 when it used Boeing 727-200. The Airlines is the largest Boeing 737 operator in the world. It operates 494 Boeing 737-700, 142 Boeing 737-800, and 87 Boeing 737-300 aircraft within its fleets.
World's Largest Airlines By Fleet Size
| Rank | Airline | Country | Fleet (June 2016) |
| --- | --- | --- | --- |
| 1 | American Airlines | United States | 1,789 |
| 2 | Delta Air Lines | United States | 1,330 |
| 3 | United Airlines | United States | 1,229 |
| 4 | Southwest Airlines | United States | 720 |
| 5 | FedEx Express | United States | 688 |
| 6 | China Southern Airlines | China | 515 |
| 7 | China Eastern Airlines | China | 429 |
| 8 | Air Canada | Canada | 404 |
| 9 | Air China | China | 384 |
| 10 | Ryanair | Ireland | 349 |