Travel
The World's Largest Airlines by Number of Countries Served
The following airlines serve more countries than any other airline.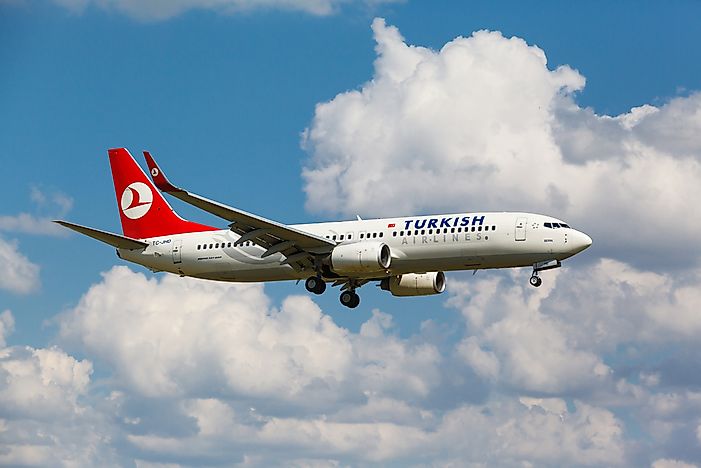 In a global economy with demands for faster, more direct means of transport, air travel is key to keeping global business moving. This, combined with the growing number of people with a disposable income, and the need people feel to discover somewhere new, has led to a significant growth in the air industry. The high demand for air services has led to a sharp growth in the number of airlines and opened up destinations that were once inaccessible by air. Today, major airlines are not only competing on who has the highest number of fleets or revenue generated but also the number of countries served. Here are some of the largest airlines by the number of countries served.
Largest Airlines by Number of Countries
Turkish Airlines
Turkish Airline is the national carrier of Turkey. It was established in 1933 as a military airline with the initial flights consisting of two five-seat and two four-seat aircraft. Turkish Airlines has grown through several challenging periods in the history of Turkey to become the largest airline by the number of countries served. As of 2015, it flies to 119 countries in all the continents up from 106 countries in 2013.
Lufthansa
Lufthansa is the largest airline in Germany, and together with its subsidiaries, it forms the largest airline in Europe by fleet size. It was a state owned enterprise until 1994 when it was privatized. Institutional investors are currently the largest shareholders. Lufthansa operates flights to over 15 domestic destinations and 190 international destinations in 83 countries making it the second largest airline by countries served after the Turkish Airline.
Air France
Air France is the French national carrier and one of the founding members of the Sky Team Airline Alliance. It operates worldwide passenger and cargo services to over 165 destinations in 78 countries. Air France was established in 1933 by the merger of several airlines and was one of the three scheduled airlines that operated in Germany during the Cold War. It operates Airbus and Boeing aircraft on long-haul routes
British Airways
British Airways is the largest airline in the UK by fleet size and the second largest by passenger count. It is also the third-largest airline in Europe by the number of international destinations. It serves six domestic destinations and 154 international destinations in 78 countries of all the six permanently inhabited continents. It is one of the few airlines that serve all six inhabited continents along with Air China, Korean Air, and Qatar Airways.
Determining Number of Countries Served by Airlines
Finding the number of countries an airline flies to is not as easy as it would seem. Flight schedules change more often and some of the airlines add overseas territories and islands to their counts. There are only 198 countries in the world including 193 UN countries. Turkish Airlines not only serves the largest number of countries, but it flies to five of the six inhabited continents. Only nine airlines have at least one destination in each of the six continents
The World's Largest Airlines by Number of Countries Served
| Rank | Airline | Countries Served (Source: Garfors Globe, 2013) |
| --- | --- | --- |
| 1 | Turkish Airlines | 106 |
| 2 | Lufthansa | 83 |
| 3 | Air France | 78 |
| 4 | British Airways | 78 |
| 5 | Qatar Airways | 73 |
| 6 | Delta Air Lines | 71 |
| 7 | Emirates | 70 |
| 8 | KLM | 66 |
| 9 | Egyptair | 66 |
| 10 | United Airlines | 60 |
| 11 | | |
This page was last updated on August 1, 2017.
Citations
Your MLA Citation
Your APA Citation
Your Chicago Citation
Your Harvard Citation
Remember to italicize the title of this article in your Harvard citation.