The image of the Statue of Liberty is one of the staples which are immediately associated with the US. Situated on Liberty Island in the New York Harbor, the statue, 305 feet and 1 inch tall, has been there since 1886. The statue was actually shipped from Paris, where none other than the famous Gustave Eiffel created the iron framework, which was then covered by the copper plating. 
The torch Lady Liberty holds in her hand is one of the most recognizable elements making up the whole, and it represents enlightenment. It was also the first piece of the statue that arrived in America. 
However, the torch that is part of the statue today is not the one that came from Paris so long ago. 
Why Was The Original Torch Replaced?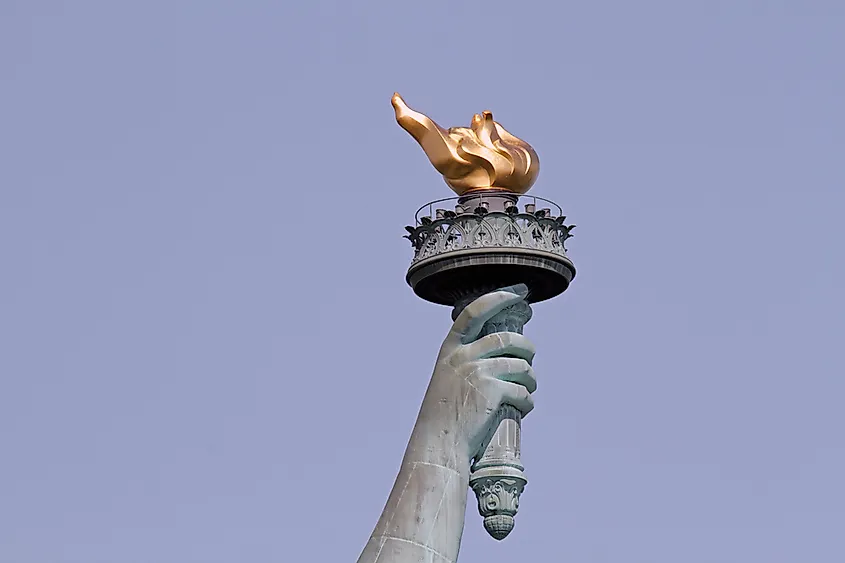 In 1984 the original torch was taken down, and in its place, a more efficient design was put. The original flame had seen several alternations over the years. Holes were made, and amber glass panels were added to the original design to illuminate the torch from within. Sadly, the panes started to leak after a while and caused damage to Lady Liberty's arm. Additional damage was done to the original torch by the Black Tom explosion, which happened in 1916 when German spies intended to destroy US munitions depot. The munitions were supposed to be provided to the Allies in World War l. 
Since the structure of the original design was too compromised, the decision was made to take it down. 
What Happened To The Original Torch?
Luckily, being aware of just what an important piece of history the original torch is, the old torch was saved and placed in the museum, which was situated in the base of the statue. However, the old torch was moved once again in late 2018. It traveled across Liberty Island to its new location - a new museum that opened on May 16th, 2019. 
The move of the 3,600-pound original torch was a nerve-wracking feat for all involved, but it was also a successful one. The new location of the torch provides visitors with the opportunity to inspect this magnificent piece up close. The torch can be examined from the inside of the museum but also the outside since it is placed in the "Inspiration Gallery" which has enormous glass panes on all sides and is next to the replica of Lady Liberty's face. 
These two pieces alone are the biggest stars of the new $100-million-museum, which is dedicated to honoring and preserving the history, the meaning, and the creation of the Statue of Liberty.