Freedmen (also, freedwomen) are people who were previously enslaved but are now free. Throughout history, slaves were released in different ways. The most common methods were manumission and emancipation. Manumission means that a slave was granted freedom by their captor. Emancipation refers to freedom that was granted to a person that is a part of a larger group that managed to fight for its freedom. Of course, there were also fugitive slaves, people who managed to flee from slavery.
The Emancipation Proclamation
In the United States, slaves were freed by the Emancipation Proclamation and the Thirteenth Amendment. The emancipation proclamation became effective as of 1863, and it was issued by Abraham Lincoln. Following these events, the freedmen and freedwomen were faced with numerous other difficulties. This was especially prevalent in the South of the United States. They had to find ways they can create a normal life, despite being surrounded by mostly racist whites who were extremely hostile towards them.
They needed to become economically independent, but it was hard to do, since they had little to no resources, and most often no education. It was an incredibly difficult time for black people in the United States, made even harder by the people they were surrounded with. One of the freedmen, called Houston Hartsfield Holloway noted how one of the reasons this period was hard was due to the fact that colored people didn't know how to be free, and white people had no idea how to treat free people of color that were around them.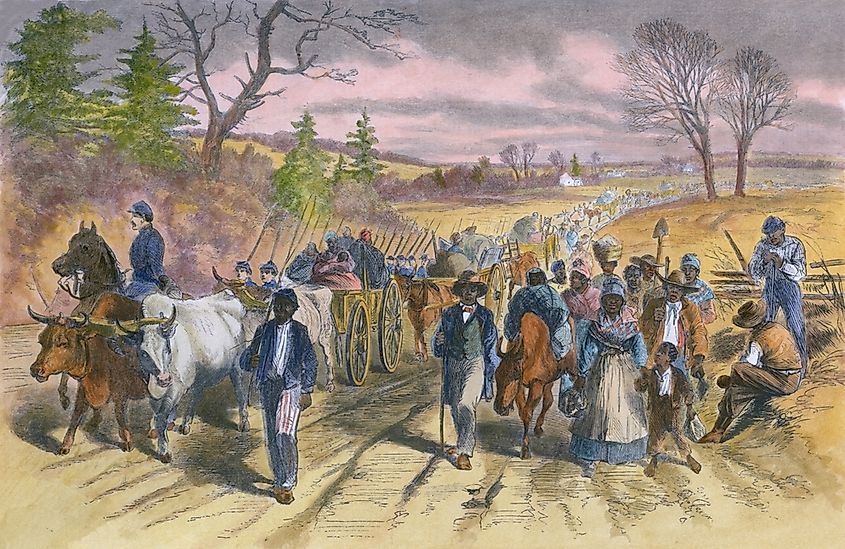 Fortunately, there were freedmen and freedwomen that were ready for their newly acquired freedom. Starting from 1865, they started demanding their civil rights, their right to vote as well as other things all human beings should have the right to. They wanted to be reunited with their families, and also wanted better opportunities in the economy and education.
The Freedmen's Bureau
Freedmen's Bureau was established by the government of the United States as an agency that was set up only temporarily, and its goal was to provide the bare necessities to all freed slaves. These included medical care, food, and clothing. The importance of this bureau in the South was extremely big. The government also set up special boards. The goal of these boards was to set up schools for the African Americans that were living in the South. There were many teachers, black and white, that stepped up and decided to help the freed slaves on their way to better education.
Many African Americans were also encouraged to move further North, where they could get better opportunities for a job. The fight for equal rights did not stop there, it would take many years until the status of black people in the United States was improved. That fight is still ongoing since slavery is still considered a problem, in many places across the world. The age of slavery was truly a horrible time, whose effects are still felt to this day. The evils of slavery should not be forgotten and should serve as a reminder that we should be respectful of everyone and not be racist. All people were created equal and should be treated fairly. A person should be judged by their deeds and their hearts, not the color of their skin.