Did You Know
Who is Lance Armstrong?
Lance Armstrong is a former professional racing cyclist from Texas, US.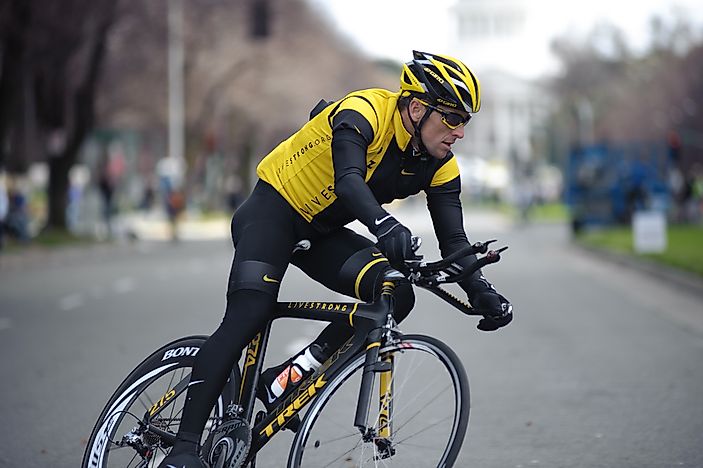 Lance Armstrong is a former professional racing cyclist from Texas, US who was born in 1971. He has consecutively won 12 titles, which were later withdrawn after it was established he had used energy enhancing drugs. Armstrong also once suffered testicular cancer, which halted his cycling career. He began competing when he was sixteen years old. Motorola team signed him in 1992, the year he started his professional career in cycling.

Early Career
Initially, Armstrong began as a swimmer when he was twelve years old and took part in competitions, coming fourth in the Texas state 1,500-meter freestyle. Later on, he stopped participating in swimming races and shifted to triathlon where he competed and won at the age of thirteen. When he was sixteen years old, he chose to focus on cycling. Later, he received an invitation from Senior US Olympic Development Team to participate in training at Colorado Rings. The invitation forced him to stop attending his school classes, while in his senior year of high school. Nevertheless, he later on attended private classes and completed his high school diploma in 1989. In 1991 he competed in the international Tour DuPont, and while he did not win, he came up as a promising star that would shine in his future competitions. He later went on to win Italy's Settimana Bergamasca cycling competition.
Battle with Testicular Cancer
In 1996, Armstrong was diagnosed with stage three testicular cancer that had spread to his lungs, brain, and abdomen, the primary symptoms of which were coughing blood and a swollen testicle. It then started to affect the rest of his body, including his lymph nodes, abdomen, and lungs. The cancer advanced further, and began to affected his brain, developed tumors that diminished his chances of survival to less than 50%. He went to Indiana University for chemotherapy treatments and brain surgery. The treatment gave positive results, and in 1997, he was announced to be cancer free.
Return to Cycling
After battling the cancer, he resumed participating in international cycling events. In 1998, he participated in the Texas Tour and finished first in stage 1. A year later he took part in the Tour De France, finishing first and winning again in July 2000, as well as winning a bronze medal in Summer Olympics Games. Armstrong maintained unbeaten until 2005 when David Zabriskie defeated him in a stage 1 time trial, although he still won the final race making history by winning seven Tour de France titles consecutively.
Doping Claims
Although Armstrong had a magnificent record, some of his opponents started becoming suspicious that drug use was prevalent among the cycling sportsmen. Armstrong denied the allegations as lies and propaganda since he reiterated to have undertaken vigorous tests and all were negative. In 2012, after much pressure, he declared that he had used enhancement drugs. He claimed that he was tired of the court battles, and he was ready to return home to save his family and the cycling profession. As a result he was stripped of all seven Tour de France titles.
This page was last updated on October 25, 2017.
Citations
Your MLA Citation
Your APA Citation
Your Chicago Citation
Your Harvard Citation
Remember to italicize the title of this article in your Harvard citation.