The Top 20 Exports of Japan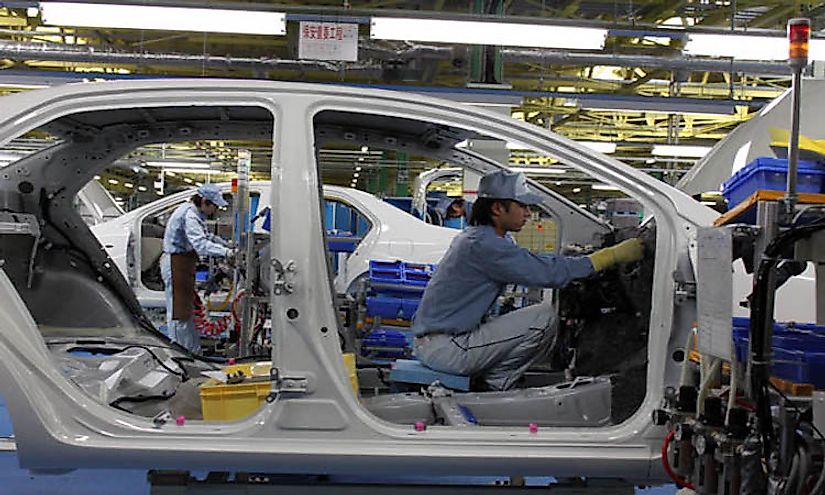 Japan has a well-developed economy where cars, vehicle parts, and integrated circuits comprise the top three exports in the country. Japan ranks third as the world's largest economy, and it is a leading economy in Asia. The economy is heavily dependent on the export sector, and it ranks as the world's 5th biggest exporter. Japan has earned a reputation as a "processing nation" since it imports raw materials in bulk and exports finished goods after value addition. Japan has embraced the use of high technology which makes its products highly competitive in the international market.
Economy Of Japan
The country's currency is the Japanese Yen, which ranks third as the most traded currencies in the foreign exchange market. Japan's nominal GDP stands at $4.41 trillion and ranks 3rd by nominal GDP and 4th by Purchasing Power Parity. The GDP per capita is $34,870 and ranks 24th in the world. Contribution by sector to the GDP is services (71.4%), agriculture (1.2%), and industry (27.5%). The population below poverty line is 16% while the labor force totals to 66 million. 69.8% of the workforce is employed in services, 3.9% in agriculture, and 26.2% in industry. The country's unemployment rate is 3.4%. The primary industries in Japan are automobiles, machinery, electronics equipment, metallurgy, steel, textiles, and food processing. Japan's expenses are estimated at $2.15 trillion and $1.74 trillion for revenues.
Manufacturing And Services Industries In Japan
Japan is home to highly productive manufacturing regions including Kanto, Kansai, and Chubu region. The country's technological advancement has made Japan a top producer of products ranging from automobiles and parts, electronics, semiconductor, copy machines, pharmaceuticals, industrial products, optical apparatus, to plastics. Japan has a booming service sector, dominated by wholesale and retail, tourism, financial services, advertising, data processing, entertainment, real estate, telecommunication, and publishing.
Top Exports Of Japan
In 2013, Japan exported goods worth $697 billion. Cars are the country's top exports at $104,286 million and vehicle parts shipped are valued at $42,212 million. Japan is ranked as the world's third largest automobile producer and is home to top car makers including Toyota, Nissan, Mazda, and Honda. Integrated circuits and industrial printers are exported at $19,192 million and $17,465 million respectively while machinery having individual vehicles account for $13,577 million. Other exports by value in millions are large construction vehicles ($13,249); trucks ($11,451); video recording equipment ($11,207); low-voltage protection equipment ($10,094); engine parts ($9,293); rubber tyres ($8,828); LCD's ($8,241); semiconductor devices ($8,146); photo lab equipment ($8,021); raw plastic sheeting ($7,608); cyclic hydrocarbons ($7,320); air pumps ($6,602); optical fibers ($6,5340.
Top Export Partners Of Japan
In recent years, Japan has been embracing Economic Partnership Agreements (EPAs) in place of Free Trade Agreements (FTAs). Such agreements have been negotiated with countries such as India, Mexico, Malaysia, Indonesia, Singapore, Thailand, Australia, and Chile. 57.3% of the country's exports head to other Asian countries, 23.1% are exported to North America while 13% head to European countries. The major export partners of Japan are the US (20%), China (17.5%), South Korea (7.1%), Hong Kong (5.6%), and Thailand (4.5%). Other export partners are Taiwan, Singapore, Germany, Australia, Vietnam, Malaysia, Indonesia, and the Netherlands.
Which Are The Top 20 Exports Of Japan?
| Rank | Product | Value |
| --- | --- | --- |
| 1 | Cars | $104,286 |
| 2 | Vehicle Parts | 42,212 |
| 3 | Integrated circuits | 19,192 |
| 4 | Industrial printers | 17,465 |
| 5 | Machinery Having Individual Functions | 13,577 |
| 6 | Large Construction Vehicles | 13,249 |
| 7 | Trucks | 12,243 |
| 8 | Refined Petroleum | 11,451 |
| 9 | Video Recording Equipment | 11,207 |
| 10 | Low-voltage Protection Equipment | 10,141 |
| 11 | Hot-Rolled Iron | 10,094 |
| 12 | Engine Parts | 9,293 |
| 13 | Rubber tyres | 8,828 |
| 14 | LCD's | 8,241 |
| 15 | Semiconductor devices | 8,146 |
| 16 | Photo Lab Equipment | 8,021 |
| 17 | Raw Plastic Sheeting | 7,608 |
| 18 | Cyclic Hydrocarbons | 7,320 |
| 19 | Air pumps | 6,602 |
| 20 | Optical fibers | 6,534 |