World Facts
Where Is Yellowstone National Park?
Yellowstone National Park is located in the US states of Wyoming, Idaho, and Montana.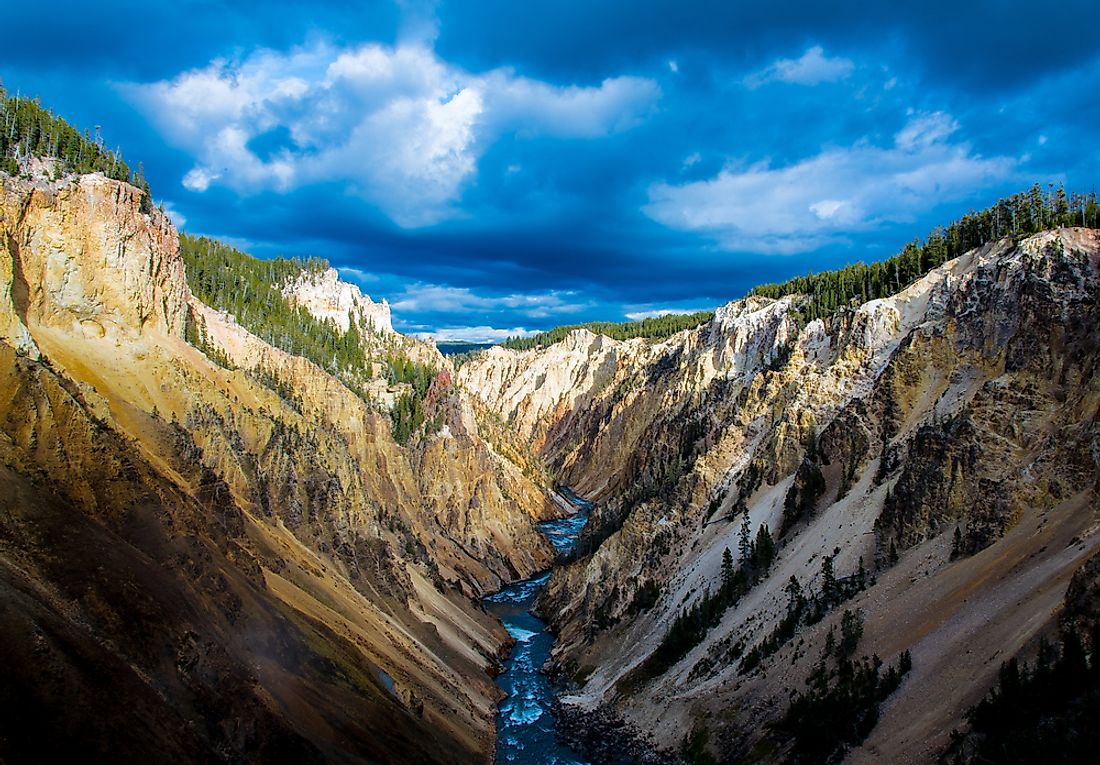 Yellowstone National Park is located in US states of Wyoming, Montana, and Idaho. The majority of the park (96%) falls within Wyoming. Montana is home to 3% while the remaining 1% is in Idaho. The park covers 3,468.4 square meters of land surface. 5% of this surface is covered with lakes and rivers. The park contains the headwaters of Yellowstone River, hence the name Yellowstone National Park.
Overview of Yellowstone National Park
Park History
The park was created on March 1, 1872 upon the signing of The Act of Dedication by President Ulysses Grant. Yellowstone was the first and oldest National Park in the US as well as the world.
Distinguishing Features
The popular cone geyser known as Old Faithful is found in Yellowstone Park. The park has other geothermal features such as fumaroles, hot springs, travertine terraces, and mud pots. The number of thermal features in Yellowstone is estimated to be about 10,000.
The park hosts the largest super volcano in America; the Yellowstone Caldera. This volcanic field produced large volcanic super eruptions that formed the Island Park Caldera, Henry's Fork Caldera, and the Yellowstone Caldera.
Other attractions in the park are the Grand Canyon of Yellowstone, Grand Prismatic Spring, West Thumb Geyser Basin, Norris Geyer Basin, Lamar Valley, Upper Geyser Basin, Midway Geyser Basin, Hayden Valley, Mammoth Hot Springs, and Mount Washburn.
Tourist Activities
Some of the activities carried out in Yellowstone park include camping, hiking, fishing, and sightseeing. Hunting is prohibited although it is allowed in nearby national forests during open seasons. Boating is restricted only for an 8-kilo meter stretch of the Lewis River. Other restricted areas in the region include Gallatin and Shoshone.
Flora and Fauna
Hundreds of birds and animal species are found in Yellowstone Park. The park is home to animals such grizzly bears, coyotes, elks, mule deer, gray wolves, bighorn sheep, pronghorns, mountain goats, and cougars. The park is the largest megafauna location in the Continental US. Birds include osprey, trumpeter swan, common loon, harlequin duck, and peregrine falcon.
In the West of Yellowstone park, there is a Grizzly & Wolf Discovery Centre. This Centre offers a plat form to learn about the history of bears and wolves found in the park. It offers activities such as the "Keeper Kids" where children are given opportunities to learn about the animals' behavior.
There are also over 1,700 species of trees and other plants in Yellowstone park. 80% of the forest is covered with Lodgepole Pine trees. Other species of trees include Whitebark Pine, Subalpine Fir, Rocky Mountain Douglas-fir, and Engelmann Spruce.
The presence of sand verbena in Yellowstone park is unique since this plant grows in warmer climates. Yellowstone park generally experiences long and cold winters.
Earthquake Risk
Yellowstone park experiences a lot of earthquakes due to its location. Since 1980, the largest earthquake that hit the park took place in 2014. It was a 4.8 magnitude earthquake. Before then, thousands of minor earthquakes have hit the park.
In 1987, the park was hit by a tornado that caused destruction up to 39 kilometers long, and 3.2 kilometers wide.
Where is Yellowstone National Park?
Yellowstone National Park is located in the US states of Wyoming, Idaho, and Montana.
This page was last updated on September 7, 2017.
Citations
Your MLA Citation
Your APA Citation
Your Chicago Citation
Your Harvard Citation
Remember to italicize the title of this article in your Harvard citation.